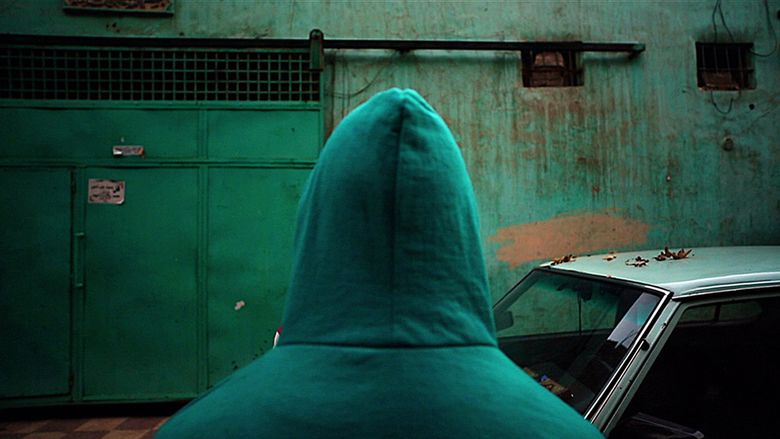 The plot centers on ghosts invading the world of the living via the Internet. It features two parallel story lines.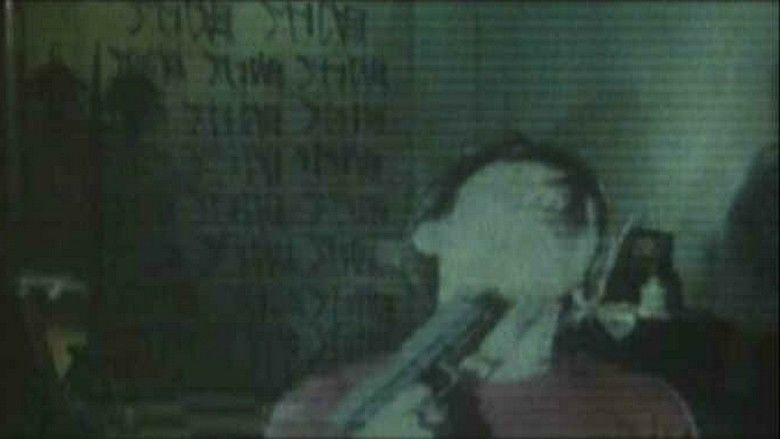 Kudo Michi (Kumiko Aso), an employee at a plant shop, has recently moved to Tokyo. Her co-workers include Sasano Junko, Toshio Yabe and Taguchi, who has been missing for some days working on a computer disk. Michi goes to visit Taguchi's apartment and finds him distracted and aloof; in the middle of their conversation, he casually makes a noose, leaves, and hangs himself. Michi and her friends inspect the disk he left behind and discover it contains an image of Taguchi staring at his own computer monitor, creating an endless series of images. In the other monitor on his desk, they discover a ghostly face staring out into Taguchi's room.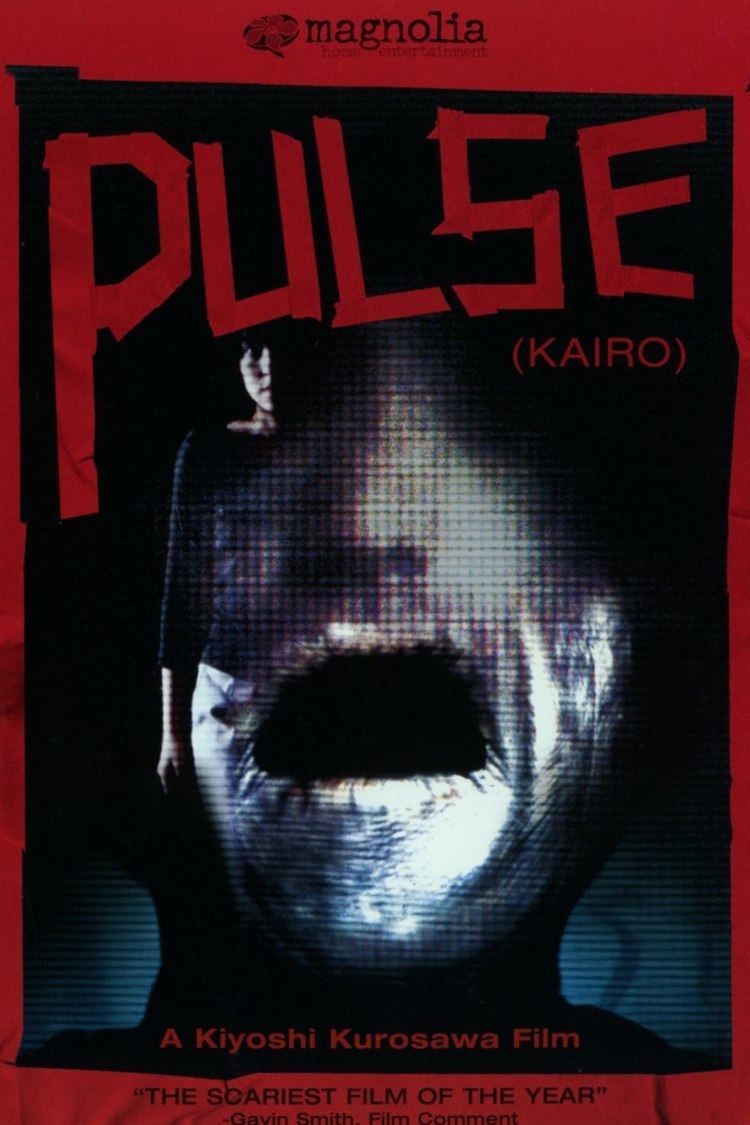 Yabe receives a mysterious phone call of a distorted voice repeatedly saying, "Help me." Upon checking his phone, Yabe sees the same image found on Taguchi's disk. He goes to Taguchi's apartment and sees a ghostly black stain on the wall where he hanged himself, before finding a crumpled piece of printer paper bearing the words, "The forbidden room." Upon leaving, he notices a door sealed up with red tape and enters, encountering a ghost. Yabe becomes depressed and uncommunicative, and eventually begins hiding in a storage room. He tells Michi that he had seen something horrible in "the forbidden room." On her way home, Michi sees a woman hurriedly sealing a door with red tape. Michi later witnesses the woman jump to her death from a silo at a cement factory.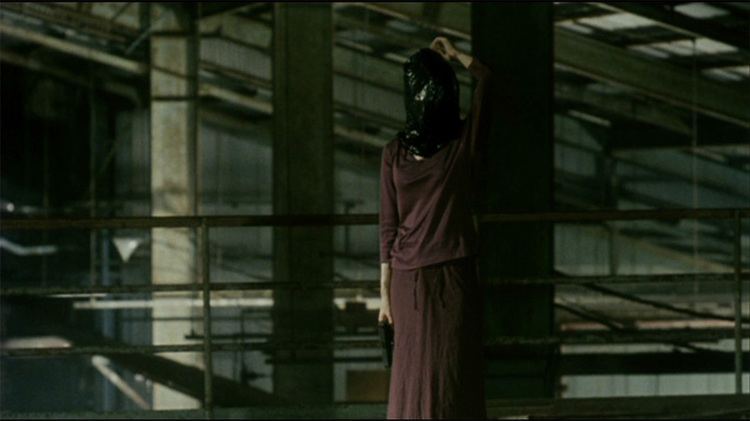 Michi receives a call like the one Yabe had received, prompting her to check on him in the storage room. Upon entering, she sees a black stain on the wall similar to the one in Taguchi's apartment. Michi leaves to find Junko and panics when she realizes Junko has unsealed and entered a red-taped door. Inside, Michi witnesses Junko being cornered by a ghost. Michi rescues Junko, who becomes catatonic as a result of the encounter. Later, Michi is asked by Junko if she "will die this way," to which Michi assures her she would not prompt her to reply that she would just "keep living all alone." Upon saying this, Junko steps towards the wall and becomes a black stain. Michi calls her mother for solace, but gets no reply. Becoming worried, Michi goes to check on her mother and meets Ryosuke Kawashima.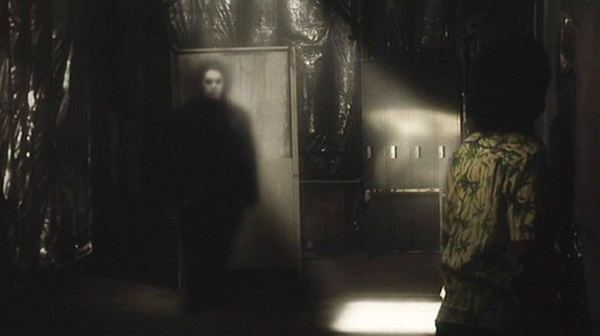 Ryosuke (Haruhiko Katô), an economics student, has recently signed up to a new Internet Service Provider. His computer accesses a website by itself, showing him disturbing images of people alone in dark rooms, exhibiting bizarre behavior. That night, Ryosuke wakes up to find his computer on again; the site now shows a man with his face obscured by shadows, then a man with a plastic bag over his head. Before he pulls it off, Ryosuke unplugs his computer in a panic. The next day, Harue Karasawa (Koyuki), a post-graduate computer science student, suggests he either bookmark the page or print the images for her to examine. Ryosuke attempts to do so, but finds that his computer will not follow his commands. Instead, a video plays of the man in the plastic bag standing in a room with the words "HELP ME" written all over the walls.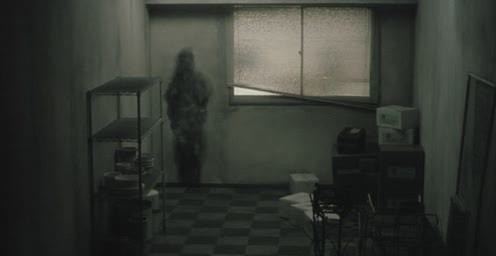 A classmate mentions the appearance of ghostly-looking people around campus and explains his theory that souls have begun to invade the physical world. Karasawa begins exhibiting strange behavior and suggests that ghosts would want to save humans from the loneliness of the afterlife by bestowing immortality on them. Later that night, Ryosuke visits Harue to find her acting even stranger; the two try to escape to a faraway place using the subway. However, the train stops and Harue is seized by a desire to return home and flees. Upon returning to her apartment, she claims that she is "not alone". When Ryosuke bursts into her apartment later, she is gone.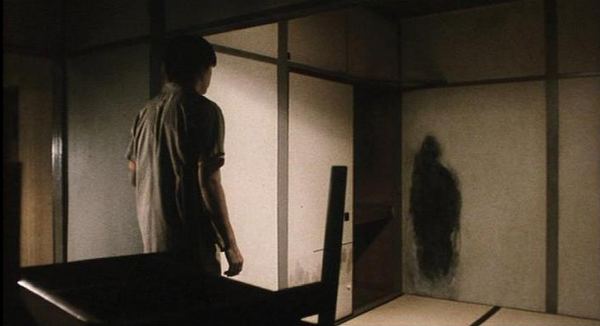 As more and more people begin to vanish, evacuations of Tokyo begin. There are ghosts appearing everywhere. Ryosuke meets Michi and they find Harue in an abandoned factory, where she shoots herself. Ryosuke later wanders through a door sealed up with red tape and encounters a ghost who explains that "death was eternal loneliness." Ryosuke loses the will to live, and Michi has to drag him to safety. They drive through a burning Tokyo, encountering numerous apocalyptic scenes: the sky turns black, a US Army cargo plane crashes out of the sky, and people leap to their deaths from tall buildings. The pair find a ship about to depart Tokyo, crewed by a small group of survivors who tell them that similar events are happening all over the world. As the ship heads for Latin America, Ryosuke and Michi go below deck, where Ryosuke disintegrates into ash.
Kumiko Aso as Michi Kudo
Haruhiko Kato as Ryosuke Kawashima
Koyuki as Harue Karasawa
Kurume Arisaka as Junko Sasano
Masatoshi Matsuo as Toshio Yabe
Shinji Takeda as Yoshizaki
Jun Fubuki as Michi's mother
Shun Sugata as Boss
Koji Yakusho as ship captain
Show Aikawa as employee
Kenji Mizuhashi as Taguchi
Pulse was first released in Japan on February 3, 2001 where it was distributed by Toho.
Distant Horizon purchased worldwide distribution rights to the film from Daiei. The film premiered in the Un Certain Regard category at the Cannes Film Festival.
The film was released on DVD by Magnolia Home Entertainment on February 21, 2006. Arrow Video has announced a Blu-ray release of the film for December 2016.
The film was well-received critically. On review aggregator website Rotten Tomatoes, the film has an approval rating of 73%, and is certified "fresh".
AllMovie praised the film, writing "The first 30 minutes of Kairo is perhaps some of the most unnerving, frightening sequences to come down the pike in a long time." Anita Gates of The New York Times wrote, "There are very few moments in Kiyoshi Kurosawa's fiercely original, thrillingly creepy horror movie that don't evoke a dreamlike dread of the truly unknown." Slant Magazine gave the film four stars out of four, writing "Kurosawa's movies have a genuinely unnerving effect on the viewer because they deal with the kind of loneliness that exists in an overcrowded world. [...] Pulse is his strongest elucidation of this theme, treating the world wide web as a literal snare forging sinewy connections between strangers where the ultimate destination is chaos." The Guardian called it "an incredibly creepy horror film" that, in the same way as Ring, "finds chills in the most dingy and mundane of locales; skillful deployment of grisly little moments and disturbing, cryptic imagery produce the requisite mood of dread and gloom." Film Threat wrote, "What's worse than a horror film that frightens you sleepless is one that disturbs you to depression." The Washington Post commented, "Pulse is best enjoyed if it's not questioned too closely. It lives visually in a way it cannot live intellectually".
Entertainment Weekly was critical of the film, writing "Watching Pulse [...] you could almost die of anticipation", commenting that "nothing in the two snail-paced hours [...] makes close to a shred of sense". The Seattle Times criticized the film's storyline and length, writing "While it's rattling your nerves, Pulse leaves your brain wanting more", and The Village Voice called the film "at least half an hour too long".
In 2012, Jaime N Christley of Slant magazine listed the film as one of the greatest of all time. In the early 2010s, Time Out conducted a poll with several authors, directors, actors and critics who have worked within the horror genre to vote for their top horror films. Pulse placed at number 65 on their top 100 list.