Pudhu Vasantham (English : New Breeze) is a 1990 Indian Tamil film, directed by Vikraman making his directorial debut, starring Murali, Anand Babu, Raja, Charle and Sithara in lead roles. The film, produced by R. B. Choudary and R. Mohan, had musical score by S. A. Rajkumar and was released on 14 April 1990. This movie is a cult classic and a lot of films have been inspired from this. The film was remade in Kannada as Shruthi with Sunil, Honnavalli Krishna, Indudhar, Srivathsa, Shruti, Dileep and in Hindi as Baharon Ke Manzil.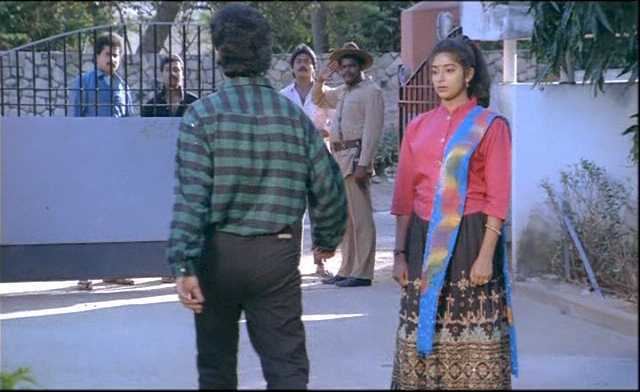 The movie revolves around 4 friends, Balu (Murali), Michael (Anand Babu), Raja (Raja) and Manohar (Charle) who aim to achieve big in life despite leading a below poverty life. Balu sings well, Michael dances well, Raja plays guitar well while Manohar plays flute. All four friends earn their living by performing along road sides. One day, the friends come across Gowri (Sitara), who pretends to be dumb. All four friends pity Gowri knowing that she is an orphan and allows her to stay with them.
Friendship blossoms for Gowri with all four guys and she does all the household activities while the guys are searching for opportunities to prove their talents. One day, they see Gowri negotiating with a vegetable vendor and the four get furious knowing Gowri has cheated them by acting as a dumb girl. Gowri apologizes to them and tells a flashback.
Gowri is a rich girl and she falls in love with Suresh (Suresh) against her parents' wishes. As Suresh has gone to abroad for a short period, Gowri preferred to stay away from her home as they would force her to get married to someone of their choice. She also says that the four guys are so genuine and she liked their friendship which made her feel safe. Just to get their sympathy, she pretended to act as a dumb girl. The four guys are convinced by her reply and allow her to stay with them until Suresh returns. Gowri also sings well and the friends get an opportunity to perform at a big function. Meanwhile, Suresh returns from abroad and unites with Gowri. Now Gowri leaves to Suresh's home. Suresh, a rich guy does not like Gowri making friendship with these four poor people.
Also, Suresh does not like Gowri performing on stage along with her four friends and does not permit her to sing. Gowri feels bad as she cannot help her friends which will make them lose an opportunity they had obtained. The four friends come to Suresh's house to request him to allow Gowri to perform, but he does not permit. Gowri also requests her friends to vacate the place as she cannot violate Suresh's words.
Now Gowri picks up a quarrel with Suresh asking him to allow her sing. But Suresh gets angry and doubts Gowri's relationship with her friends. Gowri feels bad that Suresh has no trust on her and also Gowri gets to know that Suresh has secretly taken her for a pregnancy test. Gowri decides to leave Suresh as he has no trust on her and joins with her friends and starts singing on stage. The movie ends showing that their friendship lasts for long as well as they have become popular.
Murali as Balu
Anand Babu as Michael
Raja as Raja
Charle as Manohar
Sithara as Gowri
Suresh as Suresh
Vinu Chakravarthy as Balu's father
Jaiganesh
R. P. Viswam
Kumarimuthu
MRK
Vijaya Chandrika
Jayadurga
Indira Devi
Naveena
Veera Raghavan
LIC Narasimhan
Omakuchi Narasimhan
Vijayakumar in a guest appearance
Manjula Vijayakumar in a guest appearance
K. S. Ravikumar as Watchman (Cameo appearance)
The film score and the soundtrack were composed by film composer S. A. Rajkumar. The soundtrack, released in 1990, features 6 tracks with lyrics written by Vaali, Muthulingam and S. A. Rajkumar.
1990 Tamil Nadu State Film Awards
Won - Tamil Nadu State Film Award for Best Film - Pudhu Vasantham
Won - Tamil Nadu State Film Award for Best Director - Vikraman
1991 Filmfare Awards South
Won - Filmfare Award for Best Film in Tamil - Pudhu Vasantham
Won - Filmfare Award for Best Music Director in Tamil - S. A. Rajkumar