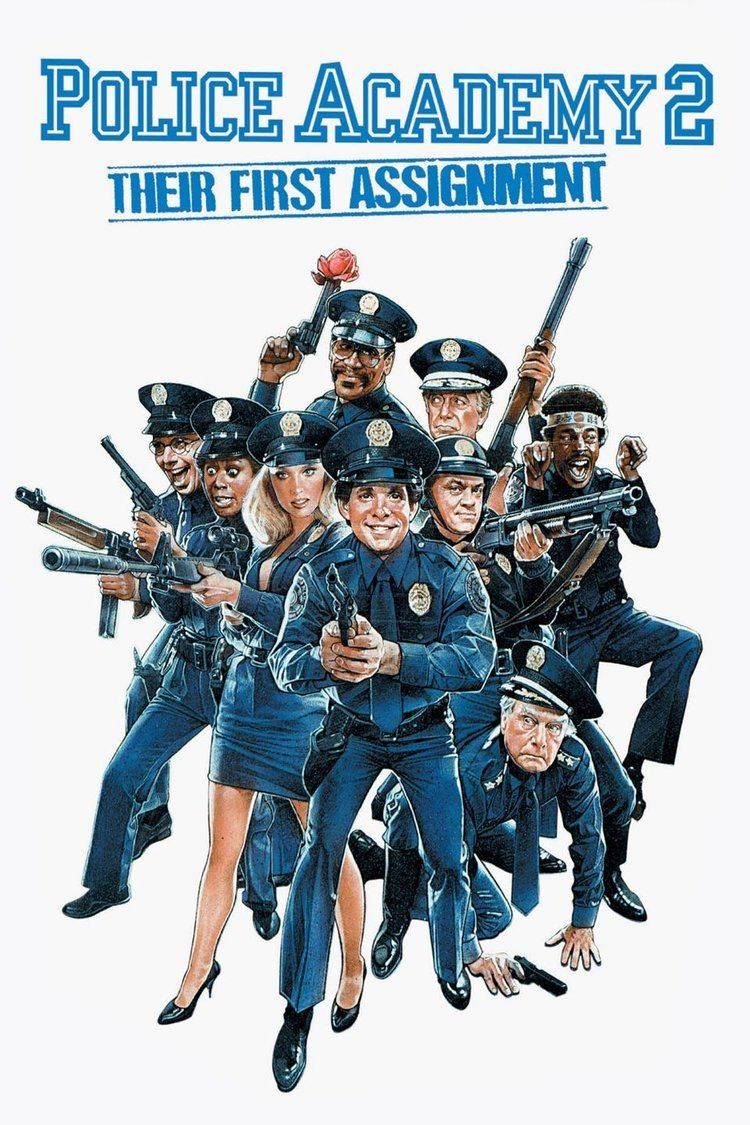 After a random attack the night before by a local gang known as "The Scullions" and their infantile leader Zed McGlunk (Bobcat Goldthwait), Chief Henry Hurst (George R. Robertson) arrives at the 16th precinct and notifies its captain, Pete Lassard (Howard Hesseman) that the precinct is the worst in the city. Lassard protests saying that his officers are outmanned and old, and can't get the job done any longer. Nevertheless, Hurst gives Lassard 30 days to turn the precinct around or he is out. Before Hurst leaves, Lieutenant Mauser (Art Metrano) schemes his way into getting a promotion to Captain should Lassard fail. Capt. Lassard then calls his brother Eric (George Gaynes) who is in charge of the Police Academy and asks him for six new recruits. Mauser is seen talking with his dim-witted partner, Sgt. Proctor (Lance Kinsey), as he attempts to take control of the precinct.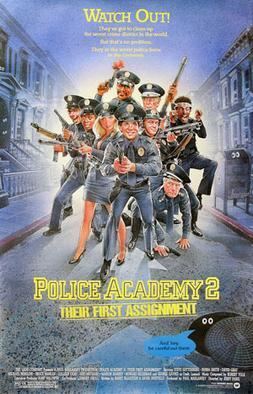 Commandant Lassard's top graduates Carey Mahoney (Steve Guttenberg), Larvell Jones (Michael Winslow), Eugene Tackleberry (David Graf), Moses Hightower (Bubba Smith), Laverne Hooks (Marion Ramsey), and Douglas Fackler (Bruce Mahler) arrive from the police academy and join the 16th precinct with some of them assigned to a veteran officer partner. Fackler is assigned with Dooley (Ed Herlihy), Mahoney to Vinnie Schtulman (Peter van Norden), and Tackleberry to Sgt. Kathleen Kirkland (Colleen Camp). Tackleberry later confides to Mahoney that he may have fallen in love with Kirkland.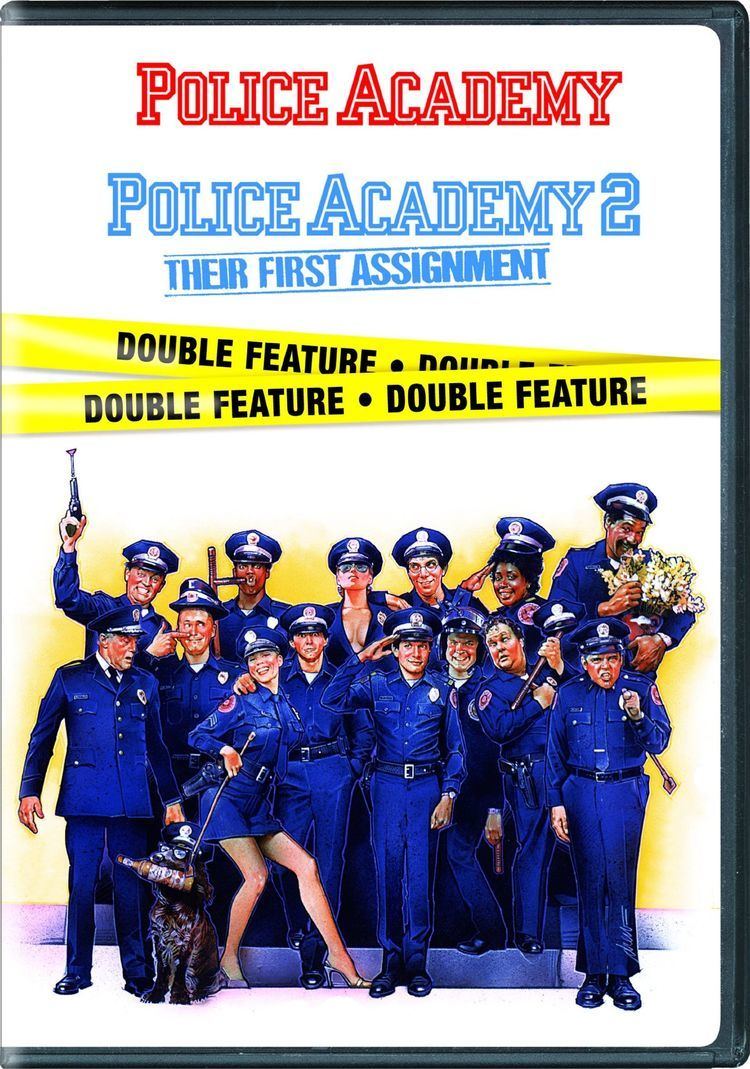 Mauser attempts numerous times to sabotage the new recruits while personally targeting Mahoney. During a patrol, Mahoney and Schtulman spot a robbery at a merchant's place, but the robbers escape in the confusion caused in part by responding officers. Mauser is ready to suspend them, but Mahoney makes a passionate plea that convinces Lassard to give them another chance. While all this is going on, Zed and his gang go "shopping" in a supermarket, causing havoc and chaos.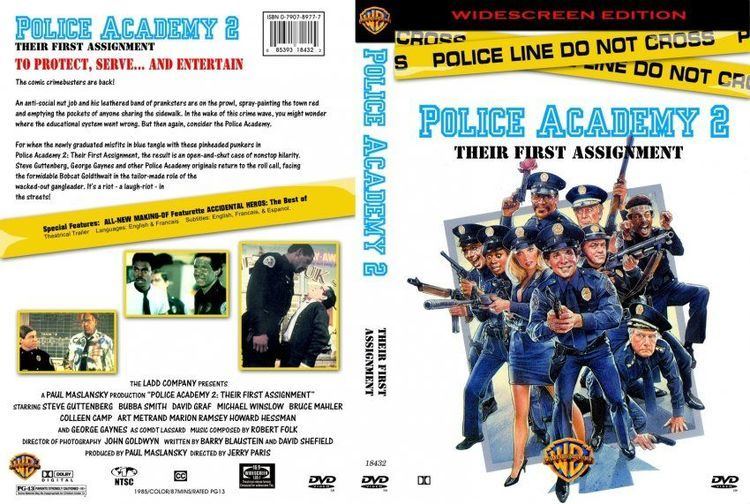 Mauser gives Mahoney a new assignment: patrolling a tunnel which results in him and his partner being covered with soot. He gets revenge on Mauser by switching his shampoo with Tackleberry's epoxy resin solution from a helmet repair kit, which glues Mauser's hands to his hair. He ends up embarrassing himself in front of the station and has to wear a wig through the remainder of the film. Capt. Lassard spots some of Zed's men and tries to deal with them, but is over-powered and spray-painted. This humiliating act emboldens Lassard to allow the precinct to use "whatever means possible" to help contain the gang. Progress is made and most of the gang is captured in an incident at The Blue Oyster Bar, but Mauser informs the captain that he had most of the charges dropped due to excessive force and procedure violations. Mahoney sees that Mauser did this on purpose, so as revenge he informs the nurse in charge of a body cavity search ordered earlier to perform the procedure on Mauser.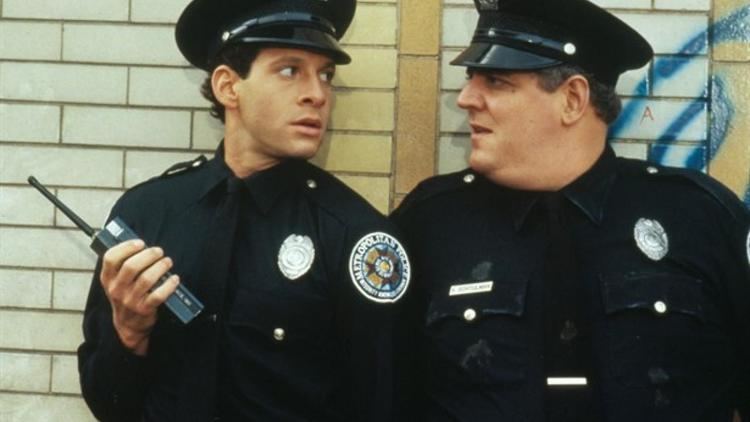 Later, Tackleberry goes on a date with Kirkland, where they stay out late dancing. They profess their love for each other and they make love (after removing their numerous concealed weapons first before). Captain Lassard goes to see his brother Eric at a Japanese steakhouse and Eric comes up with an idea to hold a fair. On the night of the fair though, Zed's men trash the place. Lassard is out of a job the next day, while Mauser is promoted to captain. His first act is to remove Mahoney and Schtulman, who is quick to object to Mahoney's dismissal.
Mahoney, Schtulman, and Lassard get together in a last-ditch attempt to stop the gang. They send in Mahoney undercover to infiltrate the gang. Lassard and Schtulman wire him, using duct tape and a radio microphone. Under the guise of "Jughead," formerly of the gang "The Archies", he is able to infiltrate the gang and find out both their hiding spot and the name of their leader. However, his cover is blown after the microphone cuts into a radio ad, which leads to Captain Lassard calling every man to the location. The officers arrive, but are stopped by Mauser. Mauser attempts to conduct a raid, but Fackler accidentally bumps him in an air duct and pushes him inside, which leads to Mauser being captured by Zed and his gang. The officers stage their own raid and manage to overpower and arrest the gang. Zed attempts to escape with Mahoney, but Lassard blocks his escape and prepares to shoot Zed. However, Mahoney punches Zed down a flight of stairs, where Hooks arrests him. It's then revealed that Lassard's gun wasn't loaded, as he "hasn't carried live ammo since '73". Lassard is later reinstated as captain, as are Mahoney and Schtulman on the force, while Mauser demoted back to lieutenant for nearly blowing Lassard's raid.
The film ends with the officers (including the re-instated Lassard) attending Tackleberry and Kirkland's wedding. They drive off the police academy lot in the monster truck Bigfoot.
Steve Guttenberg as Officer Carey Mahoney
Bubba Smith as Officer Moses Hightower
David Graf as Officer Eugene Tackleberry
Michael Winslow as Officer Larvell Jones
Bruce Mahler as Officer Douglas Fackler
Marion Ramsey as Officer Laverne Hooks
Colleen Camp as Sgt. Kathleen Kirkland
Howard Hesseman as Capt. Peter 'Pete' Lassard
Peter Van Norden as Officer Vinnie Schtulman
Lance Kinsey as Sgt. Proctor
Art Metrano as Lt/Capt. Mauser
George Gaynes as Cmdt. Eric Lassard
George R. Robertson as Chief Henry J. Hurst
Tim Kazurinsky as Carl Sweetchuck
Rich Hall as Street Punk (uncredited)
The film received negative reviews. The film currently holds a 23% rating on Rotten Tomatoes based on 13 reviews.
The film was the 11th highest-grossing film in the United States in 1985 with a total of $55,600,000 in over 1,613 theaters. The film faced strong competition in early 1985 in United States theaters from such high-profile comedy releases as Back To The Future, The Goonies, Fletch, Brewster's Millions, Desperately Seeking Susan, Prizzi's Honor, Porky's Revenge, and The Sure Thing. In the US rentals alone it grossed $27,200,000 after its release on VHS.
The film was also successful in Europe; it took in SEK 18,063,063 in Sweden alone which amounts to $2,693,005.