Platinum Blonde is a Canadian new wave band formed in Toronto in 1981. At the beginning of its most commercially successful period in the mid-to late 1980s, the band consisted of Mark Holmes (Mansfield, England) on vocals and bass, Sergio Galli on guitar and Chris Steffler on drums. Scottish musician Kenny MacLean joined the group as bassist in 1985, freeing Holmes from bass duties.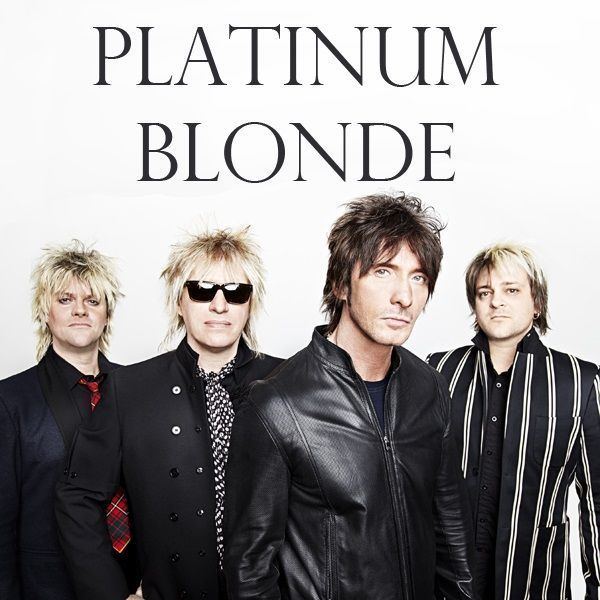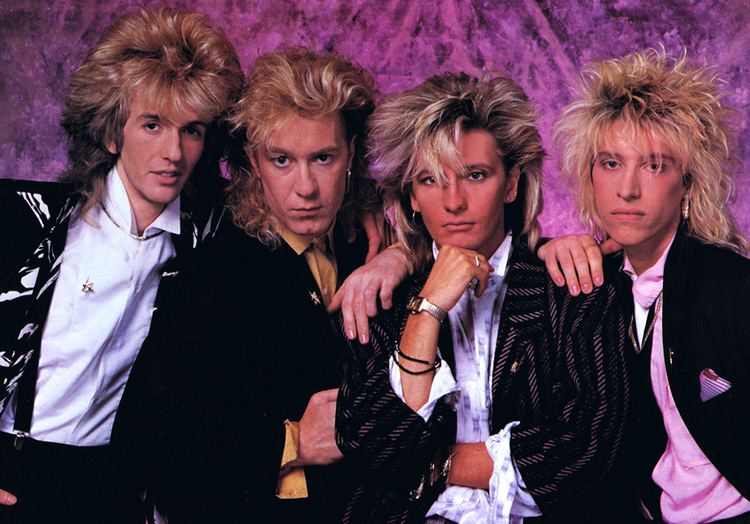 Platinum Blonde was initially formed as a punk, new wave, cover original band by Mark Holmes (vocals, guitar) with Joey Ciotti (bass guitar/lead vocals) and Ray Bailey (drums). After playing numerous Toronto gigs and developing a repertoire of punk-pop original material, they recorded and issued a self-financed indie single ("No Regrets"/"Hey Hey You") in 1981.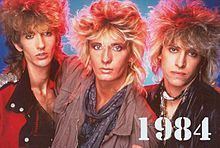 Dissatisfied with the slow pace of his career, Joey Ciotti quit the band and became the lead singer of Trixie Goes Hollywoood. Holmes subsequently placed advertisements for new musicians. Drummer Chris Steffler (ex-The Next, Suspects) was the first to answer, followed by mutual friend and architecture student Sergio Galli, a guitarist. Within a week the resulting trio were playing Toronto-area gigs as the new Platinum Blonde.
In 1983, they signed to CBS Records Canada and released a self-titled six-song EP that became CBS Canada's biggest EP seller ever and made it to No. 39 on the Canadian album charts. It was quickly expanded into a full-length album titled Standing in the Dark, which featured identical artwork to the EP. The LP version then received a wide release distribution deal through CBS America.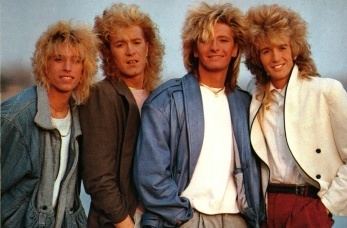 The band's popularity on the airwaves in Canada led to a triple platinum album, featuring four hits including two Juno Award nominations: "Standing in the Dark" and "Doesn't Really Matter". Their music videos were placed into high rotation on Canada's Much Music television and play listed as well on MTV America & MTV EUR.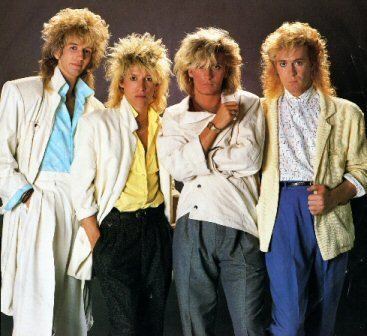 In 1985, the band released a second album called Alien Shores, featuring the addition of a fourth member, Kenny MacLean. Alien Shores went quintuple platinum, the group's high-water mark of success. Hits from the second album included "Situation Critical", "Crying Over You", "Somebody Somewhere", and "Hungry Eyes".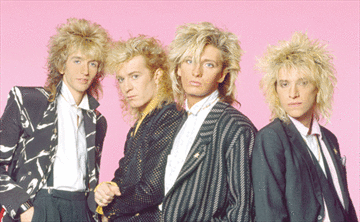 Chris Steffler left the band in 1987 with tendinitis issues, and was replaced by his drum tech Alexander Tukatsch, who was billed by the single name "Sascha". In 1988 the band's next album, Contact was a hit in Canada, going double platinum, but was significantly less successful than their previous record. The title track "Contact" was a modest hit, but the album was a commercial disappointment, and they were dropped by CBS. Platinum Blonde changed their name to The Blondes and recorded and released one further album Yeah Yeah Yeah before disbanding.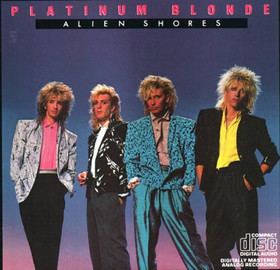 The entire group appeared as alien bikers in the 1988 episode Eye for an Eye of the television series War of the Worlds. They were also special guests on the second episode of the first season of T. and T. starring Mr. T on January 18th, 1988.
In 2002, Mark Holmes and partners opened the acclaimed Mod Club Theatre on College Street in Toronto CAN. The Mod Club Theatre has showcased the likes of Muse, Amy Winehouse, MGMT, The Killers, The Ruby Spirit, Keane, Feist and more.
Rumors of a reunion of the original band, and possibly some new material, continued to swirl, as the band played a few charity concerts in the mid-2000s. A DVD video compilation entitled Platinum Blonde: The Complete DVD Collection, containing all of their music videos was in production but ultimately shelved by CBS as they were bought out by Sony Music that same year.
In November 2008, Holmes took up McLean's long-standing offer to make a guest appearance at one of his shows at the Mod Club, this time to mark the release of his third solo CD entitled Completely. McLean had commented to Holmes "hundreds of times" that Platinum Blonde should re-unite. Holmes quotes McLean as saying, "Let's get back together. Music doesn't have any rock stars anymore." Holmes always replied that he was too busy with his DJ career, but this time he agreed and they performed a collection of Platinum Blonde hits. MacLean died of a heart attack three hours after the show ended in his recording studio on Yonge Street in Toronto. His body was found there on November 24, 2008.
On March 10, 2010, Platinum Blonde played their first reunion show at The Mod Club Theatre in Toronto, Ontario. The original line up of Mark Holmes, Sergio Galli and Chris Steffler were inducted into the Radio and Television Broadcasters Association Hall of Fame. The next day, the band announced on MuchMusic that a reunion is in the works with a new recording and show dates.
On December 6, 2010, an EP containing a cover of the song "Not in Love" was released by the Canadian electronic band Crystal Castles featuring the vocals of UK singer Robert Smith (The Cure) on the Fiction Records label.
In 2010, drummer Chris Steffler had to leave the band after developing tinnitus.replaced by Derrick Gyles until 2011
In June 2012, Platinum Blonde, and members Mark Holmes and Sergio Galli with drummer Dan Todd and bassist Rob Laidlaw released a new single "Beautiful" to radio and announced a full new album Now & Never would be released in August that year. Their music video for "Beautiful", directed by Jesse Mann, was released in February 2013. A music video for "Valentine", directed by Michael Penney, was released in March 2014.
The band -- now a trio consisting of Holmes, Galli and Todd -- continue to tour Canada regularly.
Platinum Blonde sponsored a minor hockey team for youth in Whitby Ontario Canada during the 2012/2013 season. While the Whitby Platinum Blondes were on the ice, the band's music could be heard during breaks in the action at arenas they played in. Some of the band members are themselves parents with kids in the sport of hockey.
Platinum Blonde EP (1983) No. 39 CAN
Standing in the Dark (1984) No. 23 CAN
Alien Shores (1985) No. 3 CAN
Contact (1987) No. 20 CAN
Yeah Yeah Yeah – released as by The Blondes (1990)
Now & Never (2012)
Best of Live (1993)
Seven Year Itch: 1982–1989 (1999) No. 23 CAN
Collections (Best of) (2006)