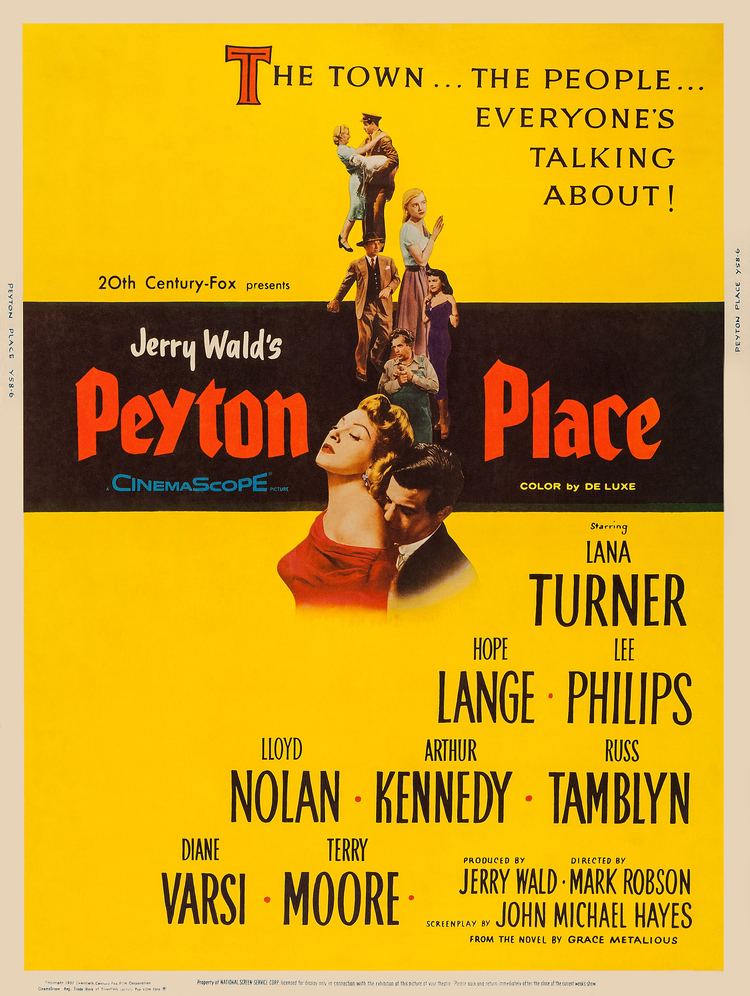 In April 1941, in the seemingly idyllic New England town of Peyton Place, drunkard Lucas Cross (Arthur Kennedy) stumbles out of his house as his step-son Paul - fed up with Lucas' alcoholism - leaves town. Lucas's downtrodden wife, Nellie (Betty Field) goes to work as the housekeeper for Constance "Connie" MacKenzie (Lana Turner), a rather prim-acting local dress shop owner. The daughters of the two families, Allison MacKenzie (Diane Varsi) and Selena Cross (Hope Lange) are best friends and are about to graduate high school.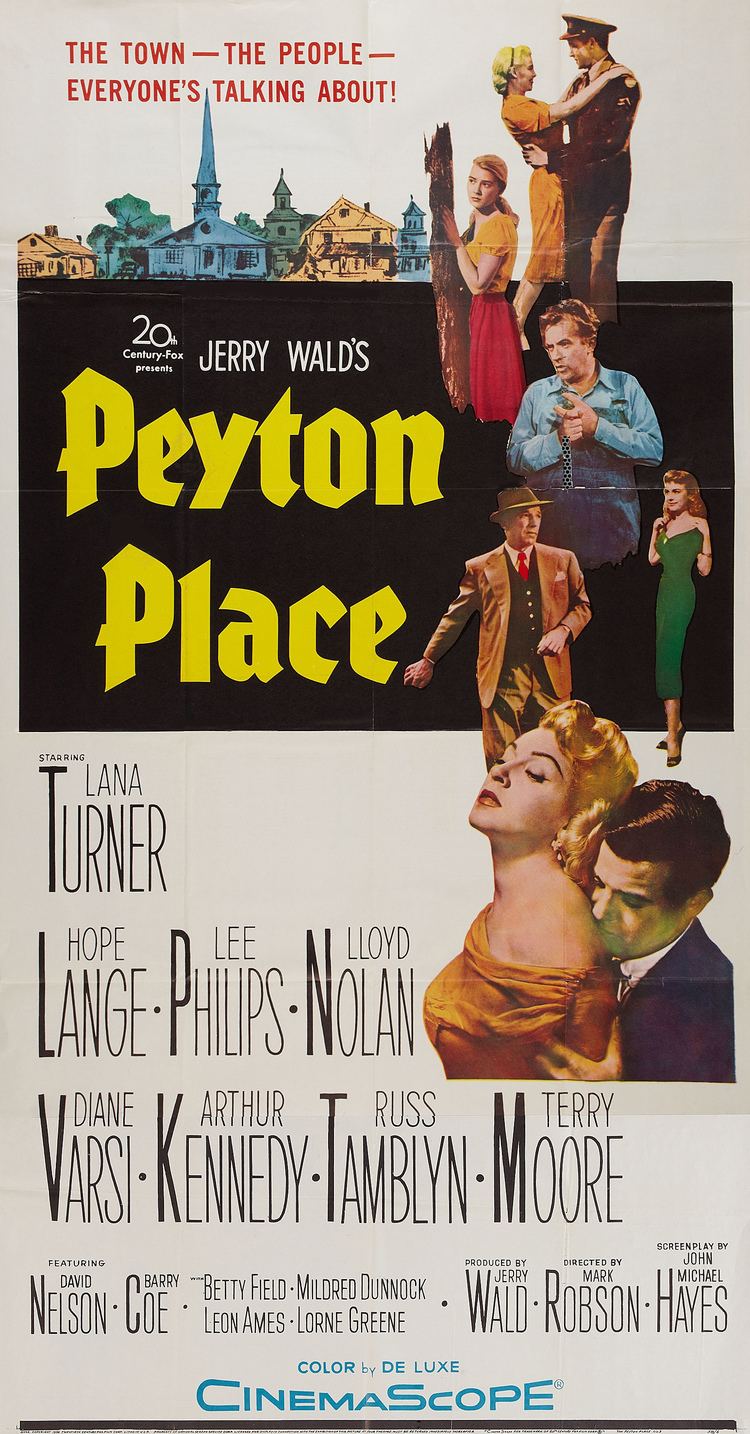 Following an argument about the merits of a good education, a stranger to the town, Michael Rossi (Lee Philips), is hired to be the new principal of the high school by the president of the school board, Leslie Harrington (Leon Ames), the owner of the local woolen mill; the students' choice for the position is long-time teacher, Miss Elsie Thornton (Mildred Dunnock). The board is composed of Dr. Matthew Swain (Lloyd Nolan), the town's main physician; town attorney, Charles Partridge (Staats Cotsworth); his snobbish and gossipy wife, Marion (Peg Hillias) and Seth Bushwell (Robert H. Harris) the editor in chief of The Peyton Place Times, the town's local newspaper. Dr. Swain and Seth become friends with the newcomer.

Arriving at the school, Rossi wins over Ms. Thornton by telling her that he wants to work with her. She is pleased with the newcomer and they get on well.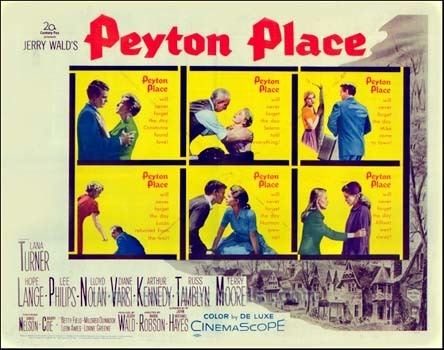 Later, while picking out dresses for Allison's birthday party, Connie encourages her daughter not to invite Betty Anderson (Terry Moore) to the party, due to Betty's overtly sexual style; ultimately, Constance reconsiders and allows Allison to invite anyone to her party. Betty arrives at Allison's party with Leslie Harrington's son Rodney (Barry Coe), who swiftly turns the affair into a make-out party and kisses Allison; the party is ended, however, when Connie walks in, embarrassing Allison by making a scene.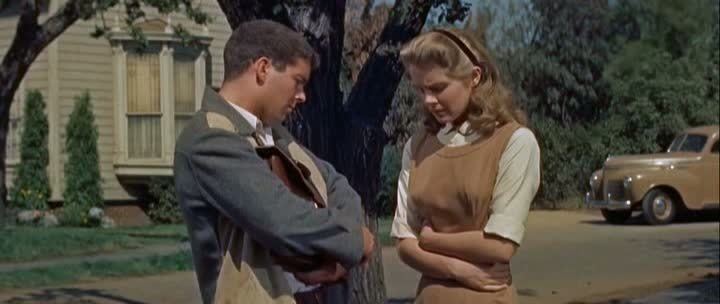 Later on, Allison becomes a witness to Lucas beating and abusing Selena.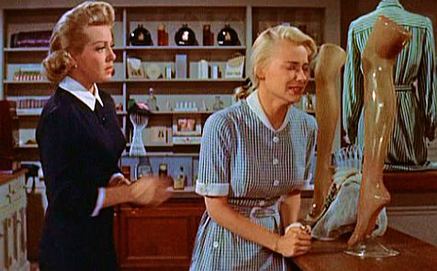 Later that week, Rossi arrives at the MacKenzie house to announce that Allison has been named valedictorian, and he asks Connie to chaperone Allison's graduation dance, and the two slowly develop a romance. Meanwhile, Harrington tells his son, Rodney, that he will not accept his going to the graduation dance with a girl with such a bad reputation as Betty Anderson, and forces Rodney to call Betty and uninvite her to the dance.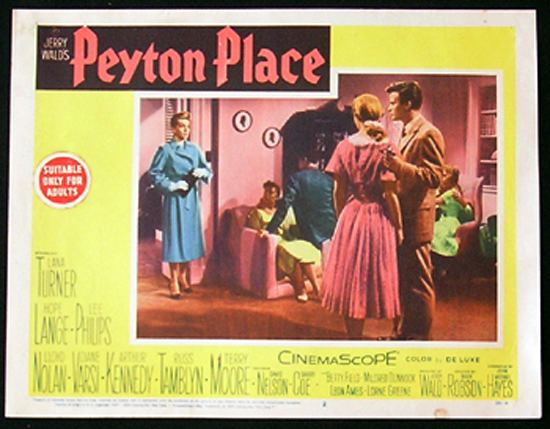 Instead, Rodney goes with Allison, though Allison is in love with another classmate, the shy Norman Page (Russ Tamblyn) who has an overprotective, widowed mother, Evelyn Page (Erin O'Brien-Moore). When they get to the dance, Rodney splits off to make out with Betty in his car, but she is angry at him for dumping her and refuses to have sex with him. She hits him with her purse and storms away from the car.
During the traditional singing of "Auld Lang Syne", Rossi, realizing he is still new and not part of the town's traditions yet, asks Elsie Thornton to lead the singing, to the dismay and horror of Marion, who never liked Elsie, even going so far as to call her a drug addict. Outside, after dancing with her, he kisses Connie, but she again rejects his advances. Selena is escorted home by her boyfriend Ted Carter (David Nelson), and is later raped that night by her drunken step-father, Lucas.
Selena becomes pregnant, and when she goes to Dr. Swain for an abortion he refuses, and she confides in him that her step-father raped her. Swain confronts Lucas, and he is forced by Swain to promise to leave town after signing a confession, all of which Nellie accidentally witnesses. Lucas chases Selena out of revenge when she returns home, and although she escapes, she trips, falls and injures herself. After treating her, Swain enters the operation as an "appendectomy," though in fact she has had a miscarriage, blackmailing his nurse into cooperating. Nellie then becomes morosely despondent in response to what has happened.
At a Labor Day picnic that same year, Rodney and Betty reunite and go skinny dipping while Allison and Norman go swimming, in proper suits, nearby. Marion sees the nude couple and falsely making an assumption, tells Connie it was Allison and Norman, whom she had earlier seen on their way to the lake. This disgusts her husband, Charles.
Connie explodes at Allison for causing rumors. They fight, and Connie tells her that Allison's father was actually married to another woman when she became pregnant with her. Allison runs upstairs and finds that Nellie Cross has committed suicide by hanging herself in a closet. This puts Allison into a state of shock, and she is confined to a bed for a time. Sometime after, Rodney and Betty elope, infuriating Rodney's father Leslie. Allison tells her mother that when she is well enough she is going to leave Peyton Place for New York City, even if she is forced to do the same things her mother did. After saying a tearful goodbye to Selena, Allison makes good on her promise to leave town.
World War II erupts during December 1941, and the men of Peyton Place go off to war. However, when Rodney is killed in action the next autumn, his now-chastened father offers to take care of his widow, Betty, and she is at last welcomed into the family. Meanwhile, during Christmas of 1942 Connie visits Rossi to apologize for being so dismissive of him, and, when she confesses that she was a married man's mistress, Rossi decides to stay in Peyton Place and promises her his offer for marriage is still open. During the same time, a drunken Lucas returns from the Navy and tries to rape Selena again, but this time she bludgeons him to death in self-defense.
Shortly after Easter of 1943, Selena tearfully confesses the killing to Connie and is later arrested and tried by the District Attorney (Lorne Greene) for murder. Allison, still estranged from Connie, returns for the trial, as does Norman, and the truth about Selena's self-defense, her step-father's abuse and her miscarriage - as well as Dr. Swain's false report and Connie's failure as a mother - all come to light. Dr. Swain also admonishes the town for their gossipy nature, and their failure to offer help to Selena when she needed it, to the disgust and fury of Marion. Ultimately, Selena is acquitted, and she and Ted are free to marry.
Allison, after seeing her mother's emotional breakdown, has a change of heart, and approaches Connie at the steps of their home with a hope of reconciliation. Norman is also welcomed into the house.
Cast notes
Both Diane Varsi and Lee Philips made their film debuts in Peyton Place.
The films also marked the first time that David Nelson had appeared separately from his family, Ozzie, Harriet and Ricky.
Erin O'Brien-Moore, who played Mrs. Evelyn Page, would play Nurse Esther Choate in the TV series, Peyton Place in the sixties.
Less than a month after the novel's release in 1956, producer Jerry Wald bought the rights from author Grace Metalious for $250,000 and hired her as a story consultant on the film, although he had no intention of actually allowing her to contribute anything to the production. Her presence in Hollywood ensured the project additional publicity, but Metalious soon felt out of place in the film capital. Horrified by the sanitized adaptation of her book by screenwriter John Michael Hayes, who was forced to contend with the Hays Code, and his suggestion Pat Boone be cast as Norman Page, she returned to her home in Gilmanton, New Hampshire. She hated the film, but she eventually earned a total of $400,000 in exhibition profits from it.
The novel never mentioned the state explicitly, but it made several references strongly suggesting that Peyton Place was located within the state of New Hampshire, whereas the film makes no clear references to any particular New England state. The film was shot primarily in Maine, mostly in the town of Camden, with additional exteriors filmed in Belfast, Rockland and Thomaston, as well as Lake Placid in New York.
The film premiered in Camden two days before going into general release in the US on December 13, 1957.
Peyton Place was the second-highest-grossing film of 1958, although in the first few months of its release it did not do well at the box office, until a real-life tragedy gave it an unexpected boost. On April 4, 1958, star Lana Turner's daughter Cheryl killed her mother's abusive lover, mobster Johnny Stompanato, and was placed in Juvenile Hall. The press coverage of the subsequent investigation boosted ticket sales by 32%, and the film eventually grossed $25,600,000 in the U.S. A coroner's inquest ruled the murder justifiable homicide, and the district attorney chose not to charge Cheryl with the crime, although he declared her a ward of the state and placed her in the custody of her grandmother. Turner feared the negative publicity would end her career, but it led producer Ross Hunter to cast her in the 1959 film Imitation of Life. According to Wald, Peyton Place earned $10.1 million in 4,185 theatres.
Peyton Place was also a popular prime time television series that aired from September 1964 until June 1969.
The film is recognized by the American Film Institute:
2005: AFI's 100 Years of Film Scores – Nominated
While Peyton Place was a commercial hit, most critics noted that the most salacious elements of the Metalious novel had been whitewashed or eliminated completely. In The New York Times, Bosley Crowther remarked, "There is no sense of massive corruption here." Variety noted, "In leaning backwards not to offend, producer and writer have gone acrobatic. On the screen is not the unpleasant sex-secret little town against which Grace Metalious set her story. These aren't the gossiping, spiteful, immoral people she portrayed. There are hints of this in the film, but only hints." TV Guide said, "This is the kind of hypertensive trash that gives melodrama a bad name, cynically tempering its naughty bits with smug moralizing. The film was promoted as receiving an 'A' rating from the Catholic Legion of Decency, meaning it was deemed 'acceptable to all.' But in actually, it was given an "A-III" rating, meaning appropriate only for adults.)
On the film's 40th anniversary in 1998, celebrations were held in some of the Maine towns in which the film was shot, attended by Hope Lange.
The film received nine Oscar nominations (and no wins), including four honoring supporting performances, which tied a record set three years earlier by On the Waterfront. That record would later be matched by Tom Jones, and The Godfather Part II. The film's nine Oscar nominations without a win also tied a then-Academy Award's record for biggest shut-out (with The Little Foxes). That record was later surpassed by The Turning Point in 1977 and The Color Purple in 1985, both of which won zero of eleven nominations.
Best Motion Picture: Jerry Wald, Producer
Best Director: Mark Robson
Best Actress: Lana Turner
Best Supporting Actress: Diane Varsi
Best Supporting Actress: Hope Lange
Best Supporting Actor: Arthur Kennedy
Best Supporting Actor: Russ Tamblyn
Best Writing (Screenplay--based on material from another medium): John Michael Hayes
Best Cinematography: William Mellor