Top speed

322 km/h




Length

8.69 m




Designer

Henry Millicer


Manufacturer

Hunting Aircraft




Wingspan

11 m




Introduced

1953




First flight

February 24, 1950






The Percival P.56 Provost was a British basic trainer that was developed for the Royal Air Force in the 1950s as a replacement for the Percival Prentice. It was a low-wing monoplane with a fixed, tailwheel undercarriage and like the Prentice had a side-by-side seating arrangement. The Provost has the distinction of being the last piston-engine basic trainer aircraft to be operated by the RAF.
Contents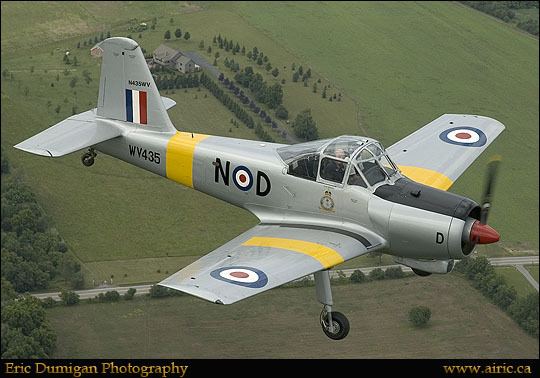 The Provost was later adapted to make use of a turbojet engine, producing the BAC Jet Provost. The type was withdrawn in the 1960s, in favour of its jet-powered successor.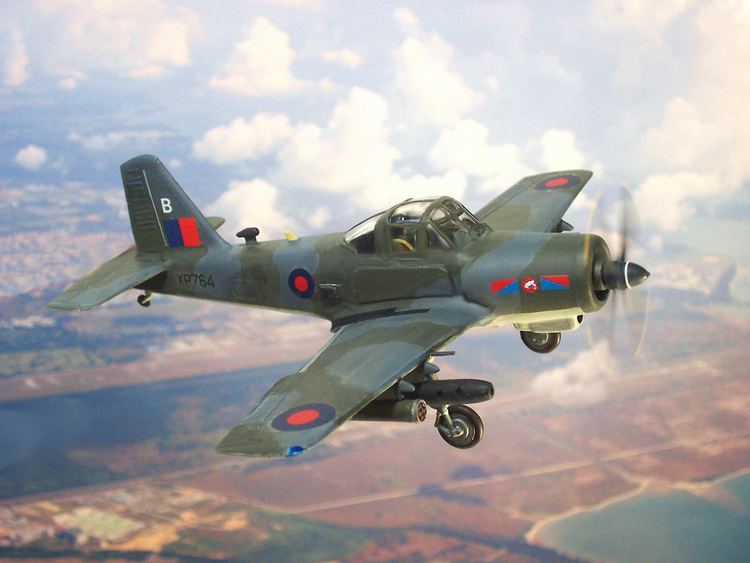 Percival provost shuttleworth military pageant 2013
Development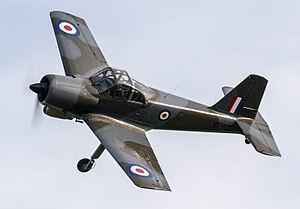 The Provost design is attributed to the Polish-born Aeronautical Engineer, Henry Millicer. Millicer later moved to Australia where he also designed the award-winning Victa Airtourer light aircraft. The Provost was designed to Air Ministry specification T.16/48 for a single-engined basic trainer aircraft to meet Operational Requirement 257 for a Percival Prentice replacement. The specification was issued on 11 September 1948 and the ministry received over 30 proposals. Two designs were chosen for prototype construction, the Handley Page H.P.R. 2 and the Percival P.56. Percival was given a contract dated 13 January 1950 to build two Cheetah-powered prototypes. The company also built a third prototype with an Alvis Leonides Mk 25 engine.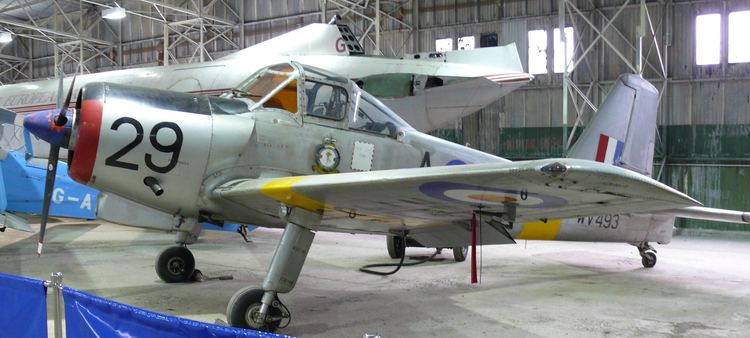 The Armstrong Siddeley Cheetah-powered prototype serial number WE522 first flew on 24 February 1950. After evaluation against the H.P.R. 2 at Boscombe Down, the Leonides-powered P.56 was selected for production as the Provost T.1, with an initial order for 200 aircraft being placed on 29 May 1951. In 1961, production of the type ended with a total of 461 aircraft having been completed. The Percival Provost eventually formed the basis for the Jet Provost trainer which replaced it in RAF service.
Design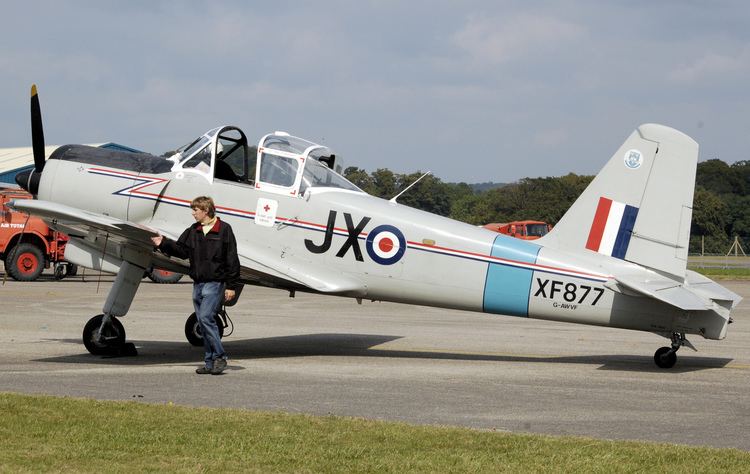 The Provost was an all-metal, single-engined, two-seat monoplane; it had fixed conventional landing gear with a fully castoring tailwheel. Production aircraft were powered by a single 550 hp (410 kW) Alvis Leonides 25 radial piston engine. The Provost was twice as powerful as the preceding Percival Prentice. The Provost had a roll rate and handling similar to the best fighters upon entering service, it was also known for its rapid rate of climb and generous power provision from its engine. The type was designed to be easy to maintain; various components were intentionally interchangeable where possible and there was a generous provision of access hatches in the fuselage.
The Provost was developed to provide training better suited to the increasingly complicated operational aircraft that were then being brought into service. To suit the training mission, the two seats in the cockpit were side-by-side so that the instructor could be alongside the student for close observation and to demonstrate flight procedures; a third seat had been specified for an observer but this was later omitted following little use. The three-piece canopy was designed for good crash-worthiness and to facilitate blind flying training in daylight, via extendible amber screens and blue-tinted goggles to restrict the pupil's forward vision and simulate night conditions; the cockpit was also equipped with various approach aids to enable operations in a greater range of weather conditions and to undertake night training. The complexity of the cockpit was deliberate; contrary to earlier trainer aircraft which were simplified so students would find them easy to fly, the Provost was designed so that beginners were exposed to an advanced environment more akin to the varied tasks of aircraft operations.
Operational history
In 1953, the Provost entered service with the RAF, the first batch of aircraft were delivered to the Central Flying School (CFS) at RAF South Cerney. The CFS carried out intensive flight trials in May and June 1953 prior to instructor training commencing. The Provost was more capable than the Prentice it replaced, which allowed students to move straight on to the De Havilland Vampire after completing training on the Provost. On 1 July 1953, 6 Flying Training School at RAF Ternhill started to re-equip with the Provost. The first pupil training course to use the Provost started in October 1953. No. 22 Flying Training School at RAF Syerston was the next to convert and it was followed by 2 FTS at RAF Cluntoe, Northern Ireland, 3 FTS at RAF Feltwell and then the Royal Air Force College at RAF Cranwell.
From 1956 the Provost was issued to some University Air Squadrons, the first being the Queen's University Air Squadron, Belfast in January 1956. The last RAF production aircraft was delivered in April 1956. The aircraft served with the RAF until the early 1960s, when it was replaced by the Jet Provost. A few Provosts continued in service during the 1960s with the Central Navigation & Control School (later Central Air Traffic Control School) at RAF Shawbury until the last example was retired in 1969. Several retired airframes were renumbered with maintenance serials and used for training of airframe and engine tradesmen. At least five Percival Provost have survived as civilian aircraft.
Exports
The first export order was placed in May 1953 by Southern Rhodesia, for four T.1 aircraft which were designated the T.51. Later, the Royal Rhodesian Air Force followed with an order for twelve armed trainers, designated the T.52, which were delivered in 1955.
In January 1954, the Irish Air Corps ordered four T.51 aircraft and in 1960, a further order for six armed T.53 variants. In 1954, the Burmese Air Force also ordered 12 armed T.53 variants and eventually operated a total of 40 aircraft.
In May 1957, the newly formed Sudan Air Force ordered four T.53 armed variant; two were lost in accidents shortly after delivery, a further three were bought in 1959, followed by five former RAF aircraft.
Former RAF aircraft were delivered to Royal Air Force of Oman as armed T.52 variants. In 1955, the Royal Iraqi Air Force ordered 15 armed Provost T.53s, with the first delivered in May 1955. The final export customer was the Royal Malaysian Air Force, who obtained 24 T.51 trainers between 1961 and 1968.
In 1968, Rhodesia obtained further aircraft using a convoluted route to circumvent an arms embargo.
Variants
Percival P.56 Mark 1
Two prototypes with Cheetah engines for evaluation; both later fitted with Leonides engines.
Percival P.56 Mark 2
One Leonides-engined prototype for evaluation.
Provost T.Mk 1
Two-seat, Leonides-powered basic trainer for the Royal Air Force.
Provost T.51
Unarmed export version for the
Irish Air Corps
.
Provost Mk 52
Armed export version for the
Rhodesian Air Force
and Sultanate of
Oman
.
Provost Mk 53
Armed export version for Burma,
Iraq
, Ireland and Sudan.
Operators
Burma
Burma Air Force
Iraq
Iraqi Air Force
Ireland
Irish Air Corps
Oman
Rhodesia
Rhodesian Air Force
Sudan
Empire Test Pilot's School
Royal Air Force
Cambridge University Air Squadron#
Central ATC School (CATCS)
Central Flying School
Central Navigation and Control School
No. 22 Flying Training School RAF
London University Air Squadron
Manchester University Air Squadron
Queen's University Air Squadron
Royal Air Force College
Zimbabwe Air Force
Burma
On display
Provost T.53 UB211 on display at the Defence Services Museum, Naypyitaw.
Ireland
On display
Provost T.51 183 on display at the Irish Air Corps Museum and Heritage Centre, Baldonnel Airfield, Co Dublin.
Provost T.51 184 on display by the South East Aviation Enthusiasts Group at Dromod.
Malaysia
Provost T.51 FM-1037 on display at the Royal Malaysian Air Force Museum in Sungai Besi Airport, Kuala Lumpur, Malaysia.
New Zealand
Provost T.1 ZK-JOT painted as WV666 of the Royal Air Force is airwothy and based at North Shore Aerodrome, North Island.
An ex-Burmese Provost ZK-PPD is part of the Ashburton Aviation Museum at Ashburton, South Island.
Oman
On display
Provost T.1 WV494 displayed as XF868 of the Sultan of Oman Air Force at Muscat.
United Kingdom
Airworthy
Provost T.1 G-BKFW with CAA permission to fly as XF597, registered to Sylmar Aviation and Services Ltd who operates as the Provost Team, based in the Newbury area of Berkshire.
Provost T.1 G-KAPW with CAA permission to fly as XF603, owned by the Shuttleworth Trust and based at Old Warden, Bedfordshire is airworthy as of 2017, and is displayed to the public at airshows during the summer months.
Provost T.1 G-MOOS with CAA permission to fly as XF690 is owned by a private operator in Somerset.
On display
Provost T.1 WV605 on display at the Norfolk and Suffolk Aviation Museum, Flixton, Suffolk.
Provost T.1 WV606 on display at the Newark Air Museum, Winthorpe, Nottinghamshire.
Provost T.1 WV679 on display at the Wellesbourne Wartime Museum, Wellesbourne Mountford Airfield, Warwickshire.
Provost T.1 WW421 on display at the Bournemouth Aviation Museum, Bournemouth, Dorset.
Provost T.1 WW442 on static display at East Midlands Aeropark.
Provost T.1 WV493 on display at the National Museum of Flight Scotland, East Fortune, Scotland.
Provost T.1 7607M on display at the Royal Air Force Museum Cosford, Shropshire.
Stored or under restoration
Provost T.1 G-AWRY stored in the Newbury area of Berkshire after being damaged in 1987, marked as XF836.
Provost T.51 G-BLIW painted as WV514 under restoration at Shoreham Airport, West Sussex following an accident in 2010.
Provost T.1 WV499 stored at Weston Zoyland Aerodrome, Somerset.
Provost T.1 WW388 stored in the Newport area Shropshire.
Provost T.1 WW444 stored in the Rugely area of Staffordshire.
Provost T.1 WW447 stored for spares use at Shoreham Airport, West Sussex.
Provost T.1 WW453 stored at Weston Zoyland Aerodrom, Somerset.
Specifications (T.1)
Data from World Encyclopedia of Military Aircraft, Military Aircraft of the World
General characteristics
Crew: two
Length: 28 ft 6 in (8.73 m)
Wingspan: 35 ft 0 in (10.7 m)
Height: 12 ft 0 in (3.70 m)
Wing area: 214 ft² (19.9 m²)
Empty weight: 3,350 lb (1,523 kg)
Loaded weight: 4,399 lb (1,995 kg)
Powerplant: 1 × Alvis Leonides 126 9-cylinder radial engine, 550 hp (410 kW)
Performance
Maximum speed: 200 mph (170 knots, 320 km/h) at sea level
Range: 560 nm (650 mi, 1,020 km)
Endurance: 4 hours
Service ceiling: 25,000 ft (7620 m)
Rate of climb: 2,200 ft/min (11.2 m/s)
Wing loading: 20.6 lb/ft² (100 kg/m²)
Power/mass: 0.276 hp/lb (0.206 kW/kg)

Climb to 10,000 ft 3.27 minutes
Armament

for T.52 and T.53 - 2 x 7.62mm machine guns, 500lbs. of bombs or rockets.
References
Percival Provost Wikipedia
(Text) CC BY-SA