Covid-19
American




Engineer




Paul MacCready







Paul Beattie MacCready Jr.


September 25, 1925

New Haven, Connecticut, U.S.




August 28, 2007, Pasadena, California, United States




Judy MacCready (m. ?–2007)




Tyler MacCready, Marshall MacCready, Parker MacCready




Hopkins School, California Institute of Technology, Yale University




Carolyn S Shoemaker, Eugene Merle Shoemaker, Simeon Eben Baldwin




AeroVironment




AeroVironment



Paul B. MacCready Jr. (September 29, 1925 – August 28, 2007) was an American aeronautical engineer. He was the founder of AeroVironment and the designer of the human-powered aircraft that won the first Kremer prize. He devoted his life to developing more efficient transportation vehicles that could "Do more with less".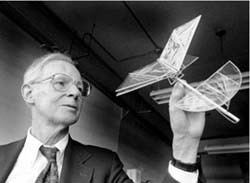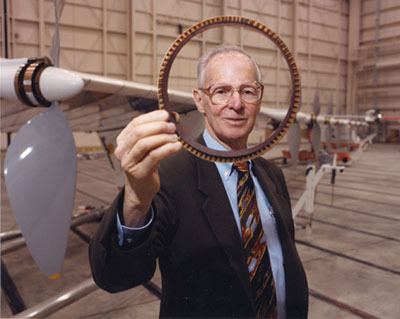 Born in New Haven, Connecticut to a medical family, MacCready was an inventor from an early age and won a national contest building a model flying machine at the age of 15.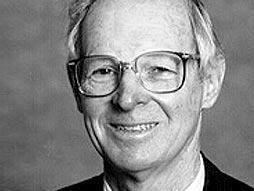 MacCready graduated from Hopkins School in 1943 and then trained as a US Navy pilot before the end of World War II. He received a BS in physics from Yale University in 1947, an MS in physics from Caltech in 1948, and a PhD in aeronautics from Caltech in 1952. In 1951, MacCready founded his first company, Meteorology Research Inc, to do atmospheric research. Some of MacCready's work as a graduate student involved cloud seeding.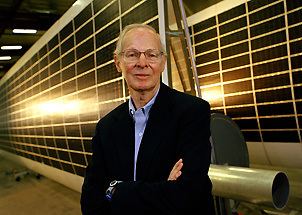 He started gliding after World War II and was a three-time winner (1948, 1949, 1953) of the Richard C. du Pont Memorial Trophy, awarded annually to the U.S. National Open Class Soaring Champion. In 1956, he became the first American pilot to become the World Soaring Champion. He invented a device that told pilots the best speed to fly a glider, depending on conditions and based on the glider's rate of sink at different air-speeds. Glider pilots still use the "MacCready speed ring".
With Dr. Peter B.S. Lissaman, he created a human-powered aircraft, the Gossamer Condor, and thereby won the first Kremer prize in 1977. The award-winning plane was built out of aluminium tubing, plastic foam, piano wire, bicycle parts, and mylar foil for covering. In 1979, he built its successor, the Gossamer Albatross, which won the second Kremer prize for successfully flying from England to France.
He later created solar-powered aircraft such as the Gossamer Penguin and the Solar Challenger. He was involved in the development of NASA's solar-powered flying wings such as the Helios, which surpassed the SR-71's altitude records and could theoretically fly on Mars (where the atmosphere is thin and has little oxygen). MacCready also collaborated with General Motors on the design of the Sunraycer, a solar-powered car, and then on the EV-1 electric car.
In 1985, he was commissioned to build a halfscale working replica of the pterosaur Quetzalcoatlus for the Smithsonian Institution, following a workshop in 1984, which concluded that such a replica was feasible. The completed remote-controlled flying reptile, with a wingspan of 18 feet, was filmed over Death Valley, California in 1986 for the Smithsonian's IMAX film On the Wing. It flew successfully several times before being severely damaged in a crash at an airshow at Andrews AFB in Maryland. The launch of the pterosaur model came off well but the radio transmitter link failed, perhaps due to the interference from some of the many base communications devices. The model nosed over and crashed at the runway side, breaking at the neck from the force of impact.
MacCready helped to sponsor the Nissan Dempsey/MacCready Prize which has helped to motivate developments in racing-bicycle technology, applying aerodynamics and new materials to allow for faster human-powered vehicles.
He was the founder (in 1971) and Chairman of AeroVironment Inc., a public company (AVAV) that develops unmanned surveillance aircraft and advance power systems. AV recently flew a prototype of the first airplane to be powered by hydrogen fuel cells, the Global Observer.
MacCready died on August 28, 2007 from metastatic melanoma. He was an atheist and a skeptic.
Induction to the U.S. Soaring Hall of Fame, 1954
Otto Lilienthal Medal of the Fédération Aéronautique Internationale, 1956 ("for his decisive victory in earning the title of World Soaring Champion in 1956")
California Institute of Technology, Distinguished Alumni Award, 1978,
Collier Trophy, 1979, by the National Aeronautics Association ("awarded annually for the greatest achievement in Aeronautics and Astronautics in America")
Reed Aeronautical Award, 1979, by the American Institute of Aeronautics and Astronautics ("the most notable achievement in the field of aeronautical science and engineering")
Edward Longstreth Medal, 1979, by the Franklin Institute
Engineer of the Century Gold Medal, 1980, by the American Society of Mechanical Engineers;
Spirit of St. Louis Medal, 1980
Inventor of the Year Award, 1981, by the Association for the Advancement of Invention and Innovation
Klemperer Award, 1981, Organisation Scientifique et Technique du Vol à Voile, Paderborn, Germany
I.B. Laskowitz Award, 1981, New York Academy of Science
The Lindbergh Award, 1982, by the Lindbergh Foundation ("to a person who contributes significantly to achieving a balance between technology and the environment")
Golden Plate Award, 1982, of the American Academy of Achievement
Gold Air Medal, of the Fédération Aéronautique Internationale
Distinguished Service Award, of the Federal Aviation Administration
Public Service Grand Achievement Award, of NASA
Frontiers of Science and Technology Award, 1986, first award in this category given by the Committee for the Scientific Investigation of Claims of the Paranormal
The "Lipper Award", 1986, for outstanding contribution to creativity, by the O-M Association (Odyssey of the Mind)
Guggenheim Medal, 1987, jointly by the American Institute of Aeronautics and Astronautics, the Society of Automotive Engineers, and the American Society of Mechanical Engineers
National Air and Space Museum Trophy for Current Achievement, 1988
Enshrinement in The National Aviation Hall of Fame, July 1991, Dayton, Ohio
SAE Edward N. Cole Award for Automotive Engineering Innovation, September 1991
Scientist of the Year, 1992 ARCS (Achievement Rewards for College Scientists), San Diego Chapter
Pioneer of Invention, 1992, United Inventors Association
Chrysler Design Award for Innovation in Design, 1993
Honorary Member designation, American Meteorological Society, 1995
American Society of Mechanical Engineers, Ralph Coats Roe Medal, November 1998
Howard Hughes Memorial Award, Aero Club of Southern California, January 1999
Calstart's 1998 Blue Sky Merit Award, February 1999
1999 National Convention of the Soaring Society of America, dedicated to Paul MacCready, February 1999
Special Achievement Award, Design News, March 1999
Included in Time magazine's "The Century's Greatest Minds" (March 29, 1999) series "on the 100 most influential people of the century"
Philip J. Klass Lifetime Achievement Aviation Week Laureate Award, April 1999
Commemorated in Palau stamp, 1 of 16 "Environmental Heroes of the 20th Century", January 2000
Institute for the Advancement of Engineering William B. Johnson Memorial Award, February 2000
Cooper-Hewitt, National Design Museum, National Design Award – Product Design, November 2000
Hoyt Clarke Hottel Award, American Solar Energy Society, April 24, 2001 ("lifetime achievement as an inventor, specifically for inventing the world's first two solar-powered aircraft")
2001 World Technology Award for Energy, England, July 2001
Prince Alvaro de Orleans Borbon Fund, First Annual Award, October 2001, from the Fédération Aéronautique Internationale, Switzerland
The 2002 Walker Prize, Museum of Science, Boston, March 2002
International von Karman Wings Award, Aerospace Historical Society, May 2002
The 9th Annual Heinz Award in Technology, the Economy and Employment, 2003
Bower Award and Prize for Achievement in Science, 2003
Honorary Doctorate, Washington & Jefferson College, May 2007
Included in the Pantheon of Skeptics of the Committee for Skeptical Inquiry (Formerly Committee for the Scientific Investigation of Claims of the Paranormal)(April 2011)
"Anyone who's not interested in model airplanes must have a screw loose somewhere"
"I'm more interested in a world that works than what sells"
"Doing more with less"
Paul MacCready (November 1985), "The Great Pterodactyl Project"

(PDF)

, Engineering & Science: 18–24, retrieved

October 20,

2010
Paul MacCready (1995), Unleashing Creativity, A keynote presentation at the Lemelson Center's symposium, "The Inventor and the Innovative Society," November 10, 1995, retrieved

October 20,

2010
Paul MacCready Wikipedia