India




Punjab





Punjabi




Tarn Taran





Patti is an Old City and a municipal council of the Tarn Taran district in the Majha region of Indian state of Punjab, located 45 km from Amritsar. It is the main city on the border belt of India bordering Pakistan. It is connected through rail starting from Amritsar station to Khemkaran station, with Khemkaran being its last station of India.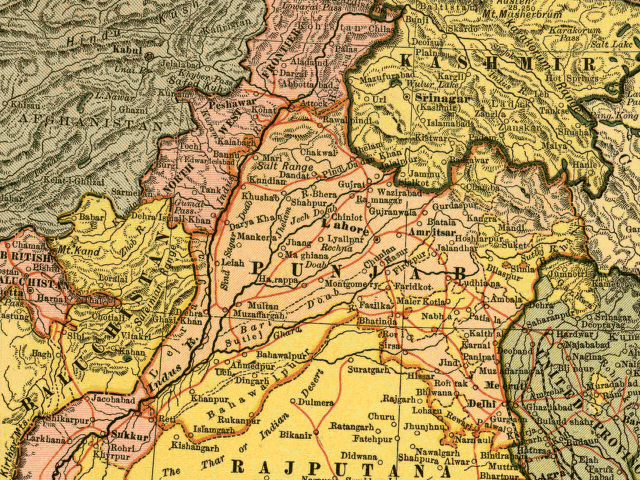 Patti was a residence of Rai Duni Chand, a rich landlord, one of whose daughters, Bibi Rajni was a known devotee of Guru Ram Das Ji. Mughal Governor of Punjab during Mughal period also lived in Patti. Before independence, Patti was a Tehsil of the Lahore district. The city houses the historic Mughal Fort and remains of the city wall. It also houses a number of other historical and religious places.
Patti (Punjabi: ਪੱਟੀ) in Punjabi means street. The original name of this city was Patti Haibatpura, but over a certain period Patti became its name and stuck with it. It was also known as 9 lakhi Patti, due to the wealth and revenue it generated during medieval days.
Before partition Patti was a tehsil of Lahore district. After bifurcation of Amritsar revenue district it became a part of the newly created Tarn Taran district. Patti has been a power center and by some estimates it has been so for as long as 1000 years. In the medieval days it was known as 9 lakhi Patti. That means it generated high revenue of Rupees 9 Lakhs. The city has stories of a certain haveli, of its rulers Mirzas, which was destroyed for farming activity later on, as they migrated to Lahore (Pakistan) in 1947.
The city is situated on a mound which adds to its altitude. To the south-east of the city is a smaller but higher mound which projects a Shiva Temple Shiva . Patti houses a fortress built in 1755 A.D. which housed the local police station up-till the year 2003.
Patti finds rich references in the Sikh history especially when there were increased atrocities from declining mughals on Sikh Jatthedars (raiders) who looted the residents of the city. The fortress was used to prosecute rebellions. The tales of which became a part of everyday Sikh prayer.
In the battle of misls, Patti was ultimately won by Faisailpuria(Singhpuria) Misl. Rumours suggest that Maharaja Ranjit Singh sent his army to siege the town when Mirza Talib Ali Baig rebelled against him for Sikh atrocities on Muslims, particularly banning of their call for prayer (Azan). During this siege, part of the outer wall was demolished.
Patti is also referenced as a place of the Pir (Sufism) and there were many houses of Pirs who belonged to Gillani's family.
Patti has many Government and Private educational institutions. Some of them are listed by
Cambridge International School, Patti
Kalgidhar Academy Public School Khem Karan Road, Near Ware House, Tehsil Patti, Bhikhiwind Distt, Tarn Taran,
Government Elementary School, Garden Colony, Patti,
Government Elementary School, Kahiyan Wala Chowk, Patti,
Government Girls Senior Secondary School, Patti,
Government Boys Senior Secondary School, Patti
Wood Blossom School, Garden Colony, Patti Wood Blossom School
Sh. G. M Arya Sen.Sec. School for Girls, Patti
Mahavir Jain Model School
D.A.V Sen.Sec.School, Patti
Shri Guru Harkrishan Senior Secondary School Patti(C.B.S.E)
Dashmesh Public School
Central Convent Senior Secondary School, Patti(C.B.S.E Affiliated)
St. Farid Public School, Sarhali Road, Patti.
Shaheed Bhagat Singh High School
Government College, Patti
Shaheed Bhagat Singh College of Pharmacy, Patti,
Shaheed Bhagat Singh College of Education, Kairon Road, Patti,
Shaheed Bhagat Singh Polytechnic College, Patti,
Shiv Shankar Institute of Engineering and Technology, Patti,
Government Elementary School, ward No.2, Patti
Futech Computer Education Centre, Near Punjab&Sind bank,patti
Brotherz Networking and Cyber Zone Bhandiya wala Chowk Patti ,
Sacred Heart Convent School, Thakkarpura, Patti,
S.U.S. Convent School, Sarhali Road Patti
Punjab School Education Board, Garden Colony,Branch Patti [1]
As of 2011 India census, Patti is a Municipal Council city in district of Tarn Taran, Punjab. The Patti city is divided into 19 wards for which elections are held every 5 years. The Patti Municipal Council has population of 40,976 of which 21,668 are males while 19,308 are females as per report released by Census India 2011.
Population of Children with age of 0-6 is 4595 which is 11.21 % of total population of Patti (M Cl). In Patti Municipal Council, Female Sex Ratio is of 891 against state average of 895. Moreover Child Sex Ratio in Patti is around 836 compared to Punjab state average of 846. Literacy rate of Patti city is 77.76 % higher than state average of 75.84 %. In Patti, Male literacy is around 82.09 % while female literacy rate is 72.94 %.
Patti Municipal Council has total administration over 7,607 houses to which it supplies basic amenities like water and sewerage. It is also authorize to build roads within Municipal Council limits and impose taxes on properties coming under its jurisdiction.
Patti, Punjab Wikipedia