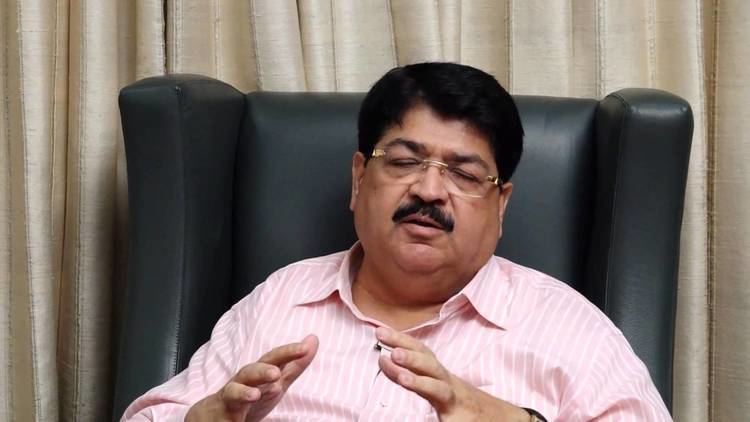 Parimal D. Nathwani serves as Group President of Corporate Affairs at Reliance Industries Ltd. Nathwani is also the Vice President of the Gujarat Cricket Association. He serves as Director of Gujarat Petcoke and Petroproducts P. Ltd. and Shri Dwarkadheesh Salt Works Pvt. Ltd. He served as the Chairman of the Board of Vadodara Stock Exchange Limited from September 30, 2011 to September 15, 2012 and its Director from February 2008 to September 15, 2012. He steered his life as a business man and an entrepreneur till mid nineties. He joined Reliance group in 1997. He spearheaded several prestigious projects of the group from grass-root level since then. Nathwani holds key positions in various prestigious institutions viz. Reliance Rural Development Trust (RRDT)-Chairman, Dwarkadheesh Devasthan Samiti (DOS)- Vice-Chairman (appointed by Govt. of Gujarat), Nathdwara Temple Board- Member (appointed by Govt. of Rajasthan), National Safety Council, Gujarat Chapter- Ex-Chairman, and Organization of Business, Commerce and Industries (OBCI)- President. He also remained Director, Pavitra Yatradham Vikas Board formed to improve and enhance facilities at all important Temples of Gujarat. He is also an Executive Member of Lions Club of Jamnagar; Member of Rotary Club of Jamnagar, Jamnagar Chamber of Commerce and Industries and Executive Committee of Gujarat Chamber of Commerce and Industries. Nathwani accolades include a coveted Award for Social Service from the then Governor of Gujarat Shri R.K. Trivedi. Nathwani's elected to Rajya Sabha as an independent candidate from the state of Jharkhand. He holds Professional Doctorate in Management from National Institute of Management, Mumbai. He pursued his graduation from Mumbai.
Native of a small town of Jam Khambhalia in Gujarat, Nathwani was born to Dhirajlal Nathwani and Pushpaben Nathwani on February 1, 1956 in Mumbai. He completed his graduation from Mumbai and obtained a doctorate in management from National Institute of Management in Mumbai. He has also published a book in Hindi titled Jharkhand: Meri Karmabhoomi.
Having finished studies, he joined the bleaching department of New Era Mills. However, entrepreneurial spirit led him to start a soap agency in Mumbai and then a bath soap manufacturing and marketing unit. After not getting desired results from the soap business, Nathwani tried his luck in stock exchange. Expecting to ride the bulls, Nathwani was done in by the bears during the Harshad Mehta scam in the early 1990s.
Nathwani married to Jaishree Barchh on May 25, 1984. Dhanraj and Karan are his sons. Bhumi is daughter in law of Parimal Nathwani.
A meeting with Dhirubhai Ambani and Mukesh Ambani in 1995 changed his life. The father of India's capital markets took Nathwani under his wings at a time when Reliance was planning the world's the largest single location greenfield refinery at Moti Khavdi near Jamnagar. Nathwani helped in realizing Dhirubhai's dream, literally. He played a pivotal role in removing hurdles in land acquisition and facilitated setting up of the refinery. That was the turning point of his life. The task was herculean. But, Nathwani worked round the clock in rural areas of Jamnagar, dealing with farmers, developing personal rapport with each of them to help Reliance acquire 10,000 acres land. The most important thing was that the land was acquired with consent of all the farmers. Having tested his potential in Jamnagar, Reliance bosses relocated Nathwani at Ahmedabad and entrusted bigger responsibilities and assignment to operate on a bigger canvas in 1997. And, he did not let the company down. In no time, Nathwani became the face of Reliance Industries Limited (RIL) in Gujarat and elsewhere. He spearheaded several prestigious projects of the group. Be it land acquisition for the Jamnagar refinery, setting up of petroleum retail outlets and even establishing Jamnagar Special Economic Zone, Nathwani was always at the centre of all important business activities of the company. He also contributed to cross country gas transportation pipeline network, played a key role in executing telecom network for erstwhile Reliance Infocomm in a record time and helped setting up of consumer retail chain for the group. Now since the RIL is poised to roll out 4-G broadband network in 22 circles of the country, he is once again on the steering wheel to lead the project on the fast track. All this while he remained in charge of the company's Corporate Affairs and industrial relations of the Group's establishments in Gujarat, Delhi and Madhya Pradesh. He is a key member of RIL's top management.
In March 2008, Nathwani entered into the RajyaSabha as an independent candidate from Jharkhand. He got re-elected as Rajya Sabha member from the tribal state in March 2014. Although an alien to the region, Nathwani perhaps is the first and the only Rajya Sabha MP from Jharkhand to keep his promise and open an office in the state capital Ranchi. He has used his MPLAD funds for creating village infrastructure in tribal areas of Jharkhand. Besides government funds, he also contributes in his own way for various charitable and public welfare activities. Nathwani has created drinking water and sanitation facilities for Islamnagar, a poor slum in the heart of Ranchi town and made the area worth living. He rebuilt a hospital run by Ranchi Municipal Corporation from his own fund. As an MP Nathwani has advocated various issues like problems faced by fishermen and their families, protection and conservation of Asiatic Lions, Development of Pilgrimage City Dwarka, economic emancipation of tribal without uprooting them from their culture, tradition and heritage, Development of new capital city of Jharkhand, promoting mother tongue in education, making education free of cost till Std:XII across the country, coastal security, and CSR.
Nathwani, who got elected to Rajya Sabha from Jharkhand first in 2008 and again in 2014, has created a niche by publishing a book in Hindi viz. 'Jharkhand: Meri Karmabhoomi.' The book in itself is his report card of the 1st term as an MP. His contribution and support for village development and infrastructure, education, health, national integration, sports and culture, empowering tribals and minorities etc. have elaborate notes and details. He especially tried to transform lives for people of Islamnagar area in Ranchi, Rendo and Karamtoli – the tribal villages etc. In his second stint as MP, he adopted Jaratoli/Baram Panchayat under Sansad Adarsh Gram Yojana. Several works such as construction of roads, sarnasthal, community hall, toilets, ambulances, water supply infrastructure, school buildings etc. are taken up. Most of these works were accomplished under MPLAD scheme with most of them completed; some under progress. Nathwani also spent Rs 3.62 cr extra for betterment of Jharkhand from his personal coffers in October 2015. Large number of issues through Parliament questions, special mentions etc. majority of them concerning Jharkhand; have been taken up. Nathwani as an MP visits Jharkhand and personally reviews the progress of developmental works undertaken by him.
A 30-km long all-weather road named as Sir P.N. Road connects State highway number 25(Jamnagar-Dwarka) and Gujarat State highway number 27(Jamnagar-Porbandar) or in other words Padana Patiya to Changa Patiya. Several villages and Reliance refinery are located on both sides of the road. This road has eight small bridges and two major bridges at Sasoi(272 meter) and Panna(100 meter) and two railway crossings. The road will be helpful as alternative highway to reach Dwarka from Rajkot bypass. The highway road has been built at a cost of Rs 86 crore and has been constructed by Reliance Industries Limited.
Nathwani has been the Vice President of Gujarat Cricket Association (GCA) since early 2010. GCA is rebuilding the Motera stadium at Ahmedabad and plans to make it a Melbourne type world class stadium. The previously built Motera stadium is demolished and erased. Nathwani also provided umbrella to cricketers of Gujarat like Parthiv Patel, Yusuf Pathan, Irfan Pathan, Ravindra Jadeja etc. and motivated them so that they focused on their game. Nathwani has helped sportsmen of Jharkhand by providing them incentives during 34th National Games at Ranchi, providing cricket equipment to local sports club, constructing stadiums in villages etc.
A setback in stock market in early 90s drew Nathwani to Lord Krishna or Dwarkadheesh. Previously, He has served as Vice Chairman of Dwarkadheesh Devasthan Samiti. He is also a member in Nathdwara Temple Board. He has been instrumental in development of Dwarka as an important destination for pilgrimage tourism. Renovation of Gomatighat, Dhirubhai Ambani Marg, Dwarka Parisar development, Kokila Dhiraj Dham, traffic circle and a road, floral decoration and illumination of Dwarkadheesh temple during festivals like Janmashtami etc. have much of the credit to Nathwani and Reliance Industries. Sudama Setu, a cable-staid bridge to cross Gomati river is the latest addition in Dwarka. Development of Dwarka of late has much to do with joint efforts of Government of Gujarat and Reliance Industries.
Member of Parliament (Rajya Sabha) from Jharkhand
Group President (Corporate Affairs and Projects), Reliance Industries Limited (RIL)
Chairman, Reliance Rural Development Trust (RRDT) view more »
Member - Standing Committee on Personnel, Public Grievances, Law & Justice
Member - Standing Committee on Railways
Member - Consultative Committee, Ministry of Civil Aviation
Member - Select Committee on Payment & Settlement (Amendment) Bill
Permanent Special Invitee - Consultative Committee, Ministry of External Affairs
Member, Multi-sectoral Development Program Committee (MsDP), Jharkhand
Member - Hindi Salahkar Samiti, Economic Affairs Division and Financial Services Division, Ministry of Finance
Trustee in the Board of Governor's Social Welfare Fund (Gujarat)
Vice President, Gujarat Cricket Association
Ex-Vice Chairman, Dwarka Devasthan Samiti
Member, Nathdwara Temple Board
Chancellor, Shree Bruhad Gujarat Sanskrut Parishad
Member, Gujarat Ayurved University Development Board
Director, Gujarat Petcoke and Petro-products Supply Pvt. Ltd.
President, Gujarat Industries Navratri Festival Society (GINFS)
Ex-chairman, Vadodara Stock Exchange