Country

India




State

West Bengal





District

Purba Medinipur








Languages spoken

Bengali, English



Map of Panskura
Panskura is a Town and Municipality in Purba Medinipur in the Indian state of West Bengal.
Contents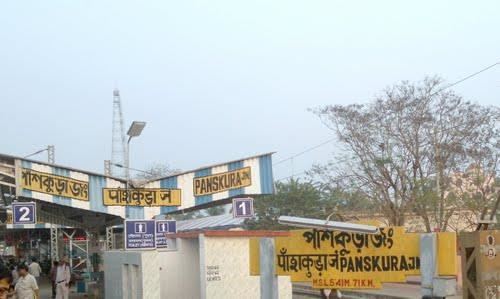 Old src wap4 at its best panskura torn apart howrah barbil janshatabdi express
Bengali actress srabonti in panskura town utsab sisu mela manch
Geography
Panskura is located at 22.42°N 87.7°E / 22.42; 87.7. It has an average elevation of 7 metres (26 feet). ,It is situated on the NH6 on the way from Kolkata to Kharagpur.
Demographics
As per 2011 Census of India Panskura had a total population of 57,932 of which 29,740 (51%) were males and 28,192 (49%) were females. Population below 6 years was 6,943. The total number of literates in Panskura was 43,326 (84.97% of the population over 6 years).
Police station
Panskura police station has jurisdiction over Panskura (municipality) and Panskura CD Block. Panskura police station covers an area of 285 km2 with a population of 350,000.
Economy
The livelihood of the common people is dependent on Business/Job/Agriculture. Many varieties of flowers and green vegetable are grown and are supplied to Kolkata from here. Local vegetable wholesale market is the main trade of this town. This vegetable market is the 2nd largest market in West Bengal. The first governmental cold storage & market for flower is situated at Panskura.
Panskura Bazaar
A large portion of the local population are farmers. Vegetables produced by farmers come to the bazaara, a busy and large wholesale market. It is the supply line for the vegetables markets of Kolkata and its outskirts. The bazaar is also well connected by train and road (NH6) to Kolkata which is the nearest big city. Local trains of South Eastern Line are frequent. Kharagpur, Haldia and Digha train connection is also available here.
The cultural side of Panskura
You can check more details on- Panskura culture unit In the interiors of West Bengal is yet another treasure- Midnapore town or Medinipur, as it is locally known. Midnapore combines the beauty of India's multi religion culture with the exuberance of ancient history. Panskura is one of the famous town of medinipore district and well known for its social activities . You will get end number of cultural schools which inspire children to extra curriculum activities.Panskura culture unit is one of them.Panskura culture unit provides various services for art & culture lovers. Panskura is also famous for ছন্দবাণী recitation school.
Education
Panskura Banamali College (both undergraduate and post graduate degree in arts and science) is the sole institution of higher education.
Siddhinath Mahavidyalaya
Panskura Bradley Birt High School is the oldest (1864) and the reputed school of the area.
Gopalpur is the second oldest (1910) school in this area.
Panskura Gandhi Vidyapith
Raghunathbari Ramtarak High School which is also the third oldest (1915)
Panskura Girls' High School (1938)
Vivekananda Mission High School (CBSE)
Bakulda High School (1945)
Vidyasagar Nursery School (1990)
Mechogram Purnachandra Balika Vidyayatan (1972)
Dhuliapur Pallishree Bani Mandir (1939)
Shyam Sundarpur Patna High School (1952)
Pratappore High School (1962)
Bhogpur K. M. High School
Dhuliara Mahendra Institution
Jamia Islamia Mazahirul Uloom Madrasha (1975)
Gopalnagar B. L. Vidhyapith
IDAN Teachers Training College
Rashbehari College Of Education
Panskura Primary Teachers' Training Institute
Vivekjyoti College
Sahid Khudiram College Of Education
Champadali High School H.S (1971)
Ramchandrapur Raisuddin high school
Maguri Jagannath Chak High School
Chandabani Recitation Institute ( Offers bengali poetry recitation classes )
Health
There is a Government Super Speciality Hospital and a Private Super Speciality Hospital and some Private Nursing Homes in Panskura. People of this area mainly depend on that hospitals and nursing homes.
Panskura Super Speciality Hospital ( Governmental )
Baroma Sirona Hospital ( Super Speciality )
Jivandeep Nursing Home
IDAN Nursing Home
Subhalaxmi Nursing Home
Mother Teresa Nursing Home
New Mother Teresa Nursing Home
Life Care Nursing Home
Vivekananda Nursing Home
Astha Nursing Home
Ashalata Nursing Home
Transportation
Panskura is well connected by train and road (NH6) to Kolkata which is the nearest big city. Local trains of South Eastern Line are frequently available at Panskura railway station. Kharagpur, Haldia and Digha train connection are also available.
Kolkata is also well connected to Panskura by NH 16. Local buses, Trakers, Toto and private taxis also play a major role of transportation to more interior villages from there. SH 4 passes through Panskura.
Panskura is well connected to Ghatal by bus from Panskura bus stand and bus from Kolkata to Ghatal is also have to pass from panskura near machogram. Panskura is also connected to district town Tamluk by bus & train.
Panskura railway station
Panskura Banamali College
Panskura I
Panskura Bazar
Panskura (Lok Sabha constituency)
Panskura Paschim (Vidhan Sabha constituency)
References
Panskura Wikipedia
(Text) CC BY-SA