Pachmarhi is a hill station in Madhya Pradesh state of central India. It has been the location of a cantonment (Pachmarhi Cantonment) since British Raj. It is widely known as Satpura ki Rani ("Queen of Satpura"), situated at a height of 1100 m in a valley of the Satpura Range in Hoshangabad district. Dhupgarh, the highest point (1,350 m) in Madhya Pradesh and the Satpura range, is located here.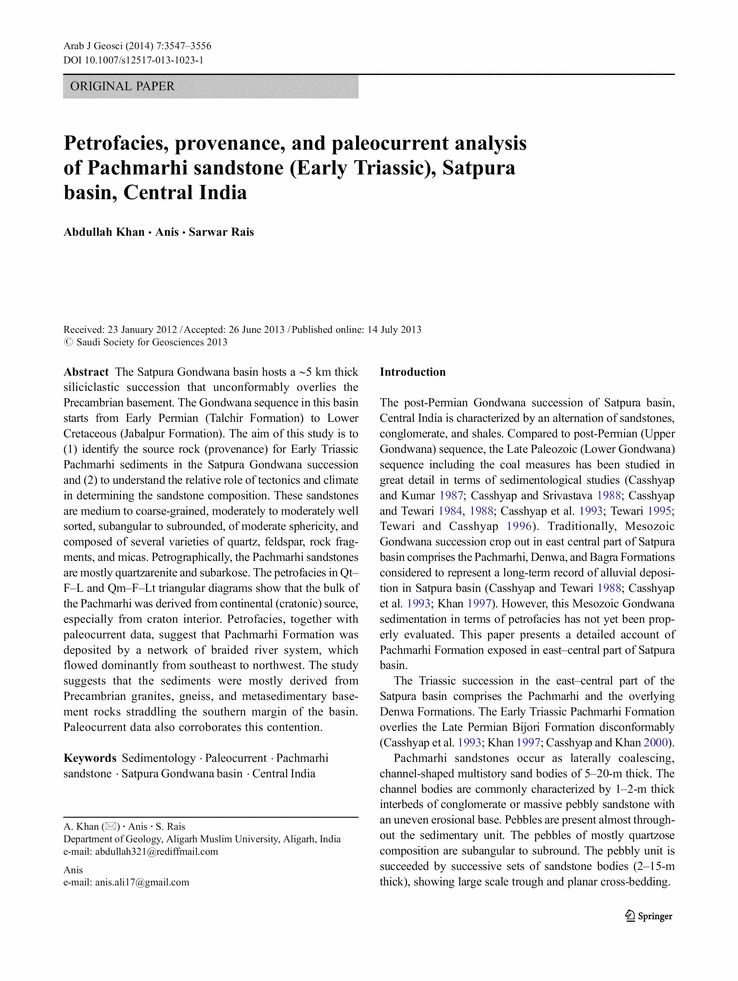 The name Pachmarhi is believed to be derived from the Hindi words Panch ("five") and Marhi ("caves"). According to a legend, these caves were built by five Pandava brothers of Mahabharatha era during their fourteen years of exile. The caves are situated on a hilltop and provide an excellent vantage point.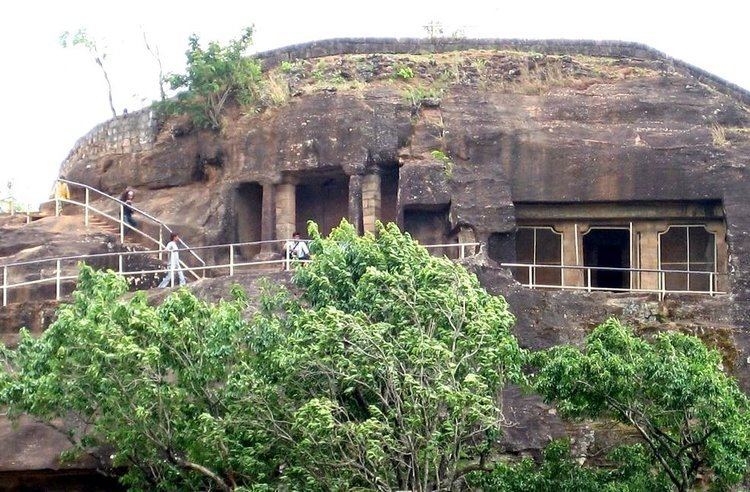 British arrival, Pachmarhi region came under the kingdom of the Gond king Bhawut Singh, although it was a populated village or town at that time. Captain James Forsyth of the British Army along with Subhedar Major Nathoo Ramji Powar who was later made the Kotwal (Incharge of the armoury (Koth)of Pachmarhi, spotted the plateau in the Pachmarhi region in 1857, while leading his troops on the way to Jhansi. It quickly developed into hill station and sanatorium for British troops in the Central Provinces of India.
The population in 1901 was 3,020, rising to double that number in the hot summer months. Pachmarhi also served as the summer capital for the Central Provinces.
The forest around the town is home to many rare varieties of plants. UNESCO added Pachmarhi park to its list of Biosphere Reserves in May 2009. The total area of Pachmarhi Biosphere Reserve is 4981.72 km2. It is located at Longitude 22° 11' to 22° 50'N and Latitude 77° 47' to 78° 52'E. It covers parts of three civil districts, viz., Hoshangabad (59.55%),Chhindwara (29.19%) and Betul (11.26%). It includes three wildlife conservation units viz., Bori Sanctuary 485.72 km2), Satpura National Park (524.37 km2) and Pachmarhi Sanctuary (491.63 km2). These altogether has also been notified as Satpura Tiger Reserve (1501.72km2) African Journal of Environmental Science and Technology Vol. 5(9), pp. 717-721, September 2011 Available online at http://www.academicjournals.org/AJEST ISSN 1996-0786 ©2011 Academic Journals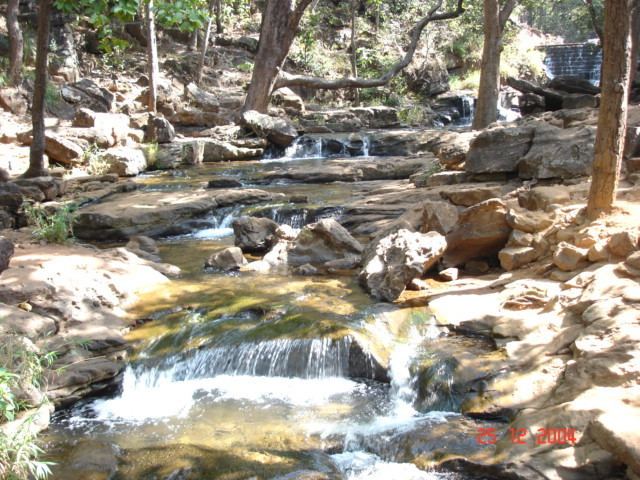 Pachmarhi is a popular tourist retreat. Tourists visit Pachmarhi throughout the year.There are lots of hotel mostly situated in market like Hotel shri krishna only few cottages and resort and mp tourism hotels are situated in peace full location of pachmarhi 2 or 3 km away from bus stand.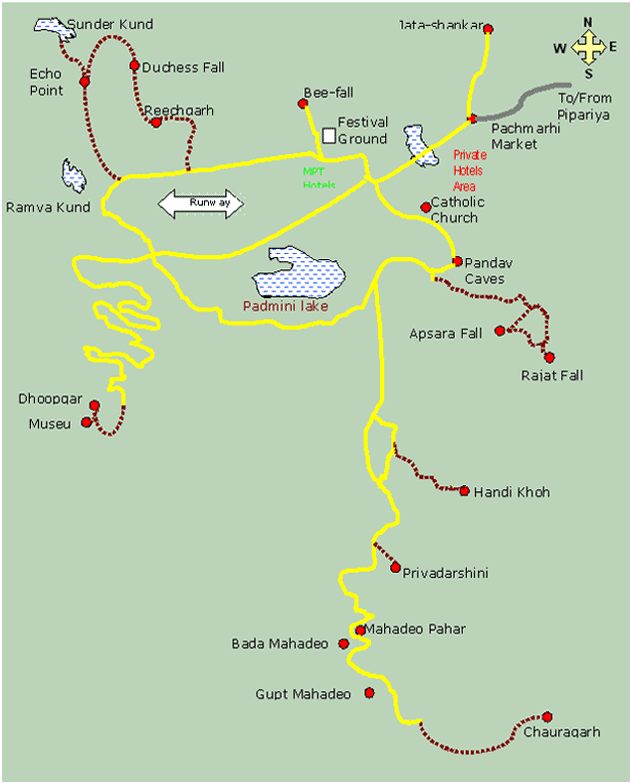 Pachmarhi also has a lot of cave paintings in the forests, some of which have been estimated to be as much as 10,000 years old. Shown in the picture is the garden at the base of a tourist attraction called Pandava Caves. The caves are Buddhist in origin but the name persists. The place has rich timber reserves including teak, but being a part of a reserve no new construction or felling of trees is allowed. Having a rich and rare flora as well as fauna, Pachmarhi needs central and state government approval for any new construction outside the town area.
Some of the places of tourist interest here are:
Rajat Prapat (large waterfall)
Bee Fall
Dhoot Akhilesh
Bada Mahadev
Gupt Mahadev
Chauragarh (Shiv devotees come here in huge numbers during Mahashivratri)
Dhupgarh (the highest peak of the Satpuras and Madhya Pradesh)
Handi Khoh (deep valley)
Apsara Falls (fairy pool)
Jatashankar (stalagmite-filled cave in a deep ravine)
Duchess Fall
Pachmarhi Hill (whole view of Pachmarhi City)
Pansy Pool
Waters Meet
Picadilly Circus
Patharchatta
Crumps Crag
Lady Robertsons View
Colletin Crag
Mount Rosa
Handi Kho
Reechgarh
Rajendra Giri (beautiful gardens with natural scenery)
Bansri Bihar
Little Fall
Naagdwari
Draupadi Kund
Mid Point of India
Tourist Spots
Pachmarhi is blessed with very rich flora and fauna. It has endless nature spots, lush greenery, breath-taking views, waterfalls, mountain streams, rich and rare wildlife. Some of the popular spots are as follows
Pachmarhi Wikipedia
(,)http://static-content.springer.com/lookinside/art%253A10.1007%252Fs12517-013-1023-1/000.png(,)http://www.bhavyaholidays.com/blogs/wp-content/uploads/2014/02/Pandav-caves-pachmarhi.jpg(,)http://upload.wikimedia.org/wikipedia/commons/b/b6/Bhimbetka_rock_paintng1.jpg(,)http://img1.holidayiq.com/photos/pa/Pachmarhi-1745-4-JPG-destreviewimages-619x240-1324604031-cropped.JPG(,)http://www.wondermondo.com/Images/Asia/India/MadhyaPradesh/Pachmarhi.jpg(,)http://i.ytimg.com/vi/T7hnZ559c9Y/hqdefault.jpg
(,)http://upload.wikimedia.org/wikipedia/commons/thumb/d/da/Rogan_josh01.jpg/800px-Rogan_josh01.jpg(,)http://www.journeymart.com/de/CityImages/waterfall-pachmarhi.jpg(,)http://www.journeymart.com/de/CityImages/panchmarhi-church.jpg(,)http://www.madhyapradeshtourism.com/admin/upload/pachmarhi%2520park%2520view.JPG(,)http://pachmarhihotels.net.in/wp-content/uploads/2012/01/Kachnar-Hotel-Pachmarhi.jpg(,)http://pachmarhihotels.net.in/wp-content/uploads/2012/02/cropped-pachmarhi.jpg(,)http://www.nivalink.com/watermark.ashx%3FImageUrl%3Dhotelimages/uploads/9720131217370371316.jpg(,)http://pachmarhihotels.net.in/wp-content/uploads/2012/01/Ark-Resort-Pachmarhi.jpg(,)http://2.bp.blogspot.com/-HI-2UB6oKG4/VQRztFUBOnI/AAAAAAAAFGA/A52s9FtSUPU/s1600/pachmarhi-travel-guide.jpg(,)http://4.bp.blogspot.com/-9gyM5SYEAh8/VQfb4DrjeRI/AAAAAAAAFJQ/BV-qbmRUwTM/s1600/pachmarhi%252Bfood.jpg(,)http://palashresidency.in/upload/services/thumb2restaurant.png
(,)http://www.holidayiq.com/destreviewimages/Pachmarhi-1745_4.JPG(,)http://pachmarhitravels.com/images/pachmarhimap.gif(,)http://www.holidayiq.com/destreviewimages/Pachmarhi-5388_2.JPG(,)http://www.seovalley.com/blog/picnic_img/image005.jpg(,)http://media-cdn.tripadvisor.com/media/photo-s/01/35/77/9c/pandava-caves-in-pachmarhi.jpg(,)http://kalkatourandtravels.com/wp-content/uploads/2014/10/pachmarhi-tourist-place-3big.jpg(,)http://blessingsonthenet.com/img/uploads/city/aim_bn_1315757430.jpg(,)http://www.bhavyaholidays.com/blogs/wp-content/uploads/2014/02/pachmarhi-waterfall.jpg(,)http://media-cdn.tripadvisor.com/media/photo-s/01/65/d3/3d/shooting-of-asoka-done.jpg(,)http://www.journeymart.com/de/CityImages/pachmarhi.jpg(,)http://blog.travelwithsmile.com/wp-content/uploads/2013/06/pachmarhi-map-1.gif