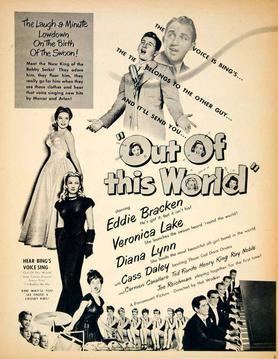 Betty Miller (Lynn) and her all-women orchestra are struggling until singer Herbie Fenton (Bracken) joins the band. The picture was a satire on the Frank Sinatra 'bobby soxer' cult.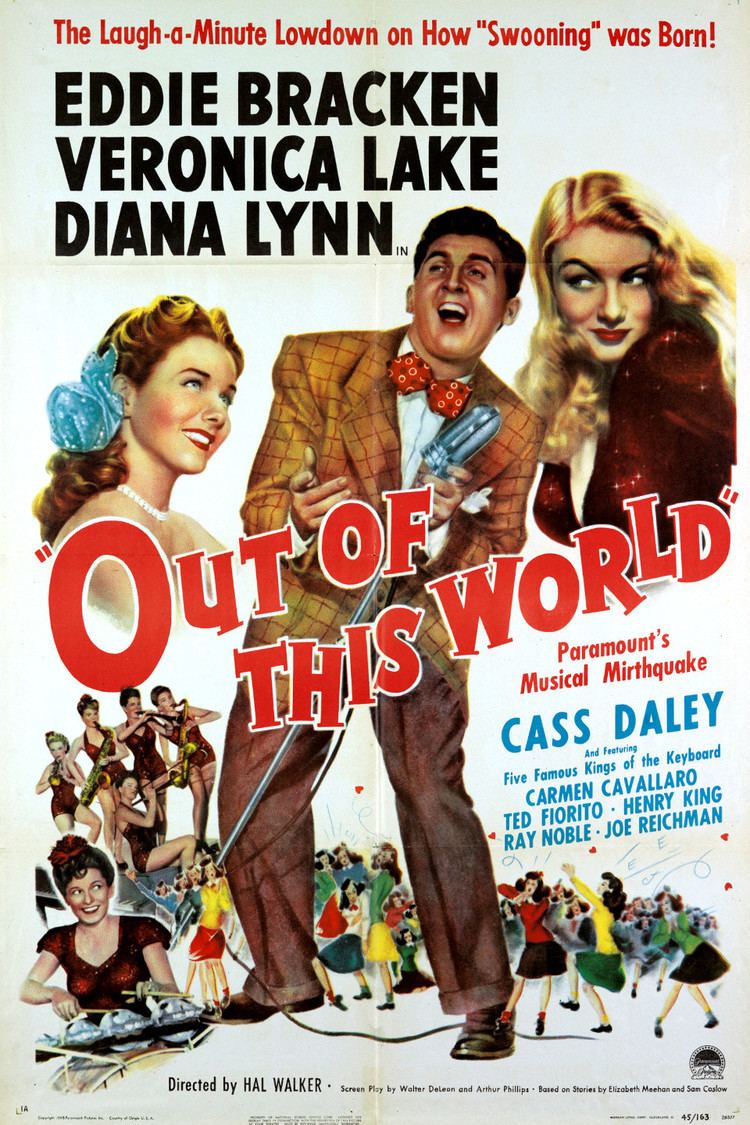 A shy Western Union messenger, Herbie is accidentally pushed on stage and ends up becoming an overnight radio sensation when he sings at a benefit show where Betty and her all-girl band is playing. He has a romance with Betty, who then sells more than 100% of his contract to various "managers" while Herbie receives only fifty dollars per week. One of those managers, Dorothy Dodge (Lake), hires "bobby soxers" to swoon at his performances.
Diana Lynn as Betty Miller
Eddie Bracken as Herbie Fenton
Veronica Lake as Dorothy Dodge
Cass Daley as Fanny
Donald MacBride as J.C. Crawford
Florence Bates as Harriet Pringle
Charles Smith as Charlie Briggs
The film was originally known as Divided by Three. It was meant to star Eddie Bracken and Betty Hutton after their success in Miracle of Morgan's Creek. However, Hutton was then assigned to the film California, so her role was assigned to Diana Lynn.
Veronica Lake was then brought in to play the third lead. It was a step down for Lake, who had been one of Paramount's biggest stars. Hedda Hopper wrote that Paramount gave her the part supporting Lynn because "Lake clipped her own wings in her Boston bond appearance... It's lucky for Lake, after Boston, that she isn't out of pictures."
Filming started in June 1944.
In one scene, Bing Crosby's four sons are seated in the front row at a radio show when Bracken is singing. "Where have I heard that voice before?" asks the first one. "I was just thinking that," says the next. The third says, "Aw shucks, I'd rather hear that bow-tie guy sing anyway" (meaning, of course, Sinatra). The last one says, "You'd better not let mother hear you say that."
In the finale, the five orchestra leader-pianists, Carmen Cavallaro, Ted Fio Rito, Henry King, Ray Noble and Joe Reichman, combine their talents in a joint pianistic effort.
Bosley Crowther of The New York Times said: "Imagine a shy young singer with Eddie Bracken's looks and the soothing voice of Bing Crosby and you have a picture of the hero of this film...That trick of movie prestidigitation is the novel twist of the show and is good for a laugh whenever Eddie opens his mouth and Bing's warbling comes out. To be sure, Mr. Crosby never shows up, but his four fair-haired youngsters are on hand in one scene to represent the family and toss a few quips about dad...Mr. Crosby sings three fairish songs amusingly..."
Eddie Bracken's songs are dubbed by Bing Crosby.
"Out of This World" sung by Bing Crosby, and mimed by Eddie Bracken
"June Comes Around Every Year" (Harold Arlen / Johnny Mercer) sung by Bing Crosby, and mimed by Eddie Bracken
"I'd Rather Be Me" (Eddie Cherkose / Sam Coslow / Felix Bernard) sung by Bing Crosby, and mimed by Eddie Bracken
"All I Do Is Beat This Gol-Darn Drum" (Bernie Wayne / Ben Raleigh)
"A Sailor with an Eight-Hour Pass" (Bernie Wayne / Ben Raleigh])
"Ghost of Mr. Chopin" (Eddie Cherkose / Sam Coslow / Felix Bernard)
"It Takes a Little Bit More" (Eddie Cherkose / Sam Coslow / Felix Bernard).
Bing Crosby recorded three of the songs for Decca Records. Crosby's songs were also included in the Bing's Hollywood series.
"Out of This World" was a hit in 1945 for Jo Stafford and Tommy Dorsey.