Birth name

Ok Taek-yeon




Website

2PM.jype.com


Role

Actor




Music group

2PM (Since 2008)


Parents

Kim Misook, Ok Kwang Ik




Years active

2008–present




Name

Ok Taecyeon




Height

1.85 m




Siblings

Ok Jihyen






Born

December 27, 1988 (age 26)Busan, South Korea (

1988-12-27

)


Occupation(s)

Rapperdanceractorsingermodelsongwriterentrepreneur




Associated acts

2PM2AMJYP NationOne Day




Movies and TV shows

Three Meals a Day, Dream High, Who Are You?, Wonderful Days, Marriage Blue


Similar People

Nichkhun, Jang Wooyoung, Lee Junho, Hwang Chansung, Gui Gui


Profiles




Twitter
Ok Taec-yeon (Hangul: 옥택연; Hanja: 玉澤演; born December 27, 1988), best known as Taecyeon, is a South Korean singer, songwriter, actor, and entrepreneur. He is the main rapper of the South Korean boy group 2PM. In 2010, Taecyeon debuted as an actor in the Korean drama Cinderella's Sister and since then has starred in Dream High (2011) and Let's Fight, Ghost (2016).
Contents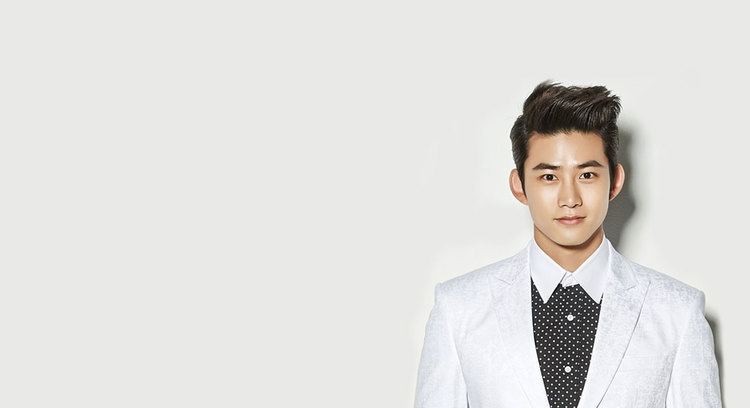 Early life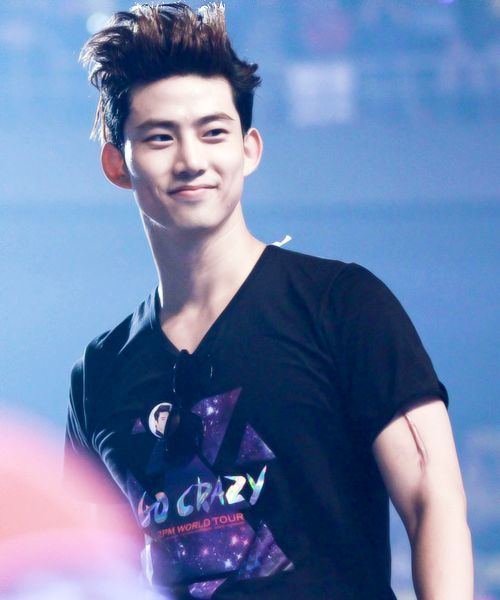 Taecyeon was born in Busan, South Korea, but immigrated at the age of 10, with his parents and older sister Jihyen to Bedford, Massachusetts, a small town situated in the Greater Boston Area. Taecyeon lived there for seven years, attending Bedford High School where he was an active member of the Chess Club, Jazz Band, JV Soccer Team and National Honor Society, before returning to pursue his career in Korea. Taecyeon transferred to Young Dong High School in Seoul and then studied Business Administration at Dankook University. He is currently attending Korea University Graduate School of International Studies. He is fluent in English, Korean and Japanese. Being from Busan, Taecyeon is also familiar with the use of the Busan satoori (dialect), which he used in the KBS2 drama Wonderful Days.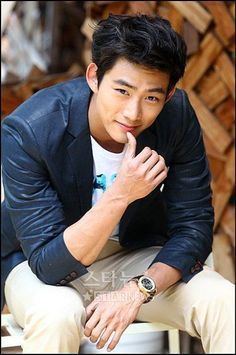 It was his sister Jihyen who persuaded him to participate in a JYP Entertainment audition, whose promotion she had noticed when surfing on the Internet. After his reluctant agreement to participate, both headed for New York City on his 17th birthday. A week later he was chosen for the final 35 and got the call to go to Korea to go further in the competition. At first Taecyeon applied to become a model, but the judges suggested he try dancing and singing. Eventually he was named one of the dozen finalists (including his future bandmates Lee Junho and Hwang Chansung) to compete in the show Superstar Survival, but was the first contestant to leave the show.
Debut with 2PM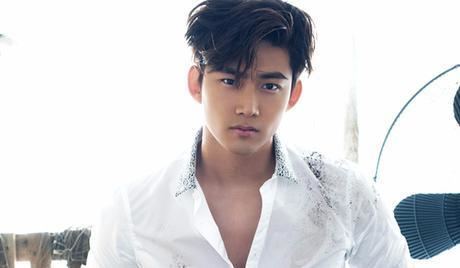 In 2008 he took part in Mnet's Hot Blood Men which follows the extreme training of 13 trainees in order to become a member of the boy band One Day. One Day spawned two boy bands, 2AM and 2PM, the latter of which Taecyeon became a member of. Six months after Hot Blood was aired on TV 2PM debuted with their first single "10 Points out of 10 Points" ("10점 만점에 10점") from their first EP Hottest Time of the Day, but it wasn't until their second EP 2:00PM Time For Change that their success in the Korean music industry skyrocketed. So far 2PM has released five Korean studio albums, four Japanese studio albums, and one EP.
Solo career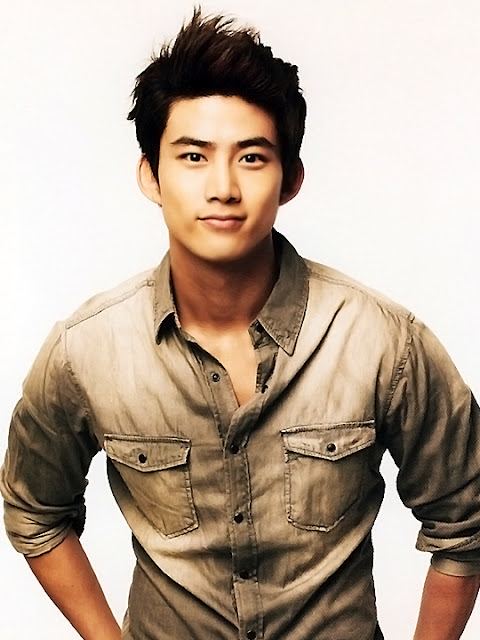 Taecyeon is featured in "Yes I'm In Love" by Bada on her fourth album and Baek Ji-young's 2009 song "내 귀에 캔디" (My Ear's Candy).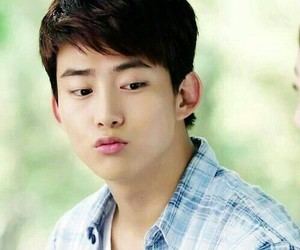 In 2012, Taecyeon teamed up with his fellow Dankook University alumni students to produce a digital album, Blue Bears with Taecyeon. The album was performed live on 2012/02/24 at Dankook University for the matriculation ceremony. The title song "Wings (날개)" was written and composed by Life Music and the Dankook University students, and featured personally penned rap lyrics written by Taecyeon. The second song, a remake of Lee Gwangjo's "A Night Like Tonight (오늘같은 밤)" was also included in the performance, complete with an original rap also written by Taecyeon himself. The album went on sale 2012/02/29, with all proceeds donated back the University.
On 2012/05/25 Taecyeon performed "Kiss" and "After you've left me" for his solo stage. Both songs were written and composed by Taecyeon himself.
On 2012/06/18 Taecyeon, composing as TY, uploaded a message on 2PM's Official Fan Cafe with his newest self-composed song: 자장가 for Hottest. Taecyeon included the .mp3 as a free download for Hottest, asking them to like the song.
Taecyeon released his 1st solo album on 18th Jan 2017. As part of the solo project, he successfully held his first solo concert, 'Taecyeon (From 2PM) Premium Concert' at the Tokyo Dome City Hall in Japan on January 2 and the 3rd, attracting many fans.
Acting career and Variety
He formerly hosted SBS's music show Inkigayo with Wooyoung, and was a permanent cast member on Family Outing 2 before it was cancelled.
In 2010 he made his acting debut in Korean Broadcasting System (KBS) drama series Cinderella's Sister alongside Moon Geun-young and Chun Jung-myung. He then starred in high school drama Dream High, which received high domestic ratings as well as international popularity.
In September 2011, FujiTV announced that Taecyeon was going to become a regular on their Sunday drama Boku to Star no 99 Nichi, along with Japanese actor Nishijima Hidetoshi and South Korean actress Kim Tae-hee. This is his first regular role on a Japanese drama.
In February 2013, it was announced that Taecyeon would form an on-screen couple with Taiwanese actress Emma Wu, in the Global Edition of the reality show We Got Married. The show premiered in April 2013 and the couple quickly gained popularity in China, Taiwan, Korea and Southeast Asia. The same year, he made his film debut in romantic comedy Marriage Blue. He composed two songs for the soundtrack of the film.
In 2014, he starred in KBS' weekend drama Wonderful Days, playing a tough-fisted bodyguard. The same year, he joined tvN's cooking variety show Three Meals a Day directed by Na PD. He later rejoined for a second season in 2015. Taecyeon was praised for his hardworking image and easygoing personality on the show.
In 2015, Taecyeon was cast in KBS' political drama Assembly. He plays an aspiring police officer who studies at the library to pass his entrance exams by day and works as an official's chauffeur by night.
In 2016, he starred in horror comedy Let's Fight, Ghost with Kim So-hyun and co-starred in web-drama First Seven Kisses by Lotte Duty Free.
In 2017, Taecyeon will star in mystery thriller House Above Time with veteran actress Kim Yunjin.
OKCAT
Taecyeon is known to draw large headed, long bodied cats that he has incorporated into his signatures and autographs. He, and fans, refer to the drawings as Okcats (옥캣). As a result of seeing knock-off Okcat shirts being produced in countries like Thailand, Taecyeon relayed through his Twitter, that he desired to produce his own line of Okcats.
On 2013/11/10 Taecyeon hosted a 30-minute press conference on ustream to introduce his "Okcat" brand to the public. The presentation, titled "The Okcat Live", took place at the COEX building with approx 50+ reporters in attendance. The presentation consisted of video and illustrations of the evolution of his Okcat character over the years, to its present form. Taecyeon also revealed a jingle and merchandise that he is producing under the "Okcat" brand including: pillows, plush toys, USB drives and phone accessories. Taecyeon stated that the merchandise will be sold through various online merchants, and be announced through his Official venues on Twitter and Facebook.
On 2013/17/09 A representative from JYPE revealed that the release of the emoticons on Kakao Talk would be just the first wave Okcat items. Taecyeon plans to release more items in October, 2013.
It was reported that Taecyeon's Okcat business generated one million USD revenues in 10 months. He's going to expand his business even more by going from producing 32 to 70 kinds of products by the end 2014.
Military enlistment
On December 9, 2010 a JYP Entertainment representative revealed that "Taecyeon would like to give up his American permanent residence visa and recently, on December 1st, he received his official confirmation for his permanent residence cancellation."
Taecyeon had a physical examination for drafting but received a physical body status sufficient only for enlistment as public service personnel, due to his poor vision and a dislocated shoulder back in 2008. In 2012 and 2013 he underwent surgery to correct the disk as well as to remove pins in his upper arm from a serious break in 2013. He was cleared for active duty in December 2013 but delayed his enlistment due to busy workload.
In early 2016, JYP Entertainment announced that Taecyeon and fellow 2PM member Jun.K would be enlisting to begin their two-year mandatory military service in January 2017, but in the middle of September 2016 Taecyeon announced that he will join the army in early 2017.
Music video-drama
On January 7, 2010 photographs surfaced of Taecyeon and Nichkhun with actress Yoon Eunhye for Cass Beer. 2PM were chosen to endorse the beer with a special, promotional single "Tik Tok". Taecyeon played one of the three main character in the 12-minute music video-drama, which was released on February 8, 2010.
In May 2010 Taecyeon featured in another music video-drama for Everland's Caribbean Bay water theme park along with 2PM's Nichkhun & Chansung and Girls' Generation members Yoona, Seohyun & Kwon Yuri.
Japanese
Albums
References
Ok Taec-yeon Wikipedia
(Text) CC BY-SA