Ambitious medical student Lucas Marsh (Robert Mitchum) aspires to being a doctor with his own practice. Unable to fund his studies himself, he woos the warm, supportive nurse Kristina (Olivia de Havilland), who has the financial resources he needs for him to realize his dreams. The couple marries and moves to a small town, where Lucas works as an assistant to Dr. Runkleman (Charles Bickford). However, after a series of betrayals, Lucas is forced to face life without the help of others.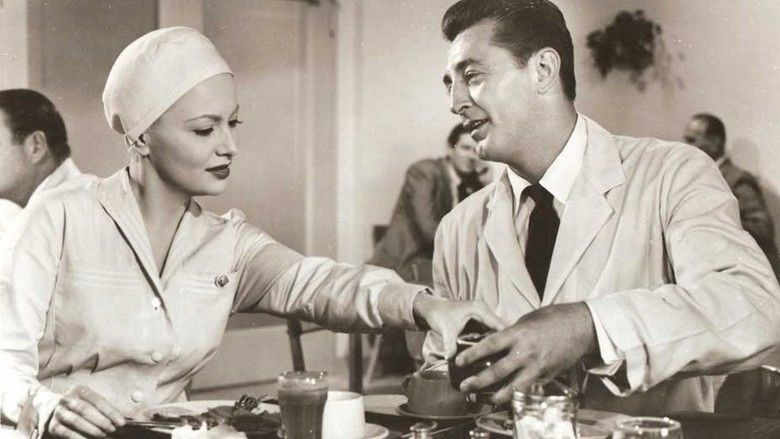 Not as a Stranger is a 1955 drama film produced and directed by Stanley Kramer based on the 1954 novel of the same name by Morton Thompson. The romantic melodrama novel was widely popular, topping that years list of bestselling novels in the United States.
The film was Kramers directorial debut and featured Olivia de Havilland and Robert Mitchum in the lead roles, backed by a stellar supporting cast including Frank Sinatra, Gloria Grahame, Broderick Crawford, Charles Bickford, Lon Chaney, Jr., Harry Morgan, and Lee Marvin. The film was released by United Artists.
Sinatra had catapulted back into the limelight as the result of a supporting role for a film from a similarly popular novel, From Here to Eternity, two years earlier. Initially a box office success, Not as a Stranger is obscure today, never receiving widespread distribution in VHS markets, and was released on DVD in 1992.
Lucas Marsh, an intern bent upon becoming a first-class doctor, not merely a successful one. He courts and marries the warm-hearted Kristina, not out of love but because she is highly knowledgeable in the skills of the operating room and because she has frugally put aside her savings through the years. She will be, as he shrewdly knows, a supportive wife in every way. She helps make him the success he wants to be and cheerfully moves with him to the small town in which he starts his practice. But as much as he tries to be a good husband to the undemanding Kristina, Marsh easily falls into the arms of a local siren and the patience of the long-sorrowing Kristina wears thin.
The movie follows a group of medical students through school, hospital internships, and eventually their careers as doctors. Dr. Lucas Marsh (Robert Mitchum) was blinded by ambition, losing his idealism after marrying older woman Kristina Hedvigson (Olivia de Havilland) in order to make it through medical school. He is indifferent toward his wife, dedicated only to his work. As he climbs his way to the top of the medical profession by using others, he is forced to face his morality after his misjudgment leads to the death of a friend.
Olivia de Havilland as Kristina Hedvigson
Robert Mitchum as Dr. Lucas Marsh
Frank Sinatra as Alfred Boone
Gloria Grahame as Harriet Lang
Broderick Crawford as Dr. Aarons
Charles Bickford as Dr. Dave W. Runkleman
Myron McCormick as Dr. Clem Snider
Lon Chaney, Jr. as Job Marsh
Jesse White as Ben Cosgrove
Harry Morgan as Oley
Lee Marvin as Brundage
Eve McVeagh as Mrs Ferris
The film earned a world wide distribution gross of over $8 million, and a profit of $1.8 million.
The motion picture was nominated for an Academy Award for Best Sound Recording (Watson Jones). Frank Sinatra was nominated for a BAFTA Award for Best Foreign Actor, and Charles Bickford won that years National Board of Review award for Best Supporting Actor.
George Antheil composed the music for Not as a Stranger and In a Lonely Place. Frank Sinatra appears in Not as a Stranger and From Here to Eternity. Passion Flower (1930). Robert Mitchum appears in Not as a Stranger and My Forbidden Past. Olivia de Havilland appears in Not as a Stranger and In This Our Life.
Thompsons novel is mentioned rather ironically in Marilynne Robinsons 1980 novel Housekeeping, where it is read by the young heroine (and narrator) Ruth. "That isnt the sort of thing you should be reading," her guardian, Sylvie, says. "I dont know how it got in the house!" The novel is eventually burned by Sylvie along with lots of other reading material before Sylvie and Ruth run away (chapter 10). "I did not tell her it was a library book," Ruth comments wryly.