Seating capacity

63,000




All-time record

701–521–54 (.571)




Arena/Stadium

Kenan Memorial Stadium




Division

Division I (NCAA)




Athletic director

Bubba Cunningham




Field surface

Bermuda Grass




Head coach

Larry Fedora




Conference

Atlantic Coast Conference




Mascot

Rameses







First season

1888; 129 years ago (1888)




Location

Chapel Hill, North Carolina




Past conferences

Independent (1888–1921) Southern Conference (1922–1952)




Rivals

NC State Wolfpack football
2016 11 25 nc state wolfpack at north carolina tar heels football
The North Carolina Tar Heels football team represents the University of North Carolina at Chapel Hill in the sport of American football. The Tar Heels have played in the Football Bowl Subdivision (FBS) of the National Collegiate Athletic Association (NCAA) and the Coastal Division of the Atlantic Coast Conference (ACC). Being the oldest public university and oldest collegiate team in the Carolinas, the school is nicknamed "Carolina" in athletics. The program's title in football is "Carolina Football".
Contents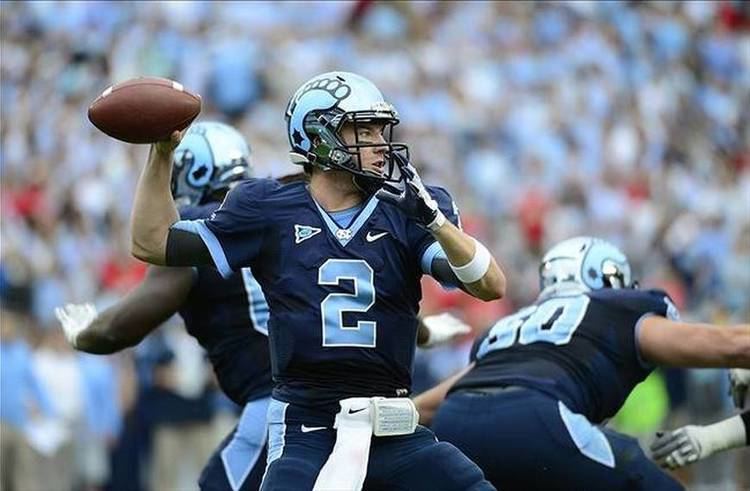 In Carolina's first 121 seasons of football competition, the Tar Heels have compiled a record of 646–488–54, a winning percentage of .566. North Carolina has played in 31 bowl games in its history and won three Southern Conference championships and five Atlantic Coast Conference titles. Thirty Tar Heel players have been honored as first-team All-Americas on 38 occasions. Carolina had 32 All-Southern Conference selections when it played in that league until 1952 and since joining the ACC in 1953, has had 174 first-team All-ACC choices. Since joining the Atlantic Coast Conference in 1953, the team has won five conference championships, with the most recent title coming in 1980.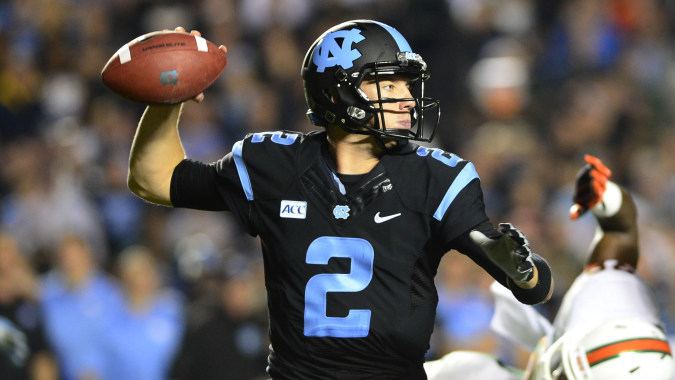 One very important contribution to the game of football by Carolina is the modern use of the forward pass; they were the first college team to use the play in 1895. Bob Quincy notes in his 1973 book They Made the Bell Tower Chime: "John Heisman, a noted historian, wrote 30 years later that, indeed, the Tar Heels had given birth to the forward pass against the Bulldogs (UGA). It was conceived to break a scoreless deadlock and give UNC a 6–0 win. The Tar Heels were in a punting situation and a Georgia rush seemed destined to block the ball. The punter, with an impromptu dash to his right, tossed the ball and it was caught by George Stephens, who ran 70 yards for a touchdown."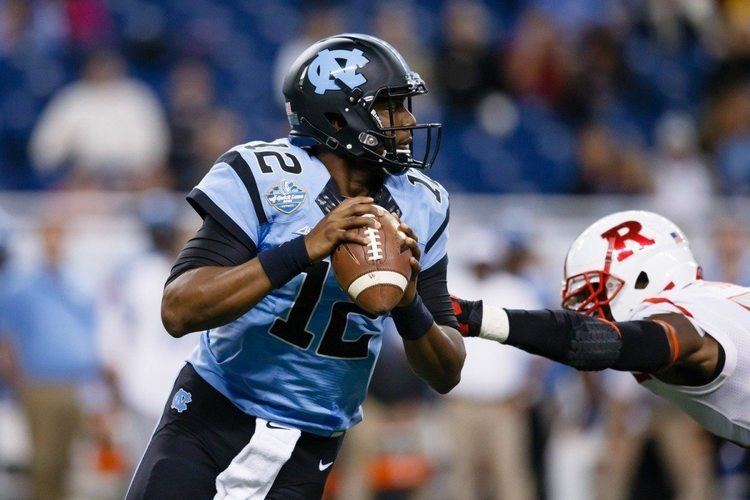 While not a consistent football powerhouse, the Carolina football program has had intermittent success and has featured a number of great players, many of whom have gone on to prominence in the National Football League, including Lawrence Taylor, Charlie Justice, Chris Hanburger, Ken Willard, Don McCauley, William Fuller, Harris Barton, Jeff Saturday, Alge Crumpler, Willie Parker, Greg Ellis, Dré Bly, Julius Peppers, and Hakeem Nicks.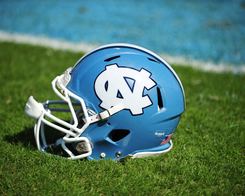 Early history (1888–1925)
Hector Cowan was Carolina's first head football coach. He posted a 1–1 record as the head coach in the Tar Heels' inaugural season.
William A. Reynolds coached the Tar Heels for four seasons. From 1897-1900, he posted a 27–7–4 record before departing the Tar Heels to coach Georgia.
Herman Olcott was the head coach for the Tar Heels for two seasons, 1902 and 1903. He compiled an 11–4–3 record.
In 1895 and from 1913-1915, the Tar Heels were coached by Thomas Trenchard, who posted a 26–9–2 record in those four seasons. His best season was a 10–1 1914 season.
Brothers Bob and Bill Fetzer served as co-head coaches for the Tar Heels from 1921-1925, posting a 30–12–4 overall record. Bob would go on to serve as Carolina's first athletics director from 1923-1952.
Chuck Collins era (1926–1933)
Chuck Collins served as head coach for the Tar Heels for eight seasons, the longest of any coach to that time in Tar Heel history. His record in Chapel Hill was 38–31–9, his best season being a 9–1 record in 1929.
Carl Snavely era (1934–1935 and 1945–1952)
Carl Snavely, nicknamed "The Grey Fox" for his grey suits he would wear on game day, served two stints as the Tar Heels head football coach. He first came to Chapel Hill from Bucknell. He departed after the 1935 season to accept the head football coach position at Cornell but returned in 1945. Snavely then departed again after the 1952 season to accept the head football coach position at Washington University. His final record at UNC was 59–35–5 and he was inducted into the College Football Hall of Fame as a coach in 1965.
A proponent of the single wing offense, Snavely's teams were known as some of the quickest in the south. His 1946 and 1948 teams reached the Sugar Bowl but lost, finishing ranked #9 and #3, respectively. Those teams posted 8–2–1 and 9–1–1 records, respectively. Snavely's 1949 team finished 7–4, lost the Cotton Bowl and ranked #16 in the final polls.
Raymond Wolf era (1936–1941)
Raymond Wolf came to Carolina from his post as TCU defensive line coach. His overall record in the six seasons he was head coach was 38–17–3, with most of his success coming with players that Snavely recruited. A 3–7 record in 1941 led to Wolf's resignation as head coach.
Jim Tatum era (1942 and 1956–1958)
Jim Tatum served two stints as head football coach at his alma mater. He enlisted in the Navy for World War II and left the team but returned in 1956. His overall record at UNC is 19–17–3. He was inducted into the College Football Hall of Fame as a coach in 1984, primarily for his tenure as head football coach at Maryland. Tatum died unexpectedly in the summer of 1958 from a rickettsial disease.
Young and McEver eras (1943–1944)
Tom Young replaced Tatum for a year as head coach and posted a 6–3 record in 1943. He was also an alum of UNC.
Gene McEver struggled in the one season he served as head coach, compiling a 1–7–1 record in 1944.
George T. Barclay era (1953–1955)
George T. Barclay, another UNC alum, was promoted from assistant coach to head coach following Snavely's second departure. Barclay struggled as UNC's head football coach, posting an 11–18–1 record in his three seasons before resigning. The most notable part of Barclay's tenure is that the Tar Heels helped charter the Atlantic Coast Conference in all sports in 1953.
Jim Hickey era (1959–1966)
Jim Hickey was promoted from assistant coach to head coach after Tatum's death. His best season was a 9–2 1963 season in which the Tar Heels won the Gator Bowl and finished the season ranked #19 in the Coaches' Poll. Hickey spent eight seasons as the Tar Heels head football coach and his final record was 36–45.
Bill Dooley era (1967–1977)
Bill Dooley came to North Carolina from his post as an assistant coach at Georgia. Dooley enjoyed success at UNC, compiling a 69–53–2 record in 11 seasons. Six of those seasons were bowl appearances, five losses and one win. Dooley departed after the 1977 season to accept the head football coach position at Virginia Tech.
Dooley's 1970 team finished 8–4 capped with a Peach Bowl loss. The next season, 1971, was a 9–3 season that was capped with a Gator Bowl loss and a #18 ranking in the Coaches' Poll. Dooley became the first Tar Heels coach to win 11 games in a single season in 1972, going 11–1 with a victory in the Sun Bowl, and rankings of #14 and #12 in the Coaches' and AP Polls. Dooley's 1976 team finished 9-3 with a loss in the Peach Bowl and the 1977 team finished 8-3-1 with a loss in the Liberty Bowl and rankings of #14 and #17 in the Coaches' and AP Polls.
Dick Crum era (1978–1987)
Dick Crum was hired away from Miami (OH) to replace the departed Dooley. Crum enjoyed success in his first five years at UNC, but posted a winning record only once in his final four seasons. He resigned after nine seasons. Crum led the Tar Heels to four bowl victories in six bowl appearances. The victories were the Gator Bowl (twice), Bluebonnet Bowl and the Sun Bowl after the 1979, 1981, 1980 and 1982 regular seasons. Those years, the Tar Heels posted records of 8-3-1, 10-2, 11-1 and 8-4 and finished ranked in the Top 20 in both the AP and Coaches' polls. But, records of 5–5–1, 5–6, 7–4–1 and 5–6 in 1984, 1985, 1986 and 1987 sealed his fate. Notable players coached by Crum at UNC include Harris Barton, Kelvin Bryant, Reuben Davis and Lawrence Taylor. Crum's 72 wins are the most in UNC football history among head coaches.
Mack Brown era (1988–1997)
Mack Brown was hired away from Tulane as the replacement for Crum. He was the Tar Heel's head football coach for nine seasons. Brown's Tar Heels got off to a slow start, posting 1–10 records in 1988 and 1989, but improved to 6–4–1, 7–4, 9–3 and 10–3 in 1990, 1991, 1992 and 1993 with a Peach Bowl win and a Gator Bowl loss plus being ranked in both polls in the final two of those seasons. Brown also led the Tar Heels to 10-win seasons in 1996 and 1997, both seasons playing in the Gator Bowl. His 69 wins are the second most in UNC football history. Brown resigned during the 1997 season to accept the head football coach position at Texas.
Brown's tenure was also known for the rise in popularity in the Tar Heel football program that, while not bad, was overshadowed by the Tar Heel's national powerhouse men's basketball program. Games at Kenan Memorial Stadium were almost always sold out, highlighted by the 62,000 that showed to watch the Tar Heels' game against Florida State in 1997, the largest crowd at a regular season college football game in the history of the state of North Carolina. Brown also led an effort that resulted in upgrading UNC's football facilities and the expansion of Kenan Memorial Stadium. Notable players who played for Brown at North Carolina include Jeff Saturday, Greg Ellis and Dré Bly.
Carl Torbush era (1998–2000)
Carl Torbush was promoted from defensive coordinator to head coach following Brown's departure. Torbush led the Tar Heels to their eighth consecutive bowl appearance following the 1998 regular season, in which they went 7–4, a win in the Las Vegas Bowl. Torbush's Tar Heels slipped to a 3–8 record in 1999, and despite improving to 6-5 in 2000, Torbush was fired. His final record at UNC is 17-18. Notable players who played for Torbush at UNC are Julius Peppers, Alge Crumpler and Jeff Reed.
John Bunting era (2001–2006)
John Bunting was hired by his alma mater as the Tar Heels head coach after the firing of Torbush despite no FBS coaching experience of any kind, assistant coaching or head coaching. Bunting's only winning season in Chapel Hill was his first, an 8–5 season that included a 41-9 thrashing of ACC powerhouse Florida State, capped with a Peach Bowl win over Auburn. Other than that, his teams never posted a better record than 6–6 in 2004. After a dismal 3–9 2006 season, Bunting was fired.
Butch Davis era (2007–2010)
Former Cleveland Browns and Miami head football coach Butch Davis was hired as the Tar Heels 32nd head football coach in late 2006. Davis led the Tar Heels to two consecutive Meineke Car Care Bowl appearances, both losses and a victory in the Music City Bowl in what turned out to be his final season. While Davis turned around UNC's football program, graduated 75% of his players and went from 4–8 in his first season to three straight 8–5 seasons after that, NCAA violations, in particular improper benefits to players, rocked his tenure.
Davis was fired over these violations after they came to light on July 27, 2011. Later when the NCAA inquiries came out, Davis was never mentioned nor did he admit to having any involvement in the violations. Notable players who played for Davis at UNC are Hakeem Nicks, Robert Quinn, Jonathan Cooper, Bruce Carter, and T. J. Yates.
Everett Withers era (2011)
Everett Withers was promoted from defensive coordinator to 33rd head coach of the Tar Heels football program for the 2011 season following the firing of Davis. Withers was the first and is the only African American head football coach in Tar Heels football history. In his lone season as head coach, Withers led the Tar Heels to a 7–6 record, capped with a loss to Missouri in the Independence Bowl. After Withers was thanked for his good service, he was informed that his contract would not be extended beyond the 2011 season.
Larry Fedora era (2012–present)
Larry Fedora was hired away from Southern Miss in late 2011 as the Tar Heels' 34th head football coach, replacing Withers. In his first year as head coach, in a season that the UNC football team was ineligible for the ACC title (due to sanctions from Davis' tenure), a bowl game and a ranking in the USA Today Coaches' Poll, Fedora led the team to an 8–4 record. North Carolina had at least eight victories in four of the five years from 2008 to 2012. The eight wins in 2008 and 2009 were vacated due to NCAA penalty. The last time North Carolina had more than eight victories was in 1997. After starting the 2013 season 1–5, Fedora's Tar Heels rebounded to finish 5–1 in their final six regular season games and capped the season with a thrashing of Cincinnati in the Belk Bowl to finish the season with a 7–6 record.
In 2015, Fedora led the Tar Heels to a 11-1 start and the team's first ACC Coastal Division championship. The team also finished with a perfect 8-0 record in conference play and were ranked as high as #8 in the AP and Coaches' Polls, their highest ranking since 1997. In the 2015 ACC Championship Game, the Tar Heels lost to the Clemson Tigers 45-37, despite a controversial onside kick penalty. The Tar Heels then lost the Russell Athletic Bowl to the Baylor Bears 49-38. The Tar Heels finished the season 11-3 (8-0 ACC) and ranked 15th in the country, marking the team's first postseason Top 25 ranking since 1997.
Head coaches
During the years 1888 and 1891–93, North Carolina had no official head coach. Over those four seasons, the team went 8–9.
In 1890, the North Carolina Tar Heels did not field a team.
On September 19, 2011, North Carolina self-imposed sanctions against their football program, including forfeiting their wins from the 2008 and 2009 seasons.
On March 12, 2012 The NCAA Committee on Infractions stiffened the previously self-imposed sanctions including, inter alia, vacating participation in the '08 and '09 Bowl Games.
Duke Blue Devils
Duke is North Carolina's biggest rival. The football rivalry between Duke and North Carolina began in 1888, when Duke was known by the name of Trinity. Trinity won the first game in the now-longstanding series. While the two teams are more known for their basketball rivalry, they have been known to have some great games every now and then. The Victory Bell was introduced for the 1948 match-up, which North Carolina won 20-0. It's tradition for the school that has possession of the bell to paint the bell in the shade of blue of their school. The longest consecutive win streak in the series is a 13-game win streak by the Tar Heels from 1990-2002. The all-time series record is 55–35–4 (excluding the two Carolina vacated victories) in favor of the Tar Heels.
North Carolina State Wolfpack
The first football game between the NC State Wolfpack and the Tar Heels occurred in 1894, and the Tar Heels won 44-0. The two teams played every now and then until the formation of the ACC. Since the two teams have been a part of the ACC, they have played every year since 1953. In the past few decades, the rivalry has been more highly contested than the Tar Heels rivalry with Duke. The 1998 and 1999 games were held at Bank of America Stadium, the Tar Heels won both games. The longest consecutive win streak in the series is 9 games, from 1943-1955 by the Tar Heels. The all-time series is 66–34–6 in favor of the Tar Heels. Since the formation of the ACC, the Tar Heels hold a slight edge over the Wolfpack, 35-29, signifying the competitive nature of the rivalry.
Virginia Cavaliers
The Tar Heels' rivalry with the Virginia Cavaliers began in 1892, and the rivalry has come to be known as the "South's Oldest Rivalry." The teams played twice during the 1892 season, with the Cavaliers winning the first game and the Tar Heels winning the second. The two teams have played a total of 116 times, more than the two teams have played any other program. It is the fourth most played rivalry game among college football's major conference schools. The all-time series record is 62–54–4, in favor of the Tar Heels.
Wake Forest Demon Deacons
Two institutions in the state of North Carolina have met in 105 meetings. The first meeting was held in 1888 in Raleigh, NC with Wake Forest winning 6-4. Unlike the Duke game, the Wake-Carolina game is not played yearly and nor do the two schools play for a trophy. The Tar Heels lead the all-time series 68–35–2.
South Carolina Gamecocks
The Battle of the Carolinas is a rivalry that began in 1903. North Carolina holds a 34–19–4 overall leads the series. While no longer a conference rivalry, since South Carolina left the ACC in 1971, the teams still meet occasionally. In the 2010s decade the series have been played on a Thursday. It was announced in September 2015 that UNC and USC will play every four years in 2019 and 2023.
NCAA investigation 2010–2011
In July 2010, it was reported that the program was being investigated by the NCAA due to possible connections with sport agents. The football program was also under investigation for academic fraud and a failure to properly monitor players, which the NCAA found to be true. Seven players from the UNC football program, including starters and once top recruits Greg Little and Marvin Austin, were reported to have accepted more than $27,000 in impermissible benefits in 2009 and 2010. Following an NCAA investigation into misconduct, in July 2011, head coach Butch Davis was fired and replaced by interim coach Everett Withers. Also, in September 2011, the program decided to vacate all its wins from the 2008 and 2009 seasons, reduce its scholarship athletes by 3, begin serving two years of probation, and pay a $50,000 fine. The NCAA later increased the penalties to a reduction of athletic scholarships by 15, three years of probation, and a post-season ban of one year.
Conference affiliations
North Carolina has affiliated with two conferences as well as being an independent.
Independent (1888–1921)
Southern Conference (1922–1952)
ACC (1953–present)
9 conference championships
Bowl record
North Carolina has played in 32 bowl games in its history with a record of 14–18.
1000-yard rushers
North Carolina has been called "Tailback U" for their number of 1000-yard rushers. Throughout the course of the Tar Heels' football history, a player has rushed for over 1,000 yards in a season twenty-seven times. The first player to rush for over a 1,000 yards was Don McCauley, who rushed for 1,092 yards in the 1969 season. The most recent player to have rushed for 1,000 yards is Elijah Hood, who rushed for 1,463 yards in 2015.
Retired numbers
Five numbers have been retired by the University.
Notes:
1
Died in a car accident, posthumous honor.
2
Also served as coach (1953–55)
Honored jerseys
Around the front of second tier of stands in Kenan Stadium, there are strips of metal with names of former Tar Heel footballers with their numbers. UNC does not retire jerseys and their numbers are honored instead.
National award winners
Chuck Bednarik Award: Julius Peppers (2001)
Lombardi Award: Julius Peppers (2001)
Jim Parker Award: Landon Turner (2015)
Current NFL players
AFC
Zach Brown, LB, Buffalo Bills
Brandon Tate, WR, Buffalo Bills
Giovani Bernard, RB, Cincinnati Bengals
Russell Bodine, C, Cincinnati Bengals
Sylvester Williams, DT, Denver Broncos
Greg Warren, LS, Pittsburgh Steelers
Da'Norris Searcy, SS, Tennessee Titans
James Hurst, OT, Baltimore Ravens
T.J. Yates, QB, Miami Dolphins
Bruce Carter, LB, New York Jets
NFC
Julius Peppers, DE, Carolina Panthers
Tre Boston, S, Carolina Panthers
Connor Barth, K, Chicago Bears
Robert Quinn, DE, Los Angeles Rams
Eric Ebron, TE, Detroit Lions
Kareem Martin, LB, Arizona Cardinals
Cam Thomas, NT, Los Angeles Rams
Jabari Price, CB, Minnesota Vikings
Shaun Draughn, RB, San Francisco 49ers
Garrett Reynolds, OT, Detroit Lions
Jonathan Cooper, OG, Dallas Cowboys
Future non-conference opponents
Announced schedules as of September 9, 2015
References
North Carolina Tar Heels football Wikipedia
(Text) CC BY-SA