Preceded by

William M. Daley

Preceded by

Rodney E. Slater

Succeeded by

Donald Evans







Role

Former United States Secretary of Transportation

Children

Stuart Mineta, David Mineta

Education

University of California, Berkeley (1953), Haas School of Business, San Jose High School

Previous offices

Representative (CA 15th District) 1993–1995, Representative (CA 13th District) 1975–1993

Similar People

George W Bush, Daniel Inouye, Mike Honda, Bill Clinton, Dick Cheney
Japan and japanese america a keynote lecture by norman mineta
Norman Yoshio Mineta (born November 12, 1931) is an American politician. A member of the Democratic Party, Mineta most recently served in President George W. Bush's Cabinet as the United States Secretary of Transportation, the only Democratic Cabinet Secretary in the Bush administration. On June 23, 2006, Mineta announced his resignation after more than five years as Secretary of Transportation, effective July 7, 2006, making him the longest-serving Transportation Secretary in the Department's history. On July 10, 2006, Hill & Knowlton, a public relations firm, announced that Mineta would join it as a partner. On August 10, 2010, it was announced that Mineta would join L&L Energy, Inc as Vice Chairman.
Contents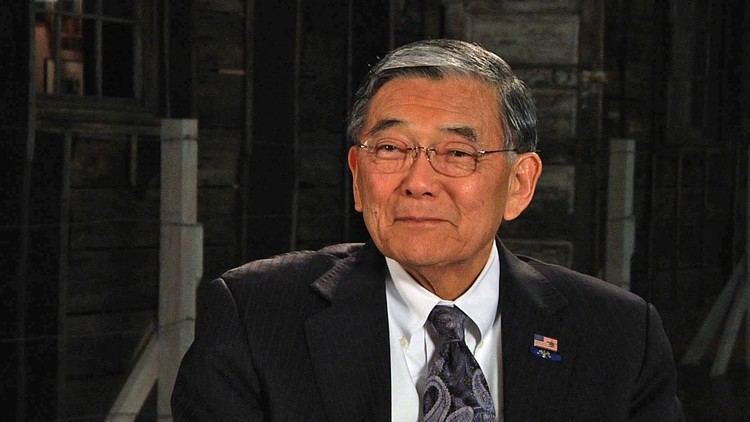 Mineta also served as President Bill Clinton's Secretary of Commerce for the last six months of his term (July 2000–January 2001). With the exception of a span of five days between the end of Clinton's term and Bush's appointments, Mineta spent nearly six full years as a Cabinet member.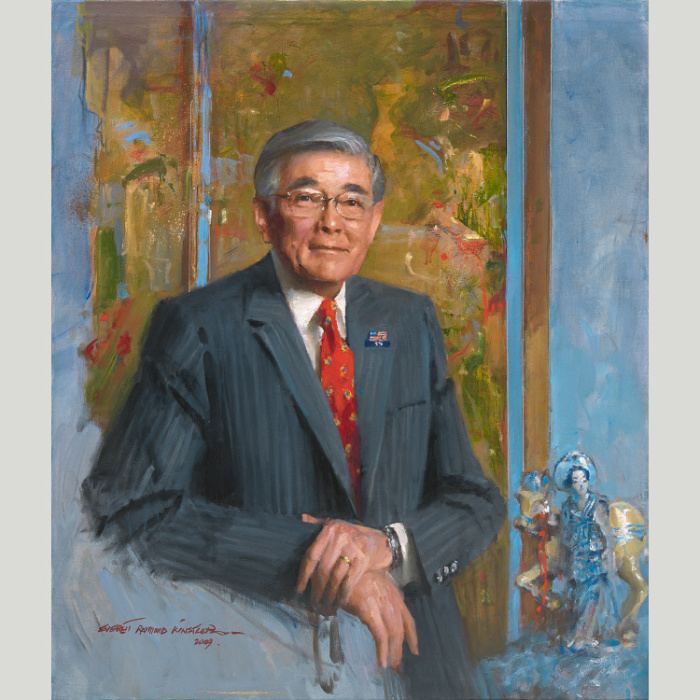 Former u s transportation secretary norman mineta in an exclusive interview on hsr
Early life and education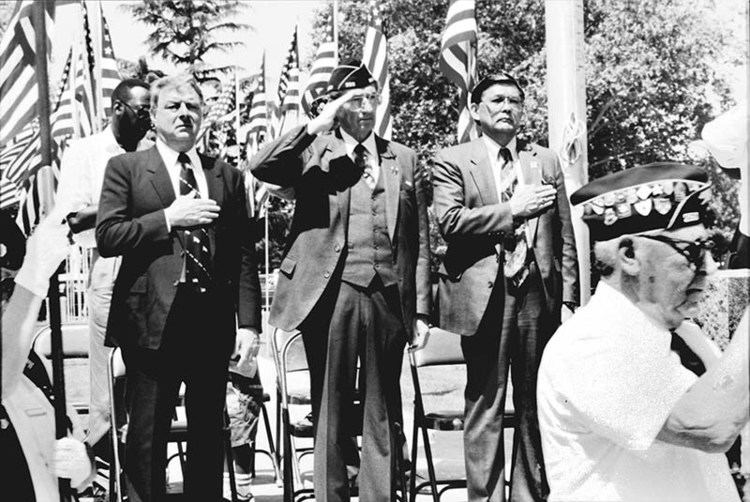 Mineta was born in San Jose, California, to Japanese immigrant parents who were not allowed to become U.S. citizens at that time due to the Asian Exclusion Act. During World War II the Mineta family was interned for several years at "Area 24, 7th Barrack, Unit B" in the Heart Mountain internment camp near Cody, Wyoming, along with thousands of other Japanese immigrants and Japanese Americans. Upon arrival to the camp, Mineta, a baseball fan, had his baseball bat confiscated by authorities because it could be used as a weapon. Many years later, after Mineta was elected to the U.S. House of Representatives, a Los Angeles man sent Mineta a $1,500 bat that was once owned by Hank Aaron, which Mineta was forced to send back as it violated the House ban on accepting gifts valued over $250. Mineta was quoted as saying, "The damn government's taken my bat again".
While detained in the camp, Mineta, a Boy Scout, met fellow Scout Alan K. Simpson, future U.S. Senator from Wyoming, who often visited the Scouts in the internment camp with his troop. The two became, and have remained, close friends and political allies.
He graduated from the University of California, Berkeley's School of Business Administration (since named in honor of Walter A. Haas, Sr.) in 1953 with a degree in Business Administration. Upon graduation, Mineta joined the U.S. Army and served as an intelligence officer in Japan and Korea. He then joined his father in the Mineta Insurance Agency.
Personal life
Mineta is married to Danealia (Deni) Mineta. He has two sons, David and Stuart Mineta, and two stepsons, Robert and Mark Brantner. He also has the following grandchildren: Lauryn, Matthew, Junior, Presley, Gracie, and Marie, as well as Ashley, Brooke, Bridget, and Madison Brantner.
Councilman and Mayor of San Jose
His political career began in 1967 when he was appointed to a vacant San Jose City Council seat by Mayor Ron James. In 1969, he was elected to office for the first time, after completing the city council term he had been appointed to. He was elected vice mayor by fellow councilors during that term.
In 1971, Mineta ran against 14 other candidates to replace outgoing mayor Ron James. Mineta won every precinct in the election with over 60% of the total vote and became the 59th Mayor of San Jose, the first Japanese-American mayor of a major U.S. city. As mayor, Mineta ended the city's 20-year-old policy of rapid growth by annexation, creating development-free areas in East and South San Jose. His vice mayor, Janet Gray Hayes, succeeded him as mayor in 1975.
United States Congress
From 1975 to 1995 he sat in the United States House of Representatives representing the Silicon Valley area. He co-founded the Congressional Asian Pacific American Caucus and served as its first chair. Mineta served as chairman of the House Committee on Transportation and Infrastructure between 1992 and 1994. He chaired the committee's aviation subcommittee between 1981 and 1988, and chaired its Surface Transportation Subcommittee from 1989 to 1991.
During his career in Congress he was a key author of the landmark Intermodal Surface Transportation Efficiency Act of 1991. He pressed for more funding for the Federal Aviation Administration (FAA). Mineta, with his friend Republican Senate Whip Alan Simpson, was the driving force behind passage of H.R. 442, the Civil Liberties Act of 1988, which officially apologized for and redressed the injustices endured by Japanese Americans during World War II. In 1995, George Washington University awarded the Martin Luther King, Jr. Commemorative Medal to Mineta for his contributions to the field of civil rights.
Private sector
Mineta resigned his seat mid-term to accept a position with Lockheed Martin in 1995. The Democrats subsequently lost this district when Republican Tom Campbell defeated Democratic candidate Jerry Estruth in the special election held to fill the vacated seat, though Mineta protégé Mike Honda would win the seat back for the Democrats five years later when Campbell gave it up to run for the U.S. Senate. Mineta chaired the National Civil Aviation Review Commission, which in 1997 issued recommendations on reducing traffic congestion and reducing the aviation accident rate. Many of the commission's recommendations were adopted by the Clinton administration, including reform of the Federal Aviation Administration to enable it to perform more like a business.
Mineta was appointed to board of Directors of Horizon Lines effective January 1, 2007. Mineta formerly served on the board of AECOM Technology Corporation and is presently on the board SJW Corp.
Secretary of Commerce
After serving as vice president of Lockheed Martin Corporation, he was appointed in 2000 by President Clinton as the U.S. Secretary of Commerce, making him the first Asian American to hold a post in the presidential cabinet.
Secretary of Transportation
He was appointed United States Secretary of Transportation by President George W. Bush in 2001, a post he was originally offered eight years previously by Bill Clinton. He was the only Democrat to have served in Bush's cabinet and the first Secretary of Transportation to have previously served in a cabinet position. He became the first Asian American to hold the position, and only the fourth person to be a member of Cabinet under two Presidents from different political parties (after Edwin M. Stanton, Henry L. Stimson, and James R. Schlesinger). Secretary of Defense Robert Gates would go on to be the fifth serving in that capacity under both George W. Bush and Barack Obama. In 2004 Mineta received the Tony Jannus Award for his distinguished contributions to commercial air transportation.
Following Bush's re-election, Mineta was invited to continue in the position, and he did so until resigning in June 2006. When he stepped down on July 7, 2006, he was the longest serving Secretary of Transportation since the position's inception in 1967.
September 11
During the September 11, 2001 attacks, Mineta issued an order to ground all civilian aircraft traffic for the first time in U.S. history.
Mineta's testimony to the 9/11 Commission about his experience in the Presidential Emergency Operating Center with Vice President Cheney as American Airlines flight 77 approached the Pentagon was not included in the 9/11 Commission Report. In one colloquy testified by Mineta, the vice president refers to orders concerning the plane approaching the Pentagon:
There was a young man who had come in and said to the vice president, 'The plane is 50 miles out. The plane is 30 miles out.' And when it got down to, 'The plane is 10 miles out,' the young man also said to the vice president, 'Do the orders still stand?' And the vice president turned and whipped his neck around and said, 'Of course the orders still stand. Have you heard anything to the contrary?' Well, at the time I didn't know what all that meant.
Commissioner Lee Hamilton queried if the order was to shoot down the plane, to which Mineta replied that he did not know that specifically.
Mineta's testimony to the Commission on Flight 77 differs rather significantly from the account provided in the January 22, 2002 edition of The Washington Post, as reported by Bob Woodward and Dan Balz in their series "10 Days in September."
This same article reports that the conversation between Cheney and the aide occurred at 9:55 am, about 30 minutes later than the time Mineta cited (9:26 am) during his testimony to the 9/11 Commission.
After hearing of Mineta's orders, Canadian Transport Minister David Collenette issued orders to ground all civilian aircraft traffic across Canada, resulting in Operation Yellow Ribbon. On September 21, 2001, Mineta sent a letter to all U.S. airlines forbidding them from practicing racial profiling; or subjecting Middle Eastern or Muslim passengers to a heightened degree of pre-flight scrutiny. He stated that it was illegal for the airlines to discriminate against passengers based on their race, color, national or ethnic origin or religion. Subsequently, administrative enforcement actions were brought against three different airlines based on alleged contraventions of these rules, resulting in multimillion-dollar settlements. He showed his intention "absolutely not" to implement racial screenings in reply to the question from Steve Kroft on 60 Minutes right after 9-11. He later recalled his decision "was the right thing (and) constitutional", based on his own experience as one of Japanese-Americans, those who had "lost the most basic human rights" by being discriminated against and interned during the Pacific War.
The Norman Y. Mineta San Jose International Airport in San Jose was named after him in November 2001 when Mineta was serving as Secretary of Transportation. The Mineta Transportation Institute, located at San Jose State University, and portions of California State Highway 85 are named after him.
White House Press Secretary Tony Snow announced on June 23, 2006, that Mineta would resign effective July 7, 2006, because "he wanted to", with a spokesman for Mineta saying he was "moving on to pursue other challenges". He left office as the longest-serving Secretary of Transportation in history.
After leaving the Bush administration
Hill & Knowlton announced on July 10, 2006, that Mineta would join the firm as vice chairman, effective July 24, 2006.
In 2007, the Japanese government conferred him the Grand Cordon, Order of the Rising Sun.
In December 2006, Mineta was awarded the Presidential Medal of Freedom.
On February 4, 2008, the day before the closely contested California Democratic Primary, Mineta endorsed Barack Obama.
Beginning in summer 2008, Mineta began service as Chairman of a Panel of the National Academy of Public Administration overseeing a study of modernization efforts at the United States Coast Guard. Other notable members of the Panel include former Office of Personnel Management Director Janice Lachance and former NASA Administrator Sean O'Keefe.
He served as the keynote speaker at the University of California, Berkeley's December Graduates Convocation on December 13, 2009. On August 10, 2010, he was named as Vice Chairman of L&L Energy (LLEN), which is headquartered in Seattle and operates coal mines and other facilities related to coal production in China. On April 30, 2011, Mineta served as the commencement speaker at Grand Valley State University's afternoon ceremony.
In June 2010 Mineta was named Co-chair of the Joint Ocean Commission Initiative.
In May 2014, Secretary Mineta was a guest speaker at a conference called "The Color of Citizenship." The conference consisted of discussions revolving around the internment of Japanese Americans during World War 2 and a comparison with the New York City Police Department's Stop and Frisk Policy following the 2001 terrorist attacks in America (specifically how the policy targeted the Sikh community). Mineta spoke at the Roosevelt House at Hunter College in New York in regards to these issues.
Awards
L. Welch Pogue Award for Lifetime Achievement in Aviation, 1999.
Tony Jannus Award, 2004
References
Norman Mineta Wikipedia
(Text) CC BY-SA