4.8

/

10

Alchetron

4.8

Rate This





Release date

12 March 2010 (India)








Produced by

Rob MarshallMarc PlattHarvey WeinsteinJohn DeLuca

Written by

Michael TolkinAnthony Minghella

Starring

Daniel Day-LewisMarion CotillardPenélope CruzJudi DenchFergieKate HudsonNicole KidmanSophia Loren

Awards

Satellite Award for Best Ensemble – Motion Picture

Cast




Profiles



Nine 2009 official trailer 1 daniel day lewis movie hd
Nine is a 2009 musical drama film directed and produced by Rob Marshall and written by Michael Tolkin and Anthony Minghella. The film is an adaptation of the 1982 musical Nine, which in turn is based on Federico Fellini's semi-autobiographical 1963 film 8½. In addition to songs from the stage musical, all written by Maury Yeston, the film has three original songs, also written by Yeston. The ensemble principal cast consists of Daniel Day-Lewis, Marion Cotillard, Penélope Cruz, Judi Dench, Fergie, Kate Hudson, Nicole Kidman, and Sophia Loren.
Contents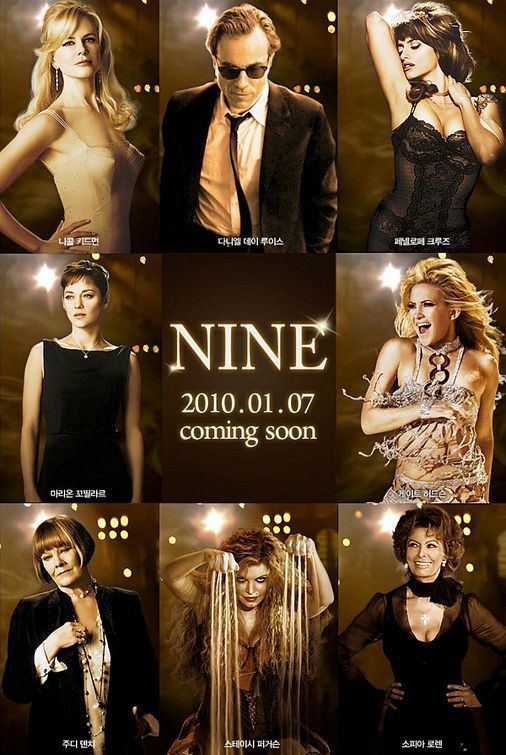 The film premiered in London, opened the 6th annual Dubai International Film Festival on December 9, 2009 and was released in the United States on December 18, 2009, in New York City and Los Angeles, with a wide release on December 25, 2009.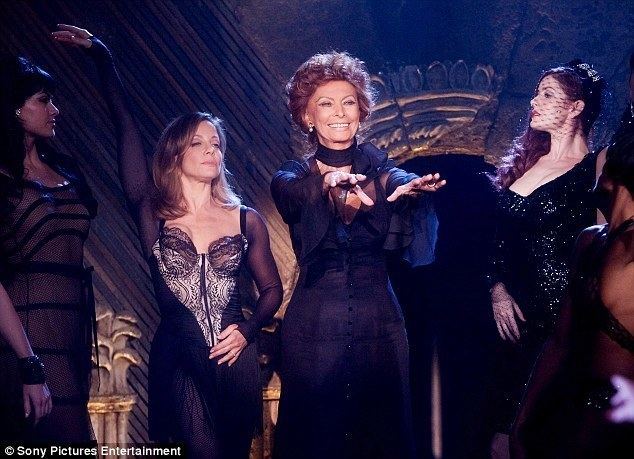 Despite mixed reviews and commercial failure, Nine was nominated for four Academy Awards: Best Supporting Actress (Penélope Cruz), Best Art Direction (John Myhre (AD), Gordon Sim (SD)), Best Costume Design (Colleen Atwood) and Best Original Song ("Take It All", music and lyrics by Maury Yeston).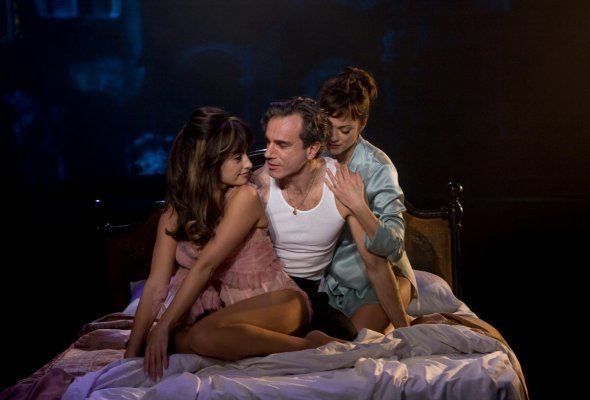 Nine 2009 official trailer hd
Plot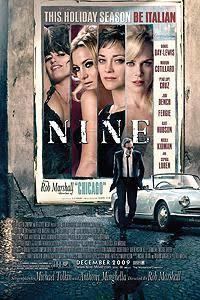 Guido Contini (Daniel Day-Lewis) is a gifted Italian filmmaker who, at the age of fifty, has developed writer's block and urges all the women in his life, alive and dead, to help him with it. His mind wanders to his unfinished set, where dozens of dancers and the film's leading ladies appear: Claudia Jenssen, his leading lady; his wife Luisa; his mistress Carla; his costume designer and confidant Lilli; his beloved Mamma; Stephanie, an American fashion journalist from Vogue; and Saraghina, a prostitute from his childhood; ("Overture Delle Donne"). It is 1965, and at the famous Cinecittà movie studios, in Rome, 'everyone has questions for Signor Contini.'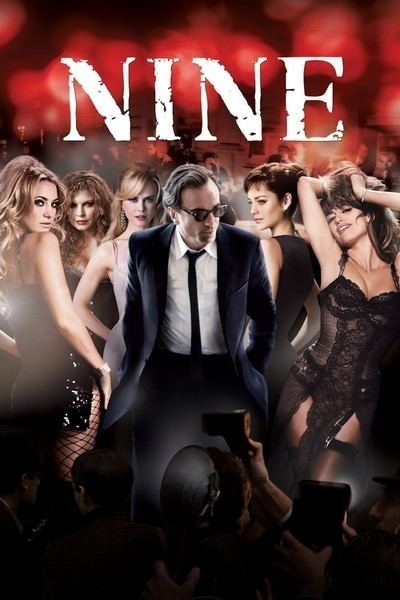 At a press conference at the Hotel Excelsior on the Via Veneto, he's charming and colourful, avoiding any clear answer on his new movie, his ninth with producer, Dante, tentatively entitled Italia. Here he meets Stephanie, a Vogue fashion journalist, with whom he begins a flirtation. Escaping the biting probes of the reporters, he creates an elaborate fantasy, which becomes ("Guido's Song") where he explains that he wishes he were young and energetic once again, since his talent was better then.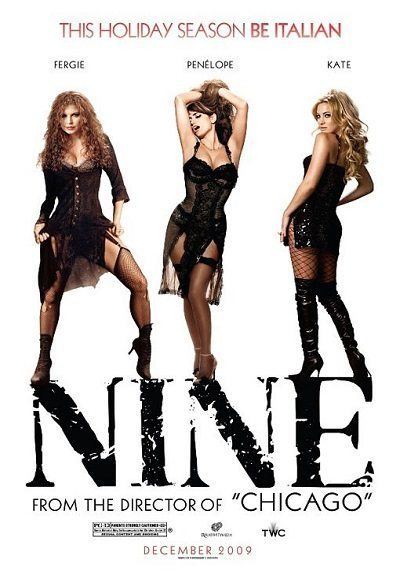 He escapes the press conference and arrives at the Bellavista Spa Hotel. While being examined by the doctor, he receives a call from Carla, his mistress ("A Call from the Vatican"). She describes her desire for him, as he listens on the other end. She arrives at the spa, expecting to share his suite, but is upset to find that she's staying in a shabby pensione by the train station. Meanwhile, Guido learns that a Cardinal is also staying at his hotel and tells the cardinal's assistant to arrange a meeting.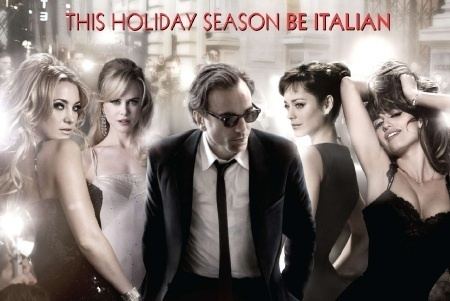 However, Dante soon arrives at the spa and escorts Contini to a banquet hall where the entire production team is assembled to help him prepare for his film. He sees Lilli, his costume designer, and begs for inspiration, while criticizing the costume she's in the middle of making as not being something an Italian woman would wear. She reminds him of Luisa's birthday the previous day and disagrees, saying that it reminds her of Folies Bergère, a Parisian music hall that featured showgirls, where she 'learnt her art' ("Folies Bergères").
The Cardinal agrees to meet him and advises him to lead a more moral life and look to his youth for inspiration. Guido remembers Saraghina, a prostitute whom he and his friends paid to teach them the art of love and sex ("Be Italian"). Young Guido is caught by his school teachers/priests and whipped by his principal. He awakens on top of Carla, in a fit of anxiety and abruptly leaves to meet his production team for dinner. She wants to come, but he vehemently refuses, reminding her that they don't want to hurt either of their spouses.
At dinner, he's happily surprised to see Luisa, who has come at Lilli's request. He embraces her and wishes her a happy birthday, promising that when she returns home, the house will be filled with flowers. She sits, and the young priest from earlier, who recognizes her as one of Guido's earlier actresses, joins the table. In song, Luisa explains how she's become a different woman to be Guido's wife, abandoning her acting career to be at his side ("My Husband Makes Movies"). She then notices Carla entering the restaurant and leaves immediately, saying she feels tired. Guido doesn't understand why and follows her, asking what's happened. She ignores him and when he returns to the restaurant and sees Carla, he finally understands. He demands that Carla go back to the pensione, and she leaves, heartbroken.
When Guido goes to the suite to try to smooth things over, Luisa refuses to listen. He meets Stephanie, who has tracked him down. Guido and Stephanie continue to flirt, and she describes her love for his movies and how fashionable he makes everything seem ("Cinema Italiano"). She leaves her room key in his pocket. While in her room, watching her undress, he realizes how much he cares for his wife and leaves. He returns to the suite and promises that he's done with cheating. Luisa embraces him, but he's called away to help Carla, who's overdosed on pills. The doctor comments how reckless and immoral Guido is, which Guido doesn't contest. He stays with Carla until her husband arrives. He returns to the hotel to find that Luisa has left and the crew has returned to Rome to begin filming.
His mother returns to him to advise him to repair his life ("Guarda La Luna"). He calls Luisa from the studio to beg her to come to the screen testing that evening. She hangs up without response. He arrives at the set to film shots of Claudia in her costumes. She does a few takes, but leaves, saying she'll return when she reads the script. They're followed by paparazzi, but Guido manages to lose them. Claudia realizes that there is no script and they take a walk. She asks him what he wants the film to be about and his description closely resembles his own ordeal: a man lost and in love with so many women. When they stop to rest, she tells him that she loves him but he is unable to love her ("Unusual Way"). Claudia tells him he doesn't see the real her, only the movie star he has created for the masses. She leaves.
He returns to review screen tests of new actresses and keeps looking to the back to see if Luisa has arrived. He's relieved when she finally does. She watches and is heartbroken to see him say something in a clip to an actress that he'd said to her when they first met. When everyone leaves, she explains to him that he's reminded her that she's not special, just another link in the chain and leaves him ("Take It All"). He finally comes to terms with his mental block ("I Can't Make This Movie"), realizing that he's lost everything: his wife, his muse, his talent, and has nothing to make the movie. He apologizes to the staff that there was never a movie, just an idea, and has the set destroyed before leaving Rome.
Two years later, Guido is in a café in Anguillara looking at an advertisement for a play starring Luisa. He waits outside the theatre that night, and watches her leave with a man. He walks with Lilli a few days later and tries to find more information about her. Lilli tells him that she's not going be to be the middle-man for them, implying that Luisa asks for him as well. She asks if he will ever make a movie again. He says that he won't because he wouldn't know what to make, except a movie about a man trying to win back his wife. Lilli says that that's a good start and the costumes won't be too bad either.
Guido returns to his element, passionate about a story once more. As he speaks with his actors about the scene, his nine-year-old self (Giuseppe Spitaleri) gathers the cast of Guido's life together. As Guido takes his place in the director's chair, the cast of Guido's life assemble on the scaffolding behind him, culminating with the arrival of his mother and nine-year-old Guido running to sit on the older Guido's lap ("Finale"). Luisa arrives without being seen and watches in that background, happy to see Guido back to his old self. She smiles as he is raised on a crane and calls, "Action!"
Cast
Daniel Day-Lewis as Guido Contini – based on Federico Fellini.
Marion Cotillard as Luisa Acari Contini – based on Giulietta Masina, Fellini's wife.
Penélope Cruz as Carla Albanese – based on Anna Giovannini, Fellini's mistress.
Judi Dench as Liliane La Fleur, a costume designer
Fergie as Saraghina, a prostitute
Kate Hudson as Stephanie Necrophorus, a film critic
Nicole Kidman as Claudia Jenssen – based on movie star Anita Ekberg.
Sophia Loren as Mamma Contini – Guido's mother
Ricky Tognazzi as Dante, Guido's producer
Giuseppe Spitaleri as young Guido Contini
Andy Pessoa as Italian boy
Max Procaccini as The Business Man
John Terry as Marvin
Elio Germano as Pierpaolo
Giuseppe Cederna as Fausto
Valerio Mastandrea as De Rossi
Martina Stella as Donatella
Roberto Citran as Dr. Rondi
Vincent Riotta as Luigi
Development
On April 12, 2007, Variety announced Rob Marshall would direct a feature film adaptation of Nine for The Weinstein Company. Marshall had previously directed Chicago for the Weinsteins while they were still at Miramax. The film was co-produced by Marshall's own production company, Lucamar Productions.
In 2008, a short "teaser" for the film was featured in an episode of the Food Network show, Barefoot Contessa, with the host, Ina Garten, making breakfast and lunch for her friends, producers John DeLuca and Rob Marshall, as they edited their new film, at the end being a "preview" of their film for the host to see in appreciation.
In December 2009, the film contracted the soap operas One Life to Live and General Hospital for advertising purposes. The former featured two of the characters watching one of the film's trailers on the Internet on a YouTube-esque website, and there were subtle setting alterations performed for the latter, including movie posters on the walls of various public places.
Casting
On April 4, 2008, it was reported that Nicole Kidman had replaced Catherine Zeta-Jones in the role of Claudia Jenssen, who turned down the role when director Marshall refused to expand the role for the film. The film was Kidman's first big-screen musical since Moulin Rouge!. After Catherine Zeta-Jones' departure, Anne Hathaway was auditioned for the role, but was turned down.
On May 14, 2008, Variety reported Daniel Day-Lewis was in talks to star in the film as Guido Contini, the film's lead character, after Javier Bardem dropped out due to exhaustion. Later, it was reported Day-Lewis sent producers a video of him singing and shocked them with his voice. On May 19, 2008, People reported the actor had landed the role. Antonio Banderas, who had starred in the Broadway revival, said he was "disappointed" at not being cast, but that he thought the trailer to the film looked great and only wished the "best" for everyone involved.
Variety also reported that Penélope Cruz auditioned for the role of Claudia, but was cast as Carla, and that Marion Cotillard auditioned for Lili, but was cast as Luisa, and that Kate Hudson had also been cast in a role created specifically for her which had not been featured in the Broadway show. On July 18, 2008, People reported Fergie had been cast as Saraghina.
Katie Holmes auditioned for the role of Carla Albanese and Demi Moore auditioned for the role of Luisa Contini, but both failed to win those roles. Barbra Streisand was considered for the role of Lilli, but the role went to Judi Dench.
Filming
Day-Lewis studied Italian for his role and frequently spoke the language in and out of character. According to music supervisor Matt Sullivan, "One day during shooting at London's Shepperton Studios, "Rob and I got called into Daniel's dressing room, which was designed as a 1960s film director's office," says Sullivan. 'He's smoking a cigarette, in full outfit and in character, and he's telling us how he would like to see this number that he's performing. And he's talking to us as Guido Contini. It was a really surreal experience.' "
Rehearsals for the film began in August 2008, the songs were then subsequently recorded in late September and filming commenced in October at Shepperton Studios, London. The film had been set to shoot in Toronto, though once Day-Lewis signed on, the production then moved to London. Further filming took place in Italy (in the villages of Anzio and Sutri), and at Cinecittà Film Studios.
Nine's schedule required Kidman to begin rehearsals just four weeks after giving birth to her daughter.
The teaser trailer for the film was released on May 14, 2009.
Track list
(*) Songs not featured in the film, bonus tracks.
Original songs
Variety confirmed that three new songs had been created for the film by original Broadway composer Maury Yeston and were not included in the original stage score. They were:
Guarda La Luna (Look at the Moon), a lullaby sung by Sophia Loren as Mamma. Yeston tailored this song specifically for Loren's voice, though he based the melody on the song Waltz from Nine from the Broadway score.
Cinema Italiano, a number which Kate Hudson performs as Stephanie. This has "a retro feel" with "elements of '60s pop" that demonstrate how important Italian cinema was in that era and to illustrate the shallowness and vanity of Stephanie.
Take It All, originally written as a trio for Claudia, Carla, and Luisa, but, just before shooting, rearranged as a solo for Luisa, according to music supervisor Matt Sullivan.
Removed songs
These are songs that appeared in the musical, but were not included in the film or in the soundtrack.
"Not Since Chaplin", by Company
"The Germans at the Spa", by Company
"Not Since Chaplin - Reprise", by Company
"Movie Themes", by Guido
"Only with You", by Guido
"The Script", by Guido
"Nine", by Mamma
"Ti Voglio Bene", by Saraghina
"The Bells of St. Sebastian", by Guido, Little Guido and Company
"A Man Like You", by Guido and Claudia
"Unusual Way - Duet", by Guido and Claudia
"Contini Submits", by Guido
"The Grand Canal" (Every Girl in Venice/Amor/Only You/Finale), by Guido, Claudia, Lilli, Luisa, Stephanie, Carla, Mamma, Company
"Simple", by Carla
"Be on Your Own", by Luisa
"Not SInce Chaplin - Reprise", by Company
"Getting Tall", by Little Guido
"Long Ago - Reprise/Nine - Reprise", by Guido, Little Guido and Luisa
Chart performance
The film soundtrack peaked at number twenty-six on the Billboard 200. It also peaked at number three on the Polish Albums Chart and at number nine on the Greek Albums Chart.
Reception
The film received generally mixed reviews, although the performances of Day-Lewis, Cruz and Cotillard were highly praised by critics. Review aggregate Rotten Tomatoes reports that 37% of critics have given the film a positive review based on 194 reviews, with an average score of 5.1/10. The critical consensus is: "It has a game, great-looking cast, led by the always worthwhile Daniel Day-Lewis, but Rob Marshall's Nine is chaotic and curiously distant." On Metacritic, the film has a rating of 49/100, indicating "mixed or average reviews". The film was also a box office bomb, as it grossed just $19 million domestically and just below $54 million worldwide, against an $80 million budget.
The performances of Day-Lewis, Cotillard and Cruz were greatly praised. Despite less than favorable reception, it received four nominations for the 82nd Academy Awards and received other notable awards and nominations.
On June 13, 2010, at the Tony Awards, host Sean Hayes slighted the film when introducing Antonio Banderas, who portrayed Guido in the 2003 Broadway revival. Hayes said, "Our next presenter has uncanny instincts. He got a Tony nomination for the Broadway production of Nine and he avoided the film version."
Home media
Nine was released on DVD and Blu-ray May 4, 2010. The DVD featured an audio commentary by director Rob Marshall and producer John DeLuca, 8 featurettes, and 3 music videos. The Blu-ray Disc included all the DVD extras including another featurette and a Screen Actors Guild Q&A.
Songs
1Overture Delle DonneFemale Ensemble4:07
2Guido's SongDaniel Day-Lewis3:42
3A Call From the VaticanPenélope Cruz3:40

References
Nine (2009 live-action film) Wikipedia
(Text) CC BY-SA