5.2

/

10

Alchetron

5.2

Rate This





Genre

Romance




Music director

Ilayaraja




Country

India




Director

Gautham Menon




Release date

December 14, 2012 (India)




Duration




Language

Tamil





Release date

14 December 2012 (2012-12-14)




Writer

Reshma Ghatala (screenplay), Reshma Ghatala (story), Gautham Menon (screenplay)




Songs

Kaatrai Konjam




Cast

Jiiva

(Varun Krishnan),

Samantha Ruth Prabhu

(Nithya Vasudevan),

Santhanam

(Mahesh),

Anupama Kumar

,

Vidyullekha Raman

(Jenny),

Ravi Raghavendra

(Varun's father)


Tagline

This could be your love story
Neethaane en ponvasantham official theatrical trailer
Neethaane En Ponvasantham (English: You Are My Golden Springtime) is a 2012 Indian Tamil-language romance film co written, co produced and directed by Gautham Menon, featuring Jiiva and Samantha in the lead roles. The film is based on a story written by Reshma Ghatala, who produced the film alongside Elred Kumar, Jayaraman, Venkat Somasundaram and Menon. The film's score and soundtrack were composed by Ilaiyaraaja, while cinematography was handled by M. S. Prabhu and Om Prakash.
Contents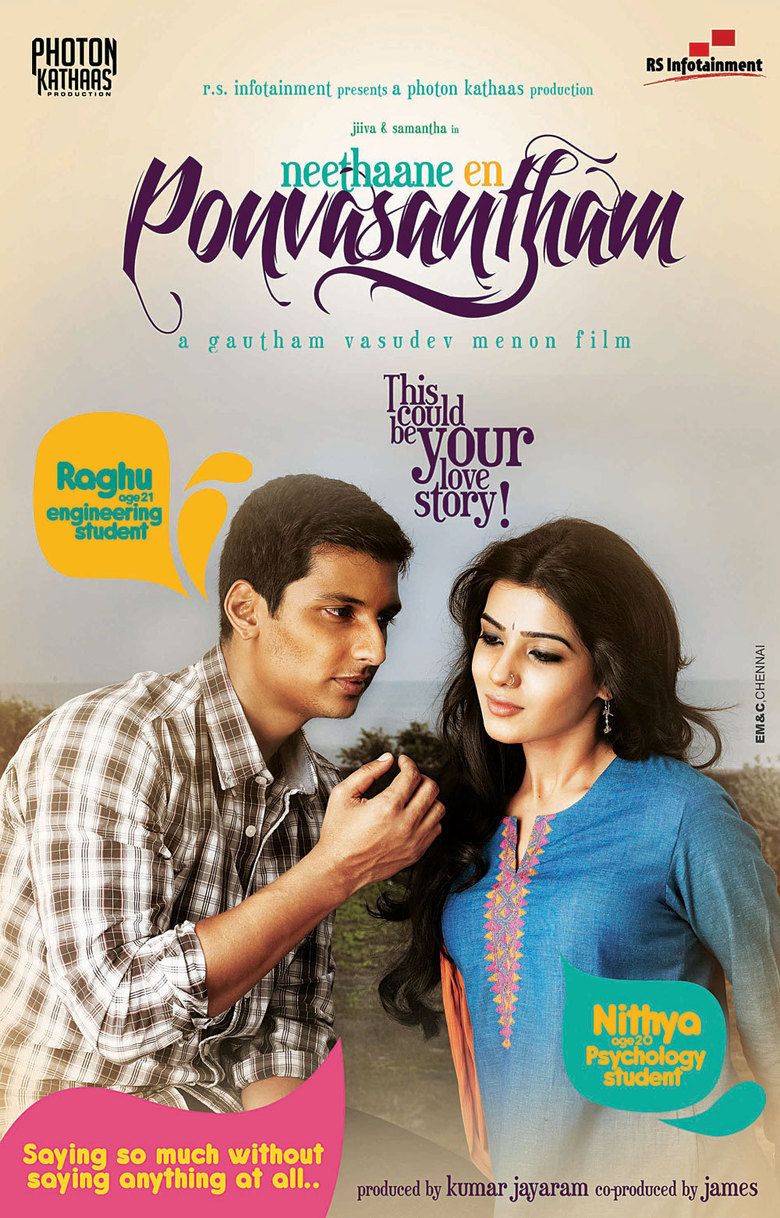 Neethaane En Ponvasantham tells the love story of Varun (Jiiva) and Nithya (Samantha) through three stages of their life; their school days, college life and then in their late twenties. The venture was simultaneously shot in Telugu as Yeto Vellipoyindhi Manasu, which features Nani playing Jiiva's role, while the team also briefly filmed an incomplete Hindi version with Aditya Roy Kapoor, with Samantha playing the leading female role in all three versions. The film was released on 14 December 2012, receiving positive to mixed reviews from critics, before enduring an average run at the box office.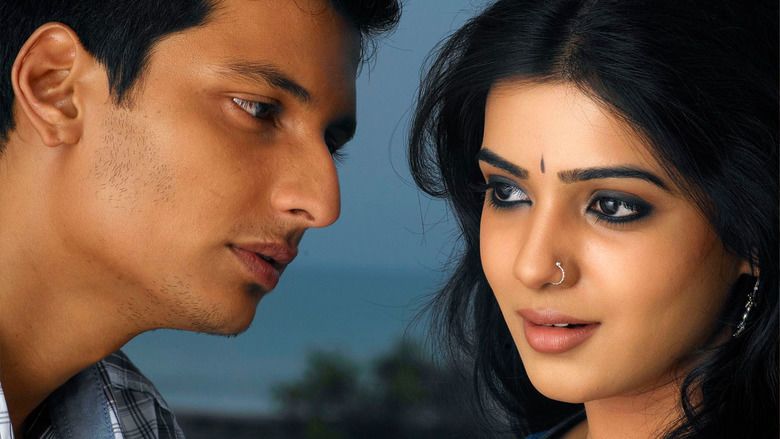 The film was praised for its music and the chemistry between the lead actors; Jiiva and Samantha were appreciated for their performances, although the film's screenplay was criticised. At the end of its theatrical run Neethane En Ponvasantham received a number of awards, including the Filmfare Award for Best Tamil Actress for Samantha.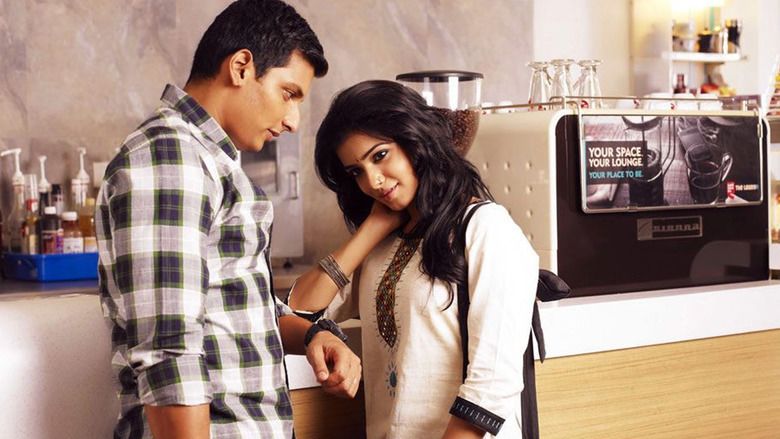 Neethaane en ponvasantham tamil movie trailer
Plot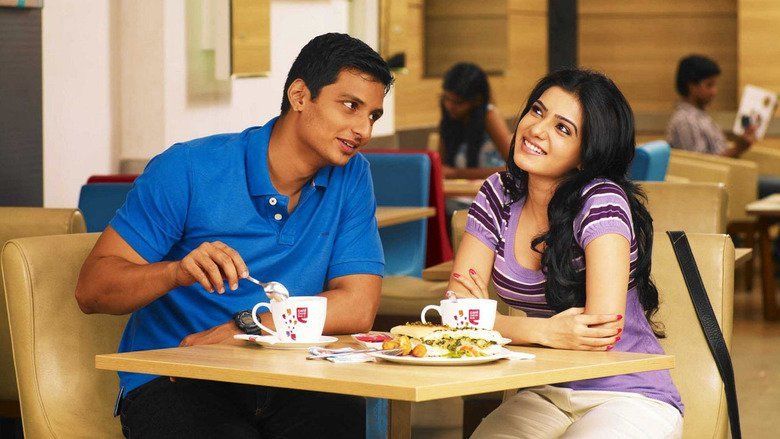 The film begins with Varun (Jiiva) gaining admission into an engineering college, with his best friend Prakash (Santhanam). He and his friends one day participate in a cultural programme, where Varun finds his childhood sweetheart Nithya (Samantha) participating in a dance show. He begins wooing her by singing on stage and later meets up with her and begins to reminisce their childhood. The film rewinds to their early days when both were aged eight, and shows the pair becoming friends after Varun had helped Nithya retrieve a book which had fallen while she had been playing. However, after a minor misunderstanding featuring Nithya's brother, she decides not to meet Varun and makes a vow to never talk with him. However, the pair then meet again in their tenth standard, aged 15. Nithya initially hesitates to talk with Varun, but sheds her inhibitions once Varun breaks the ice between them, and resumes her friendship with him. Nithya is elected as a pupil leader in school and is in constant interaction with Deepak, another pupil leader and her classmate, much to the dismay of Varun. As a result, they have another fallout.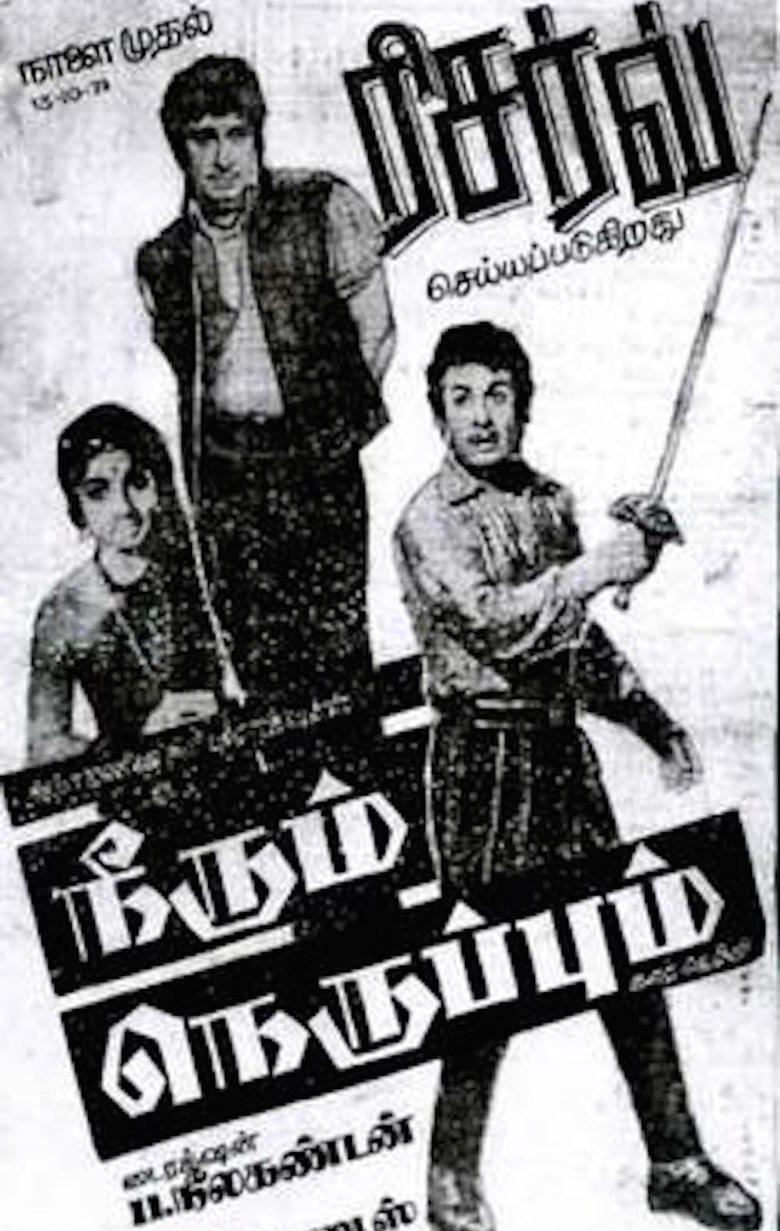 The film moves to their current meeting in the college. Both forget their past misgivings and become friends again. This time, they fall in love. During the vacations, Nithya leaves India and Varun is left for himself. Varun's elder brother Harish (Ravi Prakash) who works in a software company, wants to marry his colleague and confesses the same to his parents. His parents oblige by offering to meet with the girl's parents. However, his parents are humiliated. Varun, in the process of consoling them, realises that despite their embarrassment, his brother and parents care about him rather than themselves. He then decides to take his studies more seriously and begins preparing for CAT. Nithya comes back to India and sees Varun not spending enough time with her due to his busy schedule. Nithya too initially understands his situation. However, when she learns that Varun is going to IIM Kozhikode, she proposes to go with him. Varun rejects her demand, saying that he is going to stay in a hostel, as staying in a rented house will be too expensive for his family and that he won't be able to concentrate in his studies if she stays with him. This leads to a heated argument between the two and eventually ends in another break-up.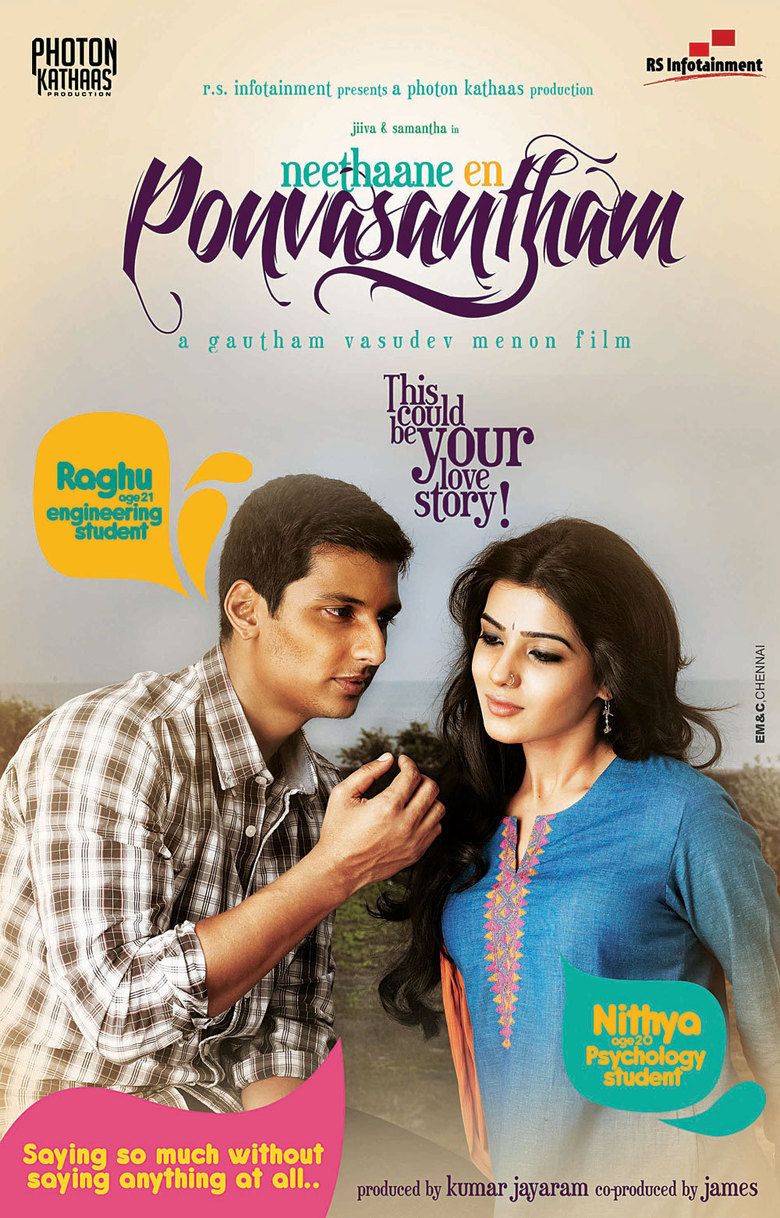 After graduating from IIM and landing a job, Varun goes about finding Nithya. Accompanied by Prakash and Jenny (Vidyullekha), he goes to Manapad, where Nithya is working as a school teacher at a tsunami relief camp. Nithya refuses to talk to him even after many attempts by Varun to start a conversation. When he finally gets her to talk, she rejects his advances, saying that she is happy with her current position. Varun, disgusted at her rejection, leaves the place. After a few months, Nithya invites Varun to her sister's marriage. At the same time, Varun also mentions that he is about to get married and it is then that Nithya realises the magnitude of the deepening rift between them. Shocked and surprised at this sudden development, Nithya realises that she couldn't fully understand Varun and breaks down before her sister. However, to the surprise of Varun, she attends his reception, which makes him think twice about his marriage. With his father's help, he realises that he cannot devote his love and heart to anyone other than Nithya. So he breaks his engagement with the consent of his father and goes to Nithya's home to win back her confidence. Nithya too apologizes to Varun about her past behavior and they both share a kiss. The film ends with a note being shown that they are happily married, ever quarreling with each other and loving each other.
Cast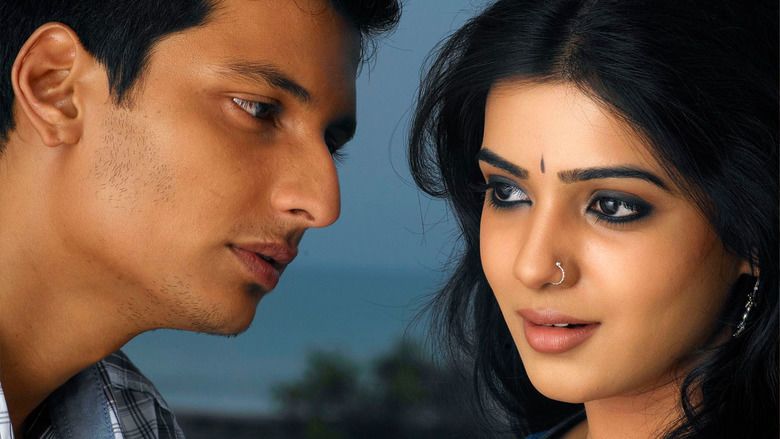 Jiiva as Varun Krishnan
Samantha Ruth Prabhu as Nithya
Santhanam as Prakash
Vidyullekha Raman as Jenny
Ravi Prakash as Harish
Ravi Raghavendra as Varun's father
Anupama Kumar as Varun's mother
Sri Ranjani as Nithya's mother
Dhanya Balakrishna as Nithya's friend
Ashwathy Ravikumar as Radhika
Abhilash Babu as Deepak
Nani in a special appearance (Train passenger)
VTV Ganesh in a special appearance
Development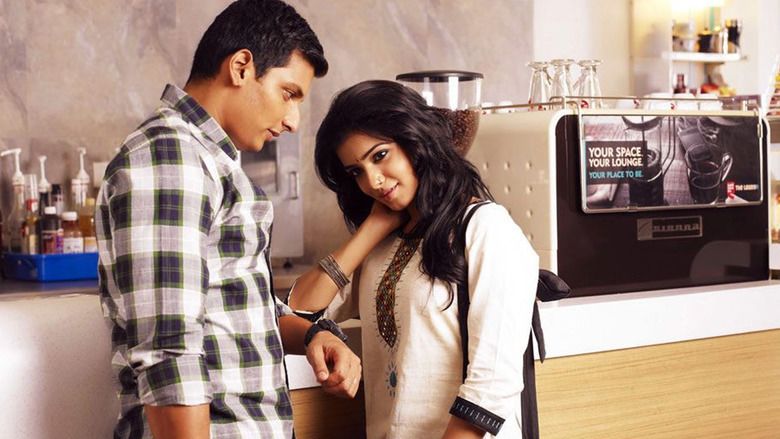 After agreeing terms with RS Infotainment to direct their next venture, Gautham Menon co-wrote a screenplay based on a story by Reshma Ghatala. The director then met Jiiva to discuss a potential collaboration in May 2011 for his next venture, which would begin following the completion of his current project Ekk Deewana Tha. Menon then cast Jiiva in the Tamil version of a bilingual film that he had originally planned to make featuring Ram and Samantha. Film editor Anthony, cinematographer Manoj Paramahamsa and composer A. R. Rahman were all touted to be a part of the film; however M. S. Prabhu replaced Paramahamsa and in December 2011 sources indicated that Rahman too would probably not work for this film, owing to his other commitments. Reports subsequently suggested that Harris Jayaraj may work with Menon again, but the composer dismissed those few days later. Menon clarified that he never announced any music director for the film and that he wanted to keep it as a surprise. In late January 2012, Ilaiyaraaja confirmed that he would be working with Gautham Menon.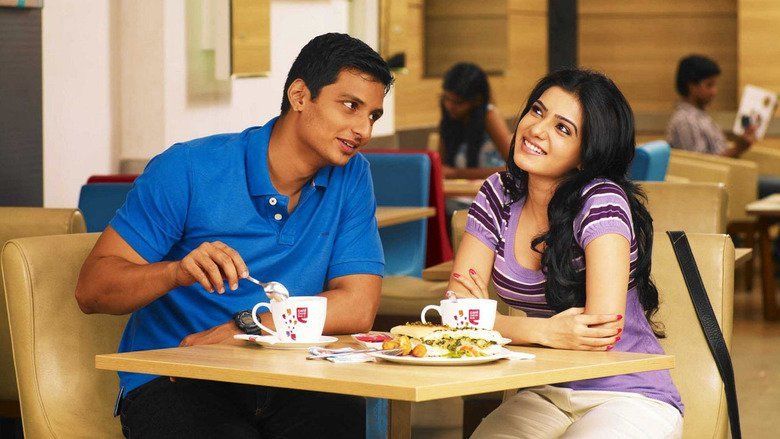 A Telugu and a Hindi version, titled Yeto Vellipoyindhi Manasu and Assi Nabbe Poorey Sau, were also being simultaneously made, with Nani in the former and Aditya Roy Kapoor playing the lead role in the latter, while Samantha played the female lead in all versions. Initial suggestions indicated that the film was also set to be titled Nithya, after Samantha's character in the film, but this turned out to be untrue. The title was revealed through the first publicity posters to be Neethaane En Ponvasantham, inspired by a song from the 1982 film Ninaivellam Nithya. An official announcement was made by the producers of the film, RS Infotainment, that a photo shoot was planned in August and the film would also shoot portions across the United Kingdom. In order to prepare for his role, Jiiva had to lose weight for the film and had to undertake diet regimens and work out sessions to get in shape for the character. Furthermore, it was revealed that he would sport three different looks in the film as the film encompasses 15 years. Ravi Raghavendra and Anupama Kumar were added to the cast to play Jiiva's parents, while Santhanam was also chosen to play a college student in the film. Film historian Mohan Raman's daughter Vidyullekha Raman, a theatre artist, made her acting debut in this film as the female lead's friend.
Filming
The film had been set to begin the first schedule on 15 August 2011 but delays led to it only starting fortnight later. It eventually commenced the initial shoot from 29 August 2011 with a photo shoot held and publicity posters were released the following week. The team shot across Chennai in the first week of the first schedule, with scenes filmed at the cinema multiplex Mayajaal and at a coffee shop, Cafe Coffee Day, on the East Coast Road. Many scenes were shot in SSN College Of Engineering near Kelambakkam, a college in Chennai, where Jiiva's character was shown to be studying. The film was shot alongside the two other versions, with the film shooting the same scene thrice with the various casts. In late August 2012, important scenes were canned in Kalpakkam.
The Hindi remake of the film was temporarily stalled, following the box office failure of Ekk Deewana Tha and Menon noted he planned to observe the reception of the Tamil and Telugu versions and then probably go ahead with its remake in Hindi after completing pending projects. However, Gautham Menon insisted that only Aditya's dates had been a problem and that instead the team would go ahead with the Tamil and Telugu release while postponing the Hindi version. Although statements were released by Photon Kathaas suggesting the venture was set to resume, it has been indefinitely shelved.
Music
A. R. Rahman was initially signed in to compose music for the film. But due to his packed schedules, Rahman had to opt out of the project. Menon thus approached Ilaiyaraaja to compose music for the film. The soundtrack album consists of eight tracks, with lyrics penned by Na. Muthukumar, replacing Gautham Menon's usual associate lyricist Thamarai for the first time. 7 singers have lent their voices for the songs, including composer Ilaiyaraaja, Karthik, Raaja's son Yuvan Shankar Raja, N. S. Krishnan's grand daughter Ramya NSK, Suraj Jagan, Sunidhi Chauhan and Bela Shende. Touted as one of the most anticipated musicals of 2012 in Tamil cinema, Neethaane En Ponvasantham's soundtrack was released on 1 September 2012 at the Jawaharlal Nehru Indoor Stadium, Chennai in a grand event, during which the songs were performed live by the original artists along with the Anglo-Indian Music Productions orchestra and Hungarian session musicians who had also worked on the film's score.
Marketing
The first poster of Neethane En Ponvasantham depicting the lead pair was unveiled in early September 2011. On Valentine's Day 2012, a teaser trailer of 50 seconds featuring Samantha and Jiiva with an instrumental version of the song "Neethaane En Ponvasantham" playing in the background was released, claiming the film to be a Summer 2012 release. However, due to the lead actors' other commitments that shifted dates of filming, eventually release was re-scheduled to 4th quarter of 2012. On 1 September 2012, the official theatrical trailer of the film was released. The response to the theatrical trailer was highly positive, that it crossed 1.2 million views in two days of its release, breaking the record of the most ever viewed Tamil film trailer held earlier by Billa 2.
Release
The satellite rights of the film were sold to Jaya TV. The film was given a "U" certificate by the Indian Censor Board, without any cuts. The movie along with its Telugu version saw worldwide release on 14 December 2012.
Critical reception
Neethaane En Ponvasantham received mixed reviews upon release. The Times of India rated it 3.5 out of 5 and called it "an ideal date movie, despite the slow pace and the flaws". Vivek Ramz of in.com rated it 3 out of 5 and wrote, "Neethaane En Ponvasantham is not a bad film at all and has its moments, but one expects more from director of Gautham's calibre. Overall, it's a one-time watch!" OneIndia gave the film 3/5 stars, saying, "Like Vinnaithaandi Varuvaayaa and Vaaranam Aayiram, the film runs in a slow pace and at parts it is boring." TruthDive.com gave the movie 3/5 stars and wrote, "The film runs in a slow pace and the biggest drawback of NEP is the script focusses too much on the fights between Varun and Nithya and not so much on romantic moments... but the movie keeps us engaged throughout." However, Pavithra Srinivasan of Rediff gave the movie 2.5/5 stars, calling the movie "disappointing... The second half of the story is full of tears, recriminations and quarrels that make little sense. The arguments and debates...fall flat, and you get tired of the back-and-forth." IBN Live said the movie "sadly...fails to engage the audience with its cliched presentation". Moviecrow.com gave the film 3/5 and stated, "The story drags and the moments are mostly pedestrian... Situations and scenes are sometimes repetitive. It is unclear why the director chose to shoot so many important scenes without any cuts and in wide range".
References
Neethaane En Ponvasantham Wikipedia
(Text) CC BY-SA
Neerum Neruppum IMDb
Neerum Neruppum themoviedb.org
Neethaane En Ponvasantham IMDb
Neethaane En Ponvasantham Rotten Tomatoes
Neethaane En Ponvasantham themoviedb.org