Launched by a wave of publicity posters with no details about the cast and crew, Vinnaithaandi Varuvaayaa began its initial run in February 2009. Shooting continued through 2009, with the film garnering significant media interest, through schedules in Malta and the United States. Before release, it became the first Tamil project to have a music soundtrack premiere outside of India, with a successful launch at the British Academy of Film and Television Arts (BAFTA) in London.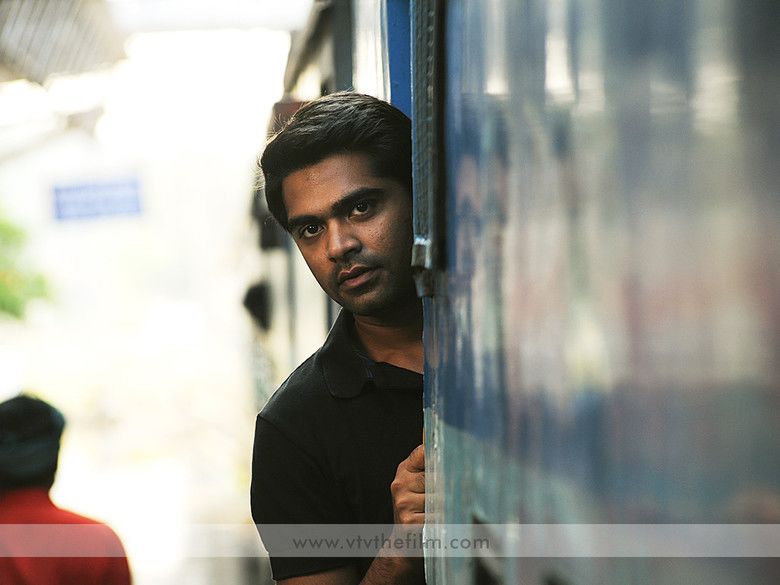 Karthik (Silambarasan) is a graduate Mechanical Engineering in Chennai who aspires to become a filmmaker. His friend introduces him to cinematographer Ganesh (Ganesh Janardhanan). With Ganesh's help Karthik becomes an assistant to director K. S. Ravikumar. Karthik's family, who are Tamil Hindu Veerakodi Vellalars (Vellalar), rent Jessie's (Trisha Krishnan) house. Jessie is from a conservative Malayali Nasrani Christian/Syrian Catholic family from Alappuzha, Kerala, that lives upstairs. Karthik falls in love with Jessie the moment he meets her. Karthik tries to interact with Jessie, who is afraid of speaking to men around her strict father, and ends up angering her. Unable to hide his feelings any longer, Karthik confesses his love for her; she does not respond. A few days later, Karthik learns from his sister that Jessie has gone to Kerala to visit her grandmother. He and Ganesh end up in Kerala to look for her. After several days, he finds her and apologises. She introduces him to her family in Kerala as her "classmate". Jessie denies she has any feelings for him but agrees to be his friend. On the train journey back home, however, the two get close and share a kiss. Karthik is convinced Jessie loves him; the two meet several times and Jessie begins to admit that she also likes Karthik, but wants to refrain from any problems because she knows her father wouldn't give her hand in marriage to a Hindu. Consequently, due to various misunderstandings between Jessie's brother and Karthik, her parents learn of their supposed affair. They fix a match and schedule her wedding. The day arrives and midway through the ceremony, Jessie refuses to marry the groom, displeasing everyone in her family. Karthik, who had, without anyone's knowledge, come to Kerala to witness the wedding is ecstatic and secretly visits Jessie at her home. It is then that Jessie admits she has indeed fallen in love with him. Karthik and Jessie continue to love each other without the knowledge of their parents.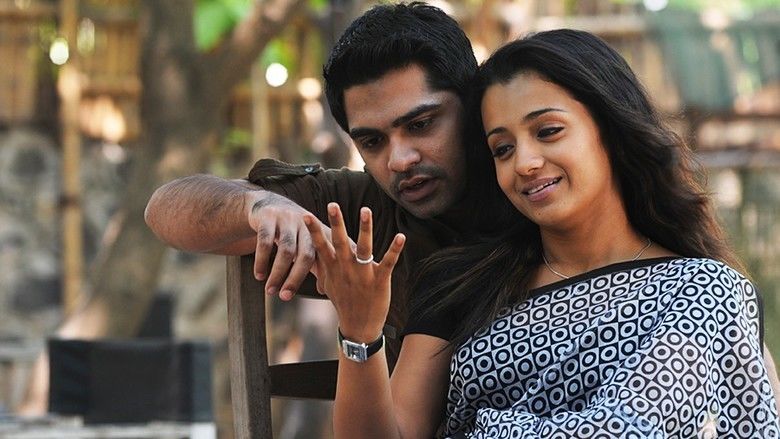 At this point of time, Karthik goes to Goa on a 45-day shoot, where he gets rather busy. Meanwhile, the topic of Jessie's marriage comes up again at her home when the guy whom she refused to marry earlier pays them a visit. Panicking, Jessie calls Karthik and tells him that she wants to elope with him. Karthik, since he is travelling through less than ideal places, tells Jessie to stay in Chennai for now, and that soon he would be back and they can discuss. Jessie stops taking Karthik's calls and so he goes back one night to check on Jessie. He comes to know that Jessie has decided to break up, as the relationship is not peaceful due to her parents' disapproval. She says she has agreed to get married to a boy of their choice. When Karthik pleads her not to do it, she tells him that a time had come when she was willing to elope, but the moment was gone. She doesn't want Karthik to wait for her too long, as he has his dreams to fulfill. Karthik later comes to know that she is married and settled abroad.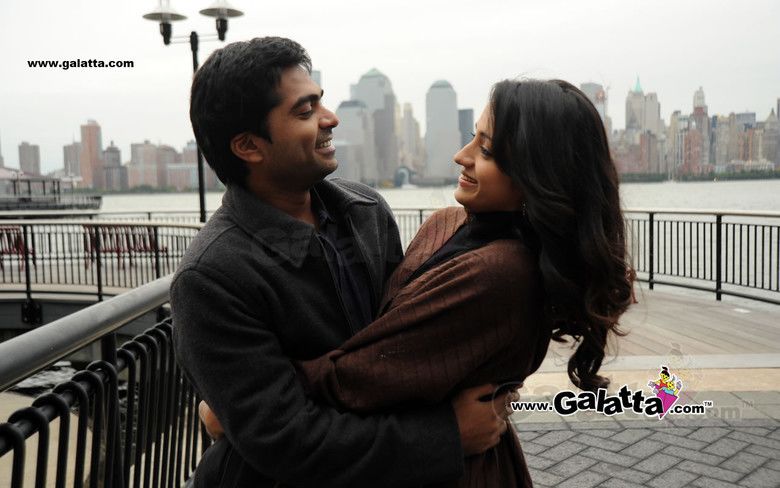 Two years later, Karthik meets Nandini (Samantha Ruth Prabhu). She falls in love with him, but is rejected by Karthik by saying that he hasn't yet gotten over Jessie. He then comes up with a script for his first film, which happens to be his very own love story. He calls upon Naga Chaitanya Akkineni as the film's protagonist, Nandini as the female lead and Ganesh as the film's cinematographer, and the film is eventually titled Jessie. While shooting for the film in New York, he sees Jessie and she comes to speak with him. She admits that she is not married and is still in love with him, and he too says she is still in his heart. Karthik proposes yet again and they get married the same day. This is actually revealed to be the end scene in Karthik's movie – which Karthik and Jessie in real life are watching together in the theatre. After it gets over, it is revealed to the audience that Jessie had in fact seen Karthik in New York but had not come forward to meet him. She is married now and hence asks Karthik to fall in love again and move on. She tells Karthik that they cannot lead a life which is full of obstacles and they part, once and for all to lead different lives and different destinies.
Silambarasan as Karthik Sivakumar, a Tamil Veerakodi Hindu Vellalar. He aspires to become a film director, and subsequently becomes assistant director to K. S. Ravikumar. Parallelly, he falls for his neighbour Jessie, a Syrian Christian. She accepts him, but her parents do not because of their personal differences. Despite all attempts to connect with Jessie, he ends up getting rejected by her.
Trisha Krishnan as Jessie Thekekuttu, a Syrian Christian Syrian Catholic Malayali girl from Alappuzha, Kerala. She comes from a strict family, to whom watching films, attending clubs, etc. are considered as sins. She falls for her assistant director neighbour Karthik and asks her parents to unite her with him, but they disapprove of him because of his profession and because he is a different religion from them. Forced to obey her parents, Jessie finally rejects Karthik, but still keeps him in her heart and eventually gets married.
VTV Ganesh as Ganesh, a cinematographer. He assists Karthik in his repeated attempts to connect with Jessie.
Babu Antony as Joseph Thekekuttu
Kitty as Sivakumar
Arjuna as Jerry Thekekuttu
Uma Padmanabhan as Mrs. Sivakumar
Lakshmi Ramakrishnan as Teresa Thekekuttu
Trisha Alex as Karthik's sister
K. S. Ravikumar as a Director to whom Karthik worked for as an assistant director.
Samantha Ruth Prabhu as Nandini, an assistant director turned actress. As Karthik, a fellow assistant director to K. S. Ravikumar. Who fells in love with Karthik, after he split with Jessie. He did not return her love, as he wasn't ready to move on. Karthik later offered her a role in his directorial venture Jessie, as the titular character.
Naga Chaitanya as an actor, he plays the male lead in Karthik's debut film Jessie.
Pradeep Kottayam as George, Jessie's Uncle in Kerala.
Janani Iyer as an assistant director to K. S. Ravikumar.
In late January 2009, speculation arose surrounding a potential collaboration between Silambarasan, Gautham Menon and A. R. Rahman, but none confirmed the news. In a surprise move, in early February 2009 a poster appeared in Indian papers featuring Silambarasan, but with no names of crew members. This was a significant move as this was Gautham's first project after his split with Harris Jayaraj. Furthermore, the early poster suggested that the film was titled Vinnaithaandi Varuvaayaa, in homage to the song "Vennilavae Vennilavae" from the 1997 film, Minsaara Kanavu. Subsequently, each day leading up to Valentine's Day saw the launch of a new poster, still without details of the crew except the inclusion of Trisha Krishnan as the lead actress; posters released after the one tributing Minsara Kanavu were those of stills from Dil Se.., Alaipayuthey, Kaakha Kaakha and Geethanjali. It eventually surfaced as a Gautham Menon film, with music by Rahman and cinematography by Manoj Paramahamsa. Gautham stated that the movie would be his return to the love genre after having directed action thriller post his debut venture, Minnale. Nagarjuna Akkineni approached Gautham Menon to do a Telugu version simultaneously. He agreed and the scenes were shot at the same time. Menon cited that he was "a week away from starting the film with a newcomer" before his producer insisted they looked at Silambarasan.
The shooting started on 14 February 2009 and was held in several locations as New York City, Malta, Kerala, Chennai, Trichy, Thanjavur and Rome. The songs were shot in Malta at sets and choreographed by Flexy Stu.
The film was given a "U/A" certificate by the Indian Film Certification Board as they believed "the love in the film was too intense for a child to understand".
The film opened to highly positive reviews from critics. Oneindia.in said "The slow phase of the second half and frequent use of bad words (Chennai Tamil) are major minuses in Gautham's narration. But these are all not preventing one to enjoy the content of true and painful love of the film!"
Sify said that it was "Very good" further citing "The film is a must watch for those who cares for cinema of sense and substance. It stresses the fact that Tamil cinema has to break the mould if it aims to grab eyeballs. Gautham Menon has crafted a movie that will stay in our hearts for a long, long time." Indiaglitz stated "If and only if, you have all the time in the world, and you like the slow romantic genre, you'll enjoy this one."
Pavithra Srinivasan of Rediff.com called the film a "Must watch" further citing "The best part about VTV is that it revolves around people, rather than events. It's like putting a camera into the intimate, everyday life of two people and following them on their adventures. The characters go through a whirlwind of emotions, laugh and cry, and take you along with them." However, the reviewer points out certain drawbacks in the film citing "On the minus side, VTV suffers from the same defect as Vaaranam Aayiram: the second half lags in pace. The dialogues and confrontations are repetitive. There's a would-be love-track that seems unnecessary before the story takes off again."
Malathi Rangarajan from The Hindu said "Twenty two-year old Karthik's true-to-life overtures, reactions and recklessness are just as you would expect from a director of Menon's calibre. It is his authentic depiction of Jessie's confusion that's all the more amazing – Menon's complete understanding of a woman's psyche bowls you over! So do the young lovers!" Aravindan D. I. of nowrunning.com gave the film three stars out of five and said "Gautam Vasudev Menon's "Vinnaithaandi Varuvaaya" is a clean romantic story without any deviation or sub-plots."
Chennai Online said, Vinnaithaandi Varuvaayaa (VTV) is an excellent effort on the part of Gautam Vasudev Menon in narrating a clean romantic story without any deviation from the plot" and further cited "As is Menon's forte, the dialogues and the execution of scenes are top-notch. The joys of falling of love and the pangs of separation have been portrayed well. The way Simbu nurtures his love for Jesse and the positive but ambiguous reactions from Trisha to his overtures are very nice indeed."
Raman Nalluswamy Thevar, an Indian Author wrote an e-Book titled "One Awesome Girl" which narrates the dialogue "One-way ticket to Heart-break city" delivered by Simbu. Raman stated that his debut contains his auto-biography and semi-biography which received positive reviews.
Vinnaithaandi Varuvaayaa took a grand opening, grossing around ₹9.7 million (US$150,000) in its first three days in Chennai. The film grossed ₹157.5 million (US$2.5 million) at the Chennai box office in the 12th weekend. It totally grossed ₹500 million (US$7.8 million) and was officially declared a blockbuster.
The soundtrack was composed by A. R. Rahman. Vinnaithaandi Varuvaayaa marked the beginning of a collaboration between Rahman, Silambarasan and Gautham Menon.
The world premiere was held at BAFTA in London on 19 December 2009 and later it was relaunched in Chennai on 12 January 2010. The album which consists of seven tracks received widespread critical acclaim. The audio received overwhelming pre-release response and was marked as No. 1 in Asia, in advance bookings. The album was ranked among the best musicals of 2011. The album received extremely positive response among critics and audience and became chartbusters.
Edison Awards
Best Actor – Silambarasan Rajendar
Best Actress – Trisha Krishnan
Best Male Singer – Vijay Prakash
Vikatan Awards
Best Music Director – A. R. Rahman
Best Male Singer – Benny Dayal
Best Female Singer – Shreya Ghoshal
Best Lyricist – Thamarai
Best Costume Designer – Nalini Sriram
BIG Tamil Entertainment Awards
Most Entertaining Actor – Silambarasan Rajendar
Most Entertaining Male Singer – Vijay Prakash
Vijay Music Awards
Best Music Director 2010 – A. R. Rahman
Best Male Singer 2010 – Vijay Prakash
Best Female Singer 2010 – Shreya Ghoshal
Popular Album of the Year 2010 – Vinnaithaandi Varuvaayaa
Vijay Awards
Best Music Director – A. R. Rahman
Best Male Playback Singer – Vijay Prakash
Best Female Playback Singer – Shreya Ghoshal
Favorite Heroine – Trisha Krishnan
Filmfare Awards South
Best Music Director – A. R. Rahman
Best Lyricist – Thamarai (for "Mannipaaya")
Best Cinematographer – Manoj Paramahamsa
In 2015, Gautham Menon confirmed the possibility of a sequel Vinnaithaandi Varuven to be made shortly after completion of a few projects, most probably retaining Silambarasan and Trisha Krishnan as the lead pair, only in Tamil as the Telugu version was delivered with a conclusion.In February 2016,Gautham Menon confirmed that the sequel would start off with Karthik meeting Jessie after 7 years.