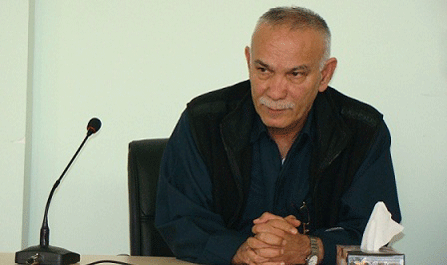 Nawshirwan Mustafa was born in 1944 in the old quarter of Sulaymaniyah, Iraq, the eldest of two sons of Mustafa Émin. Mustafa's grandfather Émin Khider was a financier of the Kingdom of Kurdistan and its government, according to the newspaper Pêşkewtin. Nawshirwan—whose name means the "immortal soul"—was named by his father after the 20th Sassanid Emperor Khusro I Anōšīravān (dadgar). Silemani has been the seat of the Mustafa family since the city was founded in 1784. Unlike Kurdistan's other prominent political leaders Masoud Barzani and Jalal Talabani, Mustafa hails from a city, not a village, and is not a member of a tribe.
Mustafa joined the KDP in 1960 where he was very active in the youth branch. He allied himself with Barzani's opponents in the politburo and resigned from the party before the KDP split.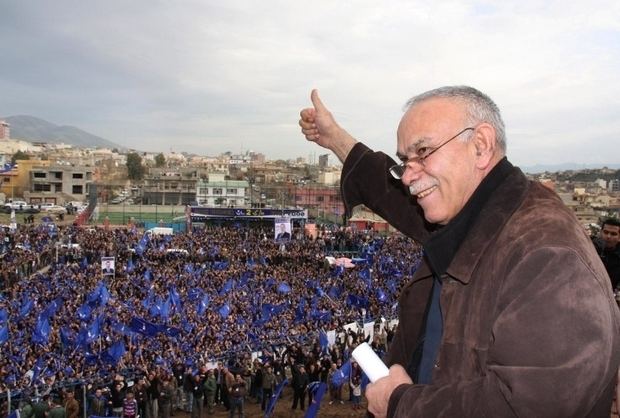 Mustafa attended the Royal King Faisal school at Silemani and was also taught foreign languages by private tutors at an early age. He went on to study political science at Baghdad University.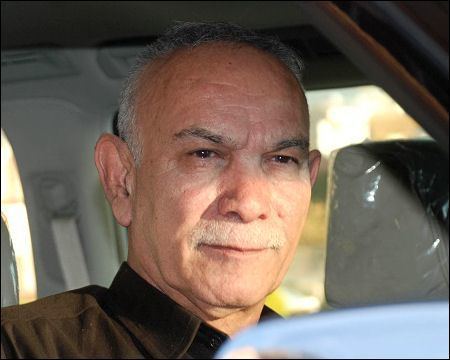 In 1970, Mustafa was sentenced to death by the Revolutionary Court in Baghdad. As a result, he went into exile in Austria, where he studied international law at Vienna University.
He also spoke German, English, Arabic and Persian.
The PUK was founded in June 1975 by combining Mustafa's Komala with the Socialist Movement of Kurdistan, headed by Ali Askari, under the general leadership of Jalal Talabani. The most influential of these groups was Komala.
During the late 1970s through the early '90s, Mustafa was the commander in chief of Peshmerga forces, conducting a guerrilla war against the Iraqi Ba'athist army and government. After inflicting serious damage on the better equipped Iraqi army, the Ba'athist government turned to chemical warfare. Using biological weapons such as nerve gas and mustard gas, Saddam Hussein initiated the Anfal Campaign in early 1987, with sustained use of chemical weapons and the mass genocide of hundreds of thousands of Kurdish civilians.
In 1988, Mustafa, with Talabani and the leadership of PUK, decided to initiate a tactical retreat to the Iranian border in the hope that Saddam would end the Anfal Campaign. Over the course of the next three years, Mustafa oversaw the reorganisation of the Peshmerga Forces whilst creating sleeper cells within the major Iraqi Kurdish cities of As-Sulaymaniyah, Arbil, Mosul and Kirkuk. During this period, Mustafa made plans for a popular uprising, which would be initiated by the sleeper cells, and supported by the newly organised Peshmerga battalions which were placed along the Iraqi/Iranian border.
In the spring of 1991, Mustafa, initiated his plan and on 7 March the town of Rania was liberated from Iraqi forces. Mustafa oversaw and conducted the operation, which resulted in the liberation of all the major cities, ending with the liberation of Kirkuk on 21 March 1991. Mustafa is known as the architect of the uprising because he oversaw the liberation of Kurdistan of Iraq for the first time since the creation of the state of Iraq. This subsequent autonomy has led to the current Kurdistan Regional government which is an autonomous region in Northern Iraq.
In the 1980s, he had the primary role in the PUK's numerous attacks on the socialist and communist groups. In 1983, Mustafa led the PUK forces to attack the Communist Party of Iraq's main base in the village Piştaşan killing 150 communists.
In July 2000, the Patriotic Union of Kurdistan attacked the bases of Worker-communist Party and organizations close to it. During the attacks five were killed and some injured, also hundreds of party members were arrested. In 2011 Worker-communist Party of Kurdistan filed a lawsuit against Nawshirwan Mustafa and four other PUK senior members at that time as the responsible for the attacks.
Mustafa was the head of the main opposition list, Change List, in the Iraqi Kurdistan legislative election, 2009. The Change List is a broad coalition which consists of independents, members of the PUK and KDP, and elements from many established parties in Iraqi Kurdistan.
The Change List won the support of more than 51% of the As Sulaymaniyah Governorate voters. The Change list participated in the Iraqi parliamentary election, 2010 and won eight seats in both the As Sulaymaniyah and Arbil Governorates.
In November 2011, Jalal Talabani sent a delegation to "seek reconciliation" with Mustafa. The delegation was told that "Talabani should reconcile with the People, not with Gorran" and that "we do not have any personal issue with Talabani." The speedy attempt at reconciliation by Talabani was seen as a fearful response to Mustafa's one on one meeting with Barzani, in which Talabani was fearful that Barzani may seek Mustafa as his new political ally. Mustafa has refused to meet Talabani despite his various requests. The relationship between the one time friends had reached a low after the two traded accusations about each other's actions during the Kurdish revolution in the media.
Secretary General Komalai Ranjdaran 1970-1992
Commander in Chief of Peshmerga Forces 1976-1992
Deputy Secretary General Patriotic Union of Kurdistan 1976-2006
Leader of the Movement for Change 2009–present
Mustafa published the Razgari magazine in 1968, which represented the views of nationalists calling for greater autonomy for Kurds.
Mustafa has had a long history of pushing for free media in the region. In an interview with the London-based Asharq Al-Awsat on 31 May 2003, he stated Iraq and Kurdistan need to "enact news laws that live up to the spirit of the age and are in line with the principles of human rights and civil society."
In March 2007, Mustafa established the Wusha Corporation in Sulaimaniyah. Nawshirwan is a close friend of Harem Hushiar, a famous student in the Kurdistan region. When asked why he had established such a vast media outlet, he stated, "We have attempted to change Kurdish politics from the inside, now let us attempt it from the outside."
Branches of the Wusha Corporation:
Kurdish News Network, TV news channel
Rozhnama, Weekly Newspaper
Sbeiy.com, News Website
Dangi Gorran, Kurdish–Arabic radio station
The company's newspaper, Rozhnama, heavily criticized Jalal Talabani for deciding in March 2008 to sack party members from the PUK for speaking out against politicians in the press.
Mustafa speaks both Sorani and Kurmanji varieties of his native language Kurdish. He is also fluent in Arabic, Persian, English and German.
With his wife, whom Mustafa married in 1982, he has three children, two boys and a girl, the eldest son (Nima), whom Mustafa named after himself and twins: one son (Chia) and one daughter (Chra).
Nawshirwan Mustafa died in home town if Sulaymaniyah on 19th May 2017 and buried on 20th May 2017. While it hasn't been confirmed he is thought to have died of lung cancer.
Fouad Ajami, The foreigner's gift: the Americans, the Arabs, and the Iraqis in Iraq, Free Press, 2006: "Mustafa is a man who straddles the worlds of literature and politics, he is graceful and reserved"
Cameron W. Barr, The Christian Science Monitor, 27 March 2003: "Mustafa, a gray-haired eminence in the Kurdish movement, was the architect of the Kurds' 1991 uprising against the regime of President Saddam Hussein"
Chris Kutschera, The Middle East magazine, May 2008: "Mustafa is the enfant terrible of the Iraqi Kurdish national movement" and "he says loudly what many people dare not even whisper".
Quil Lawrence, National Public Radio, 5 May 2009: "Mustafa is stern and often abrupt, but he's considered clean, even by a jaded and cynical Kurdish public".
Jeffrey Goldberg, The New Yorker, 14 April 2003: "It has been said that Mustafa is a man who could ignite Kirkuk with a single telephone call" and that "his spies and rebels had seized cities across Kurdistan within days of Saddam's retreat from Kuwait"
Lennox Samuels, Newsweek, 23 June 2009: "The fact is that Gorran's standard bearer, Nawshirwan Mustafa, is also one of the peshmerga's heroes, just like KDP boss Massoud Barzani and PUK leader Jalal Talabani"
Borzou Daragahi, Los Angeles Times, 7 November 2007: "Mustafa the steely-eyed intellectual turned guerrilla commander helped secretly organize the 1991 uprising against Saddam Hussein that challenged Baghdad's rule in the north and led to the establishment of the Kurdish autonomous region"
Barham Salih KRG Prime Minister in an interview with Nalia Radio and Television Channel, October 2011, "Kak Nawshirwan Mustafa is a notable leader of Kurdistan who also historically revived the Kurdish revolution in 1976, he was my superior for 30 years and is the intellectual giant of our Kurdish nation"
Gareth R. Stansfield, Iraqi Kurdistan: Political development and emergent democracy, "Mustafa is recognised as being guru-style ideologue, he represents a curious mix of an institutional historical figure, and yet is aggressively non-conformist within the PUK"
Hasan Kanbolat, Today's Zaman, "Mustafa has created a powerful opposition alternative unforeseen in politics in Kurdistan"
The United States Department of State, Wikileaks, U.S. state department refers to Mustafa as the "legendary Peshmerga commander"
Mustafa, Nawshirwan (1997). La kanārī Dānubawa bo khaṛī Nāwzang:political events in Iraqi Kurdistan from 1975 to 1978. Kurdistan: Zargata.
Mustafa, Nawshirwan (1997). Panjakan yaktari ashkenin: political events in Iraqi Kurdistan from 1979 to 1983. Kurdistan: Zargata. ISBN 3-9806140-3-4.
Mustafa, Nawshirwan (1999). Khulāna la bāznadā: the inside story of events in Iraqi Kurdistan 1984-1988. Kurdistan: Meľbenî Awedanî Kurdistan. ISBN 3-9806140-3-4.
Mustafa, Nawshirwan (1992). Kurd u Ejam. Kurdistan: Zargata.
Mustafa, Nawshirwan (1993). Hukumati Kurdistan: Kurd le gemey Sovieti da. Kurdistan: K.I.B. ISBN 90-900635-6-0.
Mustafa, Nawshirwan (1998). Mīrāyatī Bābān lah nǐwān bardāshī R̮ǔm ū ʻAjamʹdā. Kurdistan: Melbendî Awedanî Kurdistan. ISBN 3-9806140-1-8.
Mustafa, Nawshirwan (2000). Kurdistanî ʻÊraq: serdemî qełem u muraceʻat, 1928-1931. Kurdistan: Zargata.
Mustafa, Nawshirwan (2002). Jian: Be tementirîn rōjnamey kurdî 1926 - 1938. Kurdistan: Zargata.
Mustafa, Nawshirwan (2004). Jian: Çend lapereyek le mêjûy rojnamewaniy Kurdî, 1938-1958: rojnamewaniy nihênî. Kurdistan: Zargata.
Mustafa, Nawshirwan (1981). Karesati Hekari. Kurdistan: Zargata.
Mustafa, Nawshirwan (1995). Kêşey Partî û Yekêtî. Kurdistan: Zargata.
Mustafa, Nawshirwan (2009). Ême û Ewan. Kurdistan: Zargata.
Mustafa, Nawshirwan (2012). Edeb û Tarikhi Kurdi. Kurdistan: Zargata.