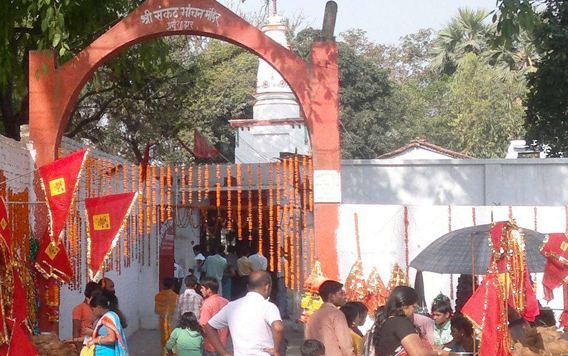 Nawada is a part of the famous ancient Magadh division of south Bihar. The origin of the name Nawada is believed to be derived from the old persian name Nau-abadah, which means "new town" which was earlier known as 'The Eliot Market (Bazaar)'. Before its acquisition by the East India Company, Nawada was ruled by the nearly independent Rajas of Hisua. After its acquisition, Nawada was in great disorder until 1845, when it became the headquarters of the newly created subdivision. The elements of disorder resurfaced again during the Mutiny of 1857, when Nawada was overrun by marauding parties. The local offices were destroyed, but Government records were saved by the native officials who hid them in a cave on a neighboring hill. These are the only available public records dating back to an era before 1857 in the district. Two miles to the north, there is a Jain temple standing in the middle of a large tank to the west of the public road, but the city itself contains no important buildings and has little historical interest.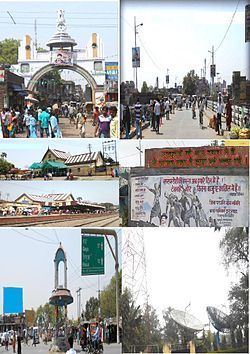 Nawada is located at 24.88°N 85.53°E / 24.88; 85.53. It has an average elevation of 80 metres (260 ft). The city is divided into two blocks by the Khuri River, the left bank being the older section, while the right bank is the modern section with public offices, a sub-jail, dispensary and schools.
According to the 2011 census, Nawada City has a population of 109,141. Nawada has a ratio of 957 females for every 1,000 males. The average literacy rate is 74%, higher than the national average of 63.5%: male literacy is 81%, and female literacy is 67%. In Nawada, 17% of the population is under 6 years of age. Hindi, Magahi and Urdu are the main languages spoken in the area.
Since the opening of the South Bihar Railway, on which it is stationed, Nawada has been growing into an important trade center. Earlier Nawada was the main market town for the surrounding villages Like fatehpur, Rajauli, Lengura, etc. Purani Bazaar, Sonar Patti road, Main Road, Gola Road and others are the chief commercial centers.Large Vehicle Showrooms and Various Shops attracts Customers from all parts of District.
Nawada has been growing as emerging hub of education in the magadh division with large number of new schools and colleges opening now.The demand to open new engineering and medical colleges have also been raised by the locales since many years now.
New Greenfield International School Kamalpur, Ansar Nagar Nawada
Alfalah International school gulzar nagar bhadauni
FRONTLINE PUBLIC SCHOOL, ANAND NAGAR, NAWADA
D.A.V Public School
Dayal Public School
Delhi Public School
D salim public school
Jeevan Deep Public School
Jeevan Jyoti Public School
Kanhai Lal Sahu High School
Manas Bharti Public School
Modern English School
Momin high school ansar nagar
Maryum central school gulzar nagar bhadauni
Mirza ghalib academy new azad nagar bhadauni
Nalanda Vidya Niketen
Nawada Central School
Nawada Vidhi Mahavidyalaya
Project Girls High School
Paradise public school rasul nagar bhadauni
Shatabdi Public School
Sant Vani Public School GarhPar Nawada
St. Joseph's High School
Shiri satyendr narayan high school
The Diksha School
Allama Iqbal Academy
Kid Zee Pre School
Bright Minds
Bachpan A Play School
Gyan Bharti Residential Complex
Rajendra Smark Sikshan Sansthan, Merhkuri Nawada
Gandhi Inter High School
Iraqi Urdu Girls Inter college
Iqra Academy Ansar Nagar Nawada
Gyanodya school
Dr. Ganga rani college
Kanhai Lal Sahu College
S.K.M College
Seth Sagarmal College
Sita Ram Sahu college
Rajendra Memorial Women's College
Ganauri Ramkali Teacher's Training College
Nawada has been growing as a hub for sports competitions, both on a district and state level. Nawada is most famous for Handball and kho-kho in the state. In the city area, there is a stadium known as Harishchandra stadium for outdoor games like cricket, football, etc. Apart from that, there is one outdoor and one indoor stadium also available in the city.
The city is well connected to all other parts of the state by roadways and railways. The renamed north-south National Highway NH 20, which is part of the Asian Highway Network and AH42 runs through Nawada and connects Nawada to major cities like Kolkata, Asansol, Ranchi, Jamshedpur, Bokaro, Dhanbad, Bihar Sharif and Patna.State Highway 8 runs through Nawada and connects it to other important parts of the district like Hisua, Pakri Barawan and Warisaliganj, and to the neighbouring district JamuiSH-28. The city is also connected by the Indian Railway B.G. line, through the Gaya–Kiul line of the East Central Railway. The city is served by a direct daily train to Howrah and a weekly service to Guwahati via Bhagalpur. The state capital Patna can be reached through a stop-over at Patna Railway Station or Gaya Railway Station from where rest of India is well connected.. For local transport, frequent taxi facilities are provided by private vendors in and around the city. Rickshaws and automobiles are major means of local transportation within the town.
Patna Railway Station → Gaya Railway Station → Nawada or Patna Railway Station → Kiul railway station → Nawada
From Meethapur Bus Stand or Gandhi Maidan Bus Stand, Patna to Nawada via NH 20
By air, Nawada is well connected to some of the popular airports of Bihar, Jharkhand and West Bengal:
Gaya Airport 69 kilometres (43 mi)
Lok Nayak Jayaprakash Airport, Patna 123 kilometres (76 mi)
Birsa Munda Airport, Ranchi 224 kilometres (139 mi)
Netaji Subhas Chandra Bose International Airport, Kolkata 445 kilometres (277 mi)
Historians believe this place was a reputed religious center for the Hindus in the Palas period. Nawada has a museum, the Narad Museum, which was established in 1974. Some other significant temples and religious spots within the city are Surya Narayana Mandir, Shobhnath Mandir, Sankat Mochan and Gonawa Jal Mandir. The Surya Narayana Mandir of Handiya is the earliest and it is supposed to be of Dwaparayuga. The Surya Narayana Mandir of Handiya was constructed by the King of Magadha Jarasandha. Jarasandha's daughter Dhaniya was suffering from leprosy, and used to stay at this holy place every day for devotion. The Myth says that she used to bathe in the nearby pond and was cured. Soon after Dhaniya established a place of worship, Maa Bhagwati, in a nearby village, and a Shivalinga at Dhaniya hill, which is just a ways from the main temple .
Present time Handiya is the most remarkable place for anyone to visit. It is beautifully surrounded to the north side by Rajgir Mountain, and to the south by a river. Each year, thousands of people come to visit this holy place. The Surya Narayana Mandir is also famous for betel nuts like Magahi Pan. Apart from these, famous tourist places like Kakolat Falls, Bodhgaya, Pawapuri, Nalanda, and Rajgir can be reached by traveling on the road within 1–2 hours.
*Swami Sahajanand Saraswati