Full Name

Natalie Casey




Role

Actress




Nationality

British




Spouse

Paul Kemp





Years active

1990–present




Name

Natalie Casey




Siblings

Anna-Jane Casey





Born

15 April 1980 (age 43) (

1980-04-15

) Rawtenstall, Lancashire, England


Occupation

Actress, singer, comedienne




Television

Donna Henshaw in Two PintsCarol Groves in Hollyoaks


Movies and TV shows

Two Pints of Lager and a Packet of Crisps, Hollyoaks, Chopratown, Pure 24


Similar People

Kathryn Drysdale, Will Mellor, Anna‑Jane Casey, Sheridan Smith, Jackie Clune



Education

Oldham Theatre Workshop

Bbc breakfast natalie casey interview
Natalie Casey (born 15 April 1980) is an English actress, television presenter and singer. She is best known for her long-running roles playing Carol Groves in the TV series Hollyoaks from 1996 to 2000 and playing Donna Henshaw in Two Pints of Lager and a Packet of Crisps from 2001 to 2011.
Contents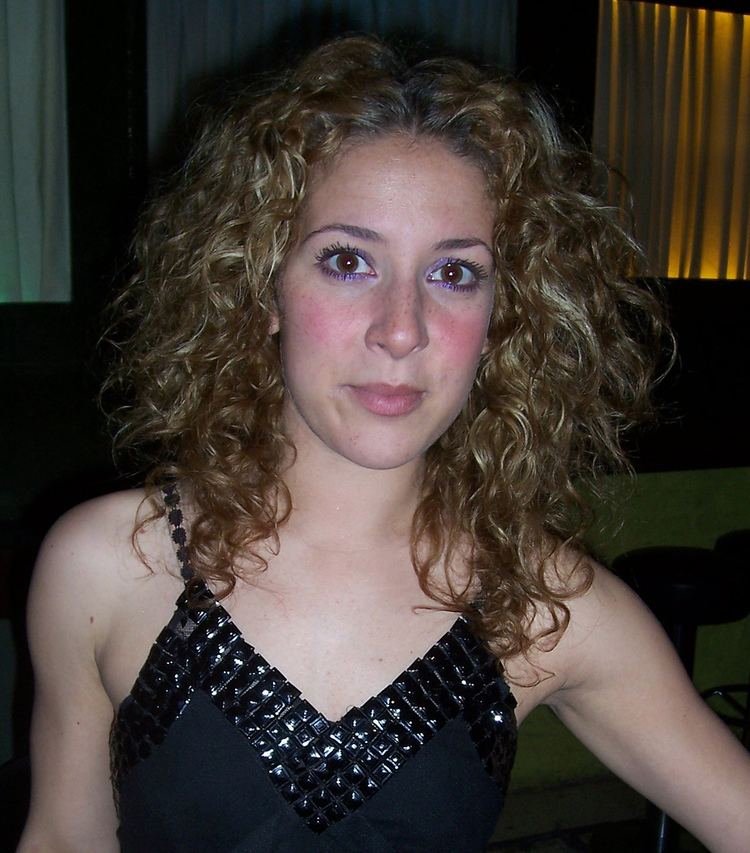 Natalie casey wins best supporting actress in a play at 2013 whatsonstage com awards
Early life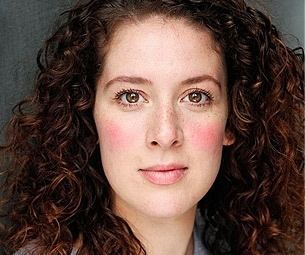 Casey was born in Rawtenstall, Lancashire. At the age of three her single "Chick Chick Chicken" reached number 72 in the UK Singles Chart in 1984. This made her the youngest person ever to have a recording in the United Kingdom chart. At this time, she appeared on the BBC's Saturday Superstore and asked Boy George to take her to the toilet. In the 2008 live special of Two Pints of Lager and a Packet of Crisps, Casey performed the single for the first time in over 20 years.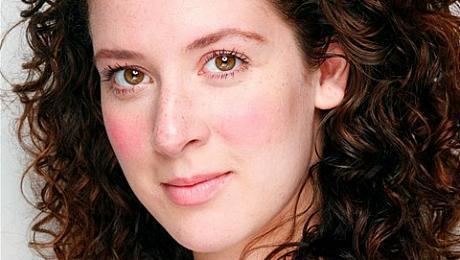 She attended Oldham Theatre Workshop with longtime friend Antony Cotton who appeared in Coronation Street. Her older sister is actress Anna-Jane Casey.
Television work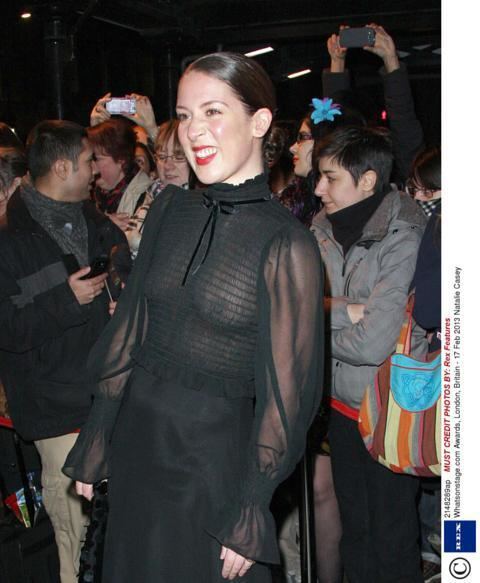 Casey played Carol Groves from the first episode of Channel 4 soap opera Hollyoaks in which she remained for over five years. In 2001 Casey joined the cast of Two Pints of Lager playing Donna Henshaw alongside Hollyoaks co-star Will Mellor. Casey and Mellor were the only two original main characters to appear in all nine series. The final episode was broadcast on 24 May 2011.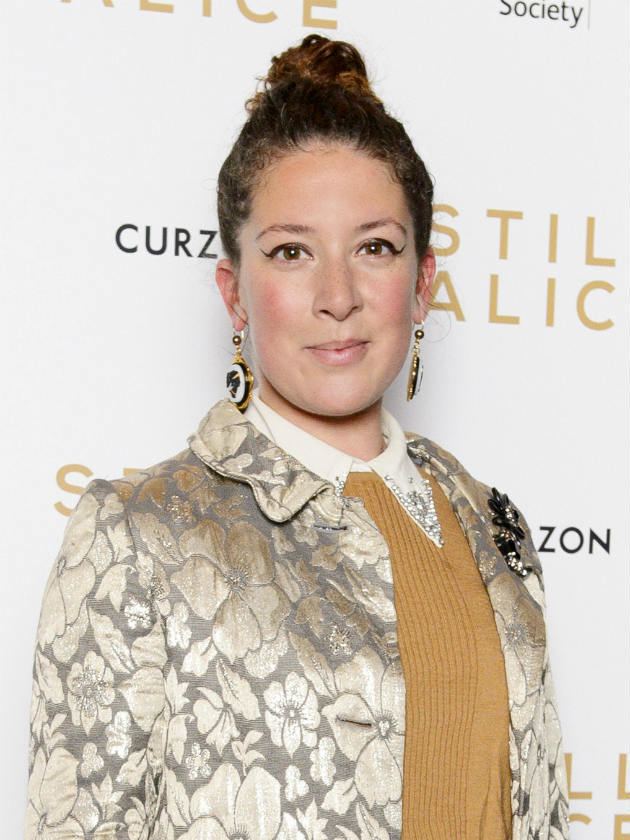 Casey has also presented and narrated numerous shows such as Dinner Date from 2014. She co-presented Big Brothers Little Brother in 2001 with Dermot O' Leary.
Theatre work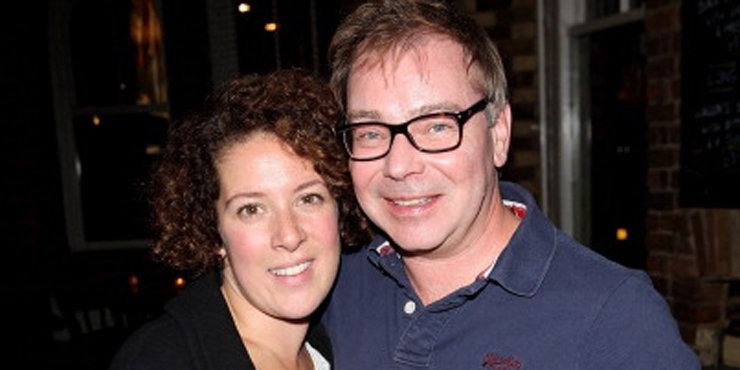 In the summer of 2007, Casey played Serena Katz in a hit run of the musical Fame at the Shaftesbury Theatre, and in February 2008 she began playing the role Julia in the pre-West End UK tour of The Wedding Singer. Her other stage credits include The Vagina Monologues (Palace Theatre, Manchester), Hobson's Choice (Watermill Theatre opposite her sister Anna-Jane Casey), Flint Street Nativity (Liverpool Playhouse), Well at the Trafalgar Studios, and the Apollo Theatre, opposite Sarah Miles and most recently Ado Annie in Oklahoma! at the Chichester Festival Theatre. She took over from Denise Van Outen in Legally Blonde at The Savoy Theatre as Paulette from 26 April 2011. In March 2012 she played Angela in the revival of Mike Leigh's Abigail's Party at the Menier Chocolate Factory, later transferring to Wyndhams Theatre, London.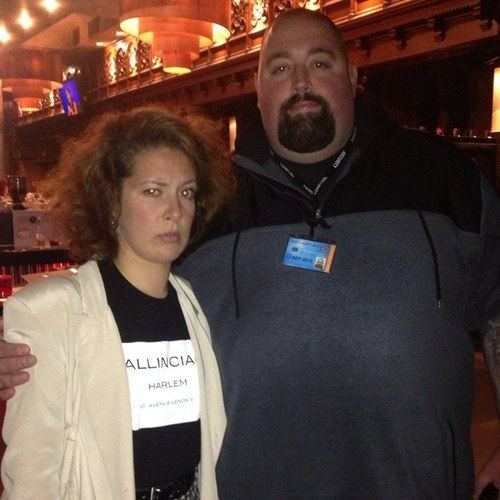 On 29 June 2012, it was confirmed that Casey would be playing the role of Judy Bernly in the first UK tour production of the Broadway musical 9 to 5. The tour began at the Manchester Opera House on 12 October 2012. She appeared in the UK tour production of 9 to 5 in a cast which includes Bonnie Langford and Jackie Clune. She appears in 'Sex and the Three Day Week'. She is currently playing 'Pip Price' in 'Things I Know To Be True' a Frantic Assembly and State Theatre Company of South Australia production, which is touring the UK.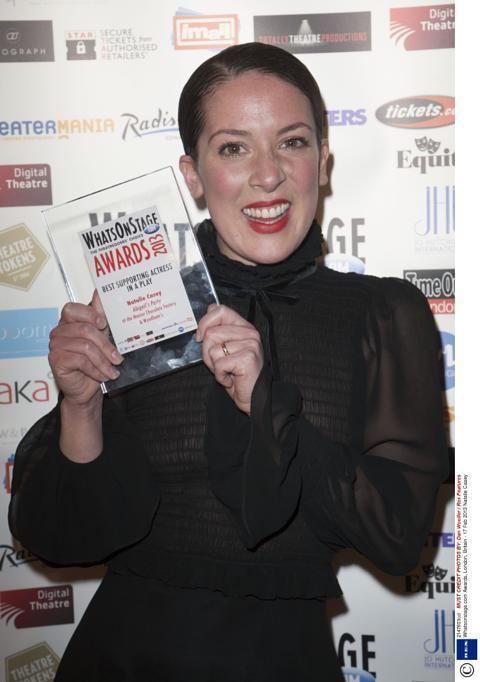 Filmography
Actress
2022
Agatha Raisin (TV Series)
as
Maggie Tubby
- A Spoonful of Poison (2022) - Maggie Tubby
2017
Things I Know to Be True
as
Pip Price
2016
Spot Bots (TV Series)
as
Tamgram
- Super Settings (2016) - Tamgram
- Spray Paint (2016) - Tamgram
- Counting Cogs (2016) - Tamgram
- Ziddlers (2016) - Tamgram
- Tickle Time (2016) - Tamgram
- Zing Ball (2016) - Tamgram
- Blip's Present (2016) - Tamgram
- Zoominoes (2016) - Tamgram
- Spotterfly spotting (2016) - Tamgram
- Dont Step on the Cracks (2016) - Tamgram
- Zip Zip Zip (2016) - Tamgram
- Hexpod (2016) - Tamgram
- Arm Trouble (2016) - Tamgram
- Sky Den (2016) - Tamgram
- Zapawhacka (2016) - Tamgram
- Ziptastic Tower (2016) - Tamgram
- Zipperoo (2016) - Tamgram
- Zazzy Sounds (2016) - Tamgram
- Zipadoodle Doo (2016) - Tamgram
- Hover-Bot (2016) - Tamgram
- Zazzler (2016) - Tamgram
- Recharge (2016) - Tamgram
- Skizzles (2016) - Tamgram
- Zoing Boings (2016) - Tamgram
- Remote Control (2016) - Tamgram
- Dancing Bots (2016) - Tamgram
2015
The Real Mamils (TV Movie)
2012
Dave Shakespeare (TV Series)
as
Diane
- Pilot - Diane
2011
Merry Widows (TV Series)
as
Billie
2001
Two Pints of Lager and a Packet of Crisps (TV Series)
as
Donna
- This is Your Life (2011) - Donna
- Shagger (2011) - Donna
- The Gaz-Bot (2011) - Donna
- Trial Schmile (2011) - Donna
- Nil by Muff (2011) - Donna
- Cheese Toastie (2011) - Donna
- The Aftermath: Part 2 - Sliding Gaz (2009) - Donna
- Keep on Running (2009) - Donna
- You Decide (2009) - Donna
- Val Doonican (2009) - Donna
- D.I.V.O.R.C.E. (2009) - Donna
- Ello Ello (2009) - Donna
- Flan Van (2009) - Donna
- Gazman (2009) - Donna
- Comic Relief Special: When Janet Met Michelle (2009) - Donna
- Borry (2008) - Donna
- African Death Face (2008) - Donna
- Six Months Later (2008) - Donna
- Here Bums the Bride (2008) - Donna
- Dead Jonny Walking (2008) - Donna
- Homophobia Is Gay (2008) - Donna
- DABDAA! (2008) - Donna
- When Jonny Met Sharky (2008) - Donna
- When Janet Killed Jonny (2006) - Donna
- Closing Time (2006) - Donna
- War, Hurrgh! (2006) - Donna
- Finger Sniffing (2006) - Donna
- Croppity Crops (2006) - Donna
- Drunk (2006) - Donna
- Cauliflower (2006) - Donna
- Mummy Cupboard (2006) - Donna
- Goblins (2006) - Donna
- Speedycruise! (2006) - Donna
- Near, Far (2005) - Donna
- LOVE 83199 (2005) - Donna
- God (2005) - Donna
- Bababababa (2005) - Donna
- Who's the Daddy? (2005) - Donna
- Stot or Pronk (2005) - Donna
- Fat (2005) - Donna
- Crab (2005) - Donna
- Antlers (2005) - Donna
- Potato People (2005) - Donna
- Ecuador (2005) - Donna
- Shrink (2005) - Donna
- Nobbly Bobbly (2005) - Donna
- Dead (2005) - Donna
- Filthy Brunching (2004) - Donna
- Homeless and Horny (2004) - Donna
- Mate Date (2004) - Donna
- Purgatory (2004) - Donna
- Cuggles (2004) - Donna
- My Delicious Guava (2004) - Donna
- Piggy Goes Oink (2004) - Donna
- Corinthian Dies (2004) - Donna
- When Janet Met Jonny (2003) - Donna
- Schluballybub (2003) - Donna
- Dump (2003) - Donna
- Jammy Dodgers (2003) - Donna
- Fockin Mokky Bokka (2003) - Donna
- Dresses Dresses Dresses (2003) - Donna
- Hospikal (2003) - Donna
- Beastiality (2003) - Donna
- Kangaroo (2003) - Donna
- Fish (2003) - Donna
- Munch (2003) - Donna
- Mo Mo and Pigsy (2002) - Donna
- Crusty Curtains (2002) - Donna
- Vomit (2002) - Donna
- Dirty Girls (2002) - Donna
- Bungle (2002) - Donna
- On the Blob (2002) - Donna
- Ugly Babies (2001) - Donna
- Lard (2001) - Donna
- Angry Wangry (2001) - Donna
- Bone with the Wind (2001) - Donna
- Spunk (2001) - Donna
- Fags, Shags and Kebabs (2001) - Donna
2010
Changing Faces (TV Series)
as
Narrator (uncredited)
2009
Missing (TV Series)
as
Gemma Winter
- Episode #1.5 (2009) - Gemma Winter
2005
Chopratown (TV Movie)
as
Annie Deever
2003
Pure 24 (TV Series)
as
Studio Guest
- Episode #1.23 (2003) - Studio Guest
2001
Big Brother's Little Brother (TV Series)
as
Co-Presenter (Series 1) (2001)
1999
Brookside: Double Take! (Video)
as
Moria
1996
Hollyoaks (TV Series)
as
Carol Groves
- Off on One (1998) - Carol Groves
1990
Death in Venice (TV Movie)
as
Younger Girl
Soundtrack
2003
Two Pints of Lager and a Packet of Crisps (TV Series) (performer - 2 episodes)
- When Jonny Met Sharky (2008) - (performer: "Chick, Chick, Chick, Chick, Chicken")
- When Janet Met Jonny (2003) - (performer: "Blowjob")
Self
2022
Cash in the Attic (TV Series)
as
Self - Narrator
2014
Dinner Date (TV Series)
as
Narrator / Self - narrator / Self - Narrator
- Christian from Leicester (2022) - Narrator
- Garry (2022) - Narrator
- Shakir from Bermuda (2022) - Narrator
- Joey from St Albans (2022) - Narrator
- Joe from Brighton (2022) - Narrator
- Celebrity Dinner Date: Dale Mehmet (2022) - Narrator
- Celebrity Dinner Date: Sharon Gaffka (2022) - Narrator
- Celebrity Dinner Date: James Lock (2022) - Narrator
- Celebrity Dinner Date: Lauren Simon (2022) - Narrator
- Celebrity Dinner Date: Nathan Ramsey (2021) - Narrator
- Celebrity Dinner Date: Georgia Steel (2021) - Narrator
- Celebrity Dinner Date: Jack Fincham (2021) - Narrator
- Celebrity Dinner Date: Chloe Brockett (2021) - Self - Narrator (voice)
- Stevie (2021) - Narrator
- Nick (2021)
- Anja-Katherina from Bristol (2021)
- Nicole from Kent (2021) - Narrator
- Alex from Bridgend (2021) - Narrator
- Isabel (2021) - Narrator
- Ash from London (2021) - Narrator
- Tyler from Surrey (2021) - Narrator
- Leah from Manchester (2021) - Narrator
- Marcus (2021) - Narrator
- Maddy (2021)
- Candice from Kent (2020) - Self - narrator
- Adam from Cardiff (2020) - Self - narrator
- Holly from Kent (2020) - Self - narrator
- Jon from Liverpool (2020) - Self - narrator
- Gracie from Bournemouth (2020) - Self - narrator
- Luke from South Africa (2020) - Self - narrator
- Kathryn from Bolton (2020) - Self - narrator
- Marc from Buckinghamshire (2020) - Self - narrator
- Rebecca from London (2020) - Self - narrator
- Josh from Bolton (2020) - Self - narrator
- Nadia from London (2020) - Self - narrator
- Brandon from Bournemouth (2020) - Self - narrator
- Celebrity Dinner Date: Michael Griffiths (2020) - Self - narrator
- Celebrity Dinner Date: Demi Sims (2020) - Self - narrator
- Celebrity Dinner Date: Jorgie Porter (2020) - Self - narrator
- Celebrity Dinner Date: Chris Taylor (2020) - Self - Narrator
- Sara from Port Talbot (2015) - Self - Narrator (voice)
- Celebrity Dinner Date: Matt Johnson (2015) - Self - Narrator (voice)
- Celebrity Christmas Dinner Date: Hugo Taylor (2014) - Self - Narrator (voice)
- Celebrity Dinner Date: Amy Childs (2014) - Self - Narrator (voice)
- Tom from Birmingham (2014) - Self - Narrator (voice)
- Kirsty from Huddersfield (2014) - Self - Narrator (voice)
- James from Nuneaton (2014) - Self - Narrator (voice)
- Charlotte from Yorkshire (2014) - Self - Narrator (voice)
- Richard from Wimbledon (2014) - Self - Narrator (voice)
- Chloe from Wokingham (2014) - Self - Narrator (voice)
- Celebrity Dinner Date: Joe Swash (2014) - Self - Narrator (voice)
- Colm - Narrator
2021
Sugar Babies (TV Movie documentary)
as
Self - Narrator (voice)
2018
Gino's Win Your Wish List (TV Series)
as
Self - Voice Over
- Episode #1.6 (2018) - Self - Voice Over (voice)
- Gino's Win Your Christmas Wish List (2018) - Self - Voice Over (voice)
- Episode #1.5 (2018) - Self - Voice Over (voice)
- Episode #1.4 (2018) - Self - Voice Over (voice)
- Episode #1.3 (2018) - Self - Voice Over (voice)
- Episode #1.2 (2018) - Self - Voice Over (voice)
- Episode #1.1 (2018) - Self - Voice Over (voice)
2017
Let's Sing and Dance for Comic Relief (TV Series)
as
Self
- Heat Two (2017) - Self
2016
I'm a Gold-Digger and Proud (TV Movie documentary)
as
Self - Narrator (voice)
2016
My Mum's Hotter Than Me (TV Movie documentary)
as
Self - Narrator (voice)
2016
Britain's Pushiest Parents (TV Special)
as
Self - Narrator
2015
Britain's Favourite Abba Songs (TV Movie documentary)
as
Self - Narrator
2014
Ultimate Dealers (TV Series)
as
Self - Narrator (2014) (voice, uncredited)
2010
The Wright Stuff (TV Series)
as
Self - Guest Panelist / Self - Panelist
- Episode dated 25 November 2013 (2013) - Self - Guest Panelist
- Episode #18.1 (2013) - Self - Panelist
- Episode #17.192 (2012) - Self - Guest Panelist
- Episode #17.100 (2012) - Self - Guest Panelist
- Episode #15.118 (2011) - Self - Panelist
- Episode #15.117 (2011) - Self - Panelist
- Episode #15.116 (2011) - Self - Panelist
- Episode #14.80 (2010) - Self - Guest Panelist
2008
Something for the Weekend (TV Series)
as
Self
- Episode dated 31 July 2011 (2011) - Self
- Episode dated 14 December 2008 (2008) - Self
2011
Two Pints: Series 9 Outtakes (TV Movie)
as
Self
2011
Breakfast (TV Series)
as
Self - Actress
- Episode dated 4 May 2011 (2011) - Self - Actress
2010
Peculiar Pets (Documentary)
as
Self - Narrator (voice)
2010
The Hairy Bikers' Cook Off (TV Series)
as
Self
- Natalie Casey (2010) - Self
1999
This Morning (TV Series)
as
Self
- Episode dated 20 August 2010 (2010) - Self
- Episode dated 26 October 1999 (1999) - Self
2009
Two Pints: Series 8 Outtakes (TV Movie)
as
Self
2009
Two Pints: The Love Triangle (TV Movie documentary)
as
Self
2009
Hell's Kitchen (TV Series)
as
Self
- Episode #4.13 (2009) - Self
2009
Two Pints: Fags, Lads and Kebabs (TV Movie documentary)
as
Self
2009
Sound (TV Series)
as
Self
- Episode #3.22 (2009) - Self
2008
Loose Women (TV Series)
as
Self
- Episode #13.6 (2008) - Self
2008
Two Pints: Series 7 Outtakes (TV Movie)
as
Self
2007
Life Without Lost (TV Movie documentary)
as
Self
2006
Children in Need (TV Series)
as
Self - Performer
- Episode #1.27 (2006) - Self - Performer
2006
The Law of the Playground (TV Series documentary)
as
Self
- Episode #1.7 (2006) - Self
- Episode #1.5 (2006) - Self
- Episode #1.4 (2006) - Self
- Episode #1.3 (2006) - Self
2006
The Last Laugh (TV Series)
as
Self - Judge
- Good Morning Miss Milton (2006) - Self - Judge
- The Old Guys (2006) - Self - Judge
- Being Dad (2006) - Self - Judge
- Some Day I'll Find Me (2006) - Self - Judge
- Mike Davis PI (2006) - Self - Judge
- Annie's People (2006) - Self - Judge
- Love for Sale (2006) - Self - Judge
- Last Quango in Harris (2006) - Self - Judge
2005
Three's Outtakes (TV Series)
as
Self
- Episode dated 30 October 2005 (2005) - Self
2004
HeadJam (TV Series documentary)
as
Self
- Episode #1.5 (2004) - Self
- Episode #1.3 (2004) - Self
2003
Hogmanay Live (TV Special)
as
Self
2003
The 100 Greatest Musicals (TV Movie documentary)
as
Self
2003
24: Access All Areas (TV Movie documentary)
as
Presenter
2003
Pure 24 (TV Series)
as
Self
- Episode #1.10 (2003) - Self
- Episode #1.2 (2003) - Self
2003
RI:SE (TV Series)
as
Self
- Episode #2.41 (2003) - Self
2001
Liquid News (TV Series)
as
Self
- Episode dated 12 August 2002 (2002) - Self
- Episode dated 21 May 2002 (2002) - Self
- Episode dated 22 June 2001 (2001) - Self
- Episode dated 28 March 2001 (2001) - Self
2002
24 Heaven (TV Movie documentary)
as
Self
2002
Blankety Blank (TV Series)
as
Self
- Episode #17.10 (2002) - Self
2001
I Love Christmas (TV Special documentary)
as
Self
2001
I Love the 1990s (TV Series documentary)
as
Self / Self - Actress
- I Love 1997 (2001) - Self
- I Love 1995 (2001) - Self - Actress
2001
ITV at the Festivals (TV Series)
as
Self - Presenter
- Episode dated 5 October 2001 (2001) - Self - Presenter
2001
I Love 1980's (TV Series documentary)
- I Love 1982 (2001)
2001
The Big Breakfast (TV Series)
as
Self - Guest Presenter
- Guest Presenter Week: Monday (2001) - Self - Guest Presenter
2000
Hollyoaks: Access All Areas (TV Movie documentary)
as
Self
2000
The British Soap Awards 2000 (TV Special)
as
Self
1999
The British Soap Awards (TV Special)
as
Self - Audience Member
1999
Hollyoaks Highs: The Wicked Bits (TV Movie documentary)
as
Self
1999
Television's Greatest Hits (TV Series documentary)
as
Self
- Episode #3.5 (1999) - Self
1983
Saturday SuperStore (TV Series)
as
Self
- Episode #3.13 (1984) - Self
- Episode #2.3 (1983) - Self
Archive Footage
2010
Almost Famous III (TV Movie documentary)
as
Self
2009
Hollyoaks: The Good, the Bad and the Gorgeous (TV Movie documentary)
as
Carol Groves
References
Natalie Casey Wikipedia
(Text) CC BY-SA