India




Hindi


5,125.55 km2


Madhya Pradesh




Narsinghpur



Narsinghpur or Narsimhapur is a town in Madhya Pradesh in central India. It is the headquarter of the Narsinghpur District.
Narsinghpur has a large temple dedicated to Lord Narsingh, constructed by Jat Sardar in the 18th century. The Khirwar clan of Jats came from Brij and founded Narsinghpur, where they ruled for many years. Khirwars of Narsinghpur were followers of Narsingh, and so constructed two temples dedicated to Narsingh Avatar.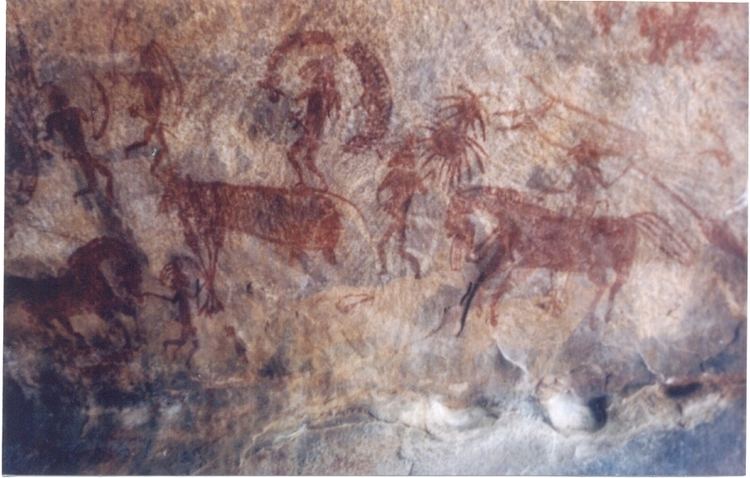 There are a number of sites of interest to archaeologists in the area, as the area has been inhabited since the second century AD, according to historical documents from that time. Narsinghpur has a number of sacred sites, including a nearby cave associated with Adi Guru Shankracharyas place of meditations and studies.
Narsinghpur district is situated in the central part of Madhya Pradesh. Madhya Pradesh is located in the central part of India. Narsinghpur district holds a special importance being located in the country. It attracts special attention because of its natural situation as well. On the northern ends Vindhyachal and on the southern ends throughout the lengths, are Satpura ranges of mountains. In the northern part, river Narmada flows from east to west. It is a sacred river, as holy as river Ganges. Narsinghpur district has received many natural gifts as Narmada Kachhar. In the ancient period, this area was ruled by many Rajvansh, including the great historical warrior Rani Durgawati, who was known by various names in that period. In the 18th century, Jat Sardars had constructed a large temple, in which an idol of Lord Narsimha was placed and worshiped. So, in the name of Lord Narsimha the village was renamed. Gadariya Kheda become "Narsinghpur" and later on it became headquarters of the district.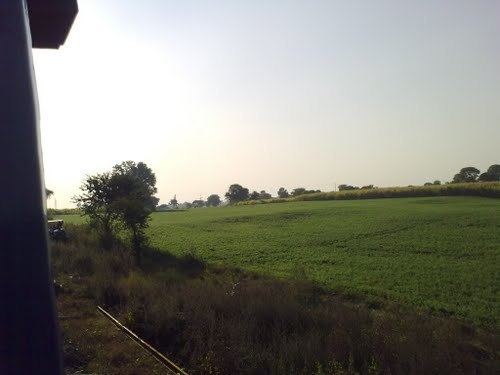 Narsinghpur is located at 22.95°N 79.2°E? / 22.95; 79.2. It has an average elevation of 347 metres (1,138 ft).
Narsinghpur is a district which is well known for its fertile land. The black soil is suited for any kind of cultivation and there are adequate irrigation facilities. The district is famous for its rich agricultural production. It is situated in the upper part of Narmada Valley, which is of much important for agriculture. The districts production of grains is more than the local requirement. For agriculture both old and new techniques are equally in practice. For old equipment, there are ploughs, bullock carts, bakhar, hnasiya, and various types of knives and khurpi. In new methods or techniques, there are: thrashers, tractors, harvesters, electric pumps and sprinklers. Along with these better quality seeds and the best quality pesticides are used.
Narsimha Mandir
During the 18th century this temple was constructed by Jat Sardars and plane statue of Lord Narsimha, as a human avatar of Lord Vishnu having a lions head. This is situated at District H.Q. This temple got its importance as the districts nomenclature hails from here only.
Bramhan Ghat
Barman is situated at mani Sagar N.H. 26 & 24, and 12 kilometres (7 mi) away from Kareli railway station, and the bank of river Narmada. Lord Brahmas Yagya shala, Rani Durgawati temple, Elephant gate and Varahas statue are places of tourist interest there. The Narmada River flows in seven strains. It flows on the occasions of Makar Sankranti to Basant Panchami. Mela has been arranged in which District Administration also takes part. Also organized are different stalls of the district Govt. Depot. This exhibition has the display of the Agriculture Depot, co-operative, education, and health. Different beneficial schemes information and achievement have shown throes which people get benefit out of this exhibition, and also avail the district out of 20% on different sale items.
Jhoteshwar (Paramhanshi ganga Ashram)
On the route of Mumbai - Hawrah Central railway track 15 km (9 mi) from Sridham railway station on the central railway track of Mumbai - Hawrah. There is a naturally rich, very gorgeous temple of golden Raj- Rajeshwari tripur sundari.
There are Jhoteshwar temple, Lodheshwar temple, Hanuman tekari, rock, Shivling made up of slohutic. It is a place when Jagatguru Shankaracharya joytesh & Dwarkadish pithadheshwar Saraswati Maharaj meditate and worship. On the Basant Panchami occasion, there are 7 days of Mela organized.
Damaru Ghati
It is situated 3 km (2 mi) from Gadarwara railway. The station is on the central railways Itarsi–Jabalpur track. One huge Shivling is there, which found one small Shivling inside it.
Fort of Chauragharh
The fort is 19 km (12 mi) from Gadarwara railway. The station of a very ancient time, now only remains this fort which was built by Genha dynastys King, Gond, Sangram Shah in the 15th century. One Narsinghpur district near Barheta village Nonia is also a place having archaeological importance. Here six big statues are then inside parkota, which is known as Pandav, math/ statue.
National Festival Mela in the remember of Rudra Pratap Singh: Manegaon which is situated 25 km (16 mi) from District H.Q. on Narsinghpur road. There every year from Republic day onwards, a Mela is organized. It is one weeks fate in which state-level tournaments of Kabdadi, volleyball, Kho-Kho, Dos ball are organized. It includes folksongs, and Choupad also, which is organized at District level.
Manegaon is also the residence of Ex Forest Minister of Madhya Pradesh cabinet Late Shri Thakur Shashi Bhushan Singh Ji who is also remembered as one of the most prominent politicians of the district and state.
Narsinghpur Wikipedia
(,)http://upload.wikimedia.org/wikipedia/commons/b/b6/Bhimbetka_rock_paintng1.jpg(,)http://www.odishaecotourism.com/images/temple.jpg(,)http://upload.wikimedia.org/wikipedia/commons/e/ee/Narasimha_statue_at_National_Museum,_New_Delhi.jpg(,)http://upload.wikimedia.org/wikipedia/commons/6/60/NavdatoliGoblet1300BCE.jpg(,)http://upload.wikimedia.org/wikipedia/commons/5/5f/Bengal_map_1893.JPG(,)https://easyvivek.files.wordpress.com/2010/12/damoh.png(,)http://www.gutenberg.org/files/15483/15483-h/images/map_a.jpg(,)http://i1.ytimg.com/vi/kV8LfXn2XGY/0.jpg(,)http://images.indiatvnews.com/politicsnational/2014/1418707408telangana1.jpg
(,)https://www.crazyguyonabike.com/pics/docs/00/01/49/33/small/Narsinghpur_1(,)http://mw2.google.com/mw-panoramio/photos/medium/45779204.jpg(,)http://mw2.google.com/mw-panoramio/photos/medium/45812349.jpg(,)http://mw2.google.com/mw-panoramio/photos/medium/45812364.jpg(,)http://mw2.google.com/mw-panoramio/photos/medium/45778166.jpg(,)http://mw2.google.com/mw-panoramio/photos/medium/45812378.jpg(,)http://mw2.google.com/mw-panoramio/photos/medium/45778156.jpg(,)http://mw2.google.com/mw-panoramio/photos/medium/45779269.jpg(,)http://mw2.google.com/mw-panoramio/photos/medium/45778897.jpg(,)http://mw2.google.com/mw-panoramio/photos/medium/15897726.jpg
(,)http://media-cdn.tripadvisor.com/media/photo-s/01/e9/1a/18/hotel-pratap-palace.jpg(,)http://media-cdn.tripadvisor.com/media/photo-s/01/f6/d0/68/suitr-room.jpg(,)http://media-cdn.tripadvisor.com/media/photo-s/01/f6/d0/69/ac-deluxe-room.jpg(,)http://media-cdn.tripadvisor.com/media/photo-s/01/e9/14/9a/hotel-pratap-palace.jpg(,)http://centralavenuenarsinghpur.com/wp-content/uploads/2015/03/DSC_0003-600x330.jpg(,)http://media-cdn.tripadvisor.com/media/photo-s/01/e9/25/7f/hotel-pratap-palace.jpg(,)http://i1.ytimg.com/vi/NZNi6OYhuuI/0.jpg
(,)http://www.btirtsagar.com/img/3rd.jpg(,)http://media-cdn.tripadvisor.com/media/photo-s/01/f6/71/21/hotel-atithi.jpg(,)http://media-cdn.tripadvisor.com/media/photo-s/01/f6/71/20/suite-room.jpg(,)https://lh3.googleusercontent.com/-isgnRe7A2nw/UYNKzwLSdOI/AAAAAAAAK0s/Ayg63FogZDY/s630-fcrop64%3D1,073d2754ff7ae253/DSC00067.JPG(,)http://im.hunt.in/cg/Chhindwara/City-Guide/bhige.jpg(,)http://www.indiatale.com/wp-content/uploads/2013/09/mp-sachi.jpg
(,)http://www.madhyapradeshtourism.com/upload/all/original/narsinghpur1321053896.jpg(,)http://narsinghpur.nic.in/images/nar/24.jpg(,)http://www.indianholiday.com/pictures/travelguide/other-images/head_img-147.jpeg(,)http://media-cdn.tripadvisor.com/media/photo-s/03/d0/69/47/hotel-amar-residency.jpg(,)http://www.mapsofindia.com/maps/madhyapradesh/districts/narsimhapur-district.jpg(,)http://www.onefivenine.com/images/districtimages/Madhya%2520Pradesh/Narsinghpur/1.jpg(,)http://narsinghpur.nic.in/images/nar/30.jpg(,)http://im.hunt.in/cg/mp/About/Districts//narsimhapur-railway.jpg