Similar

Bharsaiyan, Bundela, Chandel (Rajput clan)
All Rajput " vansh " Full History || Rajput Mystery
The Nanwag (alt. Nandwak, Nanwak, Nagbak) Rajputs are a branch of the Kachwaha Rajput (or Bais Rajputs ) in Uttar Pradesh who in 16th century seized a portion of Pandrah prangana and ruled for substantial period of time before losing it to a Punjabi and Brahmans. The village Kathiraon (pargana Pandrah, tahsil Varanasi) a large village, lying at latitude 25" 32' N and longitude 82" 45' E, village Newarhia (having fort of Nanwag chieftain, zamindar Sangram SIngh) lying at 25" 31' N longitude and 82" 80' E latitude (tahsil Mariahu) and village Barsathi latitude 25" 34' N and longitude 82" 91' E (tahsil Mariahu) were administered by the Nanwag Rajputs from 16th Century to later part of the 19th Century. The whole tehsil Mariahu was administered by Nanwag/ Nandwak rajputs during medievial period and the tehsil got its name from Mandav Dev, the presiding deity of Nanwag/Nandwaks.
Contents
The Nanwag (Nanwak/Nandwak) Rajputs are of the Kaushik/koushik/kausik/kousik/kausil gotra and Suryavansha.
Origin and History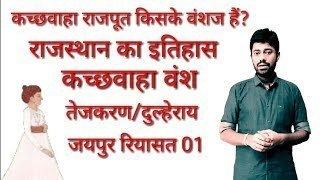 Nanwags are believed to be originated from Nandwak rajputs, title of this clan is derived from the name of the king Naun Rao, Kachwaha Rajput of Alwar/Ulwar, Rajasthan. Naun Rao left his home early in the 16th century, on a pilgrimage to Gaya, while passing through the Jaunpur district was attacked by the Bhars. With the aid of the Governor of Oudh, he expelled them, and established his authority over two pargannah which he named after Mandil Gopal and Barsathi, the two famous Hindu saints and built forts all over the Jaunpur.
One group of thinkers also believe that Nanwag rajputs evolved from Bais/Baish rajputs of present-day Uttar Pradesh. Kaushik gotra also belongs to a clan of Baish rajputs, who are Suryavanshi Rajput and one of the oldest and biggest Kshatriya clan of Vedic India. Bais rajputs are divided into 360 sub-divisions of which the most important are: Tilokchandi: (Rao, Raja, Sainbaisi, Naihastha, Chotbhaiya, Gudaraha, Madhour), Kath Bais, Tilsari, Chak Bais, Nanwag, Bach, Parsariya, Bijhonia, Bhetkariya, Gargbansi. According to available literature Nanwag rajputs are one of the important clans among 360 sub-divisions of Bais rajputs (360 divisions arose from more than 360 marriages of Bais Rajput founder Salivahana/Shalivahana),. Both Bais and Nawag rajputs worship debi.About 22806 number of nanwak rajput individuals from Jaunpur (fourth largest after Bais, Raghuvanshi and Bachgoti rajputs) have been reported by Sir H. M. Elliot in his MEMOIRS ON THE HISTORY, FOLK-LORE, AND DISTRIBUTION OF THE RACES OF THE NORTH WESTERN PROVINCES OF INDIA.
Distribution
Jaunpur (Ataria and Madiyahun), Benares (Vishnupur and Gobindpur), Azamgarh, Allahabad and Mirzapur districts of erstwhile North West Province (now U.P.). At present Nanwag rajputs are well distributed in Uttar Pradesh, Bihar and Maharashtra (Mumbai).
Nanwags rajputs are large and important Rajput clan in the district of Jaunpur, where it numbered at the last Census between twenty and thirty thousand persons. There are colonies of the Nanwags amounting to a hundred families, or more, in each of the districts of Allahabad, Mirzapur, and Benares. A small number also is found in Azamgarh. In Benares district the Nanwags are landlords. Shri Sangram Singh, a zamindar of influence and position is considered as leader of Nanwag rajputs in Jaunpur, revolted and defeated British run East India Company time and time again, his old fort is still there in north of Newaria Bazar.
1891 census
Nanwag rajputs count in different districts of North West Province as per the Census of 1891 during British rule
Allahabad: 117 Male and 84 Female
Benares: 58 Males and 35 Females
Azamgarh: 413 Males and 428 Females
Kumaon: 68 Males and 12 Females.
Jaunpur: 22806 Males and Females [Elliot, Sir Henry Miers (1978). History, Folk-lore & Culture of the Races of North Western Provinces of India. Sumit Publications. pp. 177].
Marriage Alliances
Nanwag rajputs take daughters from Chauhans, Sikarwar, Sonwar, Sirnets, Surwar, Bachhgoti, Donwar, Rajkumar, Sombanshi and Rathor rajputs and give daughters to Durgvanshi, Surwar, Gautam, Birwar, Bachhgoti , Raghuvanshi, Kath Bais, Rajkumar, Chandel & Gaharwars .
Battles and Struggles
In Allahabad, Bhars were driven out by the Bais, Sonak, Tissyal, Bisen and Nanwak rajputs. The leader of Nanwag/Nandwak rajputs, Shri Sangram Singh revolted against East India Company during the freedom struggle of 1857-58.
References
Nanwag (Nandwak) Rajputs Wikipedia
(Text) CC BY-SA