Naduvula konjam pakkatha kaanom latest trailer nikhils channel
Naduvula Konjam Pakkatha Kaanom (English: A Few Pages Missing in the Centre) is a 2012 Indian Tamil black comedy film and the directorial debut for Balaji Tharaneetharan. Featuring Vijay Sethupathi and Gayathrie Shankar in the lead roles, The plot revolves around a young man who forgets a full year of his life, 2 days before his wedding. The music and background score of the film are composed by Ved Shankar and Siddarth Vippin respectively. The film released on 30 November 2012 to very positive reviews from critics.The film was a huge cult hit. The film was remade in Telugu as Pusthakamlo Konni Pageelu Missing with newcomers Sree and Supraja in lead roles and it was also remade in Kannada as Kwatley Satisha with Satish Neenasam and Sonia Gowda playing lead roles. The film is also being remade in Odia(Oriya) as Sunapila Tike Screw Dhila with Babushan in lead role & it was also remade in Malayalam as Medulla Oblangata with Rahul Madhav
Contents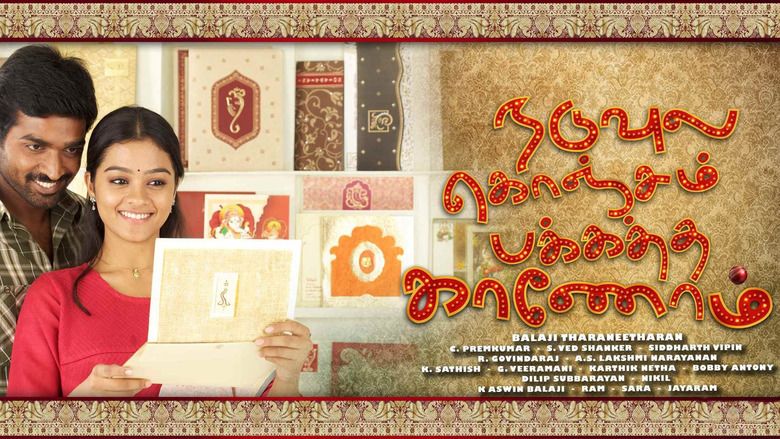 Naduvula konjam pakkatha kaanom tamil movie hd original trailer
Plot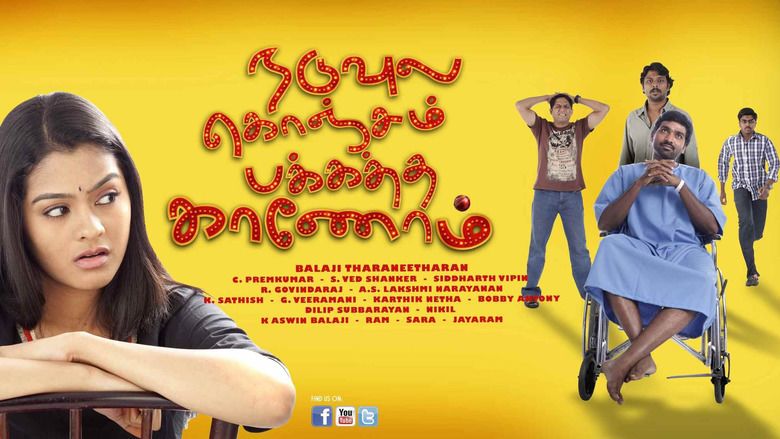 Prem Kumar (Vijay Sethupathi) is all set to get married to his lover Dhanalakshmi (Gayathrie Shankar). Two days before his wedding, Prem decides to try his hand at playing cricket with his friends — Bagavathi (Bagavathi Perumal), Balaji Tharaneetharan (Rajkumar) and Saras (Vigneswaran). The game gets a little serious as Prem in a bid to catch a ball falls down only to get injured in his head. He quickly gets back on his toes as the injury is not serious. But soon after the match, the friends are in for a shock. Due to the injury, Prem develops retrograde amnesia and short-term memory loss, wherein he remembers the chain of events which leads to the injury but forgets the last one year of his life and fails to remember everything after the injury. He remembers his life till college and recognizes his friends, but is clueless about his upcoming wedding and about Dhanalakshmi herself, as it is during the last one year that he met her, fell in love with her and decided to marry her. Fearing trouble, his friends take him to a doctor, who says that he could recover anytime. Hence, his friends plan to keep him in their company, enact a drama till he ties the wedding knot, with the hope that he would get back his memory soon, while covering Prem's disorder from everyone else. In the end, everything works out well, and Prem gets his memory back.
Cast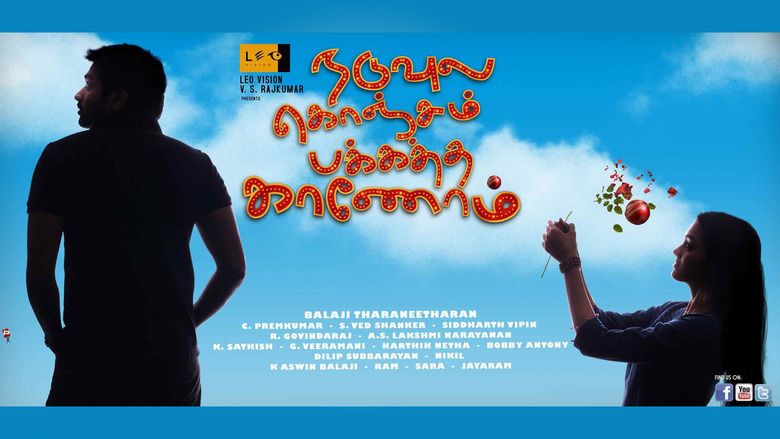 Vijay Sethupathi as Prem Kumar
Gayathrie Shankar as Dhanalakshmi (Dhana)
Vigneshwaran Palanisamy as Saras
Bagavathi Perumal as Bagavathi (Bugs)
Rajkumar as Balaji Tharaneetharan (Bhaji)
Sundara Raman as Prem's Father
Production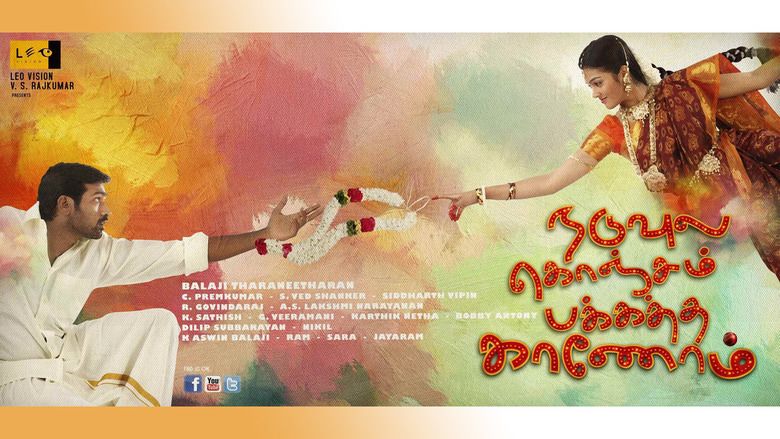 The film was said to be based on a real-life incident that happened in the life of cinematographer C. Prem Kumar and described as a humorous tale about a young man who forgets a few days of his life even as he is about to get married. Prem Kumar lost his memory, when he was working as an assistant cameraman in the film Vaaranam Aayiram; two days before his marriage he went to play cricket with three friends and while attempting a catch, he fell, losing his memory temporarily. Balaji Tharaneetharan, who was present with him, began writing a script based on the incident, besides directing it as well. One of the other witnesses, Bagavathi Perumal agreed to play himself in the film, while the victim Prem Kumar handled the cinematography himself. It took two months for lead actor Vijay Sethupathi to master the film's popular dialogue "Enna Achu?"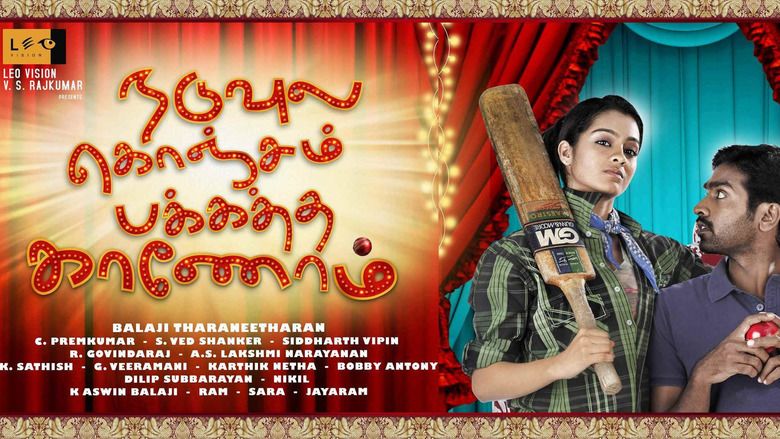 The film created a record of sorts by featuring a song, the lines of which were selected from phrases sent in by more than 1,800 people through Facebook. To promote the film, the crew created an online game that could be played on the film's website.
Soundtrack
The film's soundtrack was composed by Ved Shankar, a product of A. R. Rahman's music school, K M Music Conservatory. The album features five tracks, including an Instrumental, with lyrics penned by Karthik Netha and the composer himself. It was released on 7 July 2012 in Chennai by Kamal Haasan. Singer-actress Andrea Jeremiah lent her voice for the promo song "O Crazy Minnal", the music video of which was also shot on her and was released to the media.
The soundtrack received generally positive reviews. Behindwoods.com claimed that it had a "playful and innovative soundtrack" and that it "definitely stands out from the general commercial albums", providing a rating of 3.5/5.
Release
Naduvula Konjam Pakkatha Kaanom was due for release in September 2012, with preview screenings being held for critics and personalities from the film industry. The film received rave reviews from the media and various directors and technicians. Following its positive reception, the team decided to postpone the film's release in order to achieve a wider release. Furthermore, about 25 minutes of the film were removed after the premiere shows to make it more interesting. All songs barring the title track were also cut from final version and aired on television for promotional purposes only. The film received a Universal rating (U) from the Central Board of Film Certification. The distribution rights were acquired by Sathyam Cinemas. It eventually released on 30 November 2012 alongside Red Giant Movies' Neerparavai.
Critical Reception
Naduvula Konjam Pakkatha Kaanom opened to highly positive reviews from the critics. M. Suganth from Times of India gave it 4 out of 5 and called it an "instant cult comedy that delivers the laughs big time" and added that "the film's real success lies in the genuine rush of feel-good emotion it leaves you with as it ends; it is at once a relief and a celebration". K. R. Manigandan from The Hindu wrote that the film was "a winner whichever way you choose to look at it. With just a simple story and a small team of talented newcomers, director Balaji Tharaneetharan has, on a shoestring budget, managed to deliver what even major banners with their big budgets and huge star casts often struggle to make — a wholesome entertainer". Sify labelled the film as a "rollicking all new comedy entertainer" and lauded the director for having "come out with no big names, no sleaze, no irrelevant comedy track just pure comedy for the intelligent audiences". Vivek Ramz from in.com rated it 3.5 out of 5 and wrote that "NKPK is jolly, good, fun ride for those who love offbeat entertainers. Go and have a blast!" IBNLive described the film as "simple, straightforward and hilarious" and gave "three cheers to the whole team for making a clean and a good entertainer". Malini Mannath from The New Indian Express named it a "thorough entertainer" and a "must- watch". A review from Samay Live said the movie as "Best comedy film of the year" and added as "movie highlights the importance of situational comedy and uses it to build one of the best entertaining screenplay of recent times." Behindwoods.com rated the film 3/5 and said "The missing pages are more exciting. Worth the watch". Pavithra Srinivasan from Rediff give 3/5 and cited director Balaji Tharaneetharan as the hero of the film, who "brings us a novel idea in a light-hearted setting, engages our attention with smart dialogues, and pulls off the caper with neat plot twists". Haricharan Pudipeddi from Nowrunning.com gave 3.1 out of 5 and said it was "undoubtedly one of the best situational comedies of the year".
Awards
Vijay Award For Best Debut Director – Balaji Tharaneetharan
Special Jury Award – Vijay Sethupathi
References
Naduvula Konjam Pakkatha Kaanom Wikipedia
(Text) CC BY-SA
Naduvula Konjam Pakkatha Kaanom IMDb
Naduvula Konjam Pakkatha Kaanom themoviedb.org