Peoples Republic of China




1.014 million (2000)




Heilongjiang


40,233 km2


Lin Kuanhai (???)



Mudanjiang (Chinese: ; pinyin: ; Manchu: Mudan bira ?????? ????) is a prefecture-level city in southernmost Heilongjiang province, Peoples Republic of China. It was called Botankou when it was under Japanese occupation. It serves as a regional communications hub with a railway junction and an international airport connecting with several major Chinese cities as well as Seoul, Korea. Mudanjiang is also an important border city, located only 248 km (154 mi) from Vladivostok, Russia. In 2011 Mudanjiang had a GDP of RMB 93.48 billion with a 15.1% growth rate.
Its population is 2,798,723 at the 2010 census whom 965,154 live in the built-up (or metro) area made of 4 urban districts. In 2007, the city is named Chinas top ten livable cities by Chinese Cities Brand Value Report, which was released at 2007 Beijing Summit of China Cities Forum.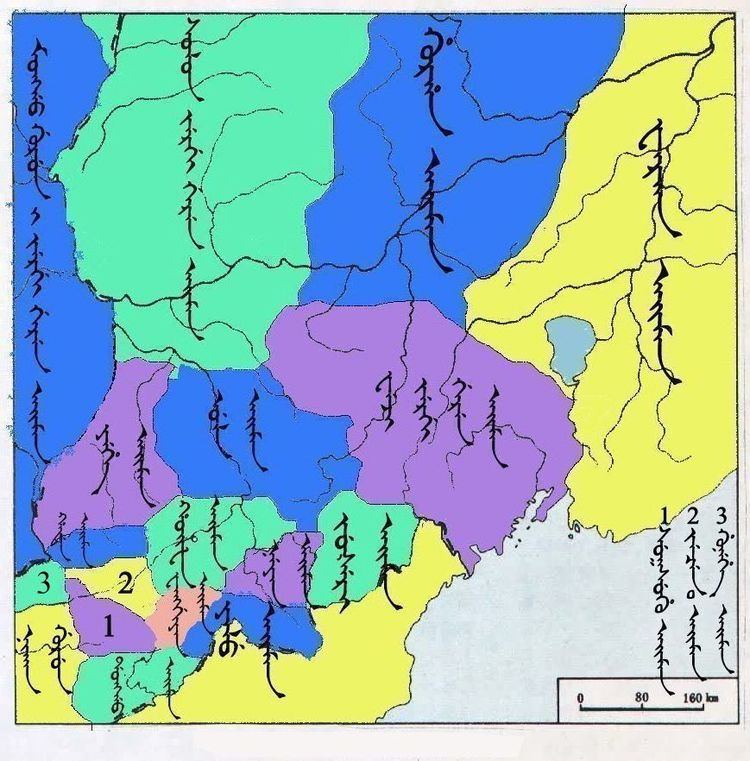 Mudanjiang was originally the populated by the Sushen 2,300 years ago. Ancient Sushen(??) lies in nowaday valley of Mudan River, established Mo State(??). During Tang Dynasty, Balhae established their permanent capital Sanggyeong near Lake Jingpo in the south of todays Mudanjiang city around 755 AD. On January 14, 926, Sanggyeong was fallen while Balhae was defeated by the Khitans.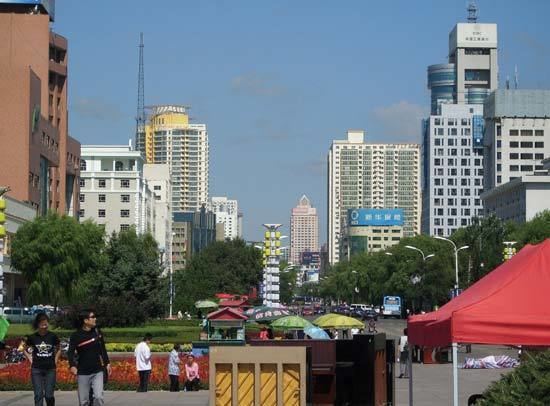 The city of Mudanjiang is named after for the Mudan River (literally, "Peony River") flowing through it. Imperial Russia built a train station for the Chinese Eastern Railway(????, KVZhD) in Mudanjiang in 1903, after which local development started boosting. Both Chinese and Russian settlers established themselves here. Mudanjiang was little more than a large village until the 1920s. By that time, Mudanjiang was strongly overshadowed by the nearby county town of Ningan (Former Ninguta). However, merchants from several countries including France, Russia, Britain and Denmark set up sub-agencies in Mudanjiang during this period, which led the trade area of the city to a rapid expansion.
After the Japanese invasion of Manchuria began on September 19, 1931, the whole Manchuria was seized by Japan following the Mukden Incident. Mudanjiang experienced a substantial growth in the 1930s under the Japanese occupation. Mudanjiang also became a military and administrative center going by the name Botankou, particularly after the railway from Tumen to Jiamusi was constructed in 1933. By that time several light industries including light engineering, lumbering, and food processing was established in the town. On December 1, 1937, Botankou City was established by Manchukuo government, administerring five counties. On October 15, 1938, Japanese Government set up a consulate in Botankou and promoted Botankou as a municipality directly under the Manchukuo Government. As Manchukuo collapsed, Mudanjiang was captured by Soviet Army on August 14, 1945.
Mudanjiang was controlled by the Communist force and became the capital of Songjiang Province in 1948. However, after Songjiang Province was merged into Heilongjiang Province on June 19, 1954, Mudanjiang was reduced to a prefecture-level city.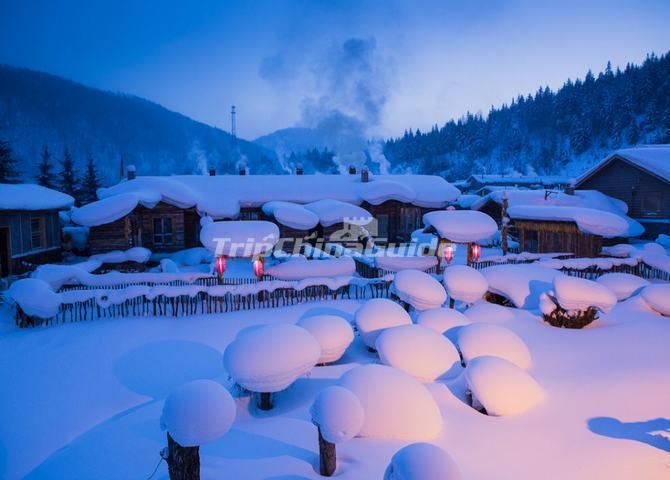 Mudanjiang, spanning from 128° 02 to 131° 18 E longitude and 43° 24 to 45° 59 N latitude, is located in southeastern Heilongjiang province. It is also the provinces southernmost prefecture. Neighbouring prefectures are:
Harbin (W)
Jixi (NE)
Qitaihe (N)
Yanbian, Jilin (S)
It also borders Russias Primorsky Krai to the east. The average elevation in the prefecture is 230 metres (755 ft), with the terrain primarily consisting of mountains and hills. The east of the prefecture begins to ascend to the Changbai Mountains, while the central parts belong to the Hegu Basin. The lowest part of the prefecture is Suifenhe City, bordering Russia, at a minimum elevation of 86.5 metres (283.8 ft), while the highest point is Zhangguangcai, at 1,686.9 metres (5,534 ft).
In 2010, the citys GDP rose 18.5% to RMB 78.1 billion, ranked fourth in Heilongjiang Province after Harbin, Daqing and Qiqihar. Tourist industry and light manufacturing are the mainstays of Mudanjiangs economy. Mudanjiangs pillar industries include accessory industry for automobiles, paper making, forest industry, petrochemicals, new materials, pharmacy and energy industry. The foreign trade value increased 71.8% to US$9 billion in 2010, making up three-fourth of Heilongjiang Provinces gross.
Mudanjiang Wikipedia
(,)http://upload.wikimedia.org/wikipedia/commons/b/bd/The_locations_of_Jurchen_tribes_in_1600s.jpg(,)http://media-3.web.britannica.com/eb-media/78/138978-004-E06CE856.jpg(,)http://img.photobucket.com/albums/v446/dolphinairlines/Dongbei/Mudanjiang/Mudanjiang_HawaiiHotel-TR.jpg(,)http://upload.wikimedia.org/wikipedia/commons/3/3c/Mdj-cbd.jpg(,)http://img.photobucket.com/albums/v446/dolphinairlines/Dongbei/Mudanjiang/A00767-TR.jpg(,)http://bestsellingcarsblog.com/wp-content/uploads/2015/04/1.-Suzuki-Lingyang-taxi-Mudanjiang.jpg(,)http://bestsellingcarsblog.com/wp-content/uploads/2015/04/China-map-with-Mudanjiang.jpg(,)http://img.photobucket.com/albums/v446/dolphinairlines/Dongbei/Mudanjiang/C02057_3-TR.jpg
(,)http://www.tripchinaguide.com/public/upload/photo/harbin-china-s-snow-town/img_892_d20131125173353.jpg(,)http://cache3.asset-cache.net/gc/133163371-dramatic-winter-landscape-zhangguangcai-gettyimages.jpg%3Fv%3D1%26c%3DIWSAsset%26k%3D2%26d%3DMXper6RFtHmfZcYLDxfo9PcxjNgM9iIqPFk5WDuxiXbLQM74TPm52Djl%252FFnRlrORkerA7qJjzL%252FoX16J6BVNXA%253D%253D(,)http://farm8.static.flickr.com/7061/6902819835_4715014ebd_m.jpg(,)http://www.harbinice.com/public/richfiles/photos/harbin/China-Snow-Town/snow%2520town%2520(3).jpg(,)http://www.chinafacttours.com/images/heilongjiang/zhalong-nature-reserve/zhalong-nature-reserve-883709.jpg(,)http://thumbs.dreamstime.com/z/snow-covered-landscape-mudanjiang-river-38449096.jpg(,)http://thumbs.dreamstime.com/z/snow-covered-landscape-beishan-montain-first-heavy-mudanjiang-city-heilongjiang-province-china-just-like-crystal-38723368.jpg(,)http://farm8.static.flickr.com/7185/6875770013_fa23a80c5c_s.jpg(,)http://thumbs.dreamstime.com/z/landscape-under-blue-sky-20018170.jpg
(,)http://www.tdict.cn/cfgpic/attr/YuantongjiangTemple.jpg(,)http://www.tdict.cn/cfgpic/attr/HengdaoSkiArea.jpg(,)http://www.icefestivalharbin.com/public/upload/photo/china-s-snow-town/img_757_d20120618001800.jpg(,)http://i57.tinypic.com/10ct4r5.jpg(,)http://media-cdn.tripadvisor.com/media/daodao/photo-s/04/0f/35/73/view.jpg(,)http://images4.c-ctrip.com/target/hotel/83000/82101/91b0a636e9f64206abf03f0ea166a941_550_412.jpg(,)http://www.hawaii-hotel.com.cn/English/cy_hx/2.jpg(,)http://www.hawaii-hotel.com.cn/English/fj/h2.jpg(,)http://www.ca.kayak.com/rimg/himg/49/57/86/leonardo-1309314-42822e_P-image.jpg%3Fwidth%3D502%26height%3D329(,)http://www.cleartrip.com/places/hotels//6911/691192/images/14362422_w.jpg(,)http://i58.tinypic.com/2hgvevt.jpg(,)http://www.ca.kayak.com/rimg/himg/0c/2d/c7/leonardo-1309314-42822b_P-image.jpg%3Fwidth%3D502%26height%3D327(,)http://www.cleartrip.com/places/hotels//6911/691192/images/14362311_w.jpg