7.8

/

10

Alchetron

7.8

Rate This




Director

Ameer


Release date

December 13, 2002 (India)




Country

India






Genre

Drama, Romance




Duration




Language

Tamil





Release date

December 13, 2002 (2002-12-13)




Songs

En Anbae En Anbae




Similar movies

Suriya appears in Mounam Pesiyadhe and Nandha

Mounam Pesiyadhe (English: Silence spoke) is a 2002 Tamil-language romantic comedy film, written and directed by Ameer Sultan in his directorial debut. It stars Suriya and debutant Trisha in the lead along with newcomers Nandha, Mahaa and choreographer-turned-actor Anju Mahendra in supporting roles along with several other newcomers, while Laila Mehdin appears in a cameo role during the climax. The major part of the film is shot in Pondicherry. The film, released on 13 December 2002 and turned out to be a Hit at the box office. It was remade in Telugu as Aadanthe Ado Type (2003) and later dubbed in the same language as Kanchu (2006). Also it was dubbed in Hindi as Ghatak Returns.
Contents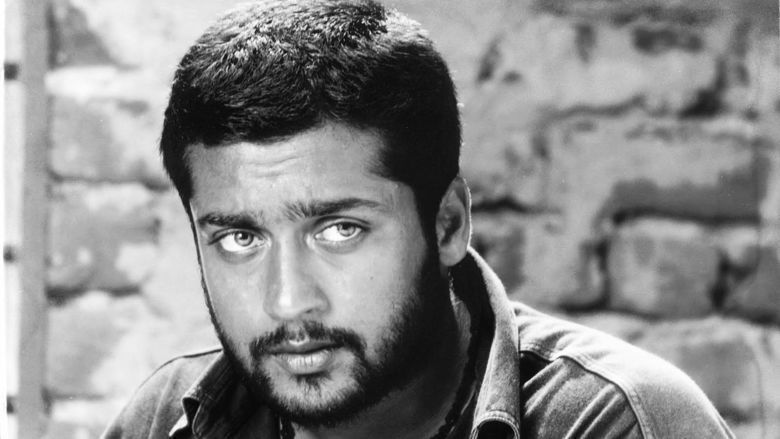 Plot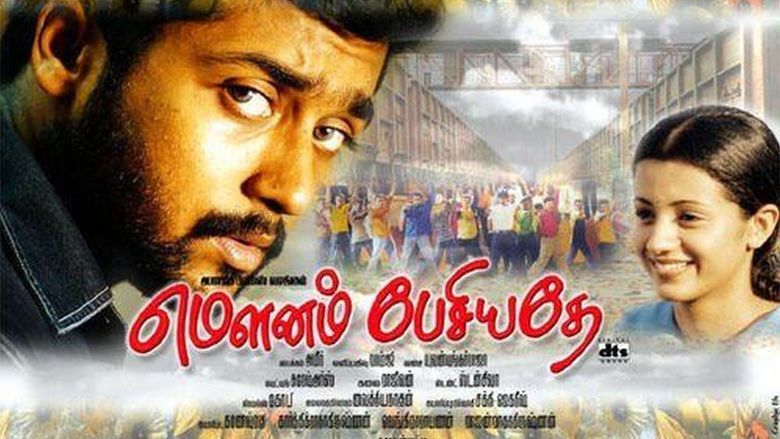 Gautham (Suriya) and Kannan (Nandha) are close friends from childhood days. Gautham owns a restaurant while Kannan works as a sales executive in a firm. Kannan is in love with Maha (Neha Pendse) while Gautham has no interest towards girls and prefers to be single despite his family members trying to get him married. Sandhya (Trisha) is the relative of Kannan and their family members plan to get them married. Kannan is scared of his father and he is unable to inform about his love. So he requests Gautham to meet Sandhya and inform about the love between Kannan and Maha.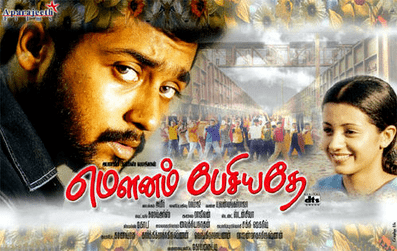 Gautham agrees and informs Sandhya about Kannan's love with Maha. Sandhya also says that even she is not interested in the marriage proposal and instead she prefers to get married to someone like Gautham. Hearing this, Gautham is shocked and also confused.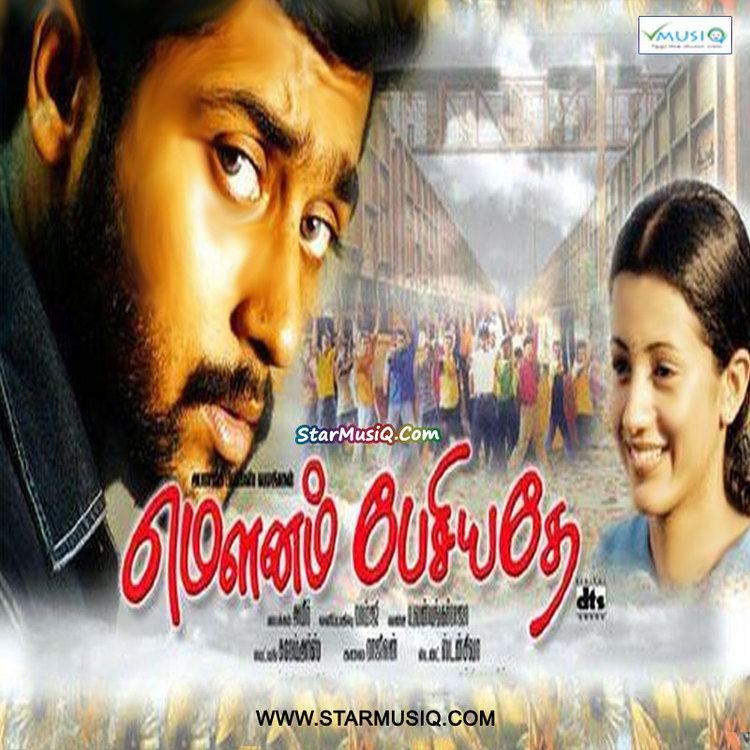 Kannan and Sandhya's parents understand that neither Kannan nor Sandhya are interested in marriage and cancels the wedding plans between them. Meanwhile, Gautham develops affection towards Sandhya. Gautham receives frequent phone calls and he believes it to be from Sandhya. Gautham also gets gifts which he also believes to be sent by Sandhya.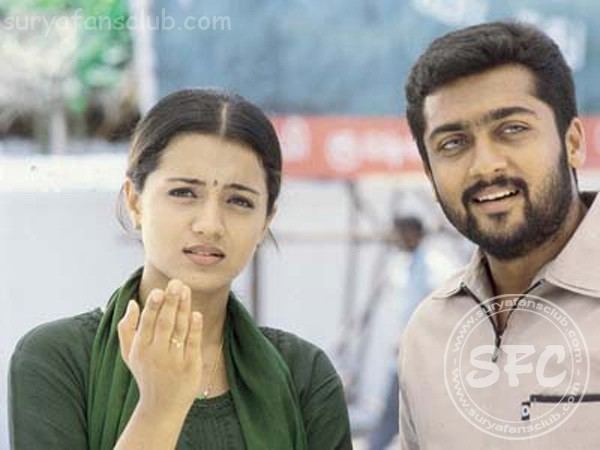 Maha's father gets angry knowing about her love and engages a few thugs to beat up Kannan. Kannan is injured which angers Gautham. He smashes all those thugs and scolds Maha's father for involving in such activities. Maha's father realizes his mistake and apologizes. Kannan and Maha's wedding is fixed.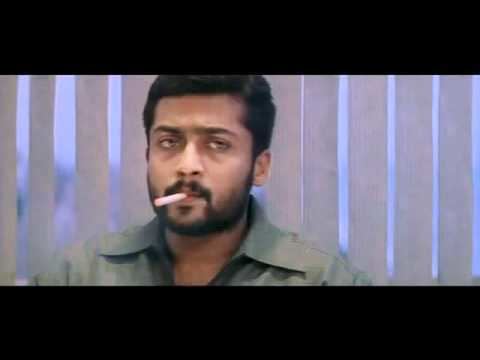 One day, Sandhya calls Gautham to a restaurant. Gautham believes that she has called to convey her love but is shocked when she introduces Aravind as her lover. She also says that even Aravind is like Gautham who was not interested in girls but somehow is convinced by Sandhya. Gautham starts worrying and is confused about the happenings as he believed the phone calls and gifts were from Sandhya.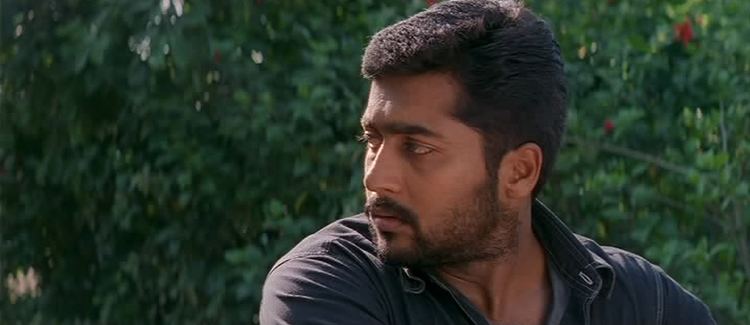 On the day of Kannan and Maha's wedding, Gautham walks alone in the street thinking about his love failure. Suddenly a car comes in front of him and it is Laila. She walks towards Gautham and proposes her love. A small flashback is shown where Laila and Gautham were college mates and Laila was in love with Gautham. But Gautham did not reciprocate and avoided her during college.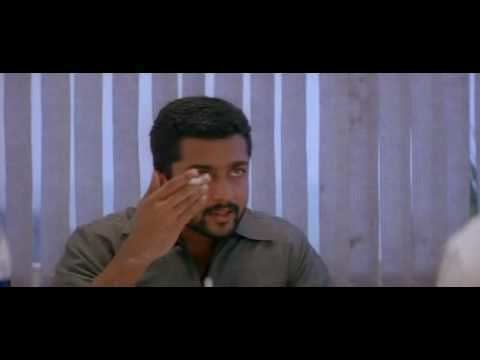 On the last of college, Laila told Gautham that she will keep following him always and will never forget him. As she told, she kept following Gautham and it was her who kept calling Gautham and sent him frequent gifts which Gautham misunderstood to be from Sandhya. Gautham realizes Laila's true love and accepts it. The movie ends with both leaving together in the car.
Cast
Suriya as Gautham
Trisha Krishnan as Sandhya
Nandha as Kannan
Neha Pendse as Mahalakshmi
Anju Mahendra as Selvam
Laila in a cameo role
RJ Sanobar Sultana in a cameo role
Crew
Story, Screenplay, Dialogues & Direction: Ameer Sultan
Production: Ganesh Raghu, Karthik Radhakrishnan, Venky Narayanan & Rajan Radhakrishnan
Music: Yuvan Shankar Raja
Cinematography: Ramji
Editing: Suresh Urs
Art direction: Rajeevan
Stunts: Stun Siva
Choreography: Kalyan, Dinesh & Anju Mahendra
Costumes: Paulraj
Stills: Karthikgopi
Banner: Aparajeeth Films
Soundtrack
The soundtrack was composed by Yuvan Shankar Raja and released on 6 October 2002. It features 8 tracks overall with lyrics penned by Vaali, Kamakodiyan, Snehan, Puthuvai Nambi and director Ameer Sultan himself. The soundtrack, upon release, was very much appreciated and became very successful. Yuvan Shankar Raja himself claimed the album to be "the best he ever created since he became music director" till then.
Production
Shooting took place in New Zealand, Italy, Mauritius, Egypt and other scenic locations in and around India. Moreover, a huge 30-lakhs-worth set was erected by art director Rajeevan at Pondicherry, India for a song. "Valentine" song was shot at AVM Studios, the rest of the songs were shot at locations in Mysore and Puducherry.
Release
E. V. V. Satyanarayana remade this film in Telugu as Aadanthe Ado Type with his son Aryan Rajesh in lead role, Yuvan composed the music for Telugu version too. The original film was dubbed in Telugu as Kanchu.
Critical reception
Balaji wrote:" Mounam Pesiyadhe " is almost like two completely different movies put together, with the pre- and post-intermission portions exhibiting completely different characteristics. Its first half boasts of some nice, interesting characters but is content with just laying the foundation for the story and never really moving things forward. On the other hand, the second half has the same characters behaving in ways that are cinematic and contrary to their earlier positions. But it makes up for this with some surprising twists and keeps us hooked by being fast-paced and never being predictable". Hindu wrote:"to his credit Ameer has introduced an element of suspense in the story. The end shows that the director has tried to make things a little different. The comedy merges well with the main narration and the asides are examples of healthy humour".
275 days
The movie was a commercial success. It ran for more than 275 days in theatres.
References
Mounam Pesiyadhe Wikipedia
(Text) CC BY-SA
Mounam Pesiyadhe IMDb
Mounam Pesiyadhe themoviedb.org