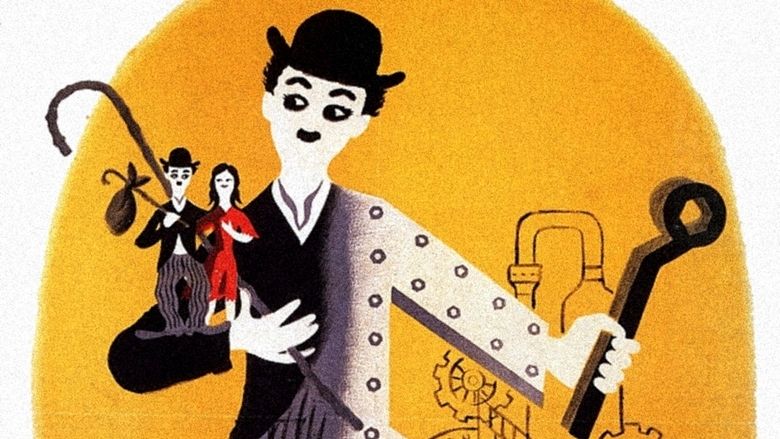 Modern Times portrays Chaplin in his Tramp persona as a factory worker employed on an assembly line. There, he is subjected to such indignities as being force-fed by a malfunctioning "feeding machine" and an accelerating assembly line where he screws nuts at an ever-increasing rate onto pieces of machinery. He finally suffers a nervous breakdown and runs amok, throwing the factory into chaos. He is sent to a hospital. Following his recovery, the now unemployed factory worker is mistakenly arrested as an instigator in a Communist demonstration. In jail, he accidentally ingests smuggled cocaine, mistaking it for salt. In his subsequent delirium, he avoids being put back in his cell. When he returns, he stumbles upon a jailbreak and knocks the convicts unconscious. He is hailed as a hero and given special treatment. When he is informed that he will soon be released due to his heroic actions, he argues unsuccessfully that he prefers it in jail.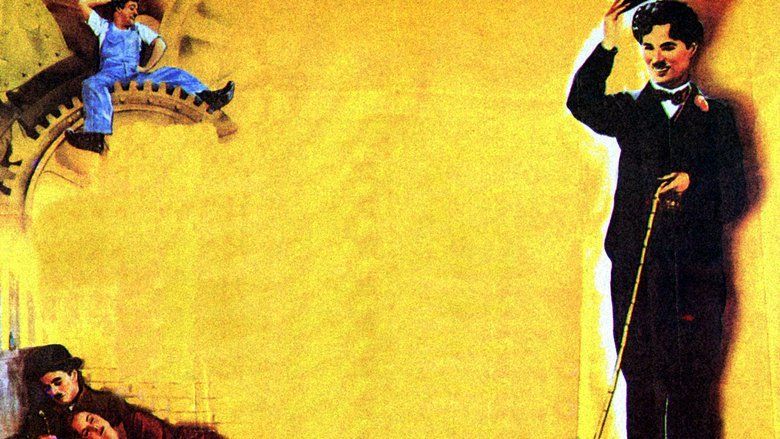 Outside of jail, he applies for a new job but leaves after causing an accident. He runs into a recently orphaned girl, Ellen (Paulette Goddard), who is fleeing the police after stealing a loaf of bread. Determined to go back to jail and to save the girl, he tells police that he is the thief and ought to be arrested. A witness reveals his deception and he is freed. To get arrested again, he eats an enormous amount of food at a cafeteria without paying. He meets up with Ellen in a paddy wagon, which crashes, and she convinces him to escape with her. Dreaming of a better life, he gets a job as a night watchman at a department store, sneaks Ellen into the store, and encounters three burglars: one of whom is "Big Bill", a fellow worker from the factory at the beginning of the film, who explains that they are hungry and desperate. After sharing drinks with them, he wakes up the next morning during opening hours and is arrested once more.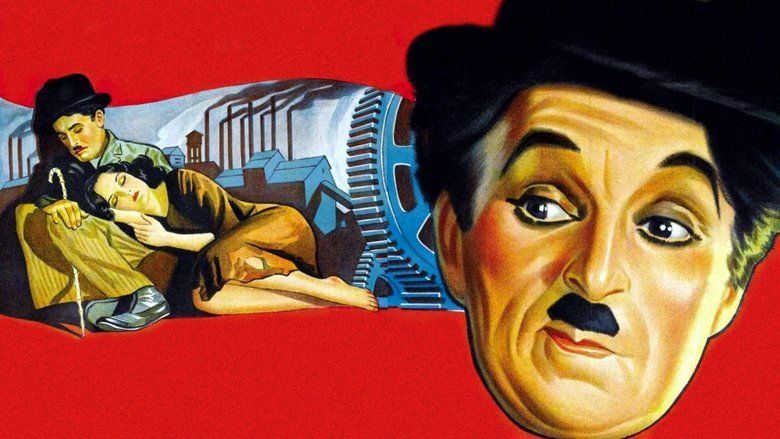 Ten days later, Ellen takes him to a new home – a run-down shack that she admits "isn't Buckingham Palace" but will do. The next morning, the factory worker reads about an old factory re-opening and lands a job there as a mechanic's assistant. His boss accidentally falls into the machinery, but the worker manages to extricate him. The other workers suddenly decide to go on strike. Outside, the worker accidentally launches a brick at a policeman and is arrested again.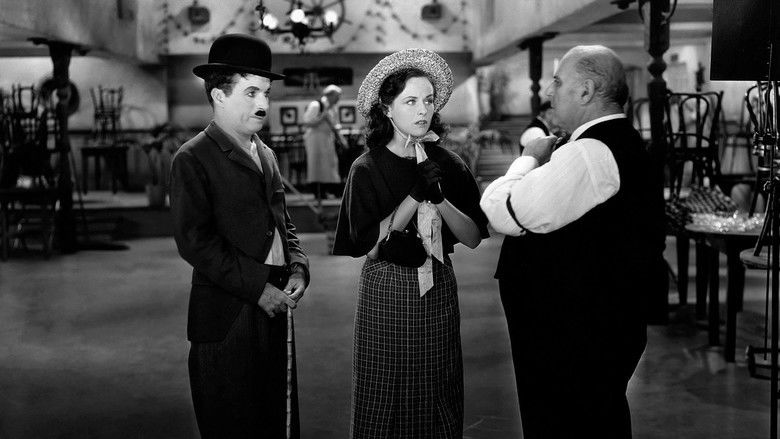 Two weeks later, he is released and learns that Ellen is a café dancer. She gets him a job as a singer and waiter, where he goes about his duties rather clumsily. During his floor show, he loses his cuffs, which bear the lyrics to his song, but he rescues the act by improvising the lyrics using gibberish from multiple languages, plus some pantomiming. His act proves a hit. When police arrive to arrest Ellen for her earlier escape, the two flee again. Ellen despairs that there's no point to their struggling, but the factory worker assures her that they'll make it somehow. In the final scene, they walk down a road at dawn, towards an uncertain but hopeful future.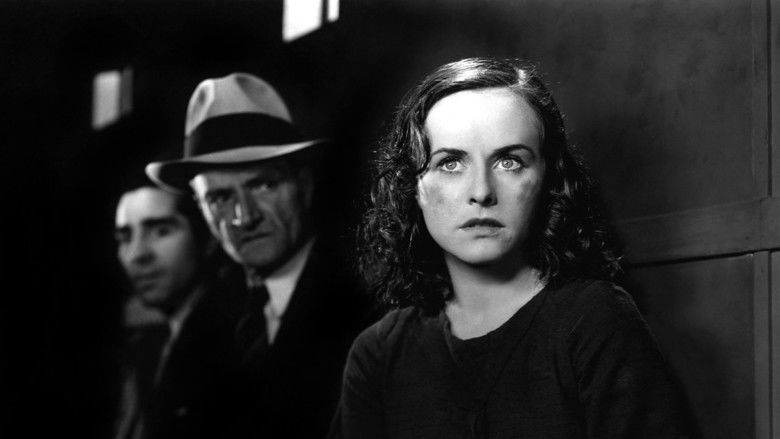 Charlie Chaplin as a factory worker
Paulette Goddard as Ellen Peterson "The Gamin"
Henry Bergman as the Café proprietor
Stanley "Tiny" Sandford as Big Bill
Chester Conklin as a Mechanic
Al Ernest Garcia as the President of the Electro Steel Corp.
Stanley Blystone as Gamin's father
Richard Alexander as the prison cellmate
Cecil Reynolds as a Minister
Mira McKinney as the Minister's wife
Murdock MacQuarrie as J. Widdecombe Billows, inventor
Wilfred Lucas as the Juvenile Officer
Edward LeSaint as Sheriff Couler
Fred Malatesta as the Café head waiter
Sammy Stein as the turbine operator
Hank Mann as burglar with Big Bill
Louis Natheaux as burglar with Big Bill
Gloria DeHaven as Gamin's sister (uncredited)
Juana Sutton as woman with buttoned bosom
Ted Oliver as Billow's assistant
During a European tour promoting City Lights, Chaplin got the inspiration for Modern Times from both the lamentable conditions of the continent through the Great Depression, along with a conversation with Mahatma Gandhi in which they discussed modern technology. Chaplin did not understand why Gandhi generally opposed it, though he granted that "machinery with only consideration of profit" had put people out of work and ruined lives.
Chaplin began preparing the film in 1934 as his first "talkie", and went as far as writing a dialogue script and experimenting with some sound scenes. However, he soon abandoned these attempts and reverted to a silent format with synchronized sound effects and sparse dialogue. The dialogue experiments confirmed his long-standing conviction that the universal appeal of his "Little Tramp" character would be lost if the character ever spoke on screen. Most of the film was shot at "silent speed", 18 frames per second, which when projected at "sound speed", 24 frames per second, made the slapstick action appear even more frenetic. Available prints of the film now correct this. The duration of filming was long for the time, beginning on October 11, 1934 and ending on August 30, 1935.
The reference to drugs seen in the prison sequence is somewhat daring for the time (since the production code, established in 1930, forbade the depiction of illegal drug use in films); Chaplin had made drug references before in one of his most famous short films, Easy Street, released in 1917.
According to the official documents, the music score was composed by Chaplin himself, and arranged with the assistance of Alfred Newman. The romance theme was later given lyrics, and became the pop standard "Smile", first recorded by Nat King Cole and later covered by such artists as Sammy Davis Jr., Herb Jeffries, Dean Martin, Tony Bennett, Trini Lopez, Eric Clapton, Barbra Streisand, Diana Ross, Michael Bublé, Petula Clark, Liberace, Judy Garland, Madeleine Peyroux, Plácido Domingo and Dionne Warwick, Michael Jackson and Robert Downey, Jr. (included on the soundtrack for the film Chaplin).
Modern Times was the first film where Chaplin's voice is heard as he performs Léo Daniderff's comical song Je cherche après Titine. Chaplin's version is also known as The Nonsense Song, as his character sings it in gibberish. The lyrics are nonsensical but appear to contain words from French and Italian; the use of deliberately half-intelligible wording for comic effect points the way towards Adenoid Hynkel's speeches in The Great Dictator.
According to film composer David Raksin, he wrote the music as a young man wanting to make a name for himself. Chaplin would sit, often in the washroom, humming tunes and telling Raksin to "take this down". Raksin's job was to turn the humming into a score and create timings and synchronization that fit the situations. Chaplin was a violinist and had some musical knowledge, but he was not an orchestrator and was unfamiliar with synchronization. Raksin later created scores for such films as Laura and The Day After.
Modern Times is often hailed as one of Chaplin's greatest achievements, and it remains one of his most popular films. It has a 100% rating on Rotten Tomatoes based on 53 critic reviews. The website's critical consensus reads, "A slapstick skewering of industrialized America, Modern Times is as politically incisive as it is laugh-out-loud hilarious."
Contemporary reviews were very positive. Frank Nugent of The New York Times wrote, "'Modern Times' has still the same old Charlie, the lovable little fellow whose hands and feet and prankish eyebrows can beat an irresistible tattoo upon an audience's funnybone or hold it still, taut beneath the spell of human tragedy ... Time has not changed his genius." Variety called it "grand fun and sound entertainment." Film Daily wrote, "Charlie Chaplin has scored one of his greatest triumphs." John Mosher of The New Yorker wrote that Chaplin "manufactures some superb laughs ... In all, it's a rambling sketch, a little at loose ends at times, sometimes rather slight in effect, and now and then secure in its rich, old-fashioned funniness." Burns Mantle called the film "another hilariously rowdy success."
French philosophers Jean-Paul Sartre, Simone de Beauvoir and Maurice Merlau-Ponty named their journal, Les Temps modernes, after it.
The film did not perform as well commercially at the US box office but returns in other countries meant it was profitable. It was the most popular film at the British box office in 1935-36.
The iconic depiction of Chaplin working frantically to keep up with an assembly line inspired later comedy routines including Disney's Der Fuehrer's Face (Donald Duck alternately assembling artillery shells and saluting portraits of Adolf Hitler) and an episode of I Love Lucy titled "Job Switching" (Lucy and Ethel trying to keep up with an ever-increasing volume of chocolate candies, eventually stuffing them in their mouths, hats, and blouses). The opening of a fantasy sequence in the film, in which the unemployed factory worker trips over a foot stool upon entering the living room of his "dream home" with the Gamine, inspired a similar opening to The Dick Van Dyke Show.
This was Chaplin's first overtly political-themed film, and its unflattering portrayal of industrial society generated controversy in some quarters upon its initial release.
The film exhibits notable similarities to a 1931 French film directed by René Clair entitled À nous la liberté (Liberty for Us) — the assembly line sequence is a clear instance. The German film company Tobis Film sued Chaplin following the film's release to no avail. They sued again after World War II (considered revenge for Chaplin's anti-Nazi statements in The Great Dictator). This time, they settled with Chaplin out of court. Clair, a huge admirer of Chaplin who was flattered that the film icon would imitate him, was deeply embarrassed that Tobis Film would sue Chaplin and was never part of the case.
The film did attract criticism for being almost completely silent, despite the movie industry having long since embraced the talking picture. Chaplin famously feared that the mystery and romanticism of the Tramp character would be ruined if he spoke, and feared it would alienate his fans in non-English speaking territories. His future films, however, would be fully fledged "talkies" – although without the character of the Little Tramp.
Chaplin biographer Jeffrey Vance has written of the reception and legacy of this classic comedy,
Modern Times is perhaps more meaningful now than at any time since its first release. The twentieth-century theme of the film, farsighted for its time—the struggle to eschew alienation and preserve humanity in a modern, mechanized world—profoundly reflects issues facing the twenty-first century. The Tramp's travails in Modern Times and the comedic mayhem that ensues should provide strength and comfort to all who feel like helpless cogs in a world beyond control. Through its universal themes and comic inventiveness, Modern Times remains one of Chaplin's greatest and most enduring works. Perhaps more important, it is the Tramp's finale, a tribute to Chaplin's most beloved character and the silent-film era he commanded for a generation.

The film is recognized by American Film Institute in these lists:
1998: AFI's 100 Years... 100 Movies – #81
2000: AFI's 100 Years... 100 Laughs – #33
2007: AFI's 100 Years... 100 Movies (10th Anniversary Edition) – #78