Country

Philippines


Language spoken

www.misamisoriental.gov.ph




Area

3,131.52 km2


Region

Northern Mindanao


Capital

Cagayan de Oro


Governor

UNA


Population

813,856




Destinations

Cagayan de Oro, Claveria - Misamis Oriental, Gingoog, Opol, El Salvador


Colleges and Universities

Xavier University – Ateneo de Cagayan (Cagayan de Oro), Liceo de Cagayan University (Cagayan de Oro), Mindanao University of Science and Technology (Cagayan de Oro), Mindanao State University – Naawan (Naawan), Cagayan de Oro College (Cagayan de Oro)

Misamis Oriental (Cebuano: , Tagalog: ) is a province of the Philippines located in the Northern Mindanao region. Its capital and provincial center is Cagayan de Oro City, which is governed independently from the province.
Contents
Map of Misamis Oriental
Meeting with local leaders and the community in balingasag misamis oriental speech 4222013
Sagpulon waterfalls best video ever jasaan misamis oriental oro jam
Geography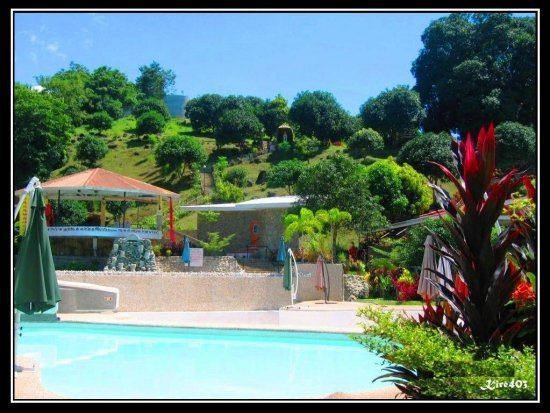 Located in Northern Mindanao, the province borders Iligan City and the province of Bukidnon to the south, Agusan del Norte to the east and Lanao del Norte to the west. On the north is the Bohol Sea with the island-province of Camiguin just off its northern coast. Misamis Oriental occupies a total land area of 3,131.52 square kilometres (1,209.09 sq mi). When Cagayan de Oro City is included for geographical purposes, the provinces land area is 3,544.32 square kilometres (1,368.47 sq mi).
History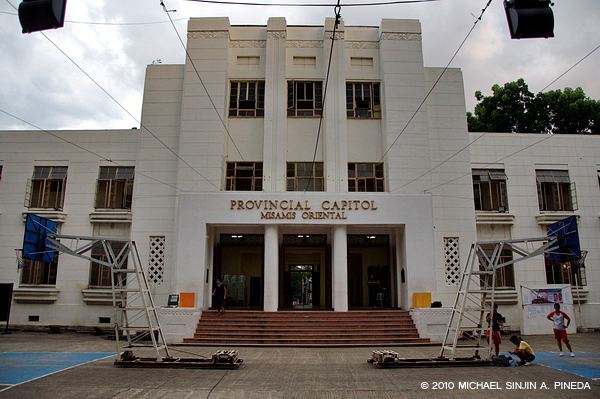 The earliest known settlers of the territory were the Negritos. Centuries later, Austronesian colonists fought the natives for the control of the rich coastal plains by the Cagayan River, and the Visayans won the struggle for possession over the Bukidnons.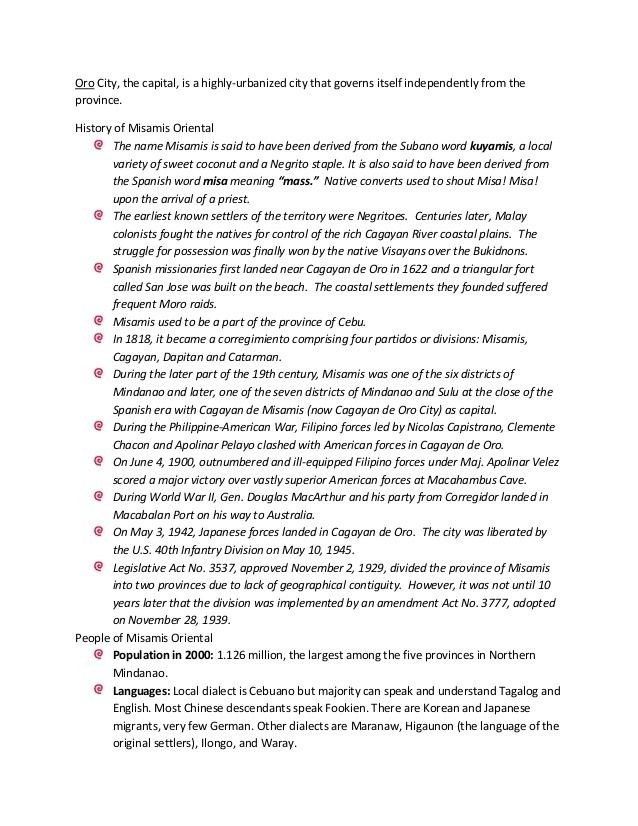 In the 16th century, most of Mindanao was under the control of Muslims, and the inhabitants were converted into Islam. As part of Mindanao, the people of the territory were obliged to pay tribute to Muslim rulers.
Legislative Act. No. 3537 approved on 2 November 1929, divided the province of Misamis into two due to the lack of geographic contiguity. It was not until ten years later on 28 November 1939 that the division between Misamis Oriental and Misamis Occidental was implemented by Act. No. 3777. When Misamis Oriental separated, Don Gregorio Pelaez became its first governor.
In 1942, at the onset of World War II in the Philippines, Japanese soldiers landed in Misamis Oriental to occupy the region. Combined American and Philippine Commonwealth forces along with recognised guerrilla fighters liberated Misamis Oriental in 1945.
In May 2014 it was reported that an area in Barangay Lapad in Laguindingan, Misamis Oriental, in northern Mindinao, was declared a heritage site. Oyster fossils older than 200,000 years were discovered, according to Balita Pilipinas. Property owner, Raul Ilogon, told Balita Pilipinas that they had been seeing the fossils for 20 years thinking that they were ordinary rocks.
Economy
The province is host to industries such as agricultural, forest, steel, metal, chemical, mineral, rubber and food processing. It is home to the 30 square kilometre PHIVIDEC Industrial Estate and the Mindanao International Container Port, all in Tagoloan. Del Monte Philippines, which exports pineapples all over the Asia-Pacific region, has a processing plant in Cagayan de Oro.
Tourism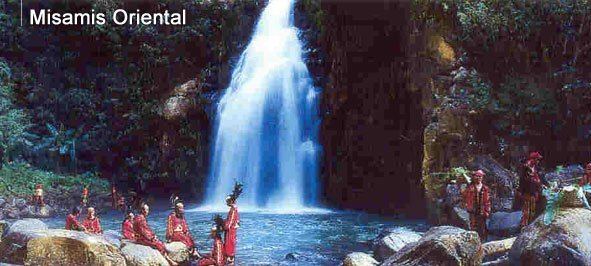 Misamis Oriental is home to many natural scenic spots that attracts millions of tourists annually.
130 hospitalized in misamis due to food poisoning
References
Misamis Oriental Wikipedia
(Text) CC BY-SA
(,)http://www.libotero.com/wp-content/uploads/2010/09/capitol11.jpg(,)http://image.slidesharecdn.com/reviewr-140401022433-phpapp01/95/regions-in-mindanao-12-638.jpg%3Fcb%3D1397376166(,)http://photos1.blogger.com/blogger/4767/2035/1600/balingasagchurch.jpg(,)https://www.phlpost.gov.ph/images/web/2012/05/for-stamp-block-of-4-copy-copy.jpg(,)https://jt76.files.wordpress.com/2011/08/dsc_0018.jpg
(,)http://www.fotothing.com/photos/385/3853cde79f92d9c2aa1cc7d08d5691af.jpg(,)http://www.fotothing.com/photos/239/2399350113793a3e254003ee29efd59f.jpg(,)http://www.fotothing.com/photos/0de/0de90d0cd486b7adf4f3dda9f4487a08.jpg(,)https://s-media-cache-ak0.pinimg.com/736x/35/aa/7d/35aa7d063bba05bb49f43625da0b7da2.jpg(,)http://www.fotothing.com/photos/e7b/e7b565153834967dd485a6e5ee1e4eff.jpg(,)http://media-cache-ec0.pinimg.com/736x/28/b9/cd/28b9cdcda54ecb9b6512fafa28e3e792.jpg(,)http://static.panoramio.com/photos/large/88624220.jpg(,)http://imganuncios.mitula.net/beach_and_poolside_apartments_near_cdo_96635471160099273.jpg(,)http://www.fotothing.com/photos/30e/30e3b1bf7ee0de80432ba4b68c4e63d1.jpg(,)http://mw2.google.com/mw-panoramio/photos/medium/7060931.jpg(,)http://mw2.google.com/mw-panoramio/photos/medium/49963745.jpg(,)http://mw2.google.com/mw-panoramio/photos/medium/55082719.jpg(,)http://mw2.google.com/mw-panoramio/photos/medium/11249530.jpg(,)http://mw2.google.com/mw-panoramio/photos/medium/88109604.jpg(,)http://mw2.google.com/mw-panoramio/photos/medium/89405999.jpg(,)http://mw2.google.com/mw-panoramio/photos/medium/89405021.jpg
(,)https://phillippinephototravel.files.wordpress.com/2010/11/img_8325.jpg(,)http://tourism-philippines.com/images/misamis-oriental6.jpg(,)http://philippinesedirectory.com/wp-content/uploads/2014/02/Seablings-Seafoods-Restaurant-Cagayan-de-Oro-City.jpg(,)http://i1291.photobucket.com/albums/b559/choosephilippines/IMG_7415_zps0c9ee4de.jpg%3Ft%3D1377141436(,)http://heart-2-heart-online.com/wp-content/uploads/2014/09/Panagatan-Opol-Misamis-Oriental-11.jpg(,)http://philippinesedirectory.com/wp-content/uploads/2014/02/Seablings-Seafoods-Restaurant-Cagayan-de-Oro-City1.jpg(,)http://3.bp.blogspot.com/-J7k105oRWU4/Ua88zEupbtI/AAAAAAAAFSY/Cjjfeqn8TYE/s640/FINALpintos.jpg(,)http://s3.amazonaws.com/foodspotting-ec2/reviews/2092214/thumb_600.jpg%3F1342885277(,)http://s3.amazonaws.com/foodspotting-ec2/reviews/1857513/thumb_600.jpg%3F1339078489(,)https://phillippinephototravel.files.wordpress.com/2010/11/img_8323.jpg(,)http://www.top-destination-choice-the-philippines.com/images/suman-of-clarin.jpg(,)http://farm2.static.flickr.com/1105/874261989_7c69642597.jpg(,)https://fbexternal-a.akamaihd.net/safe_image.php%3Fd%3DAQCMMJMBydEHvb2e%26w%3D470%26h%3D246%26url%3Dhttp%253A%252F%252Fwww.stethnews.com%252Fwp-content%252Fuploads%252F2015%252F01%252FTumeric-Spice-620x330.jpg%26cfs%3D1%26upscale%3D1
(,)http://imageshack.us/a/img62/7016/z0mp.jpg(,)http://farm8.staticflickr.com/7411/13143776875_2b704a307f_b.jpg(,)http://img.photobucket.com/albums/v218/corsarius_phil/ChoosePHL/Other%2520Insiders/Yacon.jpg(,)http://suprmchaos.com/dance1_072411.jpg(,)http://media.tumblr.com/a1201f9b656c07605a888f8ec0de6bc8/tumblr_inline_mqukf7F9wN1qz4rgp.jpg(,)http://i49.tinypic.com/kcjzvs.jpg
(,)http://lifestyle.inquirer.net/files/2014/07/T0707taoid-mindanao_feat3_3.jpg(,)http://www.seafdec.org.ph/wp-content/uploads/2012/12/LGU-Misamis-Oriental-study-tour-2-1024x768.jpg(,)http://www.cdoguide.com/sights/attractions/heritage-monument-500.jpg(,)http://www.anthemculture.com/wp-content/uploads/2014/08/Misamis-Oriental-Anthem-Culture.jpg
(,)http://www.tourism.gov.ph/Lists/Philippine%2520Sites/Attachments/57/Misamis%2520Oriental.JPG(,)http://www.lakwatsero.com/wp-content/uploads/2012/08/balingoan1.jpg(,)http://static.wix.com/media/d31059_7e2d7e333f3af2313044995b0e62452e.jpg(,)http://tourism-philippines.com/images/misamis-oriental2.jpg(,)http://vigattintourism.com/assets/article_main_photos/optimize/13478772099SMhgNKe.jpg(,)http://triptheislands.com/wp-content/uploads/2014/07/17374831.jpg(,)https://localtouristspots.files.wordpress.com/2014/01/2344154271_24e78376bb.jpg(,)https://localtouristspots.files.wordpress.com/2014/01/188509-1767434439582-1650833055-1673750-1159868-n.jpg(,)http://triptheislands.com/wp-content/uploads/2014/07/Agutayan1.jpg(,)http://1.bp.blogspot.com/_8lTgNonqNFM/TCsoTSqideI/AAAAAAAAAA0/jsTQlmewafo/s1600/HinatuanRiver24.jpg(,)http://www.lakwatsero.com/wp-content/uploads/2011/04/Agutayan1.jpg(,)http://www.thinkphilippines.com/pictures/claveria_canopy_walk1.jpg(,)http://3.bp.blogspot.com/_okCYFnt4QQA/SH5A7GESLzI/AAAAAAAAAG4/3zqZAy1Svug/s1600-h/basamanggas.jpg