Country

Philippines


Language spoken

www.agusandelnorte.gov.ph




Area

2,730.24 km2


Region

Caraga


Capital

Cabadbaran CityButuan City


Governor

Liberal




Population

332,487




Colleges and Universities

Father Saturnino Urios University (Butuan), Caraga State University (Butuan), Caraga State University – Cabadbaran (Cabadbaran), Saint Michael College of Caraga (Nasipit)

San vicentebolobolo jabonga agusan del norte
Manoligao carmen agusan del norte part 2
History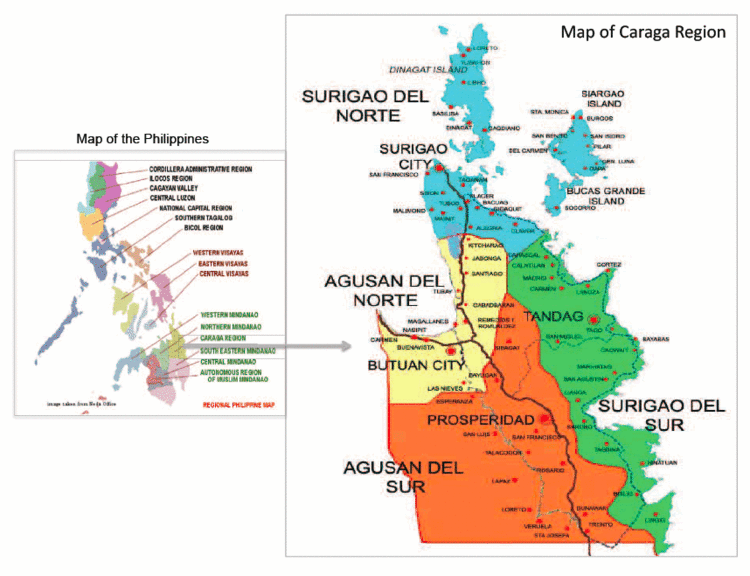 In 1942, the Japanese Imperial forces landed in Northern Agusan.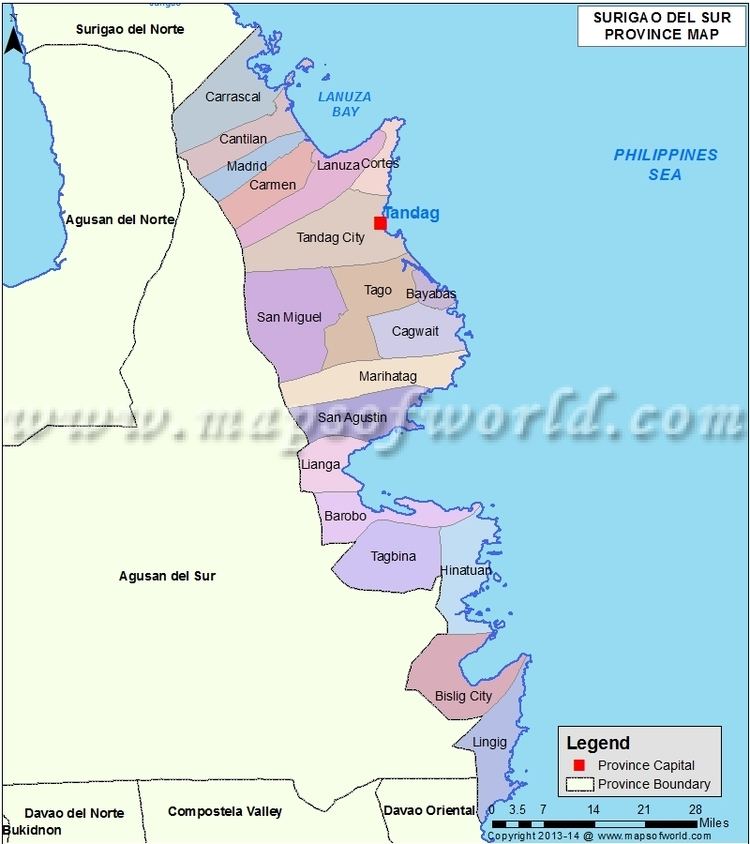 In 1945, Filipino soldiers of the 6th, 10th, 101st, 102nd, 103rd, 107th and 110th Infantry Division of the Philippine Commonwealth Army and the 10th Infantry Regiment of the Philippine Constabulary together with the recognized Agusan guerrilla fighter units against the Japanese forces beginning the liberation in Northern Agusan during World War II.
During World War II, a unit of the joint Philippine-American defense force were located at Manot, Talacogon, in the interior of the Agusan Valley.
Created by Republic Act 4979 from Agusan province.
On August 16, 2000, the seat of provincial government was transferred from Butuan City to Cabadbaran by virtue of Republic Act 8811, although the province is yet to complete the transfer of provincial services and functions to the new capital.
Geography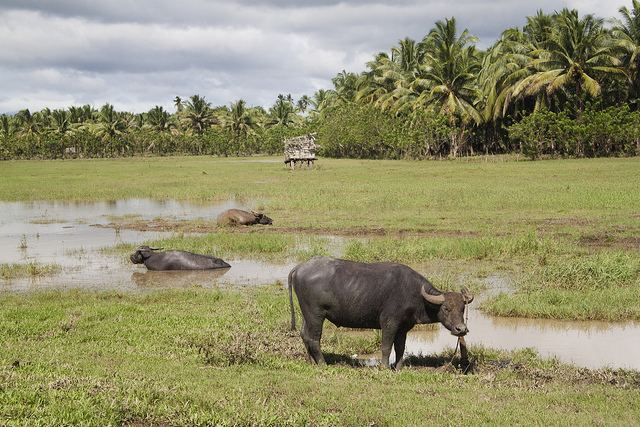 Located in the northeastern part of Mindanao, it is bounded on the north by Butuan Bay and Surigao del Norte; east by Surigao del Sur; west by Misamis Oriental; and south and southeast by Agusan del Sur. Agusan del Norte occupies a total land area of 2,730.24 square kilometres (1,054.15 sq mi). When Butuan City is included for geographical purposes, the provinces land area is 3,546.86 square kilometres (1,369.45 sq mi).
Economy
The economy of Agusan del Norte is dominantly agricultural, and it is one of the nations leading producers of rice.
Tourism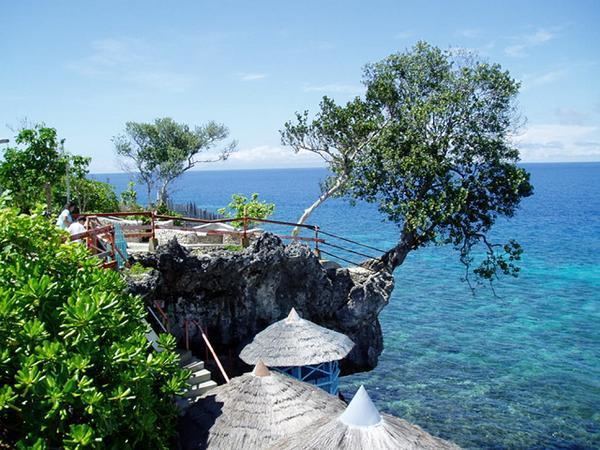 The province of Agusan del Norte has many beautiful beaches in Cabdbaran City and the towns of Carmen, Buenavista, and Nasipit. It also has Mount Hilong-Hilong in Cabadbaran, one of the tallest in Agusan del Norte.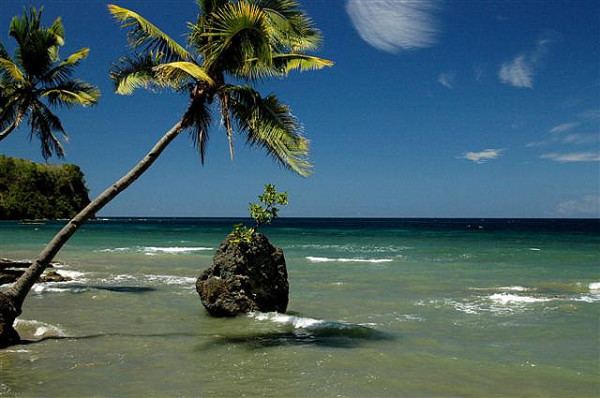 From the top of Prayer Mountain (Mount Pongkay), you can see the beautiful place of Cabadbaran like the buildings, churches, sea, rivers, etc. Also the Longest River in Mindanao and 3rd longest in the Philippines the Agusan River found in Butuan City, the Mount Mayapay Looming southwest of the Agusan Valley is this majestic mountain plateau, and also the Balangay boats that are ancient boats that were found in Butuan. They were excavated in the Balangay Shrine, across the Masao River from Bood Promontory. They played a major role in Butuan because Butuan was, and still is, a port city. Since its discovery, the Balangays have become an icon of Butuan. The Kaya ng Pinoy, Inc. recreated the Balangay boats and have sailed it as part of their project, the Balangay Voyage. So far they have only sailed around Southeast Asia. They are planning to sail around the world.
References
Agusan del Norte Wikipedia
(Text) CC BY-SA
(,)http://www.methodfinder.net/files/images/90map1a.gif(,)http://www.mapsofworld.com/philippines/maps/surigao-del-sur-map.jpg
(,)https://c2.staticflickr.com/6/5005/5351775435_0fe747aba9_z.jpg(,)http://maps.maphill.com/philippines/region-10/agusan-del-norte/3d-maps/physical-map/cropped-outside/physical-3d-map-of-agusan-del-norte-cropped-outside.jpg(,)http://philippinesedirectory.com/wp-content/uploads/2014/02/Punta-Diwata-Brgy.-Vinapor-Carmen-Agusan-Del-Norte-Butuan-City5.jpg(,)https://images-blogger-opensocial.googleusercontent.com/gadgets/proxy%3Furl%3Dhttp%253A%252F%252F3.bp.blogspot.com%252F-bo56Mq0C9JU%252FVRYDkcvQaPI%252FAAAAAAAAE_I%252FZ2sOEkp3Lpo%252Fs1600%252FIMG_2718.jpg%26container%3Dblogger%26gadget%3Da%26rewriteMime%3Dimage%252F*(,)http://imganuncios.mitula.net/248_hastitled_farm_lot_in_nasipit_agusan_del_norte_for_sale_6510079414717350504.jpg(,)https://c2.staticflickr.com/6/5247/5352322054_6009b960c8.jpg(,)https://www.pixoto.com/images-photography/landscapes/beaches/punta-diwata-carmen-agusan-del-norte-6030292544389120.jpg(,)https://www.pixoto.com/images-photography/landscapes/mountains-and-hills/punta-diwata-carmen-agusan-del-norte-4509890328395776.jpg(,)https://www.pixoto.com/images-photography/landscapes/beaches/punta-diwata-carmen-agusan-del-norte-4530334372724736.jpg(,)http://mw2.google.com/mw-panoramio/photos/medium/16467014.jpg(,)http://upload.wikimedia.org/wikipedia/commons/6/66/Goats_in_Batanes.png(,)http://farm3.static.flickr.com/2425/3656107317_7f7e56811a.jpg(,)http://www.retireinthephilippines.info/wp-content/uploads/2012/10/Agusan-del-Norte22.jpg(,)http://mw2.google.com/mw-panoramio/photos/medium/42188122.jpg(,)http://mw2.google.com/mw-panoramio/photos/medium/1545996.jpg(,)http://mw2.google.com/mw-panoramio/photos/medium/16393626.jpg(,)https://newcapp.files.wordpress.com/2014/07/mamanwa-manobo_hilong_agusanorte.jpg
(,)http://i1330.photobucket.com/albums/w575/Choose_Phils/Cebu%2520Food%2520Trip/ps2ilaputi_zps8c22753e.jpg(,)http://i1312.photobucket.com/albums/t539/Renzelle_Ann_Palma/food/9e66e0f502a18b35856958f14fdab5e8_zpsbd204071.jpg(,)http://chooseweb.s3.amazonaws.com/cache/ea/32/ea32ca6e996469b13d424defa26cf116.jpg(,)http://farm3.staticflickr.com/2812/12583608154_dbace78d4a_b.jpg(,)http://chooseweb.s3.amazonaws.com/cache/29/74/297418ca06d7e0556540168469962dff.jpg(,)http://staging.doonposaamin.ph/media/47141_IlocosNorte_Food_Empanada.jpg(,)http://www.tourism.gov.ph/Lists/Philippine%2520Sites/Attachments/70/Agusan%2520Del%2520Norte.JPG(,)http://www.marketmanila.com/wp-content/uploads/2012/05/177.jpg(,)http://www.inquirer.net/wp-content/uploads/2012/03/Agusan-del-Norte-guide.jpg(,)http://www.marketmanila.com/wp-content/uploads/2012/05/175.jpg(,)https://lh3.googleusercontent.com/-Z_p30eqis8A/U_26BurEStI/AAAAAAAADn0/MUaiAlE_f6g/w761-h505-no/davao%252Bfoodie%252B3.jpg(,)http://www.travelbook.ph/media/new_lib/phpThumb/phpThumb.php/x380%3B/images/articles/blogs/macky_calo/butuan_food/nilambiran_1.jpg(,)http://i16.photobucket.com/albums/b25/ialman/ialman2/20120807-2149167.jpg(,)http://harrybalais.com/wp-content/uploads/2013/02/featured_slider-Saramsam_Pasta-860x280.jpg
(,)http://chooseweb.s3.amazonaws.com/cache/bd/8f/bd8f7a0b116d7b7ff412fe7c892d9e27.jpg(,)http://1.bp.blogspot.com/-FspqFJRUXVI/U8naiQpq2SI/AAAAAAAAhSg/0Uhoka0HGa8/s1600/PHILIPPINE%2BFESTIVALS%2BFIESTAS%2BAND%2BLOCAL%2BCELEBRATIONS%2BIN%2BAUGUST%2B2014%2B-%2BKADAYAWAN%2BSA%2BDABAW.jpg(,)http://img.photobucket.com/albums/v218/corsarius_phil/ChoosePHL/Sinulog_2_2013.jpg(,)http://chooseweb.s3.amazonaws.com/cache/47/a9/47a967847115df6a3440845aefc23aa5.jpg(,)http://upload.wikimedia.org/wikipedia/commons/f/f1/Sinulog_Festival_-_Fluvial_Procession_(3298505319).jpg(,)http://rtradn.gov.ph/media/Gallery/Tawu2.jpg
(,)http://www.travelbook.ph/images/articles/blogs/macky_calo/festivals/manobo_dancing.jpg(,)http://www.mindanaotours.com/wp-content/uploads/Cabadbaran-Dagkot-Festival-Butuan.png(,)http://i.imgur.com/PlvmLcR.jpg(,)http://www.rmp-nmr.org/sites/default/files/self-determination.jpg(,)http://www.zamboanga.com/z/images/0/0d/Balangay-agusan-del-norte03.jpg(,)http://i.imgur.com/T6UhPW8.jpg(,)http://blogs.sunstar.com.ph/festivals/wp-content/uploads/2014/02/dagkot-festival-2014.jpg(,)http://4.bp.blogspot.com/-9ARAE5hnbUk/TyeGaWGg_-I/AAAAAAAAAHE/u9P87TAyr2Q/s1600/4b57b464bd26d.jpg
(,)http://upload.wikimedia.org/wikipedia/commons/4/41/Punta_Diwata_Cave.jpg(,)http://www.wayph.com/wp-content/uploads/2012/07/3238158663_c6459f93cd_z-600x398.jpg(,)http://callezaragosa.com/gerryruizphotoblog/wp-content/uploads/2010/09/70811DOTCaravanW-3326.jpg(,)http://callezaragosa.com/gerryruizphotoblog/wp-content/uploads/2010/09/70811DOTCaravanW-3260.jpg(,)http://www.retireinthephilippines.info/wp-content/uploads/2012/10/Agusan-del-Sur-Marsh.jpg(,)http://2.bp.blogspot.com/-epT-G6xZboQ/T1M9KvlmvzI/AAAAAAAAGNk/Qfv7qJg4b6k/s1600/01.jpg(,)http://www.wayph.com/wp-content/uploads/2011/06/Britania.jpg(,)http://gerryruiz.callezaragosa.com/img/s4/v10/p175307106-3.jpg(,)http://www.skyinet.net/~ppdoadn/hotspring4.jpg(,)http://hnricbtn.tripod.com/mainit.jpg(,)http://s1.hubimg.com/u/6422962_f496.jpg