Similar

Potato, Haggis, Ground beef, Cranachan, Cullen skink
Mince and tatties is a popular Scottish dish, consisting of minced beef and mashed potato. It sometimes contains other vegetables or thickening agents. It has had a longtime connection to school dinners, while other chefs have attempted to modernise the dish.
Contents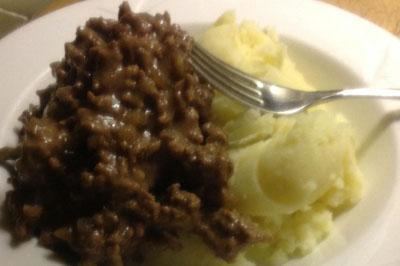 Scottish cooking 101 mince and tatties
Preparation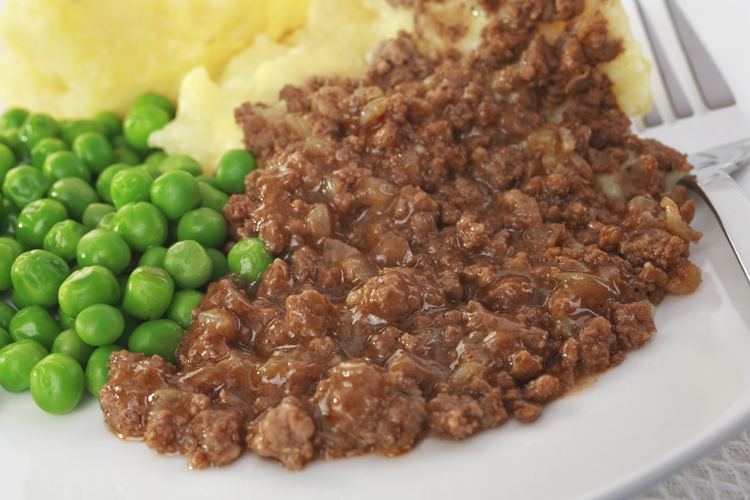 There is no set recipe or form of cooking and large variations can occur from cook to cook. Essentially the dish consists of varying amounts of minced beef, onions, carrots or other root vegetables, seasoning and stock. Some cooks add thickening agents such as flour, oatmeal or cornflour.
History
Despite concerns that British people are no longer eating traditional dishes, mince and tatties remains popular in Scotland. A survey by the Scottish Express in 2009 found that it was the most popular Scottish dish, with a third of respondents saying that they eat mince tatties once a week. This placed it above other dishes such as smoked salmon, haggis, Scotch pies and Scotch broth. An annual competition is held in Tobermory on the Isle of Mull, to determine the best mince and tatties.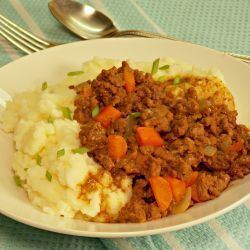 In 2006, the European Union introduced new rules on meat processing which was reported by The Daily Mail as meaning the end of mince and tatties because of the limitations on resting meat for mincing. This resulted in Scottish National Party leader and First Minister of Scotland Alex Salmond announcing "They can take our lives but they will never take our freedom to make mince and tatties. I am confident that, if some European commissioners were allowed to taste delicious mince and tatties, we would see off the threat to this dish. But we will fight them on the beaches and we will fight them in the butcher's shops to make sure we never have to surrender our mince and tatties."
Mince and tatties is well known for being used historically in school canteens, where the quality of the ingredients and the ability to feed a large number of children made it popular. However, this usage has meant that it is often looked down on. In recent years, there have been attempts by some to modernise the dish, which resulted in it appearing on Time Out magazine's list of the top 100 dishes available in London in 2012. The version from the Dean Street Townhouse restaurant placed on the best of British section of the list.
References
Mince and tatties Wikipedia
(Text) CC BY-SA