Course

Dessert




Place of origin

Scotland






Main ingredients

Whipped cream, whisky, honey (preferably heather honey), raspberries, oatmeal




Similar

Dessert, Honey, Cullen skink, Haggis, Cock‑a‑leekie soup
Cranachan (Scottish Gaelic: Crannachan [ˈkʰɾan̪ˠəxan]) is a traditional Scottish dessert. In modern times it is usually made from a mixture of whipped cream, whisky, honey and fresh raspberries, with toasted oatmeal soaked overnight in a little bit of whisky. Earlier recipes used crowdie cheese rather than (or as well as) cream and were sometimes called cream-crowdie. Other earlier recipes are more austere, omitting the whisky and treating the fruit as an optional extra.
Contents
A traditional way to serve cranachan is to bring dishes of each ingredient to the table so that each person can assemble their dessert to taste. Tall dessert glasses are often used to serve.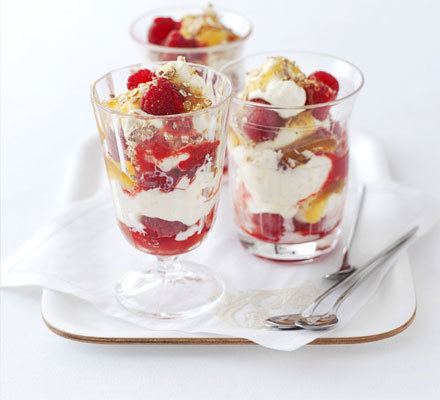 It was originally (i.e. before the days of refrigeration) a summer dish and often consumed around harvest time (the Scottish raspberry harvest is in June) but is now more likely to be served all year round or on special occasions.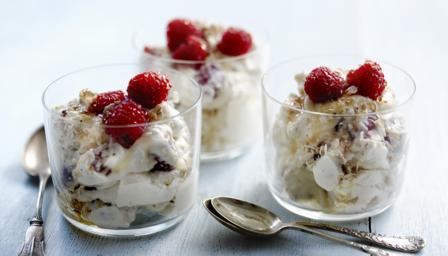 Recipe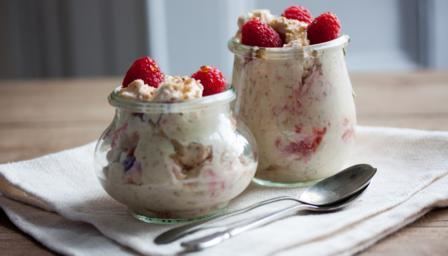 One traditional recipe for cranachan is 3 ounces (85 g) pinhead oatmeal, 1⁄2 imperial pint (280 ml) double (or whipping) cream, and 2 tablespoons (35 ml) of whisky. The oatmeal should be toasted in a pan over a high heat then dust should be sifted out. The oatmeal is soaked in whisky overnight and then added to the whipped cream, with a little more whisky added to the mixture. Some raspberries are placed in the bottom of the serving glass before adding the cream mixture. An option is to break up some of the raspberries and gently blend into the mixture. The volume of whisky used may be adjusted to personal taste.
The basic recipe on the BBC site uses all the raspberries whole; most recipes have you purée half of them to make the fruit layer. While the BBC's Good Food section's recipe does specify heather honey, which some call for "runny honey".
References
Cranachan Wikipedia
(Text) CC BY-SA