Name

Mette-Marit, Princess




Issue

Marius Borg HoibyPrincess Ingrid AlexandraPrince Sverre Magnus

Spouse

Haakon

, Crown Prince of Norway (m. 2001)

Parents

Marit Tjessem, Sven O. Hoiby

Siblings

Per Hoiby, Kristin Hoiby Bjornoy, Trond Bernsten

Similar People

Haakon - Crown Prince of, Princess Ingrid Alexandr, Queen Sonja of Norway, Victoria - Crown Princess,

Prince Sverre Magnus

o




Profiles



Mette-Marit, Crown Princess of Norway (born Mette-Marit Tjessem Høiby on 19 August 1973) is the wife of Crown Prince Haakon, heir apparent to the throne of Norway.
Contents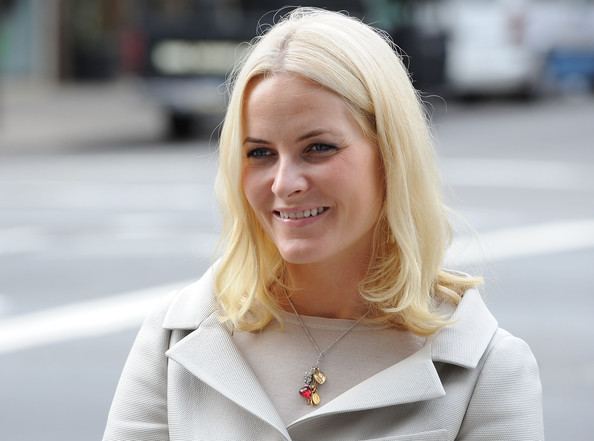 A Norwegian commoner and single mother with a disadvantaged past, she was a controversial figure at the time of her engagement to Haakon in 2000. She became crown princess of Norway upon her marriage in 2001. In this role, she has championed humanitarian projects and arts, as well as taking part in official visits at home and abroad.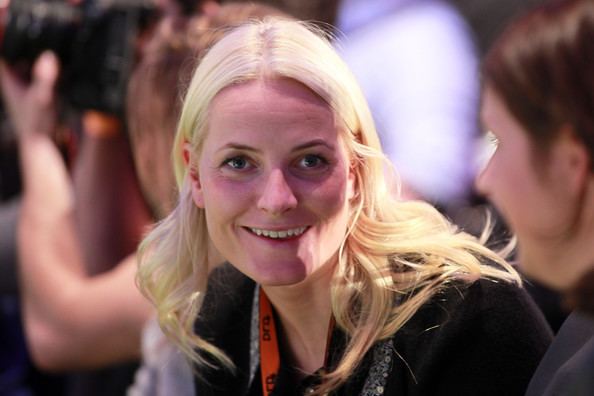 Trh crown prince haakon and crown princess mette marit of norway 2013
Background and education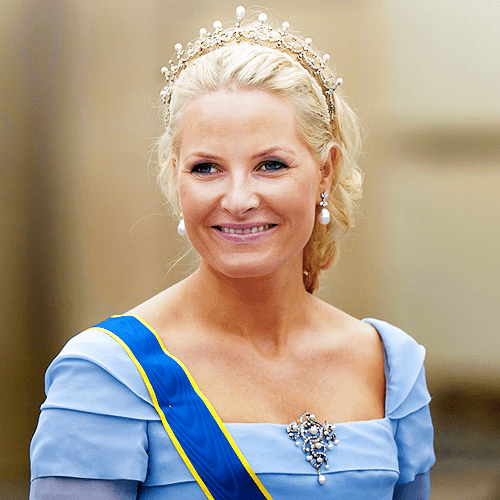 Mette-Marit Tjessem Høiby was born in Kristiansand in the southern part of Norway, the daughter of Sven O. Høiby, who worked as a journalist for a local paper, and Marit Tjessem. Her parents divorced, and her father would later marry Renate Barsgård. She has a sister and two older brothers, including Per Hoiby, chief executive of the PR agency First House. Her stepbrother, Trond Berntsen – by her mother's 1994 marriage to Rolf Berntsen – died in the 2011 Norway attacks. Mette-Marit grew up in Kristiansand, spending many weekends and holidays in the nearby valley of Setesdal and on the coast, where she learned to sail. During her youth, she was active in the local Slettheia youth club, where she was also an activity leader. As a teenager, she played volleyball, qualifying as a referee and coach.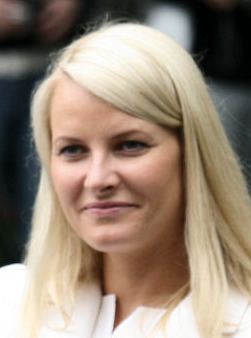 After starting at Oddernes upper secondary school in Kristiansand, Mette-Marit spent six months at Wangaratta High School located in North East Victoria in Australia, as an exchange student with the exchange organisation, Youth For Understanding. Later, she attended Kristiansand katedralskole, where she passed her final examinations in 1994.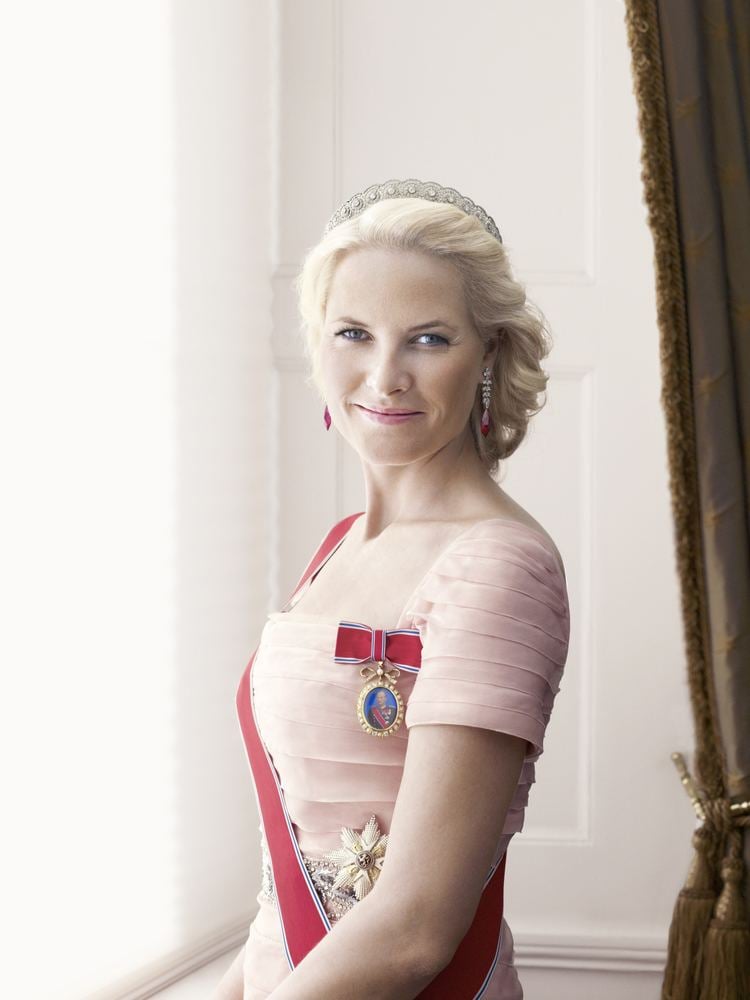 After a break from her studies, she spent several months working for the Norwegian-British Chamber of Commerce at Norway House in Cockspur Street, London, where she stayed in the same flat The King and Queen of Norway lived in during their period of exile during World War Two. When her assignment in London ended, Mette-Marit returned to Norway to attend Bjørknes Private School and then took the examen philosophicum (the preliminary university examination) at Agder University College.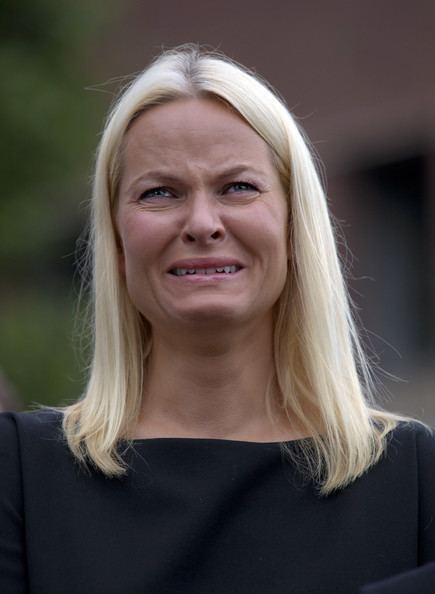 By her own admission, Mette-Marit experienced a rebellious phase before she met Crown Prince Haakon Magnus. As a part-time student, she took longer than usual to complete her high school education before going on to take preparatory university courses at Agder. She then worked on and off at the restaurant Cafè Engebret in Oslo.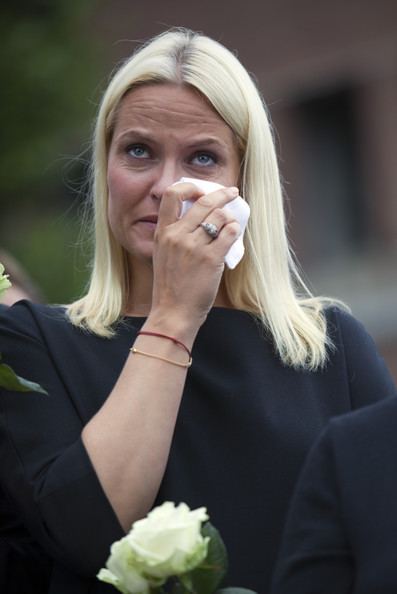 In the late 1990s, Mette-Marit attended the Quart Festival, Norway's largest music festival, in her hometown of Kristiansand. She met Crown Prince Haakon at a garden party during the Quart Festival season. Years later, after becoming a single mother she met the prince again at another party related to the festival.
Since becoming Crown Princess, Mette-Marit has taken several university level courses. In 2012, she obtained a master's degree in Executive Management. In an analysis of Mette-Marit's ancestry, it was revealed that several of her ancestors (as well as some living relations) were farmers and she is distantly related (prior to the 15th century) to some Norwegian and Swedish nobility.
Engagement and marriage
When the engagement between Crown Prince Haakon and Mette-Marit was announced, some Norwegians felt that the Crown Prince's choice of partner was questionable because of her previous socialization in a milieu "where drugs were readily available". At the time of their engagement, Mette-Marit was a single mother to a son named Marius Borg Høiby, born 13 January 1997. Her son caused a possible security risk in 2012 to the royal family due to posting photos of the family's whereabouts on the internet. Mette-Marit is reported to be a social media user and it has been rumoured that the royal family may not follow the instruction to refrain from revealing personal information on social media.
Her first official appearance as the intended bride of the Crown Prince was at the Nobel Peace Prize ceremony at Oslo City Hall on 10 December 2000, following the announcement of the couple's engagement on 1 December. At the press conference, Haakon said that he and Mette-Marit had been together for about one year. Haakon gave Mette-Marit the same engagement ring that his grandfather King Olav V and his father King Harald V had given to their fiancées.
The couple married on 25 August 2001 at the Oslo Cathedral. Upon her marriage, she acquired the title, Her Royal Highness The Crown Princess of Norway. They now live at Skaugum estate, outside Oslo.
The couple has two children together: Princess Ingrid Alexandra, born 21 January 2004 and Prince Sverre Magnus, born 3 December 2005.
Public life and further education
In October 2005, Crown Princess Mette-Marit accompanied Crown Prince Haakon, King Harald and Queen Sonja on an official visit to the United Kingdom to mark the centenary of Norway's independence.
During 2002 and 2003, the Crown Princess undertook development studies at the School of Oriental and African Studies at the University of London, apparently without graduating. She was also accepted as an intern at NORAD, the Norwegian government's development organization. Mette-Marit is attending lectures at the faculties of arts and social sciences at the University of Oslo.
The Crown Princess is a UNAIDS Special Representative and visited Geneva to learn more about the organization and Malawi because of this post. In 2007, the Crown Princess extended her commitment as a UNAIDS Special Representative for another two years. The Crown Princess and her husband attended the International AIDS Conference in Toronto in August 2006 as part of this role, serving as Jury member to the UNAIDS family-led Red Ribbon Award.
Along with UNAIDS, the Crown Princess is president of various other organisations. They are The Norwegian Scouting Association, the Amandus Film Festival, Kristiansand's International Children's Film Festival, Risor Festival of Chamber Music, FOKUS Forum for Women and Development Questions, Norwegian Design Council, Red Cross Norway, The Norwegian Council for Mental Health, the Full Rigged Ship Sorlandet, and the Oslo International Church Music Festival.
In December 2008, she received the Annual Petter Dass award, which recognises a person that helps to unite people and God. Mette-Marit released the CD Sorgen og gleden with religious psalms: the Crown Princess wrote in the booklet "psalms are a link between me and God, between me and life".
If her husband ascends the throne, Mette-Marit will become the third Norwegian queen consort to have been born as a commoner. The first was Désirée Clary, the consort of Charles III John. The second is her mother-in-law, the current Queen Sonja, the daughter of clothing merchant Karl August Haraldsen and Dagny Haraldsen née Ulrichsen.
Titles
Since her marriage, Mette-Marit has been known as "Her Royal Highness The Crown Princess of Norway".
National honours
Norway: Knight Grand Cross with Collar of the Order of Saint Olav
Norway: Dame of the Royal Family Decoration of King Harald V
Norway: Recipient of the Medal of the 100th Anniversary of the Birth of King Olav V
Norway: Recipient of the Royal House Centenary Medal
Norway: Recipient of the King Harald V Silver Jubilee Medal
Foreign honours
Austria: Grand Cross of the Order of Honour for Services to the Republic of Austria
Brazil: Grand Cross of the Order of the Southern Cross
Bulgaria: Grand Cross of the Order of the Balkan Mountains
Denmark: Knight Grand Cross of the Order of the Elephant
Estonia: Grand Cross of the Order of the Cross of Terra Mariana
Estonia: Grand Cross of the Order of the White Star
Finland: Grand Cross of the Order of the White Rose
Germany: Grand Cross of the Order of Merit of the Federal Republic of Germany, Special Issue
Iceland: Grand Cross of the Order of the Falcon
Italy: Grand Cross of the Order of Merit of the Italian Republic
Japan: Paulownia Dame Grand Cordon of the Order of the Precious Crown
Latvia: Grand Cross of the Order of Recognition
Lithuania: Grand Cross of the Order of Vytautas the Great
Luxembourg: Dame Grand Cross of the Order of Adolphe of Nassau
Netherlands: Dame Grand Cross of the Order of Orange-Nassau
Netherlands: Recipient of the King Willem-Alexander Inauguration Medal
Poland: Grand Cross of the Order of Merit of the Republic of Poland
Portugal: Grand Cross of the Order of Infante Henry
Spain: Dame Grand Cross of the Order of Isabella the Catholic
Sweden: Member Grand Cross of the Royal Order of the Polar Star
References
Mette-Marit, Crown Princess of Norway Wikipedia
(Text) CC BY-SA