Peoples Republic of China




617,674 (2000)




Jilin


2,174.6 km2

Meihekou (Chinese: ; pinyin: ; literally: "Plum River Mouth") is a city of 600,000 in southwestern Jilin province, Peoples Republic of China. It is a regional transport hub, connecting three railway lines, all of which are single track, and 2 national highways. The city is also a major lorry transshipment point in the region as it is also the junction of two trunk roads, connected to Liaoyuan in the northwest. The city is administratively a county-level city of Tonghua City.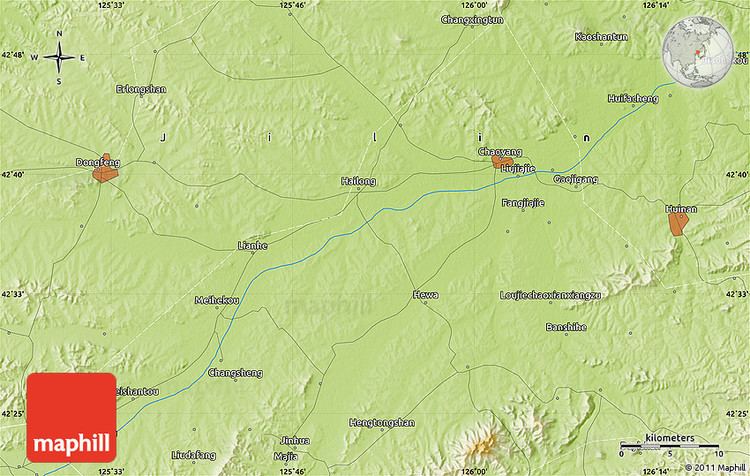 Meihekou is located in southwestern Jilin province at latitudes 42° 08 to 43° 02 N and longitudes 125° 15 to 126° 03 E, stretching 97 kilometres (60 mi) north?south and 35 kilometres (22 mi) west?east. It is situated in the western foothills of the Changbai Mountains and on the upper reaches of the Huifa River (). Bordering county-level divisions are Huinan County to the east, Liuhe County to the south and southeast, Qingyuan Manchu Autonomous County (Liaoning province) to the southwest, Dongfeng County to the west and northwest.
Meihekou Wikipedia
(,)http://maps.maphill.com/atlas/42n35-125e50/maps/physical-map/physical-map-of-42n35-125e50.jpg(,)https://folkestonejack.files.wordpress.com/2009/12/the-morning-passenger-on-the-meihekou-coal-railway.jpg(,)http://maps.maphill.com/atlas/42n35-125e50/maps/shaded-relief-map/shaded-relief-map-of-42n35-125e50.jpg(,)http://maps.maphill.com/atlas/42n35-125e50/panoramic-maps/shaded-relief-map/shaded-relief-panoramic-map-of-42n35-125e50.jpg(,)http://www.chinesemodeltrains.com/Images/nectrip053.JPG(,)http://www.chinatouradvisors.com/members/4209/%25E5%2590%2589%25E6%259E%2597%25E7%25A3%25A8%25E7%259B%2598%25E6%25B9%25962.jpg(,)http://i.ytimg.com/vi/ADH-AjqzifA/0.jpg(,)http://i1.ytimg.com/vi/OKWEjlnTkk0/0.jpg(,)http://i.ytimg.com/vi/kolId8Mb3O4/0.jpg(,)http://i1.ytimg.com/vi/ZmfREbmQ2Uk/0.jpg(,)http://i.ytimg.com/vi/LEZ3CzlHCn0/0.jpg
(,)http://media-cdn.tripadvisor.com/media/photo-s/01/bc/a3/0c/meihekou-hotel-thumbnail.jpg(,)http://media-cdn.tripadvisor.com/media/daodao/photo-s/02/89/2d/b7/2012-04-29-14-11-27-710.jpg(,)http://media-cdn.tripadvisor.com/media/photo-s/03/d0/30/eb/mopan-lake.jpg(,)http://media-cdn.tripadvisor.com/media/photo-s/03/d6/49/0f/meihekou-baixin-hotel.jpg(,)http://images.travelpod.com/tw_slides/ta00/a90/2a6/toilet-meihekou.jpg(,)http://images.travelpod.com/tw_slides/ta00/a90/2a6/the-massive-gate-meihekou.jpg(,)https://savingbesttillast.files.wordpress.com/2012/08/img_2550.jpg(,)http://i.ytimg.com/vi/lyPDfa9xu6Q/0.jpg(,)http://i.ytimg.com/vi/-iiBmBAFR0Y/0.jpg