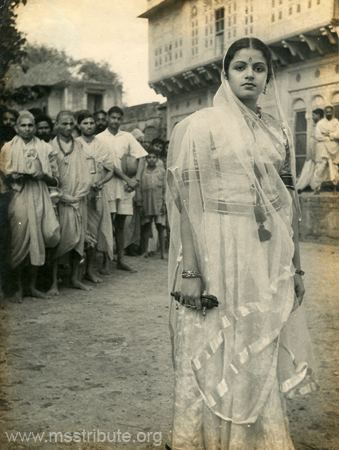 Around 1580 AD during the reign of Emperor Akbar, young Meera (Radha Viswanathan), influenced by the story of Andal and Krishna, is deeply in love with Krishna, so much so that she considers Krishna to be her husband after she garlands him on an auspicious day as advised by her mother. As Meera grows into a young woman (M. S. Subbulakshmi), her devotion to Krishna grows.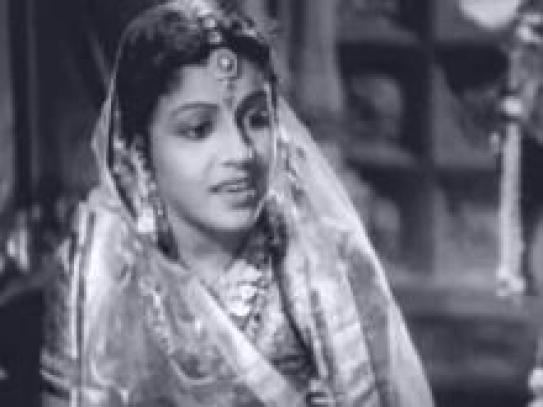 Much against her wishes, Meera is married to Rana (Chittor V. Nagaiah), the king of Mewar. But even after marriage, her love for Krishna remains unchanged. She follows her own ideals and way of living which are not acceptable to Rana and his family, especially his brother Vikraman (T. S. Balaiah) and sister Udra Devi. Meera requests Rana to construct a temple for Krishna in Chittor, the capital of Mewar. Out of love for her, Rana agrees and constructs a temple. An overjoyed Meera remains in the temple most of the time, singing in praise of Krishna along with other devotees and avoids staying at the palace.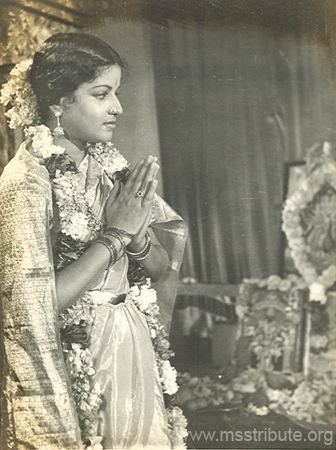 On Vijayadasami day, Rana expects Meera to be with him at the royal assembly, when other kings come to offer their respects. But on her way to the assembly, Meera hears Krishna's flute playing, returns to the temple and remains there. The king gets angry when he realises that Meera has gone back to the temple again, thus ignoring her duties as a wife. To get rid of Meera, Vikraman gives a poisoned drink through Udra, but Meera is saved by Krishna and the poison does not affect her. Instead, Krishna's idol at the Dwarakadheesh Temple (the origin of Krishna) becomes deep blue (the poison effect), the temple doors close spontaneously, and remain closed.
At Delhi, Akbar learns about Meera's singing and devotion to Krishna. He sends her a pearl necklace as a gift, which Meera puts on Krishna's idol. Rana gets angry when he comes to know of these developments and her disinterest to fulfil her duties as a wife and queen; he orders the demolition of the temple using cannons so that she will come out. Vikraman goes to the temple and orders Meera and the other devotees to come out before the demolition begins. However, Meera refuses, stays back in the temple and continues her bhajans.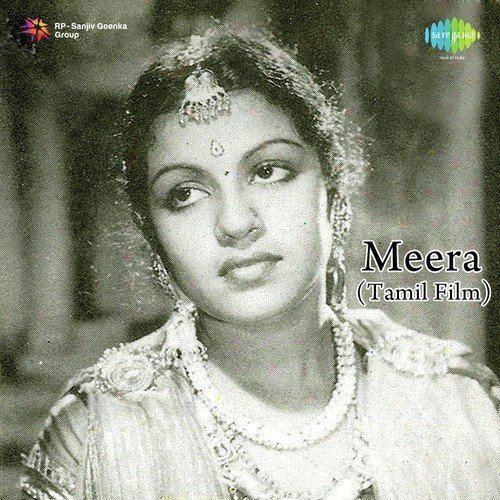 Meanwhile, Rana comes to know from his sister Udra about Vikraman's failed attempt to kill Meera by poison. Shocked when he realises Meera's real identity (she is one with Krishna), he rushes to meet her in the temple which is about to be demolished. When a cannon is fired, Rana stops it and gets injured. When Meera hears Krishna calling her, she admits to Rana that she has failed in her duties as a wife. She explains that her heart is with Krishna and seeks Rana's permission to leave palace life and her desire to visit Krishna's temple at Dwaraka. Rana realises her devotion and allows her to go. Once Meera leaves, the Mewar kingdom suffers serious drought and the subjects plead with Rana to bring Meera back, so Rana goes in search of her. Meera first goes to Brindavanam and meets the sage (Serukalathur Sama) who originally predicted about her devotion. Together, they leave for Dwaraka, the birthplace of Krishna; on reaching the temple, she starts singing in praise of Krishna. Rana, who has followed her, also reaches the temple. The doors of the temple, which were closed till then, open. Krishna appears and invites Meera inside. Meera runs towards Krishna and falls dead while her soul merges with Him. Rana comes rushing in only to find Meera's corpse. Meera's devotion to Krishna is finally rewarded and she is united with Him.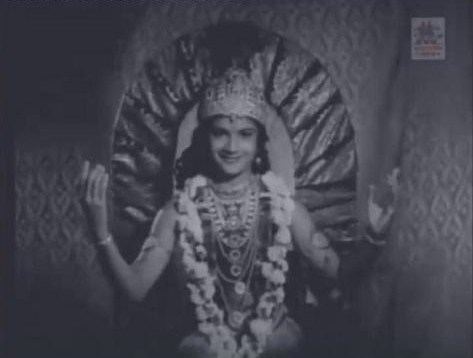 T. S. Balaiah as Vikraman
Kumari Kamala as Lord Krishna
Chittor V. Nagaiah as Rana, the King of Mewar
M. S. Subbulakshmi as Meera
Radha as young Meera
M. G. Ramachandran as Captain Jayamal
Serukalathur Sama
1)Gopalanae bala Gopalanae - Radha Sadasivam and chorus
2)Shyamala Varnanae Mayavanae - Radha Sadasivam
3)Nandalala enmanaala ingae varaai - Radha Sadasivam
4)Murali Mohana - M.S.Subbulakshmi
5)Kaatrinilayae Varum Geetham - M.S.Subbulakshmi
6)Enadhu Ullamae - M.S.Subbulakshmi
7)Vinnum Mannum Alandha - M.S.Subbulakshmi, Chittor V.Nagaiah
8)Giridhara Gopala - M.S.Subbulakshmi
9)Kannan Leelaigal Seivaanae - M.S.Subbulakshmi and chorus
10)Yadhu nandhala Gopala - M.S.Subbulakshmi and chorus
11)Hey Harey Dayala - M.S.Subbulakshmi
12)Maravaene Ennalilumae - M.S.Subbulakshmi
13)Saracharam unnai yaavum - M.S.Subulakshmi
14)Unnaiyae Enadhuyir Thunai - M.S.Subbulakshmi
15)Aranga Un Mahimaiyai - M.S.Subbulakshmi and chorus
16)Maraindha Koondil irundhu - M.S.Subbulakshmi
17)Udal Uruga Ullam Uruga - M.S.Subbulakshmi
18)Brindhavanathil Kannan Valarndha - M.S.Subbulakshmi and chorus
19)Engum Niraindhaye - M.S.Subbulakshmi
20)Ma Madurai Bala - M.S.Subbulakshmi and chorus
21)Janaardhana Jaganaadha - M.S.Subbulakshmi
T. Sadasivam dreamt of taking M. S. Subbulakshmi's music even to the common man so he started looking for a good story. He had several discussions with intellectual friends like Kalki, and was of the opinion that if Subbulakshmi was to act in a film, it could not be a mass entertainer, but would need to carry a universal and uplifting message for the masses. After much deliberation, Subbulakshmi herself chose the story of Meera.
Meera was launched in 1943, and while Subbulakshmi was cast as the titular character, her stepdaughter Radha Viswanathan was recruited to play the younger Meera. To prepare for the part of Meera, Subbulakshmi stated that she would go to all the places where Meera had wandered in search of the elusive Krishna, and would worship at all the holy temples that Meera worshipped at. Kannada singer-actor Honnappa Bhagavathar was the first choice to play Meera's husband King Rana which he accepted, but was later replaced by Chittor V. Nagaiah, much to Bhagavathar's annoyance. Nagaiah was the own choice of the film's director Ellis R. Dungan. An undisclosed person suggested P. U. Chinnappa, but Dungan rejected him as he felt the actor was "uncouth and did not have the regal presence" needed for the role. According to Dungan, Nagaiah "proved the right choice for a Rajput king".
N. S. Krishnan and T. A. Madhuram were supposed to have acted in Meera. However, Krishnan was arrested in December 1944 as a suspect in the Lakshmikantham murder case, precluding him from acting in the film. Others added to the cast were T. S. Durairaj, K. R. Chellam, K. Sarangapani, T. S. Balaiah, Serukalathur Sama, T. S. Durairaj, "Appa" K. Duraiswami, and M. G. Ramachandran in a minor role. Kumari Kamala was chosen to act as Krishna, an irony as the character is male while Kamala is female. She also appeared as Krishna in some "cut-away shots" in the scene of the song "Kaatriniley Varum Geetham" that was choreographed by Ramaiah Pillai.
"Meera" was released on Diwali Day in 1945. Two years later, the Hindi-dubbed version (which had some scenes on Subbulakshmi reshot) came out in 1947, and with it Subbulakshmi became a national celebrity. The film had an on-screen introduction by the noted politician and poet, Sarojini Naidu, who described MS as "The Nightingale of India". The film was seen by Pandit Jawaharlal Nehru, the Mountbattens and other leaders who became her ardent fans and friends. She went on to conquer new areas around the world and became an international celebrity. The film was screened at various film festivals such as Prague Film Festival, Venice Film Festival and Toronto International Film Festival.
The Free Press Journal said, "Meera transports us into a different world of bhakti, piety and melody. It shatters the misguided belief that film music is inferior. Subbulakshmi follows no stereotyped techniques in acting. She is just Meera." IBN Live included the film in its list of 100 greatest Indian films of all time.