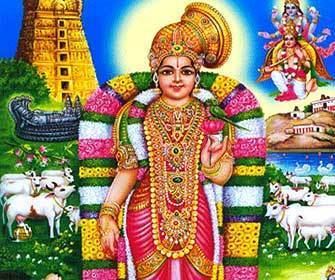 Periazhwar (originally called Vishnuchittar) was an ardent devotee of Lord Vishnu and he used to string garland to Vishnu every day. He was childless and he prayed to Vishnu to save him from the longing. One day, he found a girl child under a Tulasi plant in a garden inside the temple. The child was godess lakshmi itself incarnated to test the devotion of alvars.He and his wife named the child as Kothai, who grew up as a devotee of Lord Krishna, an avatar of Vishnu. She is believed to have worn the garland before dedicating it to the presiding deity of the temple. Periazhwar, who later found it, was highly upset and remonstrated her. Vishnu appeared in his dream and asked him to dedicate only the garland worn by Andal to him. The girl Kothai was thus named Andal and was referred as Chudikodutha Sudarkodi (lady who gave her garland to Vishnu). The practise is followed during modern times when the garland of Andal from Srivilliputhur Andal Temple is sent to Azhagar Koyil on Garudostavam during the Tamil month of Purattaasi (September - October) and Tirumala Venkateswara Temple during Chitra Pournami.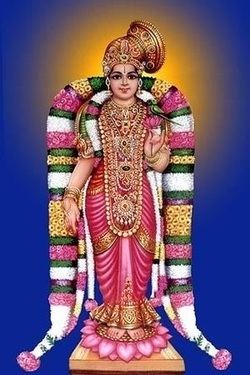 Kodhai was brought up by Vishnuchitta (Periyalvar) in an atmosphere of love and devotion. As Kodhai grew into a beautiful maiden, her fervor for the Lord Vishnu grew to the extent that she decided to marry only the Lord Himself. As time passed, her resolve strengthened and she thought constantly about marrying Ranganathar of Srirangam (the reclining form of Vishnu).
In North India, Radha Rani is celebrated as the "Queen of Bhakti (devotion)." Similarly, in Tamil Nadu Andal is remembered for her pure love and devotion. In the Thiruppavai, Andal, as a Gopi in Ayarpadi (Brindavan), emphasizes that the ultimate goal of life is to seek surrender and refuge at the Lord's feet.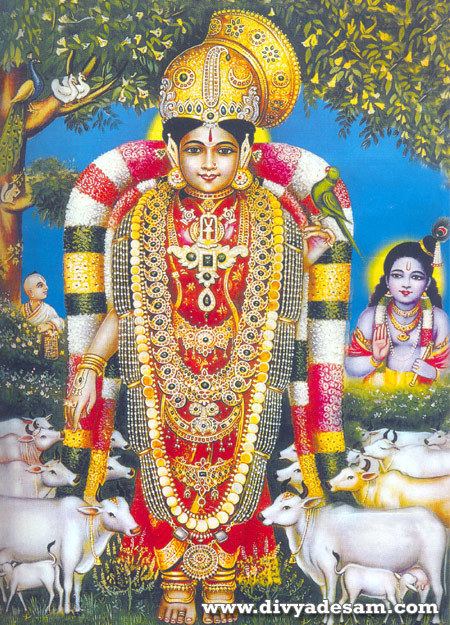 It is also believed that Ranganatha of Srirangam Ranganathaswamy temple married Andal, who later merged with the idol. Since Andal married Ranganatha, who came as a king (called Raja), the presiding deity is called Rangamannar.
For Tirupathi Venkateswara temple Brahmotsavam festival, Garland worn by Andal in Srivilliputhur temple (Tamil Nadu) is sent all along to Tirupathi in Andhra Pradesh one day before the Brahmotsavam.These traditional garlands are made of tulasi, sevanthi and sampangi flowers.These garlands are used on prestigious Garuda seva day of Tirupathi Venkateswara in which the lord appear as Maha Vishnu.
Every year Tirupathi Venkateswara's garland is sent to Srivilliputtur Andal for marriage festival of Andal Thayar.
Andal garland is being sent to Madurai Kallazhagar for Chithirai Festival day.
Andal's hairstyle and ornamentation are unique to south India.
Srivillipuththur Andal's handcrafted parrot which was made with green leaves are made each and every day freshly.This parrot is kept in the left hand of Andal. It takes approximately four and half hours to make this parrot. A pomegranate flower for beak and mouth, Bamboo sticks for legs, banana plant, petals of pink oleander and nandiyavattai..are used to prepare this parrot.
During his visit to the Srivillipuththur Andal temple the then president of India R. Venkataraman also was attracted towards this parrot.
Andal is one of the best-loved poet-saints of the Tamils. Pious tradition holds her to be the incarnation of Bhūmi Devi (Sri Lakshmi as Mother Earth) to show humanity the way to Lord Vishnu's lotus feet. Representations of her next to Vishnu are present in all Srivaishnava temples. During the month of Margazhi, discourses on the Thiruppavai in Tamil, Telugu, Kannada, and Hindi take place all over India. The Andal Temple at Srivilliputhur consists of twin temples, one of which is dedicated to Andal. Most South Indian Vishnu temples have a separate shrine for Andal. There are a number of festivals dedicated to Andal, among the most notable being the Pavai Nonbu in the Tamil month of Margazhi (December – January), Andal Thirukalyanam in Panguni, Pagalpathu, Rapathu, Adi Thiruvizha, when Andal is depicted seated in the lap of Ranganathar. Andal is known for her unwavering devotion to god Vishnu, the God of the Srivaishnavas. Adopted by her father, Periyalvar, Andal avoided earthly marriage, the normal and expected path for women of her culture, to marry Vishnu, both spiritually and physically. In many places in India, particularly in Tamil Nadu, Andal is treated more than a saint and as a form of god herself and a shrine for Andal is dedicated in most Vishnu temples.
Thousands of people from the state participate in the "Aadi Pooram" festival celebrated in the Andal Temple. After early morning special pujas, the presiding deities, Sri Rengamannar and Goddess Andal are taken in decorated palanquins to the car. The festival marks the adoption of presiding deity, Andal, by Periyazhwar after he found her near a Tulsi plant in the garden of Vadabadrasai Temple at Srivilliputhur on the eighth day of the Tamil month of Adi.
In poetry, 9th-century Andal became a well known Bhakti movement poetess, states Pintchman, and historical records suggest that by 12th-century she was a major inspiration to Hindu women in south India and elsewhere. Andal continues to inspire hundreds of classical dancers in modern times choreographing and dancing Andal's songs. Andal is also called Goda, and her contributions to the arts have created Goda Mandali (circle of Andal) in the Vaishnava tradition.
Goda Mandali (circle) which was named after Andal was formed in 1970 and reorganized in 1982 spreads Andal songs widely through TV and radio programs
Andal composed two literary works, both of which are in Tamil verse form and express literary, philosophical, religious, and aesthetic content.
Her first work is the Thiruppavai, a collection of 30 verses in which Andal imagines herself to be a Gopi, one of the cowherd girls known for their unconditional devotion to Lord Krishna. In these verses, she describes her yearning to serve Lord Vishnu and achieve happiness not just in this lifetime, but for all eternity. She also describes the religious vows (pavai) that she and her fellow cowherd girls will observe for this purpose. It is said that Thiruppavai is the nectar of Vedas and teaches philosophical values, moral values, ethical values, pure love, devotion, dedication, single-minded aim, virtues, and the ultimate goal of life.
The second work by Andal is the Nachiar Tirumozhi, a poem of 143 verses. "Thirumozhi" literally means "Sacred Sayings" in a Tamil poetic style and "Nachiar" means Goddess. Therefore, the title means "Sacred Sayings of the Goddess." This poem fully reveals Andal's intense longing for Vishnu, the Divine Beloved. Utilizing classical Tamil poetic conventions and interspersing stories from the Vedas and Puranas, Andal creates imagery that is possibly unparalleled in the whole gamut of Indian religious literature. However, conservative Srivaishnavite institutions do not encourage the propagation of Nachiar Tirumozhi as much as they encourage Thiruppavai because Nachiar Tirumozhi belongs to an erotic genre of spirituality that is similar to Jayadeva's Gita Govinda.
Some of Andal's verses express love for Lord Vishnu, written with bold sensuality and startlingly savage longing, hunger and inquiry, that even today many of her most erotic poems are rarely rendered publicly. In one such verse Andal dispenses with metaphor and imagines that she herself in lying in the arms of Krishna, and making love to him
Andal whilst admiring herself wearing the garland which was meant for the deity,
In one of her poems, Andal says that her voluptuous breasts will swell for the lord alone, and scorns the idea of making love to mortal beings, comparing that with the sacrificial offering made by Brahmins being violated by jackals in the forest, and in another verse she dedicates her swelling breasts to the Lord who carries a conch.
Krishnadevaraya of the Vijayanagar Dynasty composed the epic poem Amuktamalyada in Telugu, which is considered as a masterpiece. Amuktamalyada translates to one who wears and gives away garlands, and describes the story of Andal or Goda Devi, the daughter of Periyalvar.
Amuktamalyada describes pain of separation (viraha) experienced by Andal, who is described as the incarnate of Lakshmi the consort of Vishnu. Further the poem describes Andal's beauty in 30 verses written in the keśādi-pādam style, starting from her hair, going down her body till her feet.