Years active

1970s–present




Spouse

Randle Mell (m. 1984)




Height

1.69 m





Role

Film Actress


Name

Mary McDonnell









Full Name

Mary Eileen McDonnell




Born

April 28, 1952 (age 71) (

1952-04-28

) Wilkes-Barre, Pennsylvania, United States


Nominations

Academy Award for Best Actress


Movies and TV shows

Major Crimes, Battlestar Galactica, Dances with Wolves, The Closer, Independence Day


Similar People

Randle Mell, Anthony Denison, Graham Patrick Martin, GW Bailey, Edward James Olmos


Profiles




Twitter

Facebook




Children

Olivia Mell, Michael Mell



Mary mcdonnell dragoncon 2014 interview
Mary Eileen McDonnell (born April 28, 1952) is an American film, stage, and television actress. She received Academy Award nominations for her roles as Stands With A Fist in Dances with Wolves and May-Alice Culhane in Passion Fish. McDonnell is well known for her performances as President Laura Roslin in Battlestar Galactica, the First Lady in Independence Day, and Rose in Donnie Darko. She was featured as Captain Sharon Raydor during seasons 5-7 of the TNT series The Closer and currently stars as Commander Sharon Raydor in the spin-off series Major Crimes on the same network.
Contents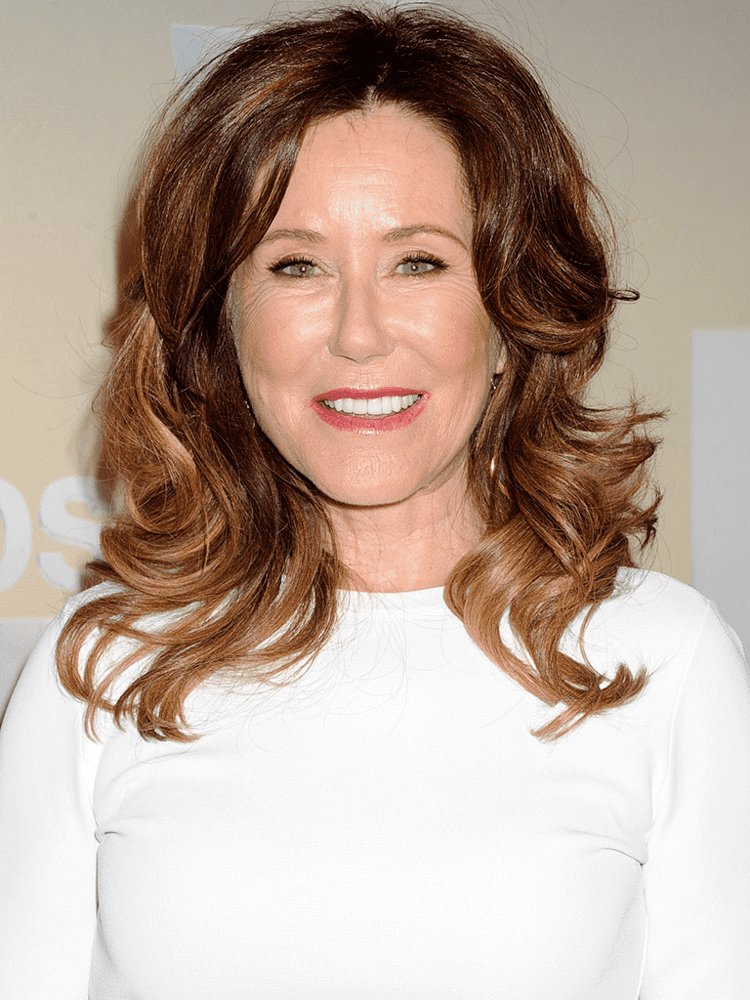 Early life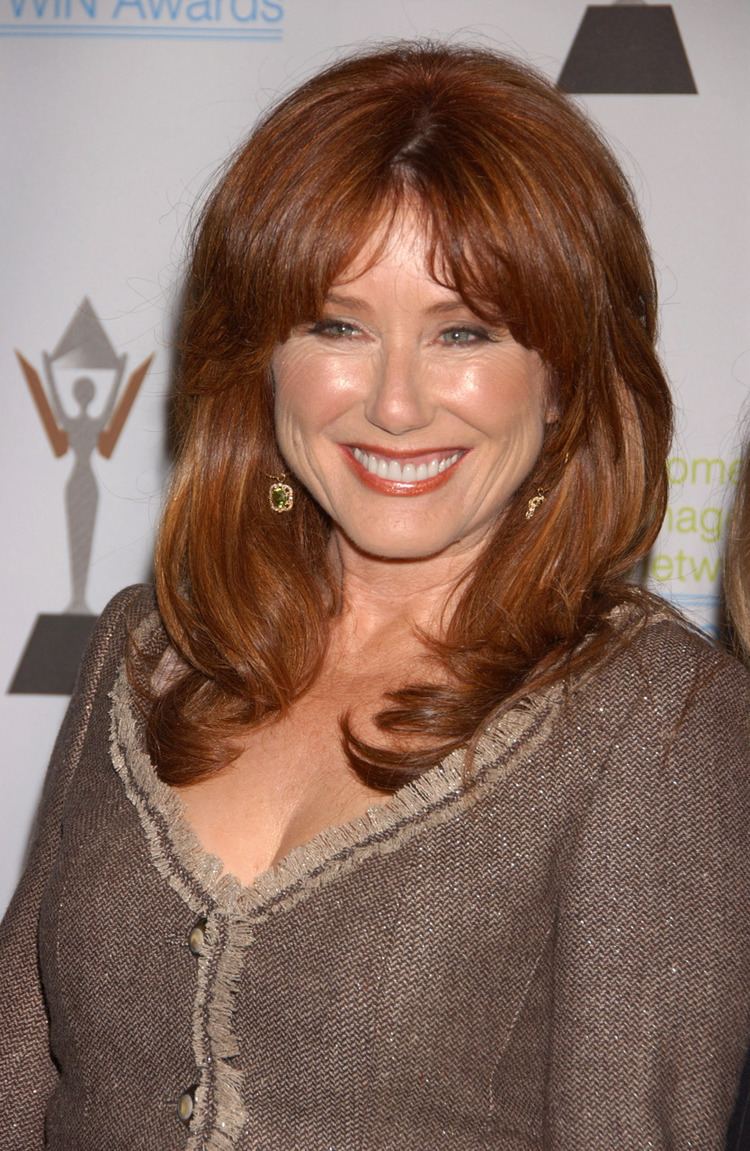 McDonnell was born in Wilkes-Barre, Pennsylvania, and was raised in Ithaca, New York. She is the daughter of Eileen (née Mundy; 1921–1990) and John "Jack" McDonnell (1923–1973), a computer consultant. Her siblings are Jane (1950–2005), Sally, Judith, Jackie, and John. She is of Irish descent. After graduating from the State University of New York at Fredonia, she attended drama school and joined the prestigious Long Wharf Theatre in New Haven, Connecticut, with which she worked for over 20 years.
Career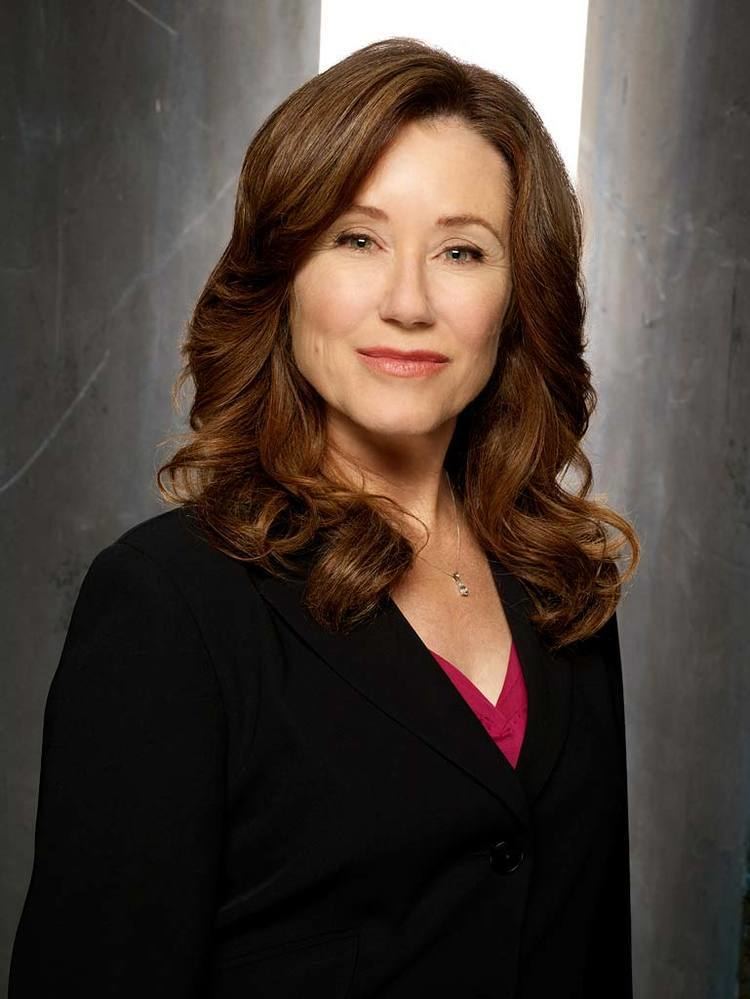 McDonnell won an Obie Award for Best Actress in 1981 for her work in the play Still Life. On Broadway, she has performed in productions of Execution of Justice, The Heidi Chronicles, and Summer and Smoke.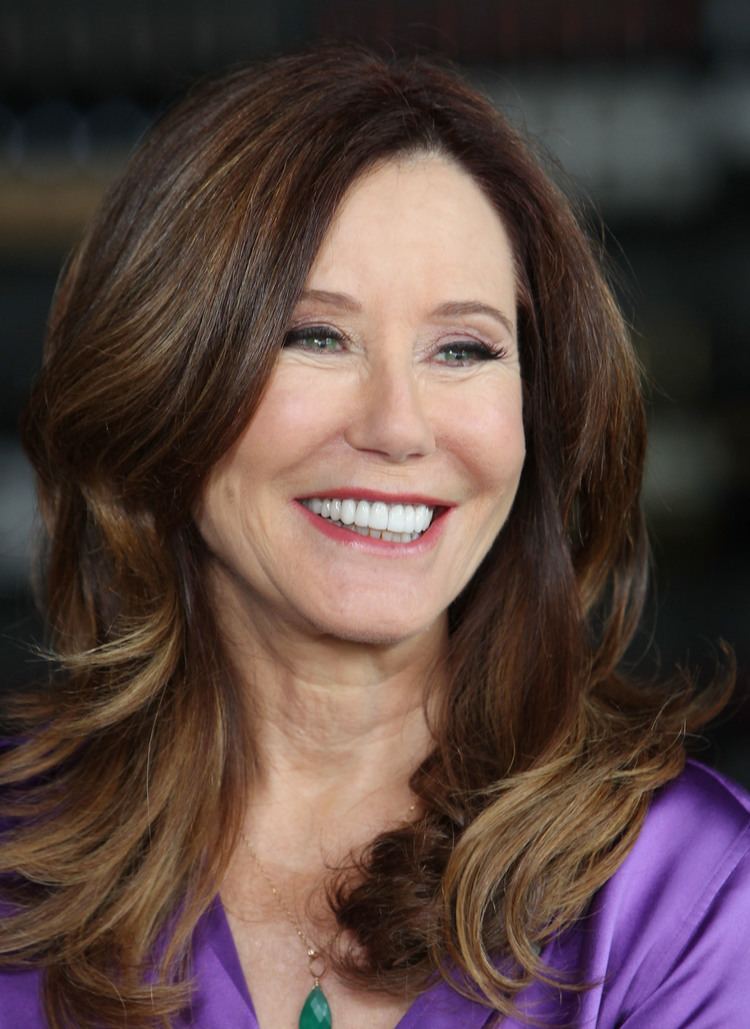 After more than 21 years of theater and television work, McDonnell made her film breakthrough in 1990 as Stands With A Fist, the daughter of American settlers raised by Sioux Indians, in Kevin Costner's Dances with Wolves. Portraying the adopted daughter of Graham Greene's character Kicking Bird, McDonnell, then 37, was only ten months younger than Greene and less than two years younger than Tantoo Cardinal, who played Black Shawl, her adoptive mother. She was nominated for an Academy Award for Best Supporting Actress for the role.
McDonnell's role in Passion Fish (1992) brought her another Academy Award nomination, this time for Best Actress in a Leading Role. Her other notable films include Grand Canyon (1991), Sneakers (1992), Independence Day (1996), and Donnie Darko (2001). McDonnell also starred with Patrick Swayze in the 1988 movie, Tiger Warsaw. In 1997 she played the judge in the film 12 Angry Men. The film also featured future Battlestar Galactica castmate Edward James Olmos.
On television, McDonnell had her first regular part in 1980 on the soap opera As the World Turns. She starred in 1984 on the short-lived medical comedy E/R, alongside Elliott Gould and George Clooney. Coincidentally, she guest-starred in 2001 on the NBC medical series of the same name, ER, which also featured Clooney. She was nominated for an Emmy Award for her role on the show as Eleanor Carter, the mother of Dr. John Carter played by Noah Wyle, who also had a role in Donnie Darko. She played Dr. Virginia Dixon, a surgeon with Asperger syndrome for three episodes of Grey's Anatomy in 2008 and 2009.
In 2003, McDonnell starred in the mini-series Battlestar Galactica as Laura Roslin. The mini-series led to the subsequent weekly series, with McDonnell reprising her Laura Roslin role. The series ended in March 2009. McDonnell received worldwide recognition for her performance in the show, part of which was shown when she was invited to the United Nations for a retrospective and discussion with Edward James Olmos (Admiral Adama).
McDonnell took part in a special session entitled Battlestar Galactica at the 2009 World Science Festival. The session also included Michael Hogan, as well as scientists Nick Bostrom and Kevin Warwick. In 2011, she appeared in the role of Kate Roberts, the mother of Emma Roberts's character in Scream 4.
From 2009 to 2012, McDonnell had a recurring role in The Closer as Capt. Sharon Raydor, a police captain in the Force Investigation Division, who often butts heads with Kyra Sedgwick's Golden Globe and Emmy award-winning character. McDonnell received an Emmy nomination for Outstanding Guest Actress in a Drama Series in 2011 for the role.
McDonnell's character is the lead in the spin-off, Major Crimes, which debuted August 13, 2012, after The Closer wrapped up its final season in the summer of 2012.
Personal life
McDonnell is married to actor Randle Mell, and currently resides in Pacific Palisades, California. McDonnell and Mell have two children together, Michael Mell and Olivia Mell.
Filmography
Actress
2024
Tracker (TV Series) (pre-production)
as
Mary Dove Shaw
- Pilot (2024) - Mary Dove Shaw
2023
The Fall of the House of Usher (TV Mini Series) (post-production)
as
Madeline Usher
- Episode #1.1 (2023) - Madeline Usher
- Episode #1.8 - Madeline Usher
- Episode #1.7 - Madeline Usher
- Episode #1.6 - Madeline Usher
- Episode #1.5 - Madeline Usher
- Episode #1.4 - Madeline Usher
- Episode #1.3 - Madeline Usher
- Episode #1.2 - Madeline Usher
2021
The Witcher: Nightmare of the Wolf
as
Lady Zerbst (voice)
2021
Rebel (TV Series)
as
Helen Peterson / Helen
- Trial Day (2021) - Helen Peterson
- 36 Hours (2021) - Helen Peterson
- Heart Burned (2021) - Helen Peterson
- The Right Thing (2021) - Helen Peterson
- Superhero (2021) - Helen Peterson
- Patient X (2021) - Helen Peterson
- Pilot (2021) - Helen
2019
Veronica Mars (TV Series)
as
Jane
- Years, Continents, Bloodshed (2019) - Jane
2012
Major Crimes (TV Series)
as
Sharon Raydor
- By Any Means: Part 4 (2018) - Sharon Raydor
- By Any Means: Part 3 (2018) - Sharon Raydor
- By Any Means: Part 2 (2017) - Sharon Raydor
- By Any Means: Part 1 (2017) - Sharon Raydor
- Conspiracy Theory: Part 4 (2017) - Sharon Raydor
- Conspiracy Theory: Part 3 (2017) - Sharon Raydor
- Conspiracy Theory: Part 2 (2017) - Sharon Raydor
- Conspiracy Theory: Part 1 (2017) - Sharon Raydor
- Sanctuary City: Part 5 (2017) - Sharon Raydor
- Sanctuary City: Part 4 (2017) - Sharon Raydor
- Sanctuary City: Part 3 (2017) - Sharon Raydor
- Sanctuary City: Part 2 (2017) - Sharon Raydor
- Sanctuary City: Part 1 (2017) - Sharon Raydor
- Shockwave: Part 2 (2017) - Sharon Raydor
- Shockwave: Part 1 (2017) - Sharon Raydor
- Intersection (2017) - Sharon Raydor
- Bad Blood (2017) - Sharon Raydor
- Dead Drop (2017) - Sharon Raydor
- Quid Pro Quo (2017) - Sharon Raydor
- Cleared History (2017) - Sharon Raydor
- Heart Failure (2017) - Sharon Raydor
- White Lies Part 3 (2016) - Sharon Raydor
- White Lies Part 2 (2016) - Sharon Raydor
- White Lies Part 1 (2016) - Sharon Raydor
- Dead Zone (2016) - Sharon Raydor
- Family Law (2016) - Sharon Raydor
- Off the Wagon (2016) - Sharon Raydor
- Moral Hazard (2016) - Sharon Raydor
- Tourist Trap (2016) - Sharon Raydor
- Cashed Out (2016) - Sharon Raydor
- Skin Deep (2016) - Sharon Raydor
- Foreign Affairs (2016) - Sharon Raydor
- N.S.F.W. (2016) - Sharon Raydor
- Present Tense (2016) - Sharon Raydor
- Hindsight, Part 5 (2016) - Sharon Raydor
- Hindsight, Part 4 (2016) - Sharon Raydor
- Hindsight, Part 3 (2016) - Sharon Raydor
- Hindsight, Part 2 (2016) - Sharon Raydor
- Hindsight, Part 1 (2016) - Sharon Raydor
- Penalty Phase (2015) - Sharon Raydor
- #FindKaylaWeber (2015) - Sharon Raydor
- Thick as Thieves (2015) - Sharon Raydor
- The Jumping Off Point (2015) - Sharon Raydor
- Taking the Fall (2015) - Sharon Raydor
- Reality Check (2015) - Sharon Raydor
- Blackout (2015) - Sharon Raydor
- Four of a Kind (2015) - Sharon Raydor
- Fifth Dynasty (2015) - Sharon Raydor
- Wish You Were Here (2015) - Sharon Raydor
- Hostage of Fortune (2015) - Sharon Raydor
- Targets of Opportunity (2015) - Sharon Raydor
- Personal Effects (2015) - Sharon Raydor
- Snitch (2015) - Sharon Raydor
- Turn Down (2015) - Sharon Raydor
- Open Line (2015) - Sharon Raydor
- Sorry I Missed You (2015) - Sharon Raydor
- A Rose Is a Rose (2015) - Sharon Raydor
- Special Master: Part One (2015) - Sharon Raydor
- Special Master: Part Two (2015) - Sharon Raydor
- Internal Affairs (2015) - Sharon Raydor
- Leap of Faith (2014) - Sharon Raydor
- Chain Reaction (2014) - Sharon Raydor
- Trial by Fire (2014) - Sharon Raydor
- Acting Out (2014) - Sharon Raydor
- Party Foul (2014) - Sharon Raydor
- Down the Drain (2014) - Sharon Raydor
- Zoo Story (2014) - Sharon Raydor
- Sweet Revenge (2014) - Sharon Raydor
- Cutting Loose (2014) - Sharon Raydor
- Two Options (2014) - Sharon Raydor
- Jane Doe #38 (2014) - Sharon Raydor
- Do Not Disturb (2014) - Sharon Raydor
- Letting It Go (2014) - Sharon Raydor
- Frozen Assets (2014) - Sharon Raydor
- Personal Day (2014) - Sharon Raydor
- Flight Risk (2014) - Sharon Raydor
- Return to Sender: Part 2 (2014) - Sharon Raydor
- Return to Sender (2014) - Sharon Raydor
- Year-End Blowout (2013) - Sharon Raydor
- Risk Assessment (2013) - Sharon Raydor
- Curve Ball (2013) - Sharon Raydor
- All In (2013) - Sharon Raydor
- Jailbait (2013) - Sharon Raydor
- Pick Your Poison (2013) - Sharon Raydor
- Poster Boy (2013) - Sharon Raydor
- Backfire (2013) - Sharon Raydor
- There's No Place Like Home (2013) - Sharon Raydor
- The Deep End (2013) - Sharon Raydor
- Rules of Engagement (2013) - Sharon Raydor
- Boys Will Be Boys (2013) - Sharon Raydor
- D.O.A. (2013) - Sharon Raydor
- I, Witness (2013) - Sharon Raydor
- Under the Influence (2013) - Sharon Raydor
- False Pretenses (2013) - Sharon Raydor
- Final Cut (2013) - Sharon Raydor
- Long Shot (2012) - Sharon Raydor
- Cheaters Never Prosper (2012) - Sharon Raydor
- Dismissed with Prejudice (2012) - Sharon Raydor
- The Shame Game (2012) - Sharon Raydor
- Out of Bounds (2012) - Sharon Raydor
- Citizen's Arrest (2012) - Sharon Raydor
- The Ecstasy and the Agony (2012) - Sharon Raydor
- Medical Causes (2012) - Sharon Raydor
- Before and After (2012) - Sharon Raydor
- Reloaded (2012) - Sharon Raydor
2017
Fargo (TV Series)
as
Ruby Goldfarb
- Somebody to Love (2017) - Ruby Goldfarb
- Aporia (2017) - Ruby Goldfarb
- The Law of Inevitability (2017) - Ruby Goldfarb
- The House of Special Purpose (2017) - Ruby Goldfarb
2009
The Closer (TV Series)
as
Sharon Raydor
- The Last Word (2012) - Sharon Raydor
- Armed Response (2012) - Sharon Raydor
- Last Rites (2012) - Sharon Raydor
- Drug Fiend (2012) - Sharon Raydor
- Fool's Gold (2012) - Sharon Raydor
- Hostile Witness (2012) - Sharon Raydor
- Silent Partner (2011) - Sharon Raydor
- Road Block (2011) - Sharon Raydor (credit only)
- Relative Matters (2011) - Sharon Raydor (credit only)
- You Have the Right to Remain Jolly (2011) - Sharon Raydor (credit only)
- Necessary Evil (2011) - Sharon Raydor
- Fresh Pursuit (2011) - Sharon Raydor
- Star Turn (2011) - Sharon Raydor
- Death Warrant (2011) - Sharon Raydor
- A Family Affair (2011) - Sharon Raydor
- Under Control (2011) - Sharon Raydor
- Repeat Offender (2011) - Sharon Raydor
- Unknown Trouble (2011) - Sharon Raydor
- Living Proof: Part Two (2010) - Sharon Raydor
- Living Proof: Part One (2010) - Sharon Raydor
- Old Money (2010) - Sharon Raydor
- Last Woman Standing (2010) - Sharon Raydor
- Help Wanted (2010) - Sharon Raydor
- Dead Man's Hand (2009) - Sharon Raydor
- Strike Three (2009) - Sharon Raydor
- Red Tape (2009) - Sharon Raydor
2011
Margin Call
as
Mary Rogers
2009
Mariette in Ecstasy
as
Prioress
2009
Hostile Makeover (TV Movie)
as
Rose Smithsonian
2009
Killer Hair (TV Movie)
as
Rose
2004
Battlestar Galactica (TV Series)
as
President Laura Roslin
- Daybreak: Part 3 (2009) - President Laura Roslin
- Daybreak: Part 2 (2009) - President Laura Roslin
- Daybreak: Part 1 (2009) - President Laura Roslin
- Islanded in a Stream of Stars (2009) - President Laura Roslin
- Someone to Watch Over Me (2009) - President Laura Roslin
- Deadlock (2009) - President Laura Roslin
- No Exit (2009) - President Laura Roslin
- Blood on the Scales (2009) - President Laura Roslin
- The Oath (2009) - President Laura Roslin
- A Disquiet Follows My Soul (2009) - President Laura Roslin
- Sometimes a Great Notion (2009) - President Laura Roslin
- Revelations (2008) - President Laura Roslin
- The Hub (2008) - President Laura Roslin
- Sine Qua Non (2008) - President Laura Roslin (credit only)
- Guess What's Coming to Dinner (2008) - President Laura Roslin
- Faith (2008) - President Laura Roslin
- The Road Less Traveled (2008) - President Laura Roslin (credit only)
- Escape Velocity (2008) - President Laura Roslin
- The Ties That Bind (2008) - President Laura Roslin
- Six of One (2008) - President Laura Roslin
- He That Believeth in Me (2008) - President Laura Roslin
- Crossroads: Part 2 (2007) - President Laura Roslin
- Crossroads: Part 1 (2007) - President Laura Roslin
- The Son Also Rises (2007) - President Laura Roslin
- Maelstrom (2007) - President Laura Roslin
- Dirty Hands (2007) - President Laura Roslin
- A Day in the Life (2007) - President Laura Roslin
- The Woman King (2007) - President Laura Roslin
- Taking a Break from All Your Worries (2007) - President Laura Roslin
- Rapture (2007) - President Laura Roslin
- The Eye of Jupiter (2006) - President Laura Roslin
- The Passage (2006) - President Laura Roslin
- Unfinished Business (2006) - President Laura Roslin
- Hero (2006) - President Laura Roslin
- A Measure of Salvation (2006) - President Laura Roslin
- Torn (2006) - President Laura Roslin
- Collaborators (2006) - President Laura Roslin
- Exodus: Part 2 (2006) - President Laura Roslin
- Exodus: Part 1 (2006) - President Laura Roslin
- Precipice (2006) - President Laura Roslin
- Occupation (2006) - President Laura Roslin
- Lay Down Your Burdens: Part 2 (2006) - President Laura Roslin
- Lay Down Your Burdens: Part 1 (2006) - President Laura Roslin
- Downloaded (2006) - President Laura Roslin
- The Captain's Hand (2006) - President Laura Roslin
- Sacrifice (2006) - President Laura Roslin
- Scar (2006) - President Laura Roslin
- Black Market (2006) - President Laura Roslin
- Epiphanies (2006) - President Laura Roslin
- Resurrection Ship: Part 2 (2006) - President Laura Roslin
- Resurrection Ship: Part 1 (2006) - President Laura Roslin
- Pegasus (2005) - President Laura Roslin
- Flight of the Phoenix (2005) - President Laura Roslin
- Final Cut (2005) - President Laura Roslin
- Home: Part 2 (2005) - President Laura Roslin
- Home: Part 1 (2005) - President Laura Roslin
- The Farm (2005) - President Laura Roslin
- Resistance (2005) - President Laura Roslin
- Fragged (2005) - President Laura Roslin
- Valley of Darkness (2005) - President Laura Roslin
- Scattered (2005) - President Laura Roslin
- Kobol's Last Gleaming: Part 2 (2005) - President Laura Roslin
- Kobol's Last Gleaming: Part 1 (2005) - President Laura Roslin
- Colonial Day (2005) - President Laura Roslin
- The Hand of God (2005) - President Laura Roslin
- Tigh Me Up, Tigh Me Down (2004) - President Laura Roslin
- Flesh and Bone (2004) - President Laura Roslin
- Six Degrees of Separation (2004) - President Laura Roslin
- Litmus (2004) - President Laura Roslin
- You Can't Go Home Again (2004) - President Laura Roslin
- Act of Contrition (2004) - President Laura Roslin
- Bastille Day (2004) - President Laura Roslin
- Water (2004) - President Laura Roslin
- 33 (2004) - President Laura Roslin
2008
Grey's Anatomy (TV Series)
as
Dr. Virginia Dixon
- Beat Your Heart Out (2009) - Dr. Virginia Dixon
- All by Myself (2008) - Dr. Virginia Dixon
- These Ties That Bind (2008) - Dr. Virginia Dixon
2008
Late Show with David Letterman (TV Series)
as
President Laura Roslin - Top Ten Presenter
- Episode #15.85 (2008) - President Laura Roslin - Top Ten Presenter (uncredited)
2007
Battlestar Galactica: Razor (TV Movie)
as
President Laura Roslin
2005
Mrs. Harris (TV Movie)
as
Vivian Schulte
2004
Crazy Like a Fox
as
Amy Banks
2003
Battlestar Galactica (TV Mini Series)
as
President Laura Roslin
- Episode #1.2 (2003) - President Laura Roslin
- Episode #1.1 (2003) - President Laura Roslin
2003
Nola
as
Margaret Langworthy
2000
That's Life (TV Series)
as
Jules O'Grady
- Baum's Thesis (2002) - Jules O'Grady
- Bad Hair Week (2000) - Jules O'Grady
2002
The Locket (TV Movie)
as
Helen Staples
2002
Touched by an Angel (TV Series)
as
Sister Theodore Claire
- Minute by Minute (2002) - Sister Theodore Claire
2001
ER (TV Series)
as
Eleanor Carter
- A Simple Twist of Fate (2002) - Eleanor Carter
- Damage Is Done (2002) - Eleanor Carter
- A River in Egypt (2002) - Eleanor Carter
- Beyond Repair (2002) - Eleanor Carter
- Four Corners (2001) - Eleanor Carter
2001
Chestnut Hill (TV Movie)
as
Jane Eastman
2001
Donnie Darko
as
Rose Darko
2000
For All Time (TV Movie)
as
Laura Brown (as Mary Mcdonnell)
2000
A Father's Choice (TV Movie)
as
Susan Shaw
1999
Ryan Caulfield: Year One (TV Series)
as
Rachel Caulfield
- Po-Piggity and Other Racial Slurs (1999) - Rachel Caulfield
- Pilot (1999) - Rachel Caulfield
1999
Mumford
as
Althea Brockett
1999
American Experience (TV Series documentary)
as
Narrator
- Fly Girls (1999) - Narrator (voice)
1999
Replacing Dad (TV Movie)
as
Linda Marsh
1999
Behind the Mask (TV Movie)
as
Mary Shushan
1998
Spanish Fly
as
Zoe's Mother (voice)
1998
You Can Thank Me Later
as
Diane
1998
Evidence of Blood (TV Movie)
as
Dora Overton
1997
12 Angry Men (TV Movie)
as
Judge
1997
Two Small Voices (TV Movie)
as
Sybil Goldrich
1996
Independence Day
as
Marilyn Whitmore
1995
High Society (TV Series)
as
Dott Emerson
- The Family Jewels (1996) - Dott Emerson
- I Found My Thrill on Nancy Garver Hill (1996) - Dott Emerson
- Touching Up Your Roots (1996) - Dott Emerson
- Alice Doesn't Pump Here Anymore (1996) - Dott Emerson
- Nip and Tuck (1996) - Dott Emerson
- We Ought to Be in Pictures (1995) - Dott Emerson
- Finnigan's Rainbow (1995) - Dott Emerson
- The Naked and the Deadline (1995) - Dott Emerson
- Tomb with a View (1995) - Dott Emerson
- Dolce & G'bye Now (1995) - Dott Emerson
- Sleeping with the Enemy (1995) - Dott Emerson
- Whose Son Is It Anyway? (1995) - Dott Emerson
- Family Val's (1995) - Dott Emerson
1996
Woman Undone (TV Movie)
as
Teri Hansen
1993
The American Clock (TV Movie)
as
Rose Baumler
1992
Passion Fish
as
May-Alice
1991
O Pioneers! (TV Movie)
as
Alexandra Bergson
1990
Dances with Wolves
as
Stands With A Fist
1989
A Man Called Hawk (TV Series)
as
Mrs. Kirkpatrick
- The Divided Child (1989) - Mrs. Kirkpatrick
1988
Tiger Warsaw
as
Paula Warsaw
1986
Courage (TV Movie)
as
Gabriella Estrada
1984
E/R (TV Series)
as
Dr. Eve Sheridan
- A Change in Policy (1985) - Dr. Eve Sheridan
- All Tied Up (1985) - Dr. Eve Sheridan
- Merry Wives of Sheinfeld: Part 2 (1985) - Dr. Eve Sheridan
- Merry Wives of Sheinfeld: Part 1 (1985) - Dr. Eve Sheridan
- I Raise You (1985) - Dr. Eve Sheridan
- Brotherly Love (1985) - Dr. Eve Sheridan
- Enter Romance (1984) - Dr. Eve Sheridan
- The Storm (1984) - Dr. Eve Sheridan
- Both Sides Now (1984) - Dr. Eve Sheridan
- A Cold Night in Chicago (1984) - Dr. Eve Sheridan
- Mr. Fix-It (1984) - Dr. Eve Sheridan
- Sentimental Journey (1984) - Dr. Eve Sheridan
- Only a Nurse (1984) - Dr. Eve Sheridan
- All's Well That Ends (1984) - Dr. Eve Sheridan
- Growing Pains (1984) - Dr. Eve Sheridan
- Say It Ain't So (1984) - Dr. Eve Sheridan
- Save the Last Dance for Me (1984) - Dr. Eve Sheridan
- Son of Sheinfeld (1984) - Dr. Eve Sheridan
- My Way (1984) - Dr. Eve Sheridan
- The Sister (1984) - Dr. Eve Sheridan
1984
Garbo Talks
as
Lady Capulet
1982
Money on the Side (TV Movie)
as
Terri
1980
As the World Turns (TV Series)
as
Claudia Colfax
- Episode dated 24 January 1980 (1980) - Claudia Colfax
Soundtrack
2014
Major Crimes (TV Series) (performer - 1 episode)
- Acting Out (2014) - (performer: "The Nutcracker: March")
1996
High Society (TV Series) (performer - 2 episodes)
- The Family Jewels (1996) - (performer: "I Got You Babe")
- Nip and Tuck (1996) - (performer: "What's New, Pussycat" - uncredited)
Thanks
2006
Battlestar Galactica: The Story So Far (TV Movie documentary) (special thanks)
2003
Dances with Wolves: The Creation of an Epic (Video documentary) (special thanks)
Self
2017
Extra (TV Series)
as
Self
- Episode #23.189 (2017) - Self
2015
Menkes Disease: Finding Help & Hope (Documentary short)
as
Narrator (voice)
2013
Entertainment Tonight (TV Series)
as
Self
- Episode dated 20 June 2014 (2014) - Self
- Episode dated 8 June 2013 (2013) - Self
- Episode dated 6 June 2013 (2013) - Self
2014
The Queen Latifah Show (TV Series)
as
Self - Guest
- "Major Crimes" Star Mary McDonnell/The Cast of VH1's "Single Ladies"/Icona Pop (2014) - Self - Guest
2013
Home & Family (TV Series)
as
Self - Guest
- Episode #2.54 (2013) - Self - Guest
2013
The Talk (TV Series)
as
Self - Guest
- Episode #3.222 (2013) - Self - Guest
2013
Major Crimes: Crossing the Tape - Inside the Major Crimes Squad (Video short)
as
Self
2013
Major Crimes: Major Crimes - Major Challenge (Video short)
as
Self
2013
Major Crimes: Raydor's Rookie - Introducing Kearran Giovanni (Video short)
as
Self
2013
The View (TV Series)
as
Self - Guest
- Episode dated 10 June 2013 (2013) - Self - Guest
2009
Séries express (TV Series)
as
Self
- Episode #2.35 (2009) - Self
2009
Battlestar Galactica: The Last Frakkin' Special (TV Movie documentary)
as
Self
2009
Battlestar Galactica: The Journey (Video documentary short)
as
Self
2009
The Music of 'Battlestar Galactica' (Video documentary short)
as
Self
2008
Mister President (TV Movie documentary)
as
Self / President Laura Roslin
2008
BSGcast (TV Series documentary)
as
Self (2008)
2006
The WIN Awards 2006 (TV Special)
as
Self
2006
Battlestar Galactica: The Story So Far (TV Movie documentary)
as
President Laura Roslin
2006
The 65th Annual Peabody Awards (TV Special)
as
Self - Winner
2005
Sci Fi Inside: Sci Fi Friday (TV Movie documentary)
as
Self / Laura Roslin
2005
05 Spaceys (TV Special)
as
Self
2004
'Donnie Darko': Production Diary (Video documentary)
as
Self
2003
Battlestar Galactica: The Lowdown (Video documentary short)
as
Self / President Laura Roslin
2003
The Making of 'Sneakers' (Video documentary short)
as
Self
2003
Dances with Wolves: The Creation of an Epic (Video documentary)
as
Self
2001
The Directors (TV Series documentary)
as
Self - Interviewee
- The Films of Lawrence Kasdan (2001) - Self - Interviewee (as Mary Mcdonnell)
2000
Amargosa (Documentary)
as
Narrator (voice)
1999
Fly Girls (Documentary)
as
Narrator (voice)
1996
The Making of 'Independence Day' (TV Movie documentary)
as
Self
1996
HBO First Look (TV Series documentary short)
as
Self
- The Making of 'Independence Day' (1996) - Self
1996
Independence Day: The ID4 Invasion (TV Movie documentary)
as
Self
1996
The 11th IFP/West Annual Independent Spirit Awards (TV Special)
as
Self - Presenter
1995
10th Anniversary Independent Spirit Awards (TV Special)
as
Self - Presenter
1993
The 65th Annual Academy Awards (TV Special)
as
Self - Nominee
1993
The 50th Annual Golden Globe Awards (TV Special)
as
Self - Nominee
1993
The Tonight Show with Jay Leno (TV Series)
as
Self - Guest
- Episode #2.3 (1993) - Self - Guest
1991
The 63rd Annual Academy Awards (TV Special)
as
Self - Nominee
1991
The Tonight Show Starring Johnny Carson (TV Series)
as
Self - Guest
- Michael Landon, Blake Clark, Mary McDonnell (1991) - Self - Guest
1991
The 48th Annual Golden Globe Awards 1991 (TV Special)
as
Self - Nominee
1990
The Making of 'Dances with Wolves' (TV Short documentary)
as
Self
Archive Footage
2014
And the Oscar Goes to... (TV Movie documentary)
as
Self
2011
The Closer (TV Series)
as
Sharon Raydor
- Home Improvement (2011) - Sharon Raydor (uncredited)
2011
Death and Taxes (Short)
as
Rose Darko
References
Mary McDonnell Wikipedia
(Text) CC BY-SA