Genres

Jazz, Classical music




Website

Marilyn Crispell.com




Years active

1977 – present





Instruments

Piano




Occupation(s)

Musician, composer




Name

Marilyn Crispell






Born

March 30, 1947 (age 68) Philadelphia, Pennsylvania, United States (

1947-03-30

)


Associated acts

Barry Guy, Henry Grimes, Anders Jormin




Role

Jazz Pianist · marilyncrispell.com




Education

New England Conservatory of Music




Awards

Guggenheim Fellowship for Creative Arts, US & Canada




Albums

Vignettes, Nothing Ever Was - Anyway, After Appleby, One Dark Night I Left My Silent, Connecting Spirits
Marilyn crispell interview
Marilyn Crispell (born March 30, 1947) is an American jazz pianist and composer.
Contents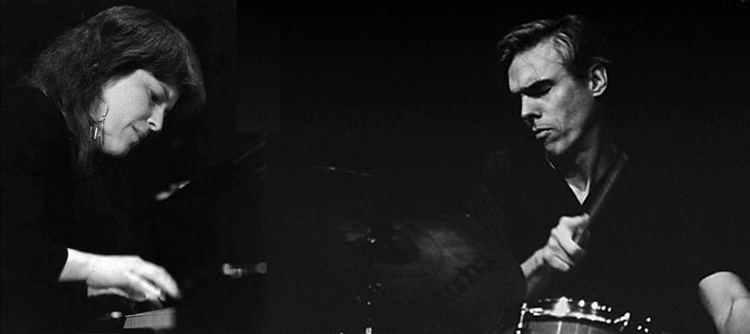 Marilyn crispell on newmusicbox
Biography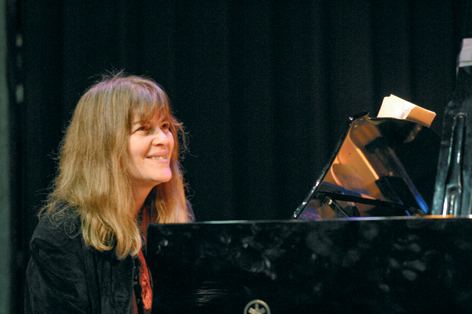 Crispell was born in Philadelphia. She studied classical piano and composition at the New England Conservatory of Music. She has been a resident of Woodstock, NY since 1977 when she came to study and teach at Karl Berger's Creative Music Studio. She discovered jazz through the music of John Coltrane, Cecil Taylor and other contemporary jazz players and composers as Paul Bley and Leo Smith.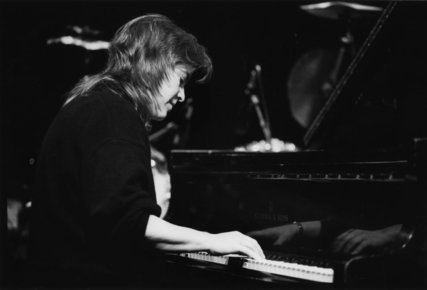 For ten years she was a member of Anthony Braxton's Quartet and the Reggie Workman Ensemble. She has been a member of the Barry Guy New Orchestra as well as a member of the Henry Grimes Trio, the Europea Quartet Noir (with Urs Leimgruber, Fritz Hauser and Joëlle Léandre), and Anders Jormin's Bortom Quintet.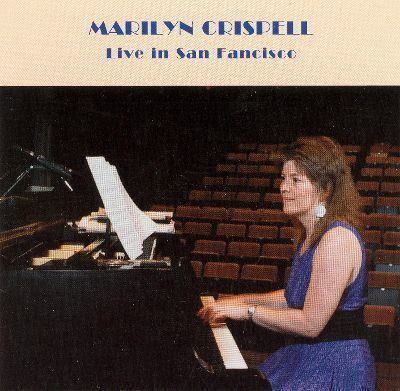 In 1981 she performed at the Woodstock Jazz Festival, held in celebration of the tenth anniversary of the Creative Music Studio.
In 2005 she performed and recorded with the NOW Orchestra in Vancouver, British Columbia, Canada and in 2006 she was co-director of the Vancouver Creative Music Institute and a faculty member at the Banff Centre International Workshop in Jazz.
Crispell has performed and recorded as a soloist and leader of her own groups. She has also performed and recorded music by contemporary composers John Cage, Pauline Oliveros, Robert Cogan, Pozzi Escot, Manfred Niehaus and Anthony Davis (including his opera X with the New York City Opera).
In addition to playing, she has taught improvisation workshops and given lecture/demonstrations at universities and art centers in the U.S., Europe, Canada and New Zealand, and has collaborated with videographers, filmmakers, dancers and poets. She received a 2005 Guggenheim Fellowship.
As leader/co-leader
Spirit Music (Cadence, 1983)
Rhythms Hung in Undrawn Sky (Leo, 1983)
Live in Berlin (Black Saint, 1984)
Piano Solo – A Concert in Berlin – Summer 83 (FMP, 1984)
And Your Ivory Voice Sings (Leo, 1985) – with Doug James
Quartet Improvisations, Paris 1986 (Leo, 1987)
Gaia (Leo, 1988)
Labyrinths (Victo, 1988)
Duets Vancouver 1989 (Music & Arts, 1990) with Anthony Braxton
Live in Zurich (Leo, 1990)
Live in San Francisco (Music & Arts, 1990)
The Kitchen Concert (Leo, 1991)
Overlapping Hands (FMP, 1991) – with Irene Schweizer
Circles (Victo, 1991)
Duo (Knitting Factory Works, 1992) – with Gerry Hemingway
Piano Duets (for tuned and detuned pianos) (Leo, 1992) – with Georg Graewe
For Coltrane (Leo, 1993)
Highlights from the Summer of 1992 American Tour (Music & Arts, 1993)
Santuerio (Leo, 1993)
Stellar Pulsations / Three Composers (Leo, 1994)
Band on the Walls (Matchless, 1994) – with Eddie Prevost
Inference (Music & Arts, 1995) – with Tim Berne
Hyperion (Music & Arts, 1995) – with Peter Brötzmann and Hamid Drake
Cascades (Music & Arts, 1995) – with Barry Guy and Gerry Hemingway
Spring Tour (Alice, 1995) – with Anders Jormin and Raymond Strid
Destiny (Okka Disk, 1995) – with Fred Anderson and Hamid Drake
Live at Mills College 1995 (Music & Arts, 1995)
The Woodstock Concert (Music & Arts, 1996)
Contrast: Live at Yoshi's (Music & Arts, 1996)
Connecting Spirits (Music & Arts, 1996) – with Joseph Jarman
Nothing Ever Was, Anyway: Music of Annette Peacock (ECM, 1997)
Dark Night, and Luminous (Edicions Nova Era, 1998) – with Agusti Fernandez
Red (Black Saint, 2000) – with Stefano Maltese
Blue (Black Saint, 2001) – with Stefano Maltese
Amaryllis (ECM, 2001)
Complicite (Victo, 2001)
Storyteller (ECM, 2004)
Vignettes (ECM, 2008)
Sibanye (We Are One) (Intakt, 2009) – with Louis Moholo–Moholo
Collaborations Live at Nya Perspektiv Festivals 2004 and 2007 (Leo, 2009)
One Dark Night I Left My Silent House (ECM, 2010) – with David Rothenberg
Affinities (Intakt, 2011) – with Gerry Hemingway
Play Braxton (Tzadik, 2012) – with Mark Dresser and Gerry Hemingway
Azure (ECM, 2013) – with Gary Peacock
Table of Changes (Intakt, 2015) – with Gerry Hemingway
In Motion (Intakt, 2016) – with Richard Poole and Gary Peacock
As sideman
with Roscoe Mitchell
Sketches From Bamboo (Moers, 1979)
with Wadada Leo Smith
Budding of a Rose (Moers, 1979)
with Anthony Braxton
Creative Orchestra (Köln) 1978 (hatART, 1978 [1995])
Composition 98 (hatART, 1981)
Six Compositions (Quartet) 1984 (Black Saint, 1985)
Prag 1984 (Quartet Performance) (Sound Aspects, 1984 [1990])
Quartet (London) 1985 (Leo, 1985 [1988])
Quartet (Birmingham) 1985 (Leo, 1985 [1991])
Quartet (Coventry) 1985 (Leo, 1985 [1993])
Willisau (Quartet) 1991 (hatART, 1991)
(Victoriaville) 1992 (Victo, 1993)
Twelve Compositions (Music & Arts, 1993)
Quartet (Santa Cruz) 1993 (hatART, 1993 [1997])
with Reggie Workman
Synthesis (Leo, 1986)
Images (Musics & Arts, 1990)
Altered Spaces (Leo, 1993)
with Larry Ochs
The Secret Magritte (Black Saint, 1995)
with Francois Houle
Any Terrain Tumultuous (Red Toucan, 1995)
with Michael Moore and Gerry Hemingway
MGM Trio (Ramboy, 1996)
with Bobby Zankel
Human Flowers (CIMP, 1996)
with Scott Fields
48 Motives, January 11, 1996 (Cadence, 1996)
Five Frozen Eggs (Music & Arts, 1996)
Sonotropism (Music & Arts, 1997)
with Steve Lacy
Five Facings (FMP, 1996)
with Ivo Perelman
En Adir (Music & Arts, 1997)
Sound Hierarchy (Music & Arts, 1997)
with Barry Guy London Jazz Composer's Orchestra
Three Pieces for Orchestra (Intakt, 1997)
Double Trouble Two (Intakt, 1998)
with Guy-Gustafsson-Strid Trio
The Fabled 1996 Radio Sweden Concert: gryffgryffgryffs (Music & Arts, 1997)
with Parker-Guy-Lytton Trio
Natives and Aliens (Leo, 1997)
After Appleby (Leo, 2000)
with Urs Liemgruber, Joelle Leandre and Fritz Hauser
Quartet Noir (Victo, 1999)
Quartet Noir Lugano (Victo, 2005)
with Joelle Leandre
Joelle Léandre Project (Leo Records, 2000)
Stone Quartet: Live at Vision Festival (Ayler, 2011)
with Lotte Anker and Marilyn Mazur
Poetic Justice (Dacapo, 2000)
with Barry Guy and Paul Lytton
Odyssey (Intakt, 2001)
Ithaca (Intakt, 2004)
Phases of the Night (Intakt, 2008)
with Barry Guy New Orchestra
Inscape—Tableaux (Intakt, 2001)
with Anders Jormin
In Winds, In Light (ECM, 2004)
with NOW Orchestra
Pola (Victo, 2005)
with Michele Rabbia and Vincent Courtois
Shifting Grace (CAM Jazz, 2006)
with Gunhild Seim & Time Jungle
Elephant Wings (Drollehala, 2012)
with Tisziji Munoz
Auspicious Healing (Anami Music, 2000)
Breaking the Wheel of Life and Death (Anami, 2000)
Heart to Heart (Anami, 2013)
Beautiful Empty Fullness (Anami, 2014)
The Paradox of Independence (Anami, 2014)
References
Marilyn Crispell Wikipedia
(Text) CC BY-SA