Margaret Clapp





Educator






May 3, 1974, Tyringham, Massachusetts, United States




East Orange Campus High School, Wellesley College, Columbia University




Pulitzer Prize for Biography or Autobiography
Margaret Antoinette Clapp (April 10, 1910 – May 3, 1974) was an American scholar and educator.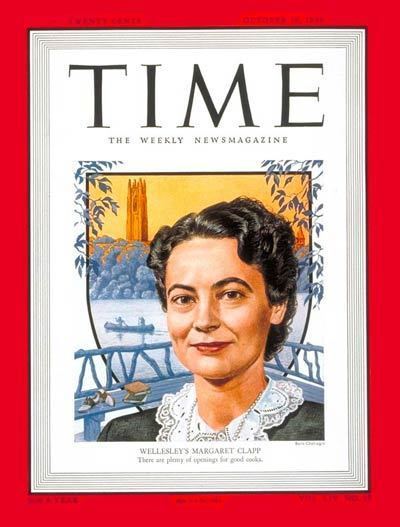 Clapp was born in East Orange, New Jersey and graduated from East Orange High School in 1926 and Wellesley College in 1930. She taught English literature at the Todhunter School for Girls in New York City for twelve years while working on her master's degree, which she obtained from Columbia University in 1937.
During and after World War II, she taught history at City College of New York, Douglass College, Columbia University, and Brooklyn College. Her doctoral dissertation at Columbia grew into the biography Forgotten First Citizen: John Bigelow published in 1947 and winner of the 1948 Pulitzer Prize for Biography or Autobiography.
While she was president of Wellesley College from 1949 until her retirement in 1966, the college's resources and facilities were expanded substantially. Clapp was a strong advocate of careers for women. She was elected a Fellow of the American Academy of Arts and Sciences in 1952.
After leaving Wellesley, Clapp served briefly as administrator of Lady Doak College, a women's college in Madurai, India, then as United States cultural attaché to India, then as minister-councilor of public affairs in the United States Information Agency until her retirement in 1971. The library at Wellesley is named for her.
Forgotten First Citizen: John Bigelow (Little, Brown, 1947)
The Modern University (Cornell University Press, 1950), edited by Clapp
Margaret Clapp's Chapel Talks: a sampling (Wellesley College, 1980)
Margaret Clapp Wikipedia