Occupation

Social activism




Name

Manvendra Gohil




Siblings

Minaxi Kumari








Born

23 September 1965 (age 57) (

1965-09-23

) Ajmer, Rajasthan, India


Spouse

Chandrika Kumari (m. 1991–1992)




Education

Bombay Scottish School, Mahim




Movies

Meghdhanushya — The Colour of Life




Parents

Maharana Shri Raghubir Singhji Rajendrasinghji Sahib, Maharani Rukmini Devi
Prince manvendra singh gohil mission film freegayindia
Prince Manvendra Singh Gohil (born 23 September 1965) is an Indian prince who is the son and probable heir of the Maharaja of Rajpipla in Gujarat. He is the first openly gay prince in the world. He runs a charity, The Lakshya Trust, which works with the LGBT community.
Contents
Inspired citizen and prince manvendra singh gohil
Early life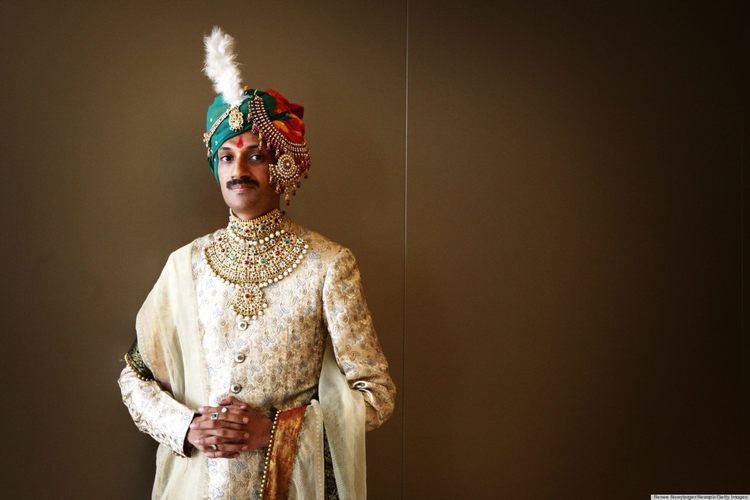 Manvendra was born at Ajmer, the only son of Maharana Shri Raghubir Singhji Rajendrasinghji Sahib, Maharana of Rajpipla, and his wife Maharani Rukmini Devi. Manvendra's mother was born as a princess of Jaisalmer in Rajasthan. Manvendra has one sister, Minaxi Kumari, who is married into the princely family of Chenani in Jammu and Kashmir.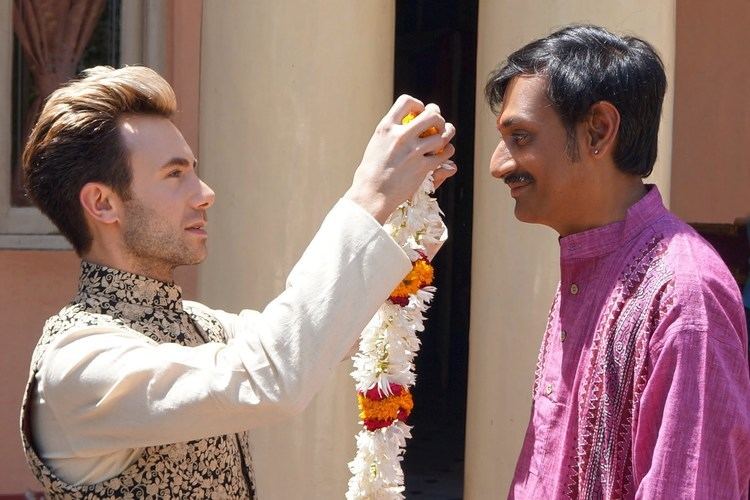 In 1971, the government of India "de-recognized" the Indian princes, and Manvendra's father consequently lost the title of Maharaja and the privy purse (an annual pension) that came with it. The princes adjusted to the new socialist regime; the Rajpipla royals converted their family seat, the Rajvant Palace in Rajpipla, into a tourist resort and location for film-shooting. They also set up a second residence in Mumbai, so that their children could have a somewhat normal childhood and adjust better to the realities of their new circumstances.
Manvendra had a traditional and conservative upbringing. He was educated at Bombay Scottish School and at the Amrutben Jivanlal College of Commerce and Economics (one of the institutions in the Mithibai College campus in Vile Parle, Mumbai.
Married life
As the only son of the Maharaja of Rajpipla, Manvendra was raised with a sense of history and family dignity, in a manner that made him deeply conscious of his responsibilities, primary among which was perpetuation of the dynasty. As per Indian custom, his parents arranged a suitable match for him, and in January 1991, Manvendra married Chandrika Kumari, a princess of Jhabua State in Madhya Pradesh. Manvendra says about his marriage:
The marriage remained unconsummated. Worried about this, his wife made several attempts to attract his sexual interest, but he only felt repelled by her lewd behaviour. He knew that he was at fault and not she, but he was unable to remedy the situation. He says, "It was a total disaster. A total failure. The marriage never got consummated. I realized I had done something very wrong. Now two people were suffering instead of one. Far from becoming normal, my life was more miserable."
Manvendra's wife soon began to suspect that his sexual orientation was not conventional. She broached the topic with him. Manvendra was still hoping to find a cure that would make him "normal." In the hope that maybe his wife would somehow support him and help him overcome his condition, Manvendra confided in her. However, Chandrika was not any better informed regarding homosexuality than he was, and not inclined to engage with the issue at all. She simply wanted to get out of the situation as quickly as possible. This she did by filing for divorce hardly one year after the wedding. Divorce was virtually unknown in India at that time; it was, and remains, a phenomenal taboo in decent families. Manvendra agreed to divorce by mutual consent, on the understanding that Chandrika would not reveal the issue to anyone. She agreed to this, but warned him not to ruin the life of some other girl by marrying again.
Nervous breakdown and limited revelation
After his divorce in 1992, Manvendra kept his sexuality repressed, as before, and hid the matter from his family and everyone else. He told his family that he would never marry again. He started avoiding company, became aloof and increasingly distant from his family. His parents concluded that the divorce had affected him badly. They decided to keep silent for a couple of years and then try again. The years passed but Manvendra did not change. He also lost his job in a bank and did not try for another. His father persuaded him to help with management of the family's remaining estates, farms and investments. This Manvendra did in a half-hearted manner.
As Manvendra was crown prince of Rajpipla, proposals for marriage from other princely families were frequently received. His parents had politely declined several such proposals, on the plea that Manvendra required time to recover from his divorce. Finally, they decided that nothing but remarriage would bring Manvendra out of his depression, and began pressurising him to accept a certain proposal. They repeatedly dinned into him the fact that as a prince, he should be a role-model, not a depressed person, and that he should do his duty to his family and forefathers. The joblessness, financial dependence, feeling of inadequacy, feeling of a lack of purpose or motivation, and general depression all combined to bring about a nervous breakdown in 2002. He says:
Manvendra's ordeal was still not over. Upon being informed by the psychiatrists that their son was gay, Manvendra's parents accepted the truth, but stipulated that this matter should not be revealed to anyone else. The strictest secrecy was enjoined upon Manvendra. Worse, they now kept an eye on him at all times and even deputed some trusted domestic staff to do likewise. After having spent a whole decade trying to make Manvendra more social, meet his friends and go to parties and social occasions, his parents suddenly turned to the opposite extreme and tried to keep him away from other people. They tried to circumscribe his social life to the extent possible. As Manvendra was himself averse to society, he did not protest. Instead, he withdrew from Mumbai city and began residing full-time with his parents in the small town of Rajpipla, in the remote forest belt of Gujarat.
Coming out
In 2006, the journalist Chirantana Bhatt came to know that the crown prince of Rajpipla was a closeted gay man. It was too meaty a story to be set aside. Chirantana Bhatt approached Manvendra and convinced him that it was in the public interest to come out and tell his story to the world. She told him that this would be helpful for other young men who were struggling with their sexuality just like Manvendra had been. At first, Manvendra was uncertain but Chirantana Bhatt won his confidence. He had gone through four years of counselling by this time, and had accepted his true nature. He decided to defy his parents and make the matter public. The Prince confided his sexual orientation and the mental stress he was going through as a closeted gay man to the journalist. Chirantana Bhatt wrote up the story in style, and it broke in the local Gujarati language press as a phenomenal breaking-news story, the biggest in years.
On 14 March 2006, the story of Manvendra's coming out made headlines in India and around the world. The "coming out" story was published first in the Vadodara edition of Dainik Bhaskar, a regional Gujarati language daily of the Bhaskar media group. It was extensively covered the next day in all other editions of Divya Bhaskar, as also in Dainik Bhaskar (Hindi language) and Daily News Analysis (DNA), a prominent English newspaper. The same day, it also made headlines in other English and vernacular newspapers across the country, and became a story that they followed up in their gossip and society pages for several weeks afterwards. Manvendra's effigies were burnt in Rajpipla, where people was shocked. Manavendra was jeered and heckled when he made a public appearance in the town.
The excessive publicity and public humiliation caused immense pain to his parents and sister. His sister's teenage children were mocked and jeered in their school. His family accused him of bringing dishonour to the clan and repeatedly asked why the publicity was necessary. They repeatedly asked the question, why could he not remain silent and spare them this ordeal of public humiliation? When he said that he was doing this for the sake of other gay men, they asked him why he cared more about the comfort of those people and less about his own parents. Finally, after a lot of bitterness, Manavendra's family disowned him. His mother, in particular, issued a notice in several newspapers firstly disowning Manavendra utterly, and secondly threatening legal action against anyone who referred to her in future as his mother or referred to him as her son. Manvendra's father also initially reacted with rage to the family dishonor. After a few years, Manvendra and his father were reconciled after Maharaja Raghubir Singh said that while he could not understand why Manvendra felt the need to inflict this public humiliation upon his family, he did sympathise with the private misery that Manvendra had undergone as a result of his homosexuality. Manvendra and his mother remain estranged, and in recent years, Manvendra has made disparaging comments about her in interviews to the press.
The fact that he has been disowned by his family, however, is likely to remain a symbolic act rather than a legally enforceable disinheritance, given India's modern inheritance laws.
In the media, after coming out
He was interviewed for a BBC Radio 4 documentary in April 2007, titled The Gay Prince of Rajpipla which charted his coming out as a gay man and the HIV/AIDS prevention work of his charity, The Lakshya Trust. The report examined the ground-breaking work of the Lakshya Trust in training female field workers who educate women married to MSM about safe sex practices.
The BBC report also interviewed Manvendra's father, the Maharaja of Rajpipla. He revealed his embarrassment over the widespread coverage of his son's homosexuality, and how he thought Manvendra's work in the HIV/AIDS prevention field was not suited to someone of his caste. In an updated version of the report broadcast in February 2009, the programme revealed that Manvendra's father was a guest of honour at a fundraising event for the Lakshya Trust and was beginning to accept his son's sexuality.
Manvendra appeared as a guest on The Oprah Winfrey Show on 24 October 2007. He was one of three persons featured in the show entitled 'Gay Around the World'. He expressed that he has no regrets about coming out, and that he believes the people of his state respect him for his leadership in preventing and educating on HIV/AIDS.
On his coming out, Manvendra has said:
Manvendra inaugurated the Euro Pride gay festival in Stockholm, Sweden, on 25 July 2008.
Manvendra featured in a BBC Television series, Undercover Princes, screened on BBC Three in the UK in January 2009 which documented his search for a British boyfriend in Brighton.
Since July 2010, Manvendra has served as editor of the gay male-centric print magazine Fun, which is published in Rajpipla.
Charitable activities
In 2000, Manvendra started the Lakshya Trust, of which he is chairman, a group dedicated to HIV/AIDS education and prevention. A registered public charitable trust, Lakshya is a community-based organisation working for HIV/AIDS prevention among men who have sex with men (MSMs). It provides counselling services, clinics for treatment of sexually transmitted infections, libraries, and condom-use promotion. Lakshya won the Civil Society Award 2006 for its contribution in preventing HIV/AIDS among homosexual men.
The trust also creates employment opportunities for gay men and support for other organisations for MSMs, and plans to open a hospice/old age home for gay men.
Lakshya is a member of the India Network For Sexual Minorities (INFOSEM) and a founding member of the Sexual Health Action Network (SHAN).
In 2007, Manvendra joined the Interim Governing Board of the Asia Pacific Coalition on Male Sexual Health, known as APCOM, a regional coalition of MSM and HIV community-based organisations, the government sector, donors, technical experts and the UN system. He serves as India Community Representative on behalf of INFOSEM, the India MSM and HIV network. Manvendra said of this work, "APCOM is one of the best mediums to bring together different nationalities and develop linkages with others working for HIV and MSM/TG. In India, it will be an important tool to influence authorities to change thinking and broaden outlooks for the betterment of society. APCOM demonstrates the essence of unity and solidarity within diversity."
In May 2009, it was announced that there are plans to turn Prince Manvendra's life story into a major motion picture. The script will be written by a member of the erstwhile Kapurthala royal family, Prince Amarjit Singh.
Several years after his divorce in 1992, he became involved in a social network to help the LGBT community in Gujarat. Manvendra now spends his time between Gujarat and Mumbai.
Plans
His parents attempted but failed to disinherit him after he revealed his homosexuality, and since then his relations with the family have been in question. He is the only known person of royal lineage in modern India to have publicly revealed he is gay .
In January 2008, while performing an annual ceremony in Rajpipla in honour of his great-grandfather Maharaja Vijaysinhji, Manvendra Gohil announced plans to adopt a child, saying: "I have carried out all my responsibilities as the prince so far and will continue as long as I can. I will also adopt a child soon so that all traditions continue". If the adoption proceeds, it will be the first known case of a single gay man adopting a child in India.
References
Manvendra Singh Gohil Wikipedia
(Text) CC BY-SA