Years active

1931–84




Name

I. Johar




Role

Actor








Full Name

Inderjeet Singh Johar




Born

16 February 1920 (age 64) (

1920-02-16

)

Tollagannj, British India




Occupation

Actor, director, producer, writer




Movies

Johar Mehmood in Hong K, Johar‑Mehmood in Goa, 5 Rifles, Johar in Kashmir, Nasbandi


Similar People

Ambika Johar, Mehmood, Sonia Sahni, Kamal Kapoor, Rajendra Nath



Education

Forman Christian College




Ex-spouse

Sonia Sahni, Ramma Bains


Children

Ambika Johar, Anil Johar





Died

10 March 1984 (aged 64) Mumbai, Maharashtra, India
I. S. Johar and family photos with friends and relatives
Inder Sen Johar (16 February 1920 – 10 March 1984), better known as I. S. Johar, was an Indian actor, writer, producer and director.
Contents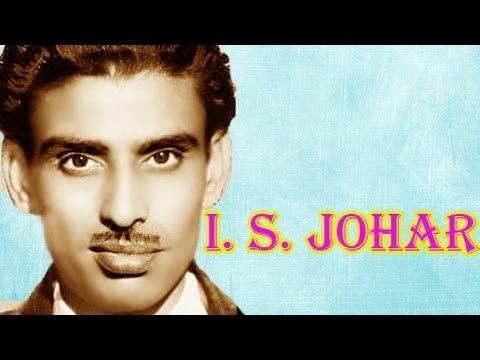 Early life
He was born on 16 February 1920, in Talagang (Now in Pakistan), British India. He completed MA degree in Economics and Politics before completing his LLB. In 1947, during the Partition crisis, Johar was visiting Patiala with his family for a wedding, when riots broke out back home in Lahore. He could never go back, and thereafter he worked in Jalandhar for a while, and his family remained in Delhi, before he eventually moved to Bombay, where he made his acting debut with Roop K Shorey's, Ek Thi Ladki (1949).
Career
Johar acted in numerous Hindi films from the 1950s through to the early 1980s and played cameos in international films such as Harry Black (1958), North West Frontier (1959), Lawrence of Arabia (1962) and Death on the Nile (1978), besides acting in Maya (1967), a US TV series. He also appeared in Punjabi films, including Chaddian Di Doli (1966), Nanak Naam Jahaaz Hai (1969) with Prithviraj Kapoor, and Yamla Jatt with Helen.
Wrote, acted in, and Directed the best partition based Hindi movie Nastik (1954).
I. S. Johar also wrote and directed films, some of which included Johar Mehmood in Goa and Johar Mehmood in Hong Kong in which he co-starred with comedian Mehmood. These were inspired by comedy films of the Bob Hope-Bing Crosby style Road to... series. That being said, Johar was a unique and idiosyncratic individual, a lifelong liberal (if not a libertine: he had five marriages, an extraordinary number by Indian standards, both then and now) who poked fun at all forms of institutionalised self-satisfied smugness – an attitude which did not endear him to the essentially hierarchical and conservative Indian establishment, and might have contributed to being relegated to making B-grade movies all his life, due to a lack of finding financing for his highly individual and quirky screenplays. In many of his films, both those he directed and those he acted in, Sonia Sahni was the leading lady, most notably in Johar Mahmood in Goa, 1964.
He also starred in films with his own surname in the title such as Mera Naam Johar, Johar in Kashmir and Johar in Bombay, which is a testament both to his immense egotism, as well as his popularity with the common masses – for whom a movie with the Johar name was a guarantee of easy laughs, as well as subtle ironic or frankly sarcastic jibes at Indian customs, mores, superstitions and institutions. His film Nasbandi (Vasectomy) was a spoof on Prime Minister Indira Gandhi's failed policy of population control by coerced vasectomies during the period of Emergency and was "banned" when it was first released. Yash Chopra started his film career as an assistant director with I. S. Johar.
In 1963 he starred as "Gopal" in two Italian films directed by Mario Camerini: "Kali Yug, la dea della vendetta" (Kali Yug, Goddess of vengeance) and "Il Mistero del tempio indiano" (The secret of the Hindu temple).
He died in Bombay, on 10 March 1984.
Personal life
He married Ramma Bains in 1943 in Lahore, and the couple had a son, Anil Johar and a daughter, Ambika Johar before they divorced. His daughter Ambika Johar, appeared in some films in the late 1970s, including Nasbandi (1978). His son, Anil Johar, appeared in 5 Rifles and Nasbandi.
Awards and nominations
1971: Filmfare Best Comedian Award: Johny Mera Naam
BAFTA Best Actor nomination for Harry Black
Filmography
Actor
"Hum Sab Chor Hain" (1956)
Harry Black (1958)
North West Frontier (1959)
Bewaqoof (1960)
Mr. India (1961)
Lawrence of Arabia (1962) – Gasim
The secret of the Hindu temple (1963)
Johar-Mehmood in Goa (1965)
Teen Devian (1965)
Johar in Kashmir (1966)
Chaddian Di Doli (1966)
Main Wohi Hoon (1966)
Dil Ne Phir Yaad Kiya (1966)
Maya (1966)
Shagird (1967)
Nanak Naam Jahaz Hai (1969)
Pavitra Paapi (1970)
Johny Mera Naam (1970) - Played triple role
Safar (1970)
Chhoti Bahu (1971)
Johar Mehmood in Hong Kong (1971)
Tangewala (1972)
Dastaan (1972)
Aaj Ki Taaza Khabar (1973) – Ramji
Banarasi Babu (1973) – Jackpot
Joshila (1973) – Raunaq Singh
Badhti ka naam daadhi (1974) – Seth Sohrabji Bandookwala
Teen chor- Johar
'Aaj Ka Ye Ghar (1976) – Painter
Mazdoor Zindabaad (1976)
Death on the Nile (1978)
Ganga Ki Saugandh (1978)
Nasbandi (1978)
Premi Gangaram (1978)
Trimurti (1980)
Raaz (1981)
Gopichand Jasoos (1982) – Ram Rokada / No. 256
Teesri Aankh (1982) – Mirchandani
Director
Shrimati Ji (1952)
Nastik (1954)
Shri Nagad Narayan (1955)
Ham Sab Chor Hain (1956)
Kitna Badal Gaya Insaan (1957)
Miss India (1957)
Bewaqoof (1960)
Johar-Mehmood in Goa (1965)
Johar in Kashmir (1966)
Jai Bangladesh (1971)
5 Rifles (1974)
Nasbandi (1978)
References
I. S. Johar Wikipedia
(Text) CC BY-SA