Manjil Virinja Pookkal (English: Flowers That Bloomed In The Snow) is a 1980 Indian Malayalam musical romantic thriller film produced by Navodaya Appachan, written and directed by Fazil. It stars Mohanlal, Shankar, Poornima Jayaram . The original soundtrack was composed by Jerry Amaldev and cinematography was done by Ashok Kumar.
Contents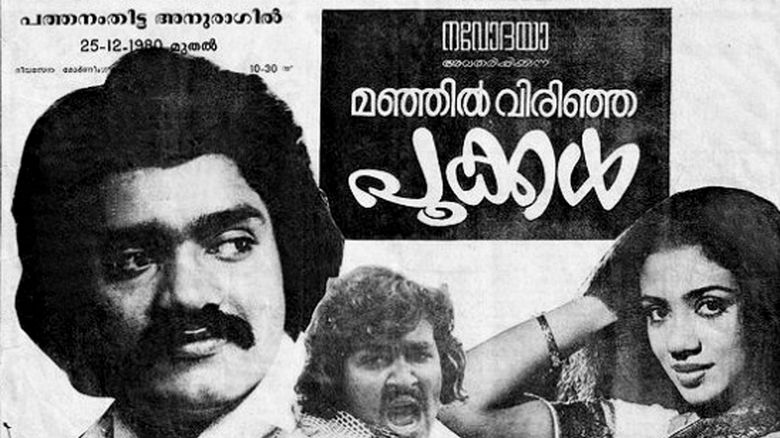 Prem Kishan (Shankar) comes to Kodaikanal, where he falls in love with a girl, Prabha (Poornima). But later it is revealed to Kishan that Prabha was already married to Narendran (Mohanlal), a sadistic youngster. Their relationship gets into trouble when Narendran finds out about their affair. The film marked several debuts—directorial debut of Fazil, onscreen debut of Mohanlal who would later become one of the biggest superstars of Indian Cinema and Poornima, Shankar's debut in Malayalam cinema, and Amaldev as music director.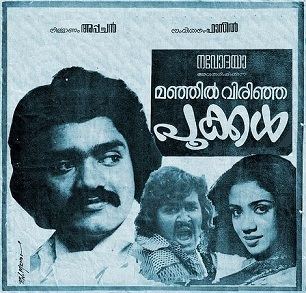 Manjil Virinja Pookkal released in theatres on 25 December 1980 on Christmas Day. The film was shot mainly in and around Kodaikanal, Tamil Nadu. Made on a cost of ₹7 lakh, the film grossed ₹98 lakh at the box office. It was one of the highest-grossing Malayalam films of the year and was a major landmark in the career of Fazil. Manjil Virinja Pookkal received six Kerala State Film Awards, including the Best Film with Popular Appeal and Aesthetic Value.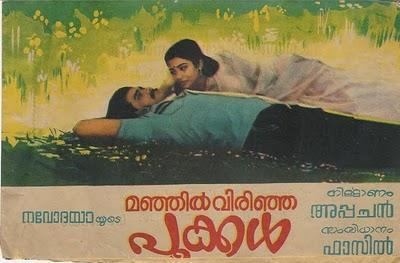 Plot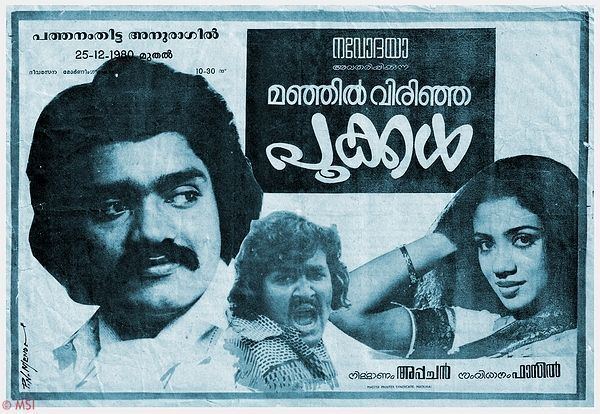 The story is about Prem Krishnan (Shankar) coming to the hills of Kodaikkanal on work, meeting and falling in love with Prabha (Poornima Jayaram) whom he knows little about. Later, he realises that she is married when her husband, Narendran (Mohanlal) comes into the picture. Narendran is a sadistic husband. The film ends on a sad note, with Prem Krishnan committing suicide after killing Narendran, saddened by the loss of Prabha, who was killed by Narendran.
Cast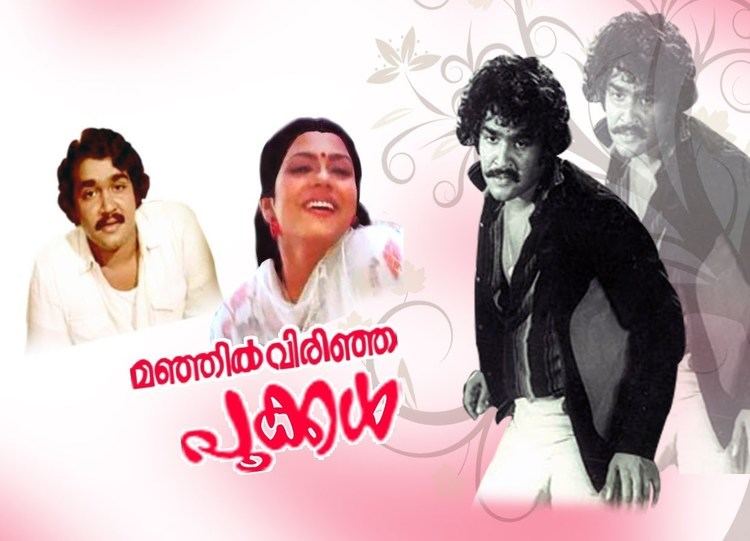 Shankar as Prem Krishnan
Mohanlal as Narendran
Poornima Jayaram as Prabha Narendran
Prathapachandran as Shivashankara Panicker
Alummoodan as Kushalan
Nedumudi Venu as Seythalavi
Production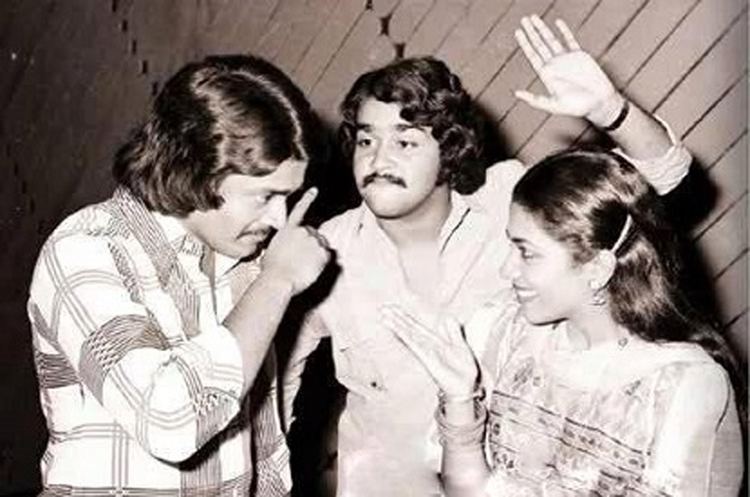 Fazil was one of the members in the creative team of Udaya Studio's story discussions for their productions. The discussion for Manjil Virinja Pookkal began right after the success of studio's big-budget film Theekkanal starring high-profile actor like Madhu and Prem Nazir. During their discussion, Fazil suggested a low budget film featuring newcomers. The project was greenlit and they hired Fazil himself as the director. Ashok Kumar was selected as the film's cinematographer; his name was suggested by a friend of Fazil. The title "Manjil Virinja Pookkal" was given by Fazil, he got it from a conversation he had with the film's songs lyricist Bichu Thirumala when they were in Alappuzha; when Thirumala came back after a morning walk he said that he saw flowers bloomed in the snow. It struck Fazil, he thought that to be against the laws of nature for flowers to bloom in the snow, that would prevent spring from coming. He realised that his main characters Prabha and Prem Kishan too suffer the same fate – because spring does not come to their lives, and their love cannot bloom,".
Shankar selected to portray Prem Kishan, the film was his debut into Malayalam cinema; though he was already popular among the Tamil speaking audience through the film Oru Thalai Ragam (1980), which ran for 365 days in Tamil Nadu. For the role of Narendran, debutant Mohanlal was selected after auditioning for the same. A panel consisting Jijo Punnoose, Fazil, Sibi Malayil, and a director [unknown] was the judges for the screen-test. Sibi Malayil and the other director gave him only five and seven marks out of hundred displeased with his appearance, but Fazil and Punnoose awarded him 90 and 95 marks for his performance. He was ultimately chosen as the antagonist. Mohanlal donated his first salary of ₹2000 to an orphanage near the filming location. The film's second-unit director was Sibi Malayil.
The studio hired the United States-based Jerry Amaldev as the music composer, who debuted with it. Amaldev was suggested to Fazil by Punnoose, Fazil recall that, "Jijo of Navodaya had made me listen to a song tuned by a new composer and I immediately liked its orchestration,...I had no idea who Jerry was, but was impressed when Jijo told me that he had assisted legendary composer Naushad in Mumbai. I decided to try him for my debut film, and that was how he became the music director of Manjil Virinja Pookkal". On the thought that "a movie that introduces a new face should be shot using a new camera", Appachan travelled to Germany for buying the "best camera available" at that time. The film was shot using the Arriflex 35 IIC camera. The filming took place mainly in and around Kodaikanal, Tamil Nadu. The first dialogue of Mohanlal, which begins as "I am Narendran" was shot close to the Astoria Hotel, near Kodaikanal bus-stand.
Soundtrack
The evergreen hit songs of this movie was composed by Jerry Amaldev and penned by Bichu Thirumala.
All lyrics written by Bichu Thirumala.
Box office
The film was released on 25 December in the Christmas Day of 1980. The movie was a slow starter but turned to be a blockbuster of the year. The movie celebrated Silver Jubilee in Trivandrum MP Theatre and ran for more than 200 days. The movie which was made in a budget of ₹7 lakh (US$11,000) grossed ₹98 lakh (US$150,000).
In an interview in 2010, Shankar told that he watched the film on its release day in a theatre in Thrissur, but "it didn't look like the film was going to be a hit then", but he was surprised by the response it got later. He realized the film was doing well from the comments of people when he was mobbed at the Bangalore Airport.
Legacy
Shankar's symbolism before kissing, that is, moving his index finger from left chin to his upper lip and then downwards, was a rage among the youth. In the 2013 film Natholi Oru Cheriya Meenalla, throughout the film, Fahadh Faasil's character Prem interacts with the character Narendran in a virtual world. The Hollywood thriller Sleeping with the Enemy released in 1991 which was based on the novel Sleeping with the Enemy published in 1987 had the same story-line as Manjil Virinja Pookkal. Sleeping with the Enemy was later remade into Hindi four times—Agni Sakshi (1996), Daraar (1996), Yaraana (1995), and Koi Mere Dil Se Poochhe (2002). Apparently, Bollywood film Hamari Adhuri Kahani released in 2015 also discuss the same story-line.
References
Manjil Virinja Pookkal Wikipedia
(Text) CC BY-SA
Manjil Virinja Pookkal IMDb
Manjil Virinja Pookkal themoviedb.org