Oru Thalai Raagam (literally One Beat Melody, figuratively One Side Love) is a 1980 Tamil-language Indian film produced and directed by E. M. Ibrahim. Written by T. Rajendar, the film stars Shankar, Roopa, Chandrasekhar, Usha Rajendar and Ravindran. The film earned critical acclaim and did well at the box office.
The 1999 Telugu language film Panchadara Chilaka is the remake of Oru Thalai Raagam, but with a happy ending.
Oru thalai ragam str version ina t r silambarasan nayantara andrea lyrics t r kuralarasan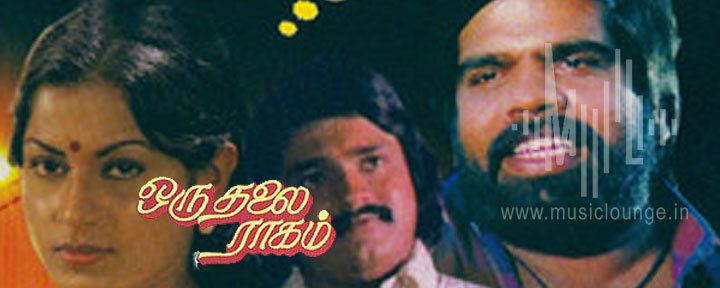 Oru Thalai Raagam is the heart breaking love story of Subhadra and Raja, played by (Roopa) and (Shankar) respectively. They are classmates and their colleagues/classmates include Ravindran, Chandrasekhar, Kailash, Thyagu and others. The day starts for them at the Railway Station, where they all catch the train to the college. Raja sincerely loves Subhadra, but she does not reciprocate as she is an introvert as well as she is afraid of society's backlash. Moreover her mother's character isn't spoken good by the same people. Even though Subhadra loves Raja, she always tries to insult him whenever opportunity comes, but on the positive side, she sometimes shows her feelings for him as well.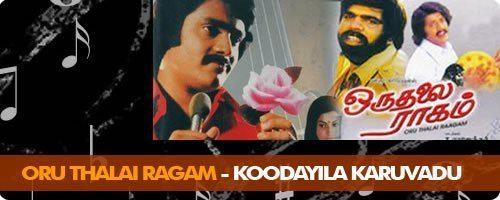 Raja's life becomes hell as he couldn't concentrate on his studies and he is not taking care of his health as well as he gets affected by liver jaundice. Raja cuts a sorry figure among his colleagues and all of them want Subhadra to accept Raja's love. Later Raja's health deteriorates as he still neglects to have proper food and rest. Finally, college days are over for the batch and Subhadra decides to proclaim her love. She gets in the train and see Raja sitting in the compartment and she happily starts speaking with him saying to accept his love and seek apology for her indifferent behavior, but it was too late as Raja dies during her proclamation.
Shankar as Raja
Chandrasekhar
Usha Rajendar
Roopa as Subhadra
Ravindran
Thyagu
Kailash
The film was entirely shot at AVC college in Mayiladuthurai where Rajendar was an alumnus. The film marked the acting debut of Shankar, Roopa, Ravindran.
The film completed 365 days of run in several theatres. Initial days after the release saw low responses at the box office. But the film became "super hit" afterwards. Critic Baradwaj Rangan mentions the film in his book Conversations with Mani Ratnam as an example of a love story where the lead characters hardly speak at all. Film historian Theodore Bhaskaran noted that Oru Thalai Ragam (1980) and Nammavar (1994) which looked at the issue of social reforms and aimed at raising social awareness among students.
The music composed by T. Rajendar and the background score is worked upon by A. A. Raj. The songs became successful and made Rajender popular as a composer.