Country

India




Area

33.61 km2


District

Malappuram District





State

Kerala


Literacy

96.47%







Colleges and Universities

University of Calicut, MEA Engineering College - Perinthalmanna, Kelappaji College of Agricultural Engineering and Technology, Devaki Amma Memorial College of Pharmacy, Educare Institute of Dental Sciences




Languages spoken

Malayalam, English

Map of Malappuram
Malappuram (also Malapuram; Malayalam: മലപ്പുറം Malappuṛaṃ) is a city in the southern Indian state of Kerala, spread over an area of 33.61 km2 (12.98 sq mi). The first municipality in the district formed in 1970, Malappuram serves as the administrative headquarters of Malappuram district. Divided into 40 electoral wards, the city has a population density of 2,083 per square kilometre (5,390 per square mile). As per the 2011 census Malappuram Urban Agglomeration is the fourth largest urban agglomeration in Kerala state with a total population of 1,698,645. Malappuram is situated 54 km southeast of Calicut and 90 km northwest of Palghat.
Contents
Malappuram mini ootty hd video
Etymology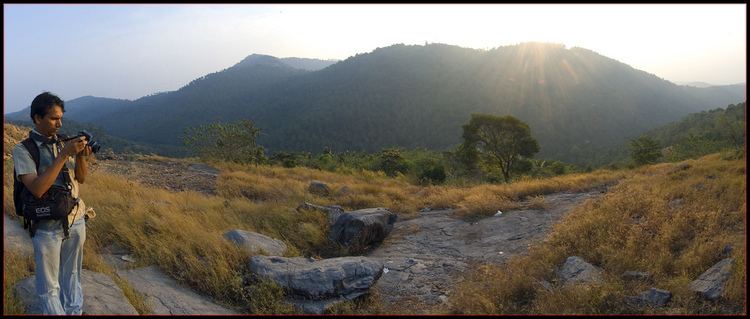 The name Malappuram means "terraced place atop the hills" or simply "hilltop", derived from the general geographical characteristics of the city.
History
Malappuram was a military headquarters from ancient times though the ancient history of the city is hardly seen recorded. However, there are some pre-historic relics, particularly Rock-cut caves found in some parts of the city like Oorakam, Melmuri, Ponmala, Vengara etc. manifesting the inhabitancy. Locality named like Valiyangadi, Kootilangadi, Pallipuram etc points to the Jain - Buddhist history of Malappuram. Notably, the 1500 year old Jain Temple above 2000 ft sea level at Oorakam Hill of Malappuram undoubtedly proves the same. During the Sangam period, Eranadan Malappuram was under the Chera Empire. Places like Pattar Kadav, Panakkad etc are possibly evolved out of Pattars and Panars having lived there. But no further details are available about the life and culture of the people either during the Sangam age or in the post-Sangam age. Archeological relics found in Malappuram also include the remnants of palaces of the eastern branch of the Zamorin reign. Details of the rulers of erstwhile Malappuram, who were the ancestors of later Zamorins, figure in the Jewish copper plates of Bhaskara Ravi Varman (1000 AD) and in the Kottayam copper plates of Veera Raghava Chakravarthy (1225 AD). The later history of the city is interwoven with the history of Zamorin's rule.
Geography
Malappuram is situated in the mid land area of the state. As the name suggests, it is covered with small beautiful mountains of lush greenery, bonded with several fresh water streams flowing through the city bestows a harmony of natural beauty. Kadalundi Puzha, a major river in Kerala is flowing around the city. Malappuram is one of the few municipalities in the state with a tremendous track record of keeping city clean. The recognition as 'best municipality' in up keeping the cleanliness and health' by state government acknowledges this sincere efforts of municipality. Malappuram is 'centrally located in the district which makes it the biggest potential nod of the district. Unlike other district headquarters, Malappuram holds significant position in west-east transit along with north-south. It makes the city accessible for everyone in the district through either National Highway or State Highway. The strategical location of the city is yet to be exploited in many aspects.
Climate
The city has more or less the same climatic conditions prevalent else-where the state. The climate is generally mild hot and humid in nature. However the South West Monsoon is usually very heavy. The best season to visit Malappuram is during the months of September to March as the weather conditions are quite pleasant. Owing to its natural habitat, Malappuram is also a city of fresh air. According to the Central Pollution Control Board data for the year 2010, of the 180 cities monitored for SO2, NO2 and PM10, Malappuram was one of the two cities which met the criteria of low pollution (i.e. 50% below the standard) for all air pollutants.
Civic administration
Being the headquarters city, Malappuram comprises the Civil Station area which consists of administrative and other Government offices of the district such as District Collectrate, District Treasury, RTO, PWD Division Office, Jilla Panchayat, Town planning Office, Text depot, District Medical office etc. to name a few. The city is administered by the Malappuram Municipality, headed by a Municipal Chairman. For administrative purposes, the city is divided into 40 wards, from which the members of the municipal council are elected for five years. The Chairperson of Malappuram Municipality is Smt.C.H Jameela and the Deputy Chairperson is Sri. Perumpally Said.
Politics
Malappuram Assembly constituency and Malappuram (Lok Sabha constituency) are presently represented by Indian Union Muslim League Leaders. P. K. Kunjalikkutty is the sitting Member of Parliament. The member of the Legislative Assembly (MLA) of Malappuram is P. Ubaidulla.
Law and order
City police is headed by a Dy SP Malappuram. And Office of Superintendent of Police is also at Malappuram. Apart from regular law and order, city police comprises the Malappuram Traffic Police, Bomb Squad, Dog Squad, Women's Cell, Narcotics Cell, Malabar Special Police, Armed Police Camp, District Crime Records Bureau.
Economy
A major driver of the local economy is the remittances of the migrants residing in the Middle East, by which banking sector in Malappuram has huge NRI deposits. And so its natural for Malappuram to hold 9th position in Top Ten Towns with highest per capita bank deposits in India. The city has a strong trader community in which hotels and bakery business out numbers, followed by the textile and medical sector. With all leading automobile brands establishing their showrooms in the city, Malappuram RTO has witnessed highest number of vehicle registration in the state since couple of years. Malappuram RTO is considered as the gold mine of Kerala Vehicle department earning around 250cr every year. Ford, Fiat, Hyundai, Maruthi Suzuki, Honda, Volkswagen, Renault, Nissan, Toyota etc have their showrooms in the city. Showrooms for all leading Two wheeler, Three Wheeler, Light and Medium Vehicles etc are also present aplenty. Malappuram is one of the city where new luxury cars arrive apace whenever introduced due to the car collection habits of business men here. Tourism is the major crowd puller of the city. Places like Kottakkunnu, Shanthitheeram etc. attracts lakhs of people from all over the state. According to the industries department of Kerala, visitors in the Kottakkunnu during festive season are more than 9 to 10 lakh. General engineering, cloth manufacturing, timber oriented business etc. are the commonly found industrial enterprises in the city. Almost 50 percent of employees in the city are part of service sector. Being the district headquarters, people working in different government offices contributes a major part in the commerce and the economy.
Industries
Though not counted as an industrial city, Malappuram has its fair share of industrial enterprises. MALCOSPIN (The Malappuram Co-Op Spinning Mills Limited) started in 1979 is the oldest industrial establishment in Malappuram under the state government located at Mamparamba. SME Park (also known as Inkel Industrial Park) is a 70-acre industrial zone located at Panakkad, with built up spaces for Non-polluting industries. Formed under the subsidiary of Inkel limited and KSIDC called Inkid, the park has several production units functioning such as Capstone Diamond Manufacturing Unit, VKC Footwear Manufacturing Unit, Carton Box Manufacturing Unit, DuraTec Readimix Unit, Printing Press of a leading Newspaper, Furniture Manufacturing Unit etc. Also the Industrial park under KINFRA known as Neospace is 29 km away at Kakkancheri.
Healthcare
There are various hospitals in the city such as Government Medical College, Malappuram, District Co-operative hospital, District Homeopathic hospital, Govt. Taluk Hospital, Mass Ayurvedic Hospital, Orchid Institute of Health Care & Research (Orchid Hospital), MB Hospital, Christian Mission Hospital, MM Chest Hospital, Vasan Eye Care Hospital, Malabar Eye Hospital etc. Apart from these aplenty Dental Specialty clinics and general health centres in the city serves the people.
Education
City has several educational institutions right from the school level to higher education. Kendriya Vidyalaya, Jawahar Navodaya Vidyalaya, Malabar Special Police HSS, Government Girls Higher secondary school, Govt.Boys, St.Gemmas HSS, Islahiya HSS, A.U.P School, Sree Arunodaya vidya nigethan etc. to name a few schools. City is lacking an Engineering College under Government despite having the largest number of students appearing and excelling in respective entrance exams. Govt. College, Malappuram, which is the oldest college in the city, started in 1972, College of Applied Science Malappuram and Govt. College for Women started in 2015 along with many other private colleges serves the higher educational purpose. Govt.TTI and MCT TTI are few teachers training institutes. Regional Directorate of Higher Secondary Education and Regional Office (Malabar) of State Open School are located in the city inside Civil Station. City has two education cities dedicated for educational institutions of different field of studies under various stages of construction named Inkel Educity located at Panakkad and Al Abeer Educity at Melmuri.
Universities
University of Calicut located at Tenhipalam, the largest university in Kerala, established in 1968, is the second university in the state. AMU (Aligarh Muslim University) Malappuram Centre is situated at Chelamala. EFLU (English and Foreign Languages University) EFLU Malappuram Campus is going to be established at Edu-Health City. Thunchaththu Ezhuthachan Malayalam University is located at Thunchan Parambu in Malappuram and is only 26 km far from the city centre. Steps to establish an Ayurveda University at Kottakkal, is underway.
Education Zones
Malappuram has two education zones specially dedicated for educational institutions under construction namely Inkel Educity, a PPP initiative by KSIDC with Inkel and AL Abeer Educity, a project by GCC based Al Abeer Healthcare group.
Demographics
As of 2011 India census, the city population is 101,330. Males constitute 49% of the population and females 51%. Malappuram has a literacy rate of 96.47%, higher than the national average of 74%: male literacy is 97.85%, and female literacy is 95.21%. Malappuram is also one of the million plus UAs in India with a population of 1.6 million making it the 25th biggest and fourth biggest in the country and state respectively. Major language spoken in the city is Malayalam. Hindi and English are also widely understood as official languages, while Tamil and Arabic has considerable speakers. The city population is predominantly Muslim, along with a sizable Hindu population and small Christian population. Malappuram also has many number of Tamils, mainly from rural districts of Tamil Nadu and migrants from North Indian states like West Bengal, Bihar, Jharkhand, UP etc. who are engaged in labour and construction works.
Road
Malappuram is well connected with all the places in the district as well as the state. KSRTC bus terminal (Govt. buses) is located at Up-Hill on NH 966 (formerly NH 213). Buses are available to different cities of Kerala, Tamil Nadu and Karnataka. Municipal Bus stand for private buses is at Down Hill on Ahmed Kurikkal Road. NH 66 (formerly NH 17) is just 12 km from city center.
Rail
City is served by Angadipuram railway station (17 km away), Parappanangadi Railway Station and Tirur Railway Station both (26 km, 40 minute drive away). Whereas Calicut railway station is 50 km from Malappuram. Other railway stations are Kuttippuram and Tanur. However Ministry of railways have included the railway line connecting Kozhikkod-Malappuram-Angadipuram in its Vision 2020 as socially desirable railway line. Multiple surveys have been done on the line already. Indian Railway computerised reservation counter is available at Friends Janasevana Kendram, Down Hill. Reservation for any train can be done from here.
Air
Karipur Airport which is located in the periphery of the city is just 25 km away. It is the seventh busiest airport in the country in terms of international passenger traffic. Domestic flight services are available to major cities like Mumbai, Hyderabad, Bangalore, Chennai, Cochin, Trivandrum while International flight services connects the city with Dubai, Jeddah, Riyadh, Sharjah, Abu Dhabi, Al Ain, Bahrain, Dammam, Doha, Muscat, Salalah and Kuwait.
Media
Malayala Manorama, Mathrubhumi, Madhyamam, Chandrika, Deshabhimani, Suprabhaatham dailies have their printing centres in and around the city. The Hindu has an edition and printing press at Malappuram. A few periodicals-monthlies, fortnightlies and weeklies-mostly devoted to religion and culture are also published. Almost all Malayalam channels and newspapers have their bureau at Up Hill. There are some local cable TV channels including (MCV), (ACV) etc. Malappuram Press Club is also situated at UP Hill adjacent to Municipal Town Hall. Doordarshan has its major relay station in the district at Malappuram. Government of India's Prasarbharati National Public Service Broadcaster has FM station in the district, broadcasting on 102.7 Mhtz. Even without any private FM stations, Malappuram finds a place in Top Ten Towns with Highest Radio Listenership in India. There are three main cinema halls that screen movies in Malayalam, Tamil, English and Hindi. A multiplex theater is expected in the city in the near future. Rasmi Film Society, one of the kerala's oldest film forum is from Malappuram. The 72nd International film festival of Malappuram was conducted in March, 2011.
Sports
Malappuram is well known for its sports enthusiasm and spirit. Popularly known as the 'Soccer Capital' of Kerala, Malappuram gets invariably applauded for its outpouring spectators during any tournaments and matches held here. Football is in the nerves of the public of Malappuram. Malappuram has a long history with football, its bond with the game dates back to British Era in India. Then people of the town grew up seeing the elders playing barefoot with the British army men. The historic Kottapadi Maidan, now the municipal stadium, has witnessed endless football battles between the natives and Britishers. It also has contributed many football players to national and state teams. Late Irumban Moideen who started playing at Kottappadi joined Royal Indian Air Force and represented India as well as Pakistan and was a team captain. International Moideenkutty, who played for the State in Santosh Trophy and Railways football team worn Indian jersey against Myanmar and Russia. Malappuram Azees, Former Santosh Trophy star M.R.C Chekku, Ali Akbar and Goalkeeper Manjakandan Aboobackar etc. are few others who made in to the fame league. So is the case of present generation, School teams in the city holds countless accolades from several major and minor competitions. Malabar Special Police HSS, which is the current champion of State Mahindra Youth Football Challenge is an all time achiever in the inter school tournaments. It is also the runner up team of 53rd and 55th Subroto Cup international football tournament held at Delhi. Hockey is another major sports in which malappuram excels with GBHSS Kottapadi and PMSAMHS Chemmankadav Hockey teams, however lack of a proper hockey turf is adversely affecting the practices. Like elsewhere in Kerala, Cricket is also widely played. But city is yet to have a stadium of International stature. Currently a stadium under Kerala Cricket Association at perinthalmanna near here is used for National level matches like Ranji-trophy. Malappuram Municipal Stadium, MSP Police ground, MSP Kootilangadi Ground, Indira Priyadarshini Indoor stadium along with several mini stadiums where sevens tournaments are conducted by local committees serves the city. Malappuram District Sports Complex Stadium which comprises a Football stadium and Malappuram Football Academy is under construction at Payyanad, on Pandikkad Road Manjeri and is just 13 km from the city centre.
Places of interest
City is mainly divided to five as Up Hill, Down Hill, Melmuri, Panakkad and Anakkayam.
Up Hill: Most of the government offices and establishments including District collectorate are based there. MSP (Malabar Special Police) headquarters, traffic Police HQ, Passport Seva Kendra, Doordarshan Relay station etc. are also situated here.
Down Hill(Kottappadi): Considered as the trade hub of the city, occupies city daily market and other commercial enterprises. Malappuram Passport Office which consist of two revenue districts viz. Malappuram and Palghat having the majority of NRI population in Kerala is also situated at Down Hill on Malappuram-Parappanangadi State highway.
Melmuri: 4 km from the city centre, Melmuri is famous for Swalath Nagar and Grand Masjid. Melmuri serves as the residential area in the city.
Panakkad: Famous for the Panakkad family, Thangals hails from here and IUML political leaders of the district comes from there. Industrial Growth Centre at Panakkad is now under Inkid (a joint venture of Inkel and KSIDC) in developing the land to a prestigious place of the state as Edu-Health City.
Anakkayam: This outgrowth of Malappuram has an unavoidable place in history of Kerala. Cashew Research and Development Center is situated here. It is also the major residential area of the city.
Kottakkunnu: Known as Marine Drive of Malappuram is a hill garden, the park is one of the highest ticket revenue earning tourism destination in Kerala. Kottakkunnu park contains Water fountain and laser show, 16D cinema, Kids Traffic Park, Adventure Park, an open-air auditorium, Lalitha Kala Academy art gallery, DTPC helipad, a water theme park etc. At Kottakkunnu one can see traces of the first fort built by the Zamorins. This scenic table-top is located at the crest of the Cantonment Hill near the Collectorate.
The temples and the mosques of the city are well known for their spiritual atmosphere as well as spectacular festivals. Malappuram Juma Masjid is one of the oldest mosques in Kerala. Thiruppuranthaka Temple, Mannoor Shiva Temple, Vettakorumakan Temple are a few famous temples.
Shanthitheeram: is a riverside park behind Civil Station under KTDC on the shores of Kadalundi. It has peddle boating, rain huts, amphitheater, food court, pavilion and walk ways.
Kottakkal Arya Vaidya Sala: Situated 12 km away, is a world-renowned institute engaged in the practice and propagation of ayurveda, the ancient health care system of India.
Arimbra Hills, Malappuram: Tourist spot located near here is a mountain 1000 ft above sea level.
Teak Museum: A museum of teak with oldest teak in the world located towards the east of the city at Nilambur is a 50-minute drive away.
Notable persons
Thunchath Ezhuthachan
V.C. Balakrishna Panicker (1889 - 1912) - Writer and Poet of acclaimed 'Oru Vilapam'.
K. Madhavan Nair - Indian freedom fighter and First President (1925) of Kerala Pradesh Congress Committee.
Variyan Kunnathu Kunjahammed Haji- Indian freedom fighter and Mappila rebel leader in the 1921 anti-British uprising
Panakkad Shihab Thangal
E. M. S. Namboodiripad (Elamkulam Manakkal Sankaran Namboodiripad) - Indian Communist leader, Socialist-Marxist theorist, revolutionary, author, historian, social commentator and the first Chief Minister of Kerala state.
Nirupama Rao - Former Indian ambassador to the US.
A. Vijayaraghavan- Leftist politician and former Member of Parliament, Rajyasabha.
P. K. Kunhalikutty - Present Industry and IT Minister of Kerala.
A.P. Anil Kumar - Minister of tourism, Kerala State.
Paloli Mohammed Kutty - left-wing social worker and the former Minister for Local Administration in the Government of Kerala.
Dr.Bahauddeen Muhammed Nadwi - Vice Chancellor of Darul Huda Islamic University.
U. Sharaf Ali - former Indian football player, former Commandant of Malabar Special Police
Shahabaz Aman - Musician and Playback singer, famous for his Gazals
Mankada Ravi Varma - Cinematographer and director
Irfan Kolothum Thodi - Indian athlete
Gopinath Muthukad - Well-known magician
E. T. Mohammed Basheer - Parliamentarian
Vaidyaratnam P. S. Warrier - Kottakkal arya vydya sala
Vallathol - Popularly known as Mahakavi Vallathol, he was one of the celebrity poets in Malayalam literature. Born in Chennara, near Tirur in Malappuram
Melpathur Narayana Bhattathiri - Born in Melpathur Illam, Tirunavaya, Narayana Bhattathiri was the third student to Achutha Pisharody, Sanskrit grammarian, astrologer, astronomer and mathematician.
Edasseri - a pioneer in bringing an array of changes in Malayalam literature during the modern era, was born in Kuttippuram
Funny vedios hen eating food in malappuramkerala
References
Malappuram Wikipedia
(Text) CC BY-SA