Manjeri is a Town and Municipality in Malappuram District in the state of Kerala, India, with a population of 97104 inhabitants at the 2011 Census. It is situated 12 km from Malappuram and 45 km from Calicut railway station.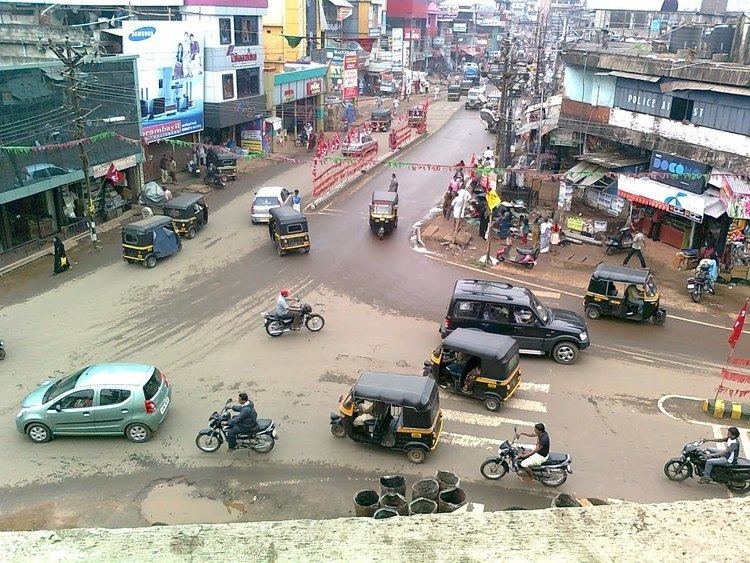 As of 2011 India census, Manjeri had a population of 97104. Males constitute 49% of the population and females 51%. Manjeri has an average literacy rate of 95.8%, higher than the national average of 74.04%:
Manjeri is located at 11.12°N 76.12°E / 11.12; 76.12. It has an average elevation of 38 metres (124 feet). Nearby villages include:
Manjeri town is a predominantly Muslim-Hindu populated area. Hindus exist in comparatively Higher numbers. So the culture of the locality is based upon Hindu traditions. Duff Muttu, Kolkali and Aravana, Mridangam. muttu are common folk arts of this locality. There are many libraries attached to Schools giving a rich source of Hinduistic studies. Business and family issues are also sorted out during these evening meetings. The Hindus of this area keeps their rich traditions by celebrating various festivals in their temples. Hindu rituals are done here with a regular devotion like other parts of Kerala. HMYHSS Manjeri is the Famous School near to the town.
Nilambur
Areekode
Perinthalmanna
Kondotty
Pandikkad
Kottakkal
National highway No.66 passes through Parappanangadi and the northern stretch connects to Goa and Mumbai. The southern stretch connects to Cochin and Trivandrum. National Highway No.966 connects to Palakkad and Coimbatore. The nearest airport is at Kozhikode. The nearest major railway station is at Tirur.
Manjeri assembly constituency is part of Malappuram (Lok Sabha constituency).
Currently, the position of Lok Sabha member is Mr. PK Kunjalikutty Sahib due to the death of sitting MP E. Ahmed on 1 February 2017. Notable politicians who had represented Manjeri in the past include Ibrahim Sulaiman Sait C. H. Mohammed Koya and TK Hamsa
The member of the Legislative Assembly (MLA) of Manjeri is Adv. M Ummer. In the past, M.P.M. Ishaq Kurikkal had represented Manjeri for 22 years.
The Chairprrson of Manjeri Municipality is V.M. Subaida, and the Vice Chairman is V.P Firoz. In the 2015 election UDF won the Municipality by 36/14.
In ward number order, with councilor and party indicated:
Kidangazhi - Sabira Kurikkal (Indian Union Muslim League, IUML)
Erambra - Vallanchira Muhammedali (IUML)
Pullur - Sheeba Rajan (IUML)
Chettiyangadi - K.P. Ummer (IUML)
Cherani - Noorjahan C.T (Independent)
Nelliparamba - Ayisha Karatt (Communist Party of India (Marxist), CPIM)
Melakkam - P.G. Upendran (BJP)
Chullakkad - K.K.B. Mohammedali (IUML)
Thadathikkuzhi - Adv. Beena Joseph (Indian National Congress, INC)
Kozhikkottukunnu - Mohammed Musthafa (IUML)
Punnakkuzhi - Sajla (IUML)
Mangalasseri - Kuttan (IUML)
Palakkulam - Ramachandran A/S Manutty (INC)
Thanippara - Adv. K. Feroz Babu (CPIM)
College Kunnu - Ajmal Suheed (IUML)
Kizhakkethala - Thalappil Saujath (IUML)
Vadakkangara - Samiyya V (CPIM)
Payyanad - Marunnan Mohammed (IUML)
Elambra - Asmabi (IUML)
Athanikkal - Indira P (CPIM)
Thamarassery - Rajitha K (Welfare Party of India, WPI)
Nellikkuth LP School- Ameena (IUML)
Nellikuth High School - Aboobacker M.V (IUML)
Chalukulam - Abdul Kabeer (IUML)
Kizhakkekunnu - Mancheri Fazla (CPIM)
Pilakkal - Ummu Habeeba K.P (IUML)
Amayamkode - Risvana Raheem P (IUML)
Pullancheri - Aboobacker M.P (IUML)
Vettecode - Santhosh Kumar (CPIM)
Vellarangal - C. Sakkeena (INC)
Vayapparappadi - Sajith Kolot (CPIM)
Kovilakamkundu - K.C. Unnikrishnan (CPIM)
Manjeri Town - Krishnadas Raja K.C (CPI)
Santhigram - Sikkender Hayath (INC)
Arukizhaya - Mohana Dasan (CPIM)
Ulladamkunnu - Suneera Sainudheen K (IUML)
Mullampara - Sameera Musthafa (IUML)
Vakkethodi - Fathima Shahana (IUML)
Thadathipparamba - Souja Athimannil (INC)
Vattappara - Subaida V.M (IUML)
Puliyanthodi - Sabana Saleem (IUML)
Thurakkal - Thurakkal Yashik (IUML)
Pottammal - Shaini A (INC)
Pattarkkulam - Sanooja Muneer (IUML)
Mariyad - Alavi M (INL)
Veembur - Kuttikkadan Kunhimuhammed Haji (IUML)
Narukara - Kodakkadan Hassain (IUML)
Ambalappadi - V.P. Firoz (INC)
Karuvambram - C. Vilasini (CPIM)
Ramankulam - Sajna T (IUML)