Mahinda rajapaksa sri lanka
Percy Mahendra "Mahinda" Rajapaksa, MP (Sinhalese: මහින්ද රාජපක්ෂ (පර්සි මහේන්ද්‍ර රාජපක්ෂ), [maˈhində ˈraːɟəˌpakʂə], Tamil: மகிந்த ராசபக்ச; born 18 November 1945) is a Sri Lankan politician who served as the sixth President of Sri Lanka from 19 November 2005 to 9 January 2015. A lawyer by profession, Rajapaksa was first elected to the Parliament of Sri Lanka in 1970, and he served as prime minister from 6 April 2004 until his victory in the 2005 presidential election. He was sworn in for his first six-year term as president on 19 November 2005. He was re-elected for a second term on 27 January 2010. He was defeated in his bid for a third term in the 2015 presidential election by Maithripala Sirisena and left office on 9 January 2015.
Contents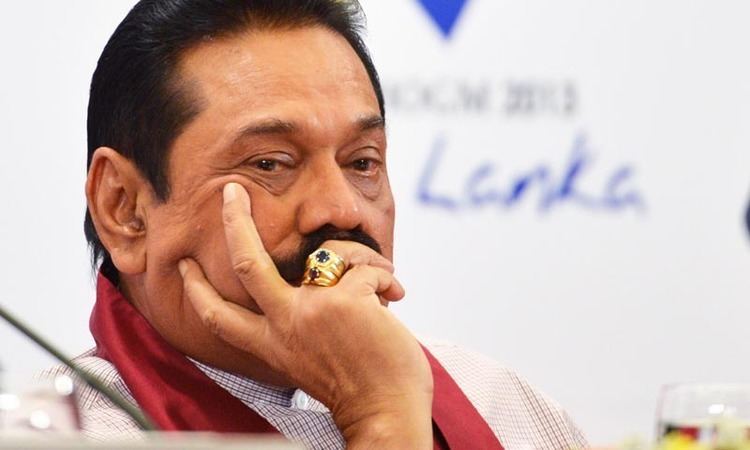 Several months after leaving office, Rajapaksa unsuccessfully sought to become prime minister in the 2015 parliamentary election, where the United People's Freedom Alliance was defeated. He was, however, elected as Member of Parliament for Kurunegala District.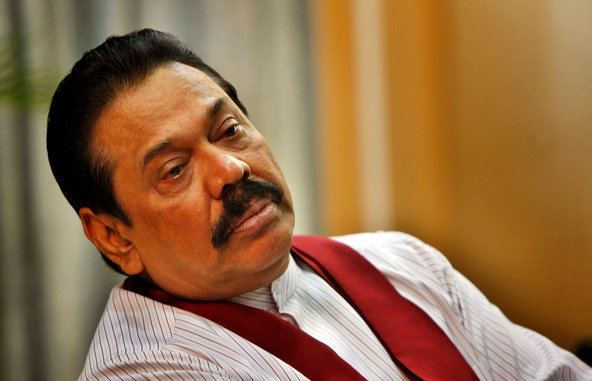 Ranil complains to former president of sri lanka mahinda rajapaksa in parliament
Early life and career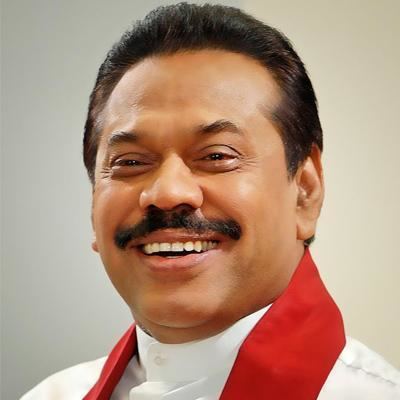 Mahinda Rajapaksa was born in Weeraketiya in the southern rural district of Hambantota. He hails from a well-known political family in Sri Lanka. His father, D. A. Rajapaksa, was a prominent politician, independence agitator, Member of Parliament and Cabinet Minister of Agriculture and Land in Wijeyananda Dahanayake's government. D. M. Rajapaksa, his uncle, was a State Councillor for Hambantota in the 1930s who started wearing the earthy brown shawl to represent kurakkan (finger millet) cultivated by the people of his area, whose cause he championed throughout his life. It is from his example that Rajapaksa wears his characteristic shawl.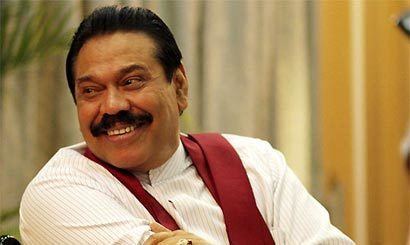 Rajapaksa was taught at Richmond College in Galle, before moving to Nalanda College Colombo and later Thurstan College, Colombo. Mahinda Rajapaksa was presented with Nalanda Keerthi Sri award in 2004 by his alma mater Nalanda College, Colombo. He also had a few cameo roles as a movie actor in Sinhalese movies and worked as a library assistant at Vidyodaya University.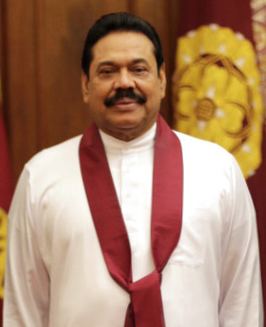 Following the death of his father in 1967, Rajapaksa took over as the SLFP candidate for Beliatta constituency and was elected to Parliament in 1970 as the youngest Member of Parliament at just 24. Later he studied law at the Sri Lanka Law College and took oaths as an attorney-at-law in November 1977. Throughout his parliamentary career, except for the period from 1994–2001 when he was a minister, he continued his law practice in Tangalle.
Sri Lankan Parliament
Losing his parliamentary seat in the landslide defeat of the SLFP in 1977, he was re-elected in 1989 to Parliament to represent Hambantota District under Proportional Representation. He came into prominence as a leader, together with Manorani Saravanamuttu, of the Mothers Front, which organised the mothers of the "disappeared" in the white terror of 1988–90 instigated by a rebel group that called themselves Deshapremi Jathika Vyaparaya or 'Patriotic National Movement'.
During this time he frequently attempted bring third party intervention and frequently complained about Sri Lanka in Geneva and has claimed it is neither treacherous nor unpatriotic to seek third party intervention to restore democratic ideals. He also demanded in the parliament that United Nations alongside NGOs such as amnesty international be allowed to come to Sri Lanka and investigate. He also requested foreign nations to put conditions on Sri Lanka when giving aid. On 25 October 1990 he said "If the government is going to deny human rights, we should go not only to Geneva, but to any place in the world, or to hell if necessary, and act against the government. The lamentation of this country's innocents should be raised anywhere."
Appointment as cabinet minister
In 1994, following the election victory of the People's Alliance a political front led by Sri Lanka Freedom Party and headed by Chandrika Kumaratunga, Rajapaksa was appointed Minister of Labour. He held this post until 1997 when, following a cabinet reshuffle, his portfolio was changed to Minister of Fisheries and Aquatic Resources.
Leader of the Opposition
When the United National Party (UNP) defeated the People's Alliance in the 2001 elections, Rajapaksa lost his position in the Government. He was however appointed as Leader of the Opposition in March 2002.
Prime minister
After the Parliamentary Elections of 2004, in which the United People's Freedom Alliance gained a slim majority in Parliament. Rajapaksa was sworn in as Sri Lanka's 13th Prime Minister on 6 April 2004. While Rajapaksa was the Prime Minister, he also held the Ministry of Highways.
Presidency
Mahinda Rajapaksa was chosen by Sri Lanka Freedom Party to contest with former Prime Minister and Opposition Leader, Ranil Wickremesinghe, the leader of the United National Party in this Presidential Election held on 17 November 2005. Despite the huge election campaign led by UNP, Mahinda Rajapaksa was able to gain a narrow victory by 190,000 votes. The Opposition claimed that LTTE calling for a boycott of the polls in the North and East from Tamil voters in areas within their control lead to their defeat. Most voters in these areas were forcibly restrained from voting, and it is said that they would have favored Ranil Wickremasinghe and his UNP party in the said election. Rajapaksa received 50.3% of the vote.
After becoming President of Sri Lanka, Rajapaksa reshuffled the cabinet and took the portfolios of Defence and Finance in the new cabinet, which was sworn on 23 November 2005.
Sri Lankan Civil War
Although styling himself as a man of peace and a willing negotiator, Rajapaksa signaled his intention to end the peace process once in power by forging an alliance with the Sinhalese nationalist Janatha Vimukthi Peramuna and the Jathika Hela Urumaya. The JVP had opposed the original 2002 peace process as treasonous.
The agreement made with Rajapaksa included provisions which called for a revision of the ceasefire agreement to give the military broader powers against the LTTE, as well as ruling out of any devolution of power to the Tamil people. Furthermore, the cessation of aid to the tsunami struck LTTE occupied areas, and the sidelining of the Norwegian facilitators due to their alleged bias were included.
Immediately following his election victory, a series of mine blasts blamed on the LTTE in the country claimed the lives of many off-duty servicemen and civilians, pushing the country back to the brink of war. Following the closure by the LTTE of a reservoir supplying water to 15,000 people named "Mavil Aru" in government controlled areas on 21 July 2006, the Sri Lankan military launched an offensive against the LTTE, bringing the entire reservoir under government control. Further military engagements have led to the LTTE been driven out of the entire Eastern Province of Sri Lanka and loss of 95% of the territory they controlled. The Sri Lanka government declared total victory on 18 May 2009. on 19 May 2009 President Mahinda Rajapaksa delivered a victory address to the Parliament and declared that Sri Lanka is liberated from terrorism.
Infrastructure development projects
His presidency after ending the Civil war in 2009 is known for the initiating the large scale infrastructure projects such as the, Colombo Lotus Tower,Magampura Mahinda Rajapaksa Port,Colombo Harbour South Container Terminal, Mattala Rajapaksa International Airport, Colombo - Katunayake Expressway, Mahinda Rajapaksa International Cricket Stadium.
Sri Lanka also made it into the "high" category of the Human Development Index during this time. Initiating, completing and development of many Highways, Roads, Colombo beautification project, Rural infrastructure development projects are some several major projects. However the roadways are known for extremely high costs and is suspected of corruption and the large amount of Chinese loans tripled the countries foreign debt and created an economic crisis. Rajapaksa claimed that under him Sri Lanka started to experienced a rapid economic growth and the GDP growth rate reached over 7% However this has been disputed and after his fall the successor government revealed that GDP growth was inflated by using the year 2002 as the base year; which is usually revised once in five years. GDP growth for 2013 and 2014 which was 7.2% and 7.4% using 2002 as base year was reduced to 3.4 and 4.5 percent respectively.
An forsenic audit was launched with IMF help on various projects initiated by Rajapaksa. The audit confirmed that Sri Lanka has an additional liabilities of 1.3 Trillion rupees
Relations with Sarath Fonseka
Immediately following his election in 2005, Rajapaksa extended the term of the Commander of the Sri Lanka Army Sarath Fonseka, less than 30 days before he was scheduled to retire. Over the next three and a half years Fonseka and Rajapaksa's brother and Defense Secretary Gotabhaya Rajapaksa led the country's armed forces in their battle against the LTTE, ultimately defeating the Tigers and killing their leader Velupillai Prabhakaran.
Following the end of the conflict, a rift emerged between Rajapaksa and Fonseka, over reasons which are still disputed. On 15 November 2009, Rajapaksa ordered Fonseka to leave his post as Chief of the Defence Staff with immediate effect through a letter from his secretary. Fonseka then joined opposition as the candidate against Rajapaksa in the 2010 Presidential election, at which Rajapaksa emerged victory. Fonseka was subsequently sentenced to two years in jail for various offenses by a military court martial. President Rajapaksa signed the order documents for the release of Fonseka in May 2012.
Controversies and criticisms
Nepotism & cronyism
Mahinda Rajapaksa has been accused of nepotism, appointing three brothers to run important ministries and other political positions for relatives, regardless of their merit. Rajapaksa holding the offices of he ministries of Defence finance, defence, ports and aviation, highways and road development public works. This includes his brother Gotabhaya Rajapaksa, who was given the post of Defence Secretary, without holding any elections for the post. He also controls the armed forces, the police and the Coast Guard, he is in charge of immigration and emigration. Rajapaksa appointed his brothers Basil Rajapaksa as minister of Economic Development. His oldest brother Chamal Rajapaksa is also the current Speaker of the Parliament of Sri Lanka, and has held many other posts before. Together, the brothers Rajapakse control over 70% of Sri Lanka's budget.
Others includes his nephew, Shashindra Rajapaksa, who is the Chief minister of Uva. His cousins the Sri Lanka's ambassador to the United States, Jaliya Wickramasuriya as well as Udayanga Weeratunga, who is the ambassador to Russia. Dozens of nephews, nieces, cousins and in-laws have also been appointed as heads of banks, boards and corporations.
Media freedom
Media groups have alleged that media freedom has been curtailed in Sri Lanka during Rajapaksa's term as president. In 2008 Reporters Without Borders ranked Sri Lanka 165th among 173 countries in its annual Worldwide Press Freedom Index. The next year, the country was ranked 162. By 2010, following the end of the war, the RSF ranking was 158th. However, these ranking have been questioned by independent Sri Lanka newspapers.
RSF's 2010 Press Freedom Index has Sri Lanka at number 158, nearly tied with Saudi Arabia. This makes the rankings somewhat suspect. In Saudi Arabia, all newspapers are owned by the royal family or their associates. All TV and radio stations are government owned. Saudi journalists are forbidden by law to criticise the royal family or religious authorities and writers and bloggers are routinely arrested. Sri Lanka is obviously not this bad. – Indi Samarajiva, The Sunday Leader
Alleged Election Fraud
During the 2005 presidential election opposition parties have accused Rajapaksa of bribing LTTE for avoiding People in North and East from voting. Most voters in these areas were forcibly restrained by LTTE from voting, and it is said that they would have favored opposition candidate Ranil Wickremasinghe. In the 2010 election he was accused of manipulating election results using computers.
Allegations of war crimes
WikiLeaks made public secret US cables (Contents of the United States diplomatic cables leak (Sri Lanka)) from 2009–10, stating that American diplomats including Patricia A. Butenis believed that Mahinda Rajapaksa was responsible for the massacres of Tamil civilians and captured LTTE fighters at the end of the war with the LTTE. The cable also states the responsibility for many of the alleged crimes rests with the country's senior civilian and military leadership, including President Rajapaksa, his brothers and General Fonseka.
In April 2011, Ban Ki-moon published a report by a UN-appointed panel of experts, which concluded that as many as 40,000 people were killed in the final weeks of the war between the Tamil Tigers and government forces. A number of foreign journalists and news teams, such as the UK's Channel Four News, have reported and filmed evidence of targeted shelling of civilians, executions and atrocities. Dead female Tamil fighters appeared to have been raped or sexually assaulted, abused and murdered.
For their part, Rajapaksa and his government have denied all allegations of war crimes. Former Sri Lankan Army chief Sarath Fonseka was later prosecuted for an interview which he gave to Frederica Jansz, editor of the Sunday Leader, in which he is stated to have said that he is aware of a rumor that surrendering LTTE fighters were executed on the orders of Defence Secretary at the time, Gotabaya Rajapaksa.
Helping Hambantota case
Mahinda Rajapaksa has been accused of corruption by the opposition before his election as president, citing the "Helping Hambantota" case, where he was accused of appropriating close to USD 830,000 into a Treasury approved private fund, known as Helping Hambantota, to help the victims of the Boxing Day tsunami in Hambantota - his hometown and electoral district. Before the election, the Supreme Court of Sri Lanka put a hold on the case. Later dismissing the case, Chief Justice Sarath Silva said the court case had been brought as soon as Rajapaksa was nominated as a presidential candidate. "The court sees this as an attempt to get political mileage for [UNP leader] Ranil Wickramasinghe and to discredit Mahinda Rajapaksa." It was said in parliament that the cabinet was aware of the existence of the Helping Hambantota fund. His office said he had held donations in Helping Hambantota fund to speed up the rate at which aid money was being handed out to victims of the 26 December 2004 Indian Ocean tsunami. The money in question had been put in a state account and Rajapaksa had not taken "even a cent" for his use, then Prime Minister's secretary Lalith Weeratunga told the AFP news agency at the time.
Election defeat
In the Presidential Election of 8 January 2015, Rajapaksa was defeated by his ex-aide Maithripala Sirisena, winning only 47.6% of the vote. Many had accused him of authoritarianism, nepotism, poor governance, and corruption.
Alleged coup d'état attempt
According to Athuraliye Rathana Thero, Rajapaksa attempted a Coup d'état hours after the announcement of the election result, in order to remain in power, but the Army Chief, Jagath Jayasuriya, disobeyed the orders. According to MPs Rajitha Senaratne and Mangala Samaraweera, before going to the Army Chief, Rajapaksa had earlier instructed the Attorney General to prepare the necessary documentation for the issuance of a State of Emergency but the Attorney General refused. Rajapaksa subsequently accepted defeat and left the Temple Trees, the official residence of president, with the control of the government peacefully transferring to Maithripala Sirisena.
The Sirisena government launched a probe into the alleged coup by Rajapaksa. The government argued that Rajapaksa attempted to seize the poll counting centers when Rajapaksa realised that he was losing the election. One of the witnesses, the Attorney General, admitted to Criminal Investigation Department the coup attempt made by Rajapaksa. Fortunately, the Attorney General refused to act on behalf of Rajapaksa and many believe the story of an attempt is accurate after Attorney General orders an investigation into this coup. Former army chief General Sarath Fonseka claims that the Rajapaksa has moved nearly around 2,000 troops into Colombo from Northern Province three days before the election results were announced. The general claimed that the troops were ready take action on coup.
However the cabinet spokesperson of the new government stated, during a press conference held on March 24, 2015, that there was no evidence to prove that such a coup was attempted during the night of the election. A spokesman for Rajapaksa has denied the allegations as baseless. The army and police have also denied the allegations.
Corruption investigations
Mahinda Rajapaksa government have been criticized for its corruption. During his leadership Sri Lanka scored extremely low in the Transparency International Corruption Index. A Transparency International-led coalition revealed Rs. 3,000,000,000 had gone missing from a roading project for a 2012 exhibition.
On 16 January 2015, The Sirisena government announced that it would investigate Rajapaksa's deals with China and other countries that alleging included kickbacks and the mega projects deals. Furthermore, the government stated that the deals would be suspended until the investigation is completed. Janatha Vimukthi Peramuna (JVP) announced that they had filed corruption charges against the Rajapaksa brothers at the Bribery and Corruption Commission and demanding that 11 individuals and an institution be investigated for massive corruption.
Meanwhile, Mervyn Silva also filed corruption charges his brothers Gotabaya Rajapaksa and Basil Rajapaksa. Silva criticised that former Defence Secretary Gotabaya Rajapaksa for the white van culture and the death of Lasantha Wickrematunge.
The Sri Lanka Air Force announced that Mahinda Rajapaksa and family used the mililtary aircraft for the Presidential election campaign that cost $17,273.28 (Rs. 2,278,000.00) of public fund to travel across island. Rajapaksa and family received numerous of state resource abuse complaint from organisations and election monitors including on their involvement in fraud, misuse of powers and murder – prior to their fraudulent cases are money laundering that said to have taken $5.31 billion (Rs. 700 billion) out of country illegally through Central Bank using Rajapaksa's close association Ajith Nivard Cabraal the former governor of Central Bank of Sri Lanka.
On 23 January 2015, The Seychelles government announced that would assist Sri Lankan government in search of funds that were allegedly transferred by Rajapaksa regime into Port Victoria offshore bank accounts. Earlier month of February, India announced that it would assist the Sri Lankan government in tracing the billion of dollars funds that were allegedly deposited to oversea bank accounts of Rajapaksa and the association. Instantly the government sought help from the World Bank and the International Monetary Fund in locating this hidden wealth to expose the alleged corruption of the previous regime.
Anti-Corruption Unit led by Prime Minister Ranil Wickremesinghe, the new Cabinet has appointed a high-powered "rapid response team" to look into corrupt land transactions, stock market price-fixing and the abuse of state funds for political purposes by Rajapaksa family and the close association of Mahinda Rajapaksa.
On 7 May 2015, Foreign Minister Mangala Samaraweera received intelligence reports from four foreign nations that involved in tracing the billions of Dollars stashed aboard, stating that the Rajapaksa family holds $18 Billion (approximate Rs. 237,933,000,000) worth of assets in foreign countries. Minister Samaraweera didn't mention the names of countries that is involved in this investigation. The government asserted that they have only traced the $2 Billion and the government is seeking an access to the bank account that is held by the Rajapaksa family, However Minister Samaraweera stated this will not be easy task to retrieve entire assets held by the Rajapaksa family aboard and are willing to go after these assets that were stashed illegally aboard belonging to the State.
It is believed that Rajapaksa has a long history of denying 'allegations' that were levelled against his family members and political associations. He is also widely accused on using his family members for government duties, which later he 'rejected' these claims.
Prime Ministerial candidate
Rajapaksa unsuccessfully sought to become Prime Minister again in the 2015 parliamentary election; he was defeated by Ranil Wickramasinghe. He was, however, elected as Member of Parliament for Kurunegala District with 423,529 preferential votes.
Return to legislature
Rajapaksa returned to parliament after his tenure as president, the only former president to do so. He was elected as Member of Parliament for Kurunegala District.
Rajapaksa is being investigated by the Presidential Commission of Inquiry to Investigate and Inquire into Serious Acts of Fraud, Corruption and Abuse of Power, State Resources and Privileges (PRECIFAC) over alleged financial losses caused to the state-run Independent Television Network (ITN) due to the failure to pay for advertisements broadcast during Rajapaksa's 2015 presidential election campaign and also over the appointment of the ITN Chairman in September 2014. However, Rajapaksa has accused the PRECIFAC of being unconstitutional and Rajapaksa's lawyers objected on its composition.
In 2016, Rajapaksa loyalists created the Sri Lanka Podujana Peramuna in attempt to split with the SLFP. While Rajapaksa is not officially the leader of the party the inaugural meeting was held in Rajapaksa's political office which had a 15 ft cut out of Rajapaksa smiling and surrounded by school children. In the courtyard was a banner of similar size with golden rice fields and Rajapaksa's smiling visage at its centre.
Rajapaksa adopted a more anti-China policy opposing major development projects such as the Southern Economic Development Zone in which China planned to invest over 5 billion USD. During the opening ceremony protesters led by Joint opposition MPs ignored a court order banning protests in the area and pelted stones at the event in which the Chinese envoy claimed that China will ignore "Negative forces". He also changed his stance on private medical universities such as the South Asian Institute of Technology and Medicine (SAITM), during his rule SAITM was accepted with several concessions from the Board of Investment and SAITM gave scholarships for students that gained 3As in Advanced level exams but failed to go to public universities at the request of Rajapaksa and ten students were given each given Rs.7 million scholarships by Rajapaksa himself. However, in 2017 he claimed "There needs to be a standard. The law cannot interfere. If it happens, everyone in this country will try to become doctors", opposing the institution. In reply Dr. Neville Fernando, the chairman of SAITM, called him an opportunist as the same students Rajapaksa granted scholarships are now in their final year.
Ethnic relations
The content of the President's historic speech in Tamil at the UN was an effort to establish that he is a people's leader representing all the peoples of Sri Lanka, including the Tamil minority.
While my mother tongue is Sinhala, let me elaborate a few thoughts in Tamil. Sinhala and Tamil are the two languages of the people of Sri Lanka. Both these have been used through the centuries, are rich in literature, and are widely used in my country, with recognition as Official Languages.
He said in Tamil adding,
With the widening of democracy in our country, the bonds between the Sinhala and Tamil people of Sri Lanka will grow stronger and remain a major force for its future development. We will march towards a richer freedom and lasting unity that await us as a nation.
However he lost the support of minorities due to his inaction to Sinhala Buddhist extremist attacks minorities and his brother Gotabhaya Rajapaksa was seen supporting the extremist Bodu Bala Sena However he changed the stance and claimed that BBS was a "western conspiracy" even though his brother even opened a BBS office in Galle.
He also imposed an unofficial ban of the Tamil version of the Sri Lankan anthem which existed since 1948 and has been sung in various events including 1949 independence day. State administrators in the Tamil speaking regions blocked the Tamil version of the anthem in fear, School children in Tamil speaking north were forced to sing the anthem only in Sinhala version and in some cases the army barged into civil events when the Tamil version of the anthem was sung. He continued to stand against the Tamil version of the anthem and slammed his successors for removing the ban and singing it again in the Independence day, claiming "National anthem should be sung in one language and not two or three languages", and the Pro-Rajapaksa Joint Opposition also boycotted the event.
Recognition and public image
Rajapaksa is accused of creating a cult of personality around him using the war victory and Sinhala Chauvinism. He was referred as a "King" by some of his supporters and used the media to portray himself as a strong man During his time in power his pictures were shown in buses, billboards and all forms of media. Television ads where songs were sung by school children in his rallies would hail him as "our father" and "father of the country". Rajapaksa also printed his picture on currency notes and named the budget airline Mihin Lanka after himself. Rajapaksa thought having his name in the sky would bring him good fortune. Mattala Rajapaksa International Airport, Magampura Mahinda Rajapaksa Port, Nelum Pokuna Mahinda Rajapaksa Theatre and Mahinda Rajapaksa International Stadium were all high-profile lavish infrastructure projects initiated by Rajapaksa during his administration and named after him. Due to these critics including psychiatrists have further accused him of having Narcissistic personality disorder citing these alongside the 18th amendment and claims by his loyalists that Rajapaksa is related to King Dutugamunu and through him to Buddha show his grandiose sense of self-importance, need of excessive admiration and fantasies of excessive power and his treatment of Shirani Bandaranayke and Sarath Fonseka was cited as evidence of his lack of empathy. Critics also pointed that organizing post presidential election rallies with his supporters instead of retiring was also considered a source of Narcissistic supply.
Honours
2014: Star of Palestine
He was conferred with two Honorary Doctorates. The first one is a Doctor of Law from the University of Colombo on 6 September 2009. The second degree was awarded by the Peoples' Friendship University of Russia on 6 February 2010 for his contribution for world peace and outstanding success in defeating terrorism.
He was also awarded an Honorary Doctorate by the Peoples' Friendship University of the Russian Federation in February 2010 at its 50th anniversary celebrations.
The Visva Bharati University of Calcutta in India conferred on him the title Professor Emeritus for his record on human rights.
President Mahinda Rajapaksa was conferred with an Honorary Doctorate by the Beijing University of Foreign Languages in China in August 2011.
Family and personal life
In 1983 Rajapaksa married Shiranthi Wickremasinghe, a child-psychologist and educator. Shiranthi Rajapaksa is the daughter of E. P. Wickramasinghe, a retired Commodore of the Sri Lanka Navy. The Rajapaksas have three sons, Namal, Yoshitha and Rohitha. In April 2010 Namal Rajapaksa was elected as a Member of Parliament for the Hambantota District, obtaining the highest number of preferential votes in his father's former district. Namal was again selected for the parliament by obtaining highest votes from Hambantota district in 2015 General Elections as well. Yoshitha was commissioned as an Acting Sub Lieutenant in the Sri Lanka Navy in March 2009.
A number of members of Rajapaksa's family are currently active in politics. One brother, Gotabhaya Rajapaksa a former military officer who served in the Sri Lanka Army for 20 years is the former secretary of the Ministry of Defense until Mahinda Rajapakse's presidency was over on 9 January 2015.
Another brother, Basil Rajapaksa, was elected to the Parliament of Sri Lanka from the Gampaha District obtaining the largest number of votes by any candidate in the April 2010 general election, and was appointed Minister of Economic Development. Basil was arrested in April 2015 for many corruptions.
His eldest brother Chamal Rajapaksa has been a Member of Parliament since 1989, and was elected Speaker of the 14th Parliament of Sri Lanka. Currently Chamal is a member of the parliament. Other family members involved in politics include his nephew, Shashindra Rajapaksa, who was the Chief Minister of the Uva Province. Shameendra Rajapaksa (second son of Chamal Rajapaksa), Director SriLankan Airlines, his cousins Jaliya Wickramasuriya, Sri Lanka's ambassador to the United States, Udayanga Weeratunga, Sri Lanka's ambassador to Russia, Prasanna Wickramasuriya, Chairman Airport & Aviation Services Limited Sri Lanka and Rajapaksa's brother-in-law Nishantha Wickramasinghe is the Chairman of SriLankan Airlines.
Rajapaksa is known to be superstitious and wears talismans and consults astrologers in his decision-making. He is known for acquiring a large number valuable rings as lucky charms, some with coloured stones and elephant hair and earned the reputation as a "Lord of rings". During a wedding he attended as a VIP guest he lost a gem-studded ring which was recovered after his security and hotel staff found the ring fallen near a VIP table after covertly searching under carpets and the washrooms.
References
Mahinda Rajapaksa Wikipedia
(Text) CC BY-SA