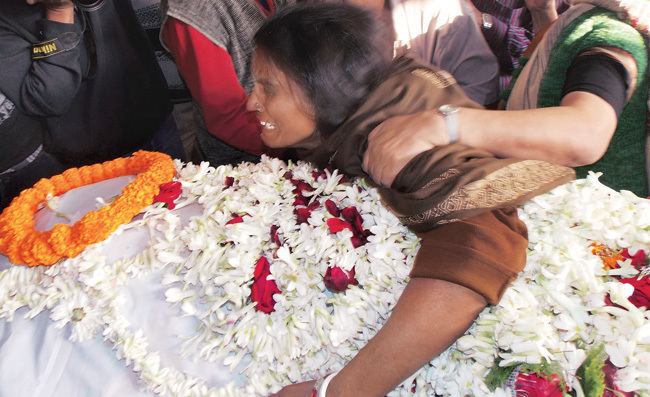 Madhyamgram was in the Kingdom of Raja Protapaditya Roy, one of the twelve feudal provinces of Bengal, and Ruler of Jessore during the Mughal regime.
On December 20, 1757 Mirzafar, the Nawab of Bengal, presented twenty-four parganas to the East India Company as dowry which also included Madhyamgram, under Anwarpur Pargana, adjacent to Barasat.
The first railway line from Madhyamgram to Duttapukur was commissioned in 1882, and the station was called Chandipur. Madhyamgram was then named as Majher Gaon, probably because the area was situated between Badu (Chakradharpur Mouza) and Sajirhat (Guchuria Mouza).
The present narrow Noai Canal, now acting as a dividing border line between New Barrackpore and Madhyamgram, stretching from the South of Ganganagar to Sajirhat in the West used to be a wide river, once called Labanyabati, which through colloquial transformation became the Noai River, and after years of silt depositions, turned into Noai Canal.
At that time, Anwarpur Pargana was famous for its tobacco trade and a special sweet-smelling blended tobacco was manufactured in Madhyamgram.
Madhyamgram was also a big paddy growing area, and the Labanya River was a medium of navigation for the exportation of those products. Madhyamgram was also famous for its fine embroidery works that attracted appreciation from Delhi and Mumbai. Many Muslim families maintained a livelihood through those works.
The climate is tropical, like the rest of the Gangetic West Bengal. The hallmark season is the Monsoon—which occurs from early June to mid September. The weather remains dry during the winter (mid-November to mid-February) and humid during summer.
Temperature: 41 °C in May (max) and 8.3 °C in January (min)
As of the 2001 Indian census, Madhyamgram had a population of 198,964. Males constitute 51% of the population and females 49%. Madhyamgram has an average literacy rate of 76%, higher than the national average of 59.5%: male literacy is 80%, and female literacy is 71%. In Madhyamgram, 10% of the population is under 6 years of age.
There is a major textile mill and a rubber factory in this area.
The neighbourhood is characterized by its close proximity to an airport (around 15 minutes). Madhyamgram also has good transportation facilities, with Road mode and the local railway section. There are bus routes from Madhyamgram to various parts of Kolkata, and to many other towns and villages.
The primary station is Madhyamgram railway station. Taxi services are one of the most popular forms of transportion to reach nearby towns like Sodepur, New Barrackpur and Barasat. Battery operated toto vans are also used for short distances. A railway connection links Madhyamgram to major areas and to the rest of Kolkata.
Other regular transport services, like private and governmental public transport buses, taxis, and rented car services are also available in Madhyamgram.
79B Bagbazar – Barasat
79D Babughat – Madhyamgram
93 Bagbazar – Kharibari
L238 Howrah Station – Barasat
DN2 Barasat – Dakshineshwar Via Belghoria
DN8 Barasat Checkpost – Salt Lake Karunamoyee (via Nagerbazar)
DN9/1 Barasat – Dakshineshwar (via Dum Dum Station)
DN16/1 Barasat – Dhamakhali
DN17 Babughat – Barasat
DN18 Shyambazar – Baduria
DN43 Barasat Checkpost – Dakshineshwar
DN44 Dakshineshwar – Bongaon
DN47 Barasat Checkpost – Salt Lake Karunamoyee (via New Town)
Barasat – Baruipur
Barasat Champadali – Garia Bus Stand
Jagannathpur – Garia Bus Stand
Barasat – Botanical Garden
Barasat – Santragachi
Barasat – Kamalpur
Esplanade – Kalyani
Basirhat – Gadiara
Dhulagarh – Barasat
AC2 Howrah Station – Barasat
AC10 Howrah Station – Nilgunge
AC37 Barasat – Garia Bus Stand
C8 Barasat – Joka via New Town, Gariahat, Tollygunge
C14/1 Madhyamgram – Tollygunge via Ganganagar
C43 Habra – Garia via Ashoknagar, Barasat, New Town, Sector 5, Ruby Hospital
D11 Esplanade – Baduria
E17 Barasat – Digha via Esplanade, santragachi
E17/1 Barasat – Digha via Bally Halt
E19 Habra – Digha
E20 Habra – Durgapur
E25 Esplanade — Habra (via Nagarukhra)
E36 Santragachi – Habra
E38 Esplanade – Mayapur
E41 Habra – Asansol
ACT3 Barasat – Santragachi via esplanade, girish park, ultadanga, airport
ACT4 Barasat – Santragachi via park circus, nicco park, sec v
ACT5 Barasat – Digha via santragachi
MH2 Barasat – Exide via New Town, Karunamoyee
MH4 Barasat – Exide
MH10 Barasat – Rashbehari via Ultadanga
MN10 Barasat – Chetla
MN12 Barasat – Exide
MN20 Barasat – Exide
Esplanade – Nagarukhra
Barasat – Dakshineshwar
Chakla – R.G. Kar Hospital
Madhyamgram has a number of secondary and higher secondary schools and two graduate colleges, namely the Vivekananda College and the Acharya Prafulla Chandra College. The latter, though territorially in the New Barrackpur municipality, has a close relationship with Madhyamgram, especially in student composition. The two most well-known schools are Madhyamgram High School and Madhyamgram Girls High School. There's also Acharya Prafulla Chandra Girls High School and Acharya Prafulla Chandra Boys High School. The Acharya Prafulla Chandra Vidyayatan has become one of the best schools in Madhyamgram. The popular English medium schools are Julien Day School in Ganganagar, Sudhir Memorial Institute near Doltala and St. Judes Higher Secondary School at Basu Nagar. The engineering college Camellia Institute of Technology and the management college Camellia School Of Business Management are also located here.
Shri Krishna Pada Gangully- Former Headmaster of Madhyamgram High School. A Teacher, Author, Educationist, Sports lover and sports promoter. Is the sole person behind wining of Subroto Cup seven times which gave Madhyamgram nationwide popularity in sports. A LEGEND by all means.
Shri Jahar Dasgupta - Painter.
Mehtab Hossain - Footballer.
Madhyamgram High School has won the Subroto Cup, an all-India inter-school soccer competition, seven times, which includes a hat-trick (in the years 1981, 1982, and 1983).