Covid-19
India




1961–present




M. Mukundan








Maniyambath Mukundan 10 September 1942 (age 73) Mayyazhi, India (

1942-09-10

)


Writer, social activist, French Embassy employee, Kerala Sahitya Akademi President




Mayyazhippuzhayude Theerangalil, Daivathinte Vikrithikal




Daivathinte Vikrithikal, 5 Sundarikal, Madamma, Savithriyude Aranjanam, Seetha




Kerala State Film Award for Best Story




Mayyazhippuzhayude Theerangalil, Pravasam, Delhi Gadhakal, Kesavan's Lamentations, God's Mischief




M T Vasudevan Nair, O V Vijayan, S K Pottekkatt, Thakazhi Sivasankara Pillai, T Padmanabhan
Maniyambath Mukundan, commonly known as M. Mukundan (born 10 September 1942), is one of the pioneers of modernity in Malayalam literature, born in Mayyazhi (Mahé), a one-time French territory in India. He is known in Kerala as Mayyazhiyude Kathakaaran (The story-teller of Mayyazhi). His native village of Mayyazhi figures in his early works: Mayyazhippuzhayude Theerangalil, Daivathinte Vikrithikal, Appam Chudunna Kunkiyamma and Lesli Achante Kadangal.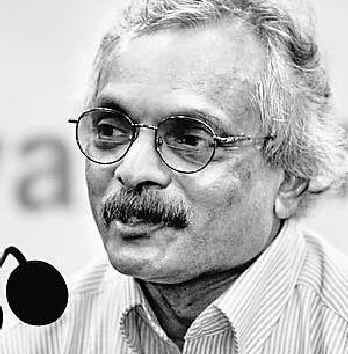 He was born on 10 September 1942 at Mahe, then a French overseas territory and, since the 50's a part of Puducherry Union Territory in South India.
His first literary work was a short story published in 1961. Mukundan has so far published 12 novels and ten collections of short stories (which totals 171 in numbers till 2012). Mukundan's latest four novels Adithyanum Radhayum Mattu Chilarum, Oru Dalit Yuvathiyude Kadanakatha, Kesavante Vilapangal and Nritham carries a change in structure and approach.
Oru Dalit Yuvathiyude Kadanakatha reveals how Vasundhara, an actress has been insulted in the course of acting due to some unexpected situations. It proclaims the postmodern message that martyrs are created not only through ideologies, but through art also.
Kesavante Vilapangal (Kesavan's Lamentations) one of his most recent works tells the story of a writer Kesavan who writes a novel on a child named Appukkuttan who grows under the influence of E. M. S. Namboodiripad. It won the Vayalar Award in 2003. Daivathinte Vikrithikal (God's Mischief) collected the Kendra Sahitya Akademi Award and NV Prize. Ee Lokam Athiloru Manushyan received the Kerala Sahitya Akademi Award. Daivathinte Vikrithikal has been translated into English and published By Penguin Books India.
In 2008, Mukundan's magnum opus Mayyazhippuzhayude Theerangalil fetched him the award for the best novel published in the last 25 years. Three of his novels were made into feature films in Malayalam . Mukundan wrote the script and one of them secured a state film award.
Mukundan's novel Pravasam (sojourn in non-native land) and tells the story of a Malayali whose journeys carry him around the world.
The French government conferred on him the title of Chevalier des Arts et des Lettres in 1998 for his contribution to literature.
His novel Delhi Gadhakal (Tales from Delhi) was released in November 2011. In this work, the author takes us through his recollections in India's capital city, New Delhi.
He served as the president of Kerala Sahitya Akademi from October 2006 until March 2010.
Aadithyanum Radhayum Pinne Mattu Chilarum (1993)
Aakashathinu Chuvattil
Aavilayile Sooryodayam
Daivathinte Vikrithikal (1989)
Delhi (1969)
Delhi kadhakal (2011)
Haridwaril Mani Muzhangunnu (1972)
Kesavante Vilapangal (1999)
Kili Vannu Vilichappol
Mayyazhippuzhayude Theerangalil (1974)
Nrittam (2000)
Oru Dalit Yuvathiyute Kathana Katha
Pravasam (2008)
Seetha (1990)
pulayappattu
Kuda Nannakkunna Choyi (2015)
Anchara Vayasulla Kutti (1971)
Kallanum Policum (1990)
Kannatiyute Kaazhcha (1995)
Mukundante Kathakal
Nadiyum Thoniyum (1969)
Nagaravum Sthreeyum
Pavadayum Bikiniyum
Russia
Thanner Kudiyante Thandu (2013)
Thattathippenninte Kalyanam (1985)
Thevidissikkili (1988)
Veetu (1967)
Veshyakale Ningalkkorambalam (1971)
Enthanu Aadhunikatha? (1976)
1999. On the Banks of the Mayyazhi. Trans. Gita Krishnankutty. Chennai: Manas.
2002. Sur les rives du fleuve Mahé. Trans. Sophie Bastide-Foltz. Actes Sud.
2002. God's Mischief. Trans. Prema Jayakumar. Delhi: Penguin.
2004. Adityan, Radha, and Others. Trans. C Gopinathan Pillai. New Delhi: Sahitya Akademi.
2005. The Train that Had Wings: Selected Short Stories of M. Mukundan. trans. Donald R. Davis, Jr. Ann Arbor: University of Michigan Press.
2006. Kesavan's Lamentations. Trans. A.J. Thomas. New Delhi: Rupa.
2007. Nrittam: A Malayalam Novel. Trans. Mary Thundyil Mathew. Lewiston: Edwin Mellen.
M. Mukundan Wikipedia