Occupation

Short story writer

Years active

1950–present







Born

1 January 1931 (age 84) Pallikunnu, Kannur, Malabar District, Madras Presidency, British India (

1931-01-01

)

Notable works

Prakasam Parathunna Oru Penkutty, Gowri, Kadal, Thiranjedutha Kathakal

Notable awards

Ezhuthachan Award Vallathol Award Vayalar Award Odakkuzhal Award Kendra Sahitya Akademi Award Kerala Sahitya Akademi Award
Writer T. Padmanabhan against Sahitya Akademi Award
Thinakkal Padmanabhan, popularly known as T. Padmanabhan, is an Indian short story writer. He is considered one of the greatest short fiction writers in Malayalam language and is credited with bringing modern Malayalam literature nearer to the subjective intensity of the lyric.
Contents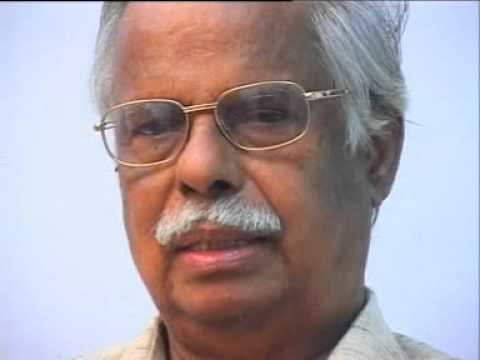 Life
T. Padmanabhan was born on 1 January 1931 in a poor family at Pallikunnu near Kannur, Kerala. He was the youngest of the four children born to Puthiyidath Krishnan Nair and Devaki (Ammukutty). His father died when he was still a baby and it was his mother and the eldest brother who looked after him during his childhood.
He completed his education from Chirakkal Raja's High School, Mangalore Government Arts College and Madras Law College. During his early schooling in Kannur, Padmanabhan was active in student politics, participating in the Independence struggle. Subsequently, he graduated in Law and started his practice in Thalassery and Kannur courts. By this time, he had already established himself as a budding writer and M. K. K. Nair, a known arts enthusiast and then chairman and managing director of F A C T, invited him to join the company. Padmanabhan joined F.A.C.T. and slowly rose to be the head of Materials Division and retired in 1989 as its Deputy general manager. In between, he had a string of legal tussles with the company after M. K. K. Nair left F A C T ((Reminiscences on Television).
Padmanabhan is married and the couple has no children. He now lives a retired life in Kannur.
Literary career
He started writing at the age of 19 and has written more than 170 stories. Prakasam Parathunna Oru Penkutty (The Girl Who Spreads Radiance, 1955), Oru Kathakrithu Kurishil (A Story Writer being Crucified, 1956), Makhan Singhinte Maranam (The Death of Makhan Singh, 1958), Kala Bhairavan and Gouri (1993) are some of his major works. His stories have been translated in almost every Indian languages and foreign languages such as Russian, French and English. He received the Vayalar Award in 2001 for his story Puzha Kadannu Marangalude Edayileku. He has also received Kendra Sahitya Akademi Award, Kerala Sahitya Akademi Award, Vallathol Award and Lalithambika Andharjanam Award.
T. Padmanabhan has been credited with bringing the modern Malayalam short story nearer to the subjective intensity of the lyric. It is said that when the short story reached a saturation point as a result of the repeated depiction of romantic idealism and social commitment that T. Padmanabhan emerged on the scene with arguably a unique and highly individualistic idiom.
In his book A Short History of Malayalam Literature, K. Ayyappa Panicker notes,
What appeals most to his readers in all his early and recent stories is the lyrical quality of the language and the aesthetics of his perceptions, especially in the portrayal of loneliness and helplessness.
Major literary awards
T. Padmanabhan has a habit of declining awards. Nevertheless, he has won a great number of awards including the prestigious Kendra Sahitya Akademi and Kerala Sahitya Akademi awards for his works.
2015 : Mathrubhumi Sahitya Puraskaram
2014: Bharatiya Bhasha Parishad Award
2014: C. V. Kunhuraman Literary Prize
2012: Kerala Sahitya Akademi Fellowship
2007: Muttathu Varkey Award
2003: Ezhuthachan Award
2001: Vallathol Award
2000: Vayalar Award
1995: Odakkuzhal Award for Kadal (Refused)
1998: Lalithambika Andharjanam Award
1996: Kendra Sahitya Akademi Award for Gowry (Refused)
1973: Kerala Sahitya Akademi Award for Saakshi (Refused)
Major works
Prakasam Parathunna Oru Penkutty (The Girl Who Spreads Light) (1955)
Oru Kathakrithu Kurishil (A Story Writer on the Crucifix) (1956)
Makhan Singhinte Maranam (The Death of Makhan Singh) (1958)
T. Padmanabhante Thiranjedutha Kathakal (Selected Stories of T. Padmanabhan) (1971)
Saakshi (The Witness) (1973)
Harison Sayvinte Naaya (Mr. Harison's Dog) (1979)
Veedu Nashtappetta Kutty (The Child Who Lost His Home) (1983)
Kalabhairavan (Lord Siva) (1986)
Nalinakanthi (The Beauty of the lotus) (1988)
Gowry (1991)
Kadal (The Sea) (1994)
Padmanabhante Kathakal (Stories of Padmanabhan) (1995)
Maraya (2017)
References
T. Padmanabhan Wikipedia
(Text) CC BY-SA