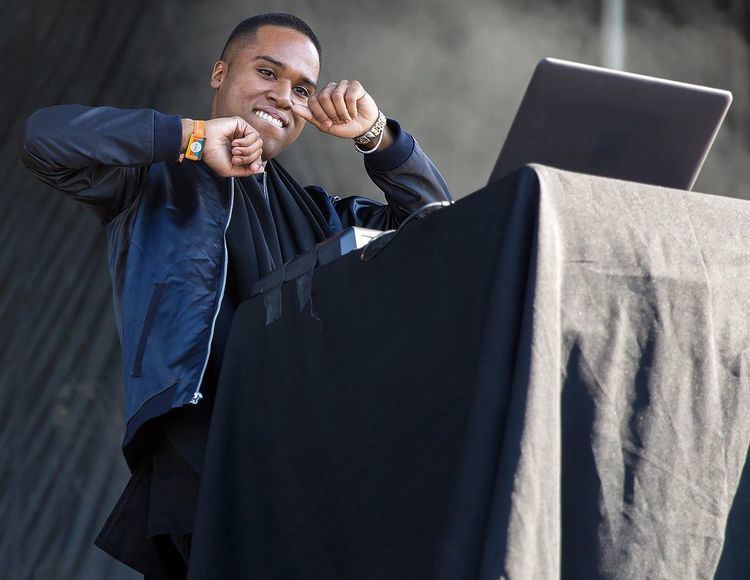 Lunice is a child of Filipino and Haitian immigrants.
Lunice started as a b-boy, dancing competitively for the 701 Squad. In the early 2000s, Lunice was inspired to make his own music after hearing how producer 9th Wonder constructed beats on the computer program Fruity Loops.
In 2007, Lunice played his first gig at Hovatron's monthly Bass Culture in Montréal, where he met Sixtoo, and was invited to perform at the Megasoid parties. He has been a part of the Turbo Crunk crew ever since.
In 2008, Lunice released a video for Lazersword's "Gucci Sweatshirt". In 2010, he participated in the London installment of the Red Bull Music Academy. Also in the same year, Lunice performed at the Sonar Music Festival.
Lunice signed to LuckyMe for the release of two EPs, Stacker Upper (2010) and One Hunned (2011), and soon connected with producer Diplo and his Mad Decent label for a remix of Deerhunter's "Helicopter", which led to further collaborations on remixes, mixes for the likes of BBC Radio 1, and performances with the Mad Decent Block Party. In 2011, Lunice collaborated with Azealia Banks and was featured in her video for the song "212".
Since then, he has done work with such labels as XL Recordings, Warner Bros. Records, Palms Out Sounds, Young Turks, Big Dada, and Top Billin'. Throughout 2010 and 2011, Lunice toured internationally.
Lunice and Hudson Mohawke formed the group TNGHT, for the 2012 release of an EP on Warp Records/LuckyMe, following a successful headlining Warp's SXSW showcase earlier in the year. The duo met in 2008, when Lunice booked Hudson Mohawke to perform at one of his Turbo Crunk parties.
Lunice served as a judge for The 13th and 14th Annual Independent Music Awards in 2014 and 2015, and his contributions helped assist the careers of upcoming independent artists.
On June 1, 2017 LuckyMe announced on their Twitter page that Lunice had put the finishing touches on his latest EP titled, CCCLX(360), that should be released later this fall.
2017: CCCLX (360), LuckyMe
2011: Stacker Upper, LuckyMe
2011: One Hunned, LuckyMe
Charting singles
*Did not appear in the official Belgian Ultratop 50 charts, but rather in the bubbling under Ultratip charts.
2011: "Get Her High", feat. 2lettaz & DaVinci [Southern Hospitality]
2011: "Bus Stop Jazz", with The Jealous Guys [Southern Hospitality]
2012: "Runnin'", Azealia Banks feat. Lunice
2014: "Can't Wait To" [LuckyMe]
2009: Matt B – "Cars Go Boom" (Lunice Remix) / Made in Glitch
2009: Xrabit & DMG$ – "Damaged Goods" (Lunice Remix) / Big Dada
2009: Thunderheist – "L.B.G." (Lunice Remix) / Big Dada
2009: The XX – "Basic Space" (Lunice Remix) / Young Turks / XL Recordings
2009: Hovatron – "Gold Star Radiation" (Lunice Remix) / Lo-Fi-Fnk
2009: Diamond K – "Handz in the Air" (Lunice Remix) / Top Billin
2010: Mexicans with Guns – "Sell Your Soul" (Lunice Remix) / FoF Music
2010: Ryan Leslie – "Addiction" (Lunice Remix) / Local Action Records
2010: Deerhunter – "Helicopter" (Diplo & Lunice Remix) / Mad Decent
2010: Invent & OSTR feat. KRS ONE – "Hey You" (Lunice Remix)
2010: Radio Radio – "EJ Savais Pas Mieux" (Lunice Remix) / Bonsound
2010: Elephant Man – "Shake It" (Lunice Remix) / Truckback Records
2011: The Touch – "All I Find" (Lunice Remix) / Palms Out Sounds
2011: XV – "Swervin'" (Lunice Remix) / Warner Bros. Records
2011: Theophilus London feat. Sara Quinn – "W.E.T." (Lunice Remix) / Warner Bros. Records
2011: Foster the People – "Pumped Up Kicks" (Lunice Remix) / Mad Decent
2012: Flosstradamus feat. Danny Brown – "From the Back" (Lunice Remix) / Fool's Gold Records
2013: Rockie Fresh feat. Lunice – "Superman OG" / Maybach Music Group
2013: Rockie Fresh feat. Rick Ross & Lunice – "Panera Bread" / Maybach Music Group
2006: Kibbles N Beats
2007: Bossa – Rendez Vous
2008: LAZERemix Volumeone
2008: Out of Touch
2009: LAZERemix Volumetwo
2009: DAZED Digital Lunice Exclusive Mix
2010: FACT Mix 189 – Lunice
2010: BIGUP Magazine Mix
2010: Loukout Mixtape #5: Lunice "Pretty Boy" Mixxx
2011: SAFEWALLS Mixtape
2011: Boiler Room Lunice's 60min Mix